It seems like Moscow has never been so beautifully decorated as this year. Colorful illuminations cover the entire city center, turning it into a one big Christmas and New Year miracle space.
Starting from Dec. 22 and up to Jan. 14 nine Moscow parks, Boulevard and Garden Rings, Tverskaya Street and all the squares in the center from Triumfalnaya to Lubyanka (and of course Red Square) are taking part in massive winter celebrations. Russia Beyond has chosen the most interesting spots you should visit.
Open-air entertainment:
1 hour walk route through the very heart of the city
(From Pushkinskaya/Tverskaya/Chekhovskaya metro station to Tretyakovskaya metro station)
1. Ice theater at Novopushkinsky Public Garden
Jump into the Christmas spirit with interpretations of the legendary ballets – Swan Lake, The Nutcracker, Snow WhiteandCipollino.
2. International Christmas Theater
Walk along Tverskaya Street, enjoying the glowing decorations all the way up to Tverskaya Square. This side is one of the city's coziest and most beautiful places during winter. Here you can enjoy staged fairytales from various countries while sipping mulled wine.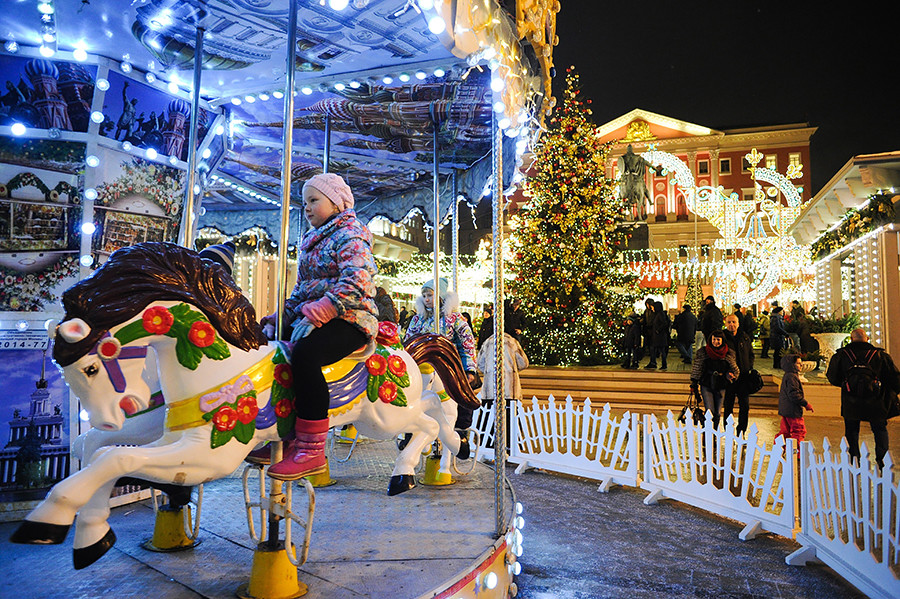 3. 19th Century New Year
Cross Tverskaya Square and keep walking along Bolshaya Dmitrovka Street. When you reach a cross street (Okhotny Ryad Street), turn left and you'll see the Bolshoi Theater and a little further a pedestrian underpass to the other side of Okhotny Ryad Street.
Walking around the Four Season hotel from the left you'll see Revolyutsii Square. There you can learn how families celebrated New Year and Christmas back in the 19th century.
4. Slide down an ice slide in front of the Kremlin
Going from Revolyutsii Square and Manezhnaya Square, take a ride on an ice slide with a view of the Kremlin.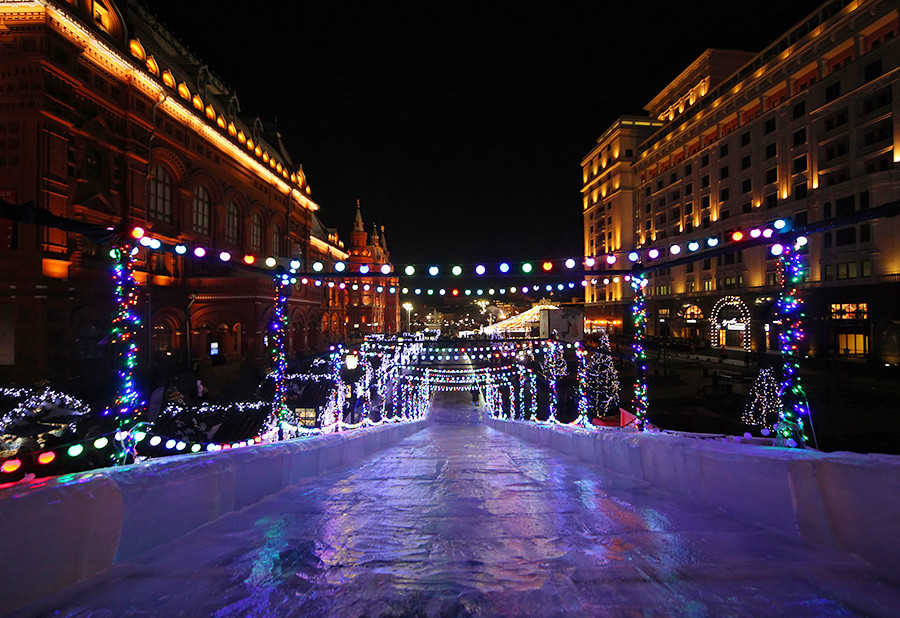 Ice slide on Revolutsii Square
Sergei Vedyashkin/Moskva Agency
5. Magic forest on Manezhnaya Square
Take a walk around a forest of 300 trees right next to Kremlin and visit the performance 12 Months in which everyone can take part without any preparation.
6. Russian market extravaganza on Red Square
Go through the gates on Manezhnaya Square and find yourself on Red Square. Here you can enjoy some skating on the ice rink or walk a bit further and see the city's main festival of street food, mulled wine and Russian handicrafts shops.
7. Park Zaryadye
If you are already frozen, take a stroll through the GUM department store, which is fabulously decorated inside (and has public toilets inside). Or walk further to a new Moscow public space, Zaryadye Park. It's worth visiting any season, but looks especially beautiful at night, with all those lights (it gets dark at around 4-5 pm during the winter here). Enter the floating bridge overlooking the Moscow River and you can see the Kremlin walls and decorated embankments.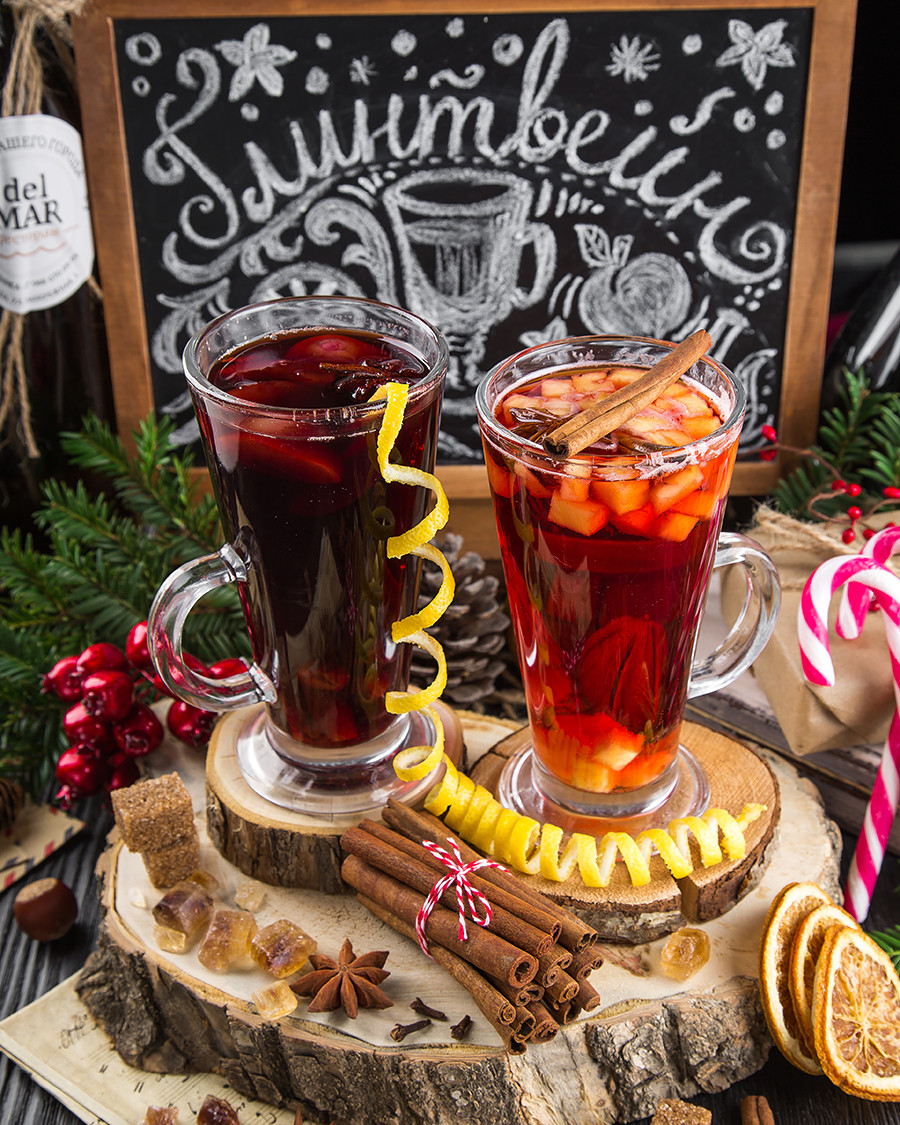 Mulled wine available on all the city's cafes and Christmas markets
Pixabay
8. White Theater on Kilemtovsky Lane
Cross Bolshoy Moskvoretsky Bridge and keep walking straight along Bolshaya Ordynka Street. In three minutes if you turn right to Bolshoi Tolmachevsky Lane, you will find the Tretyakov Gallery – probably the most famous Russian art gallery. And if you turn left to Klimentovsky Lane, you'll see a Christmas market and will be able to be a part of an immersive theatrical performance.
You can also enter St. Clement's church, which looks stunning both inside and out.
If you are feeling hungry – there are many cafes and restaurants in the area.
Free New Year tours for English-speakers
This year one can explore the colorful city center not only on its own, but also with a free, guided tour (on Dec, 23, 24 and 30 and Jan. 6, 7). Find more information on the website of Moscow Walking Tours.
Skating and walking in parks
From Gorky Park to Sokolniki, there are several great open air spaces in Moscow in which to walk and enjoy sports and games. VDNKh the Soviet-era park has opened Europe's largest ice rink this year. Find more about skating in Moscow here.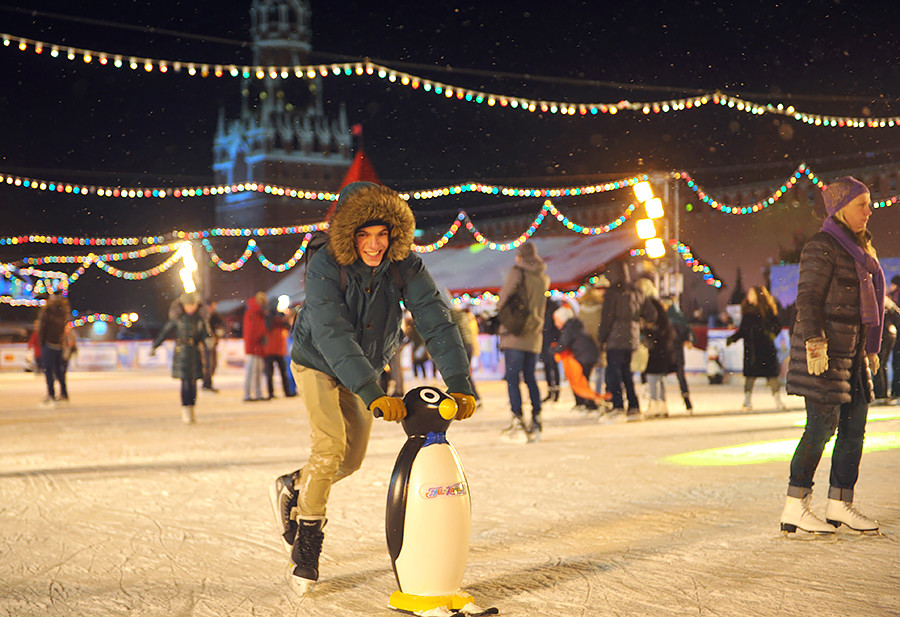 Ice rink on Red Square
Komsomolskaya Pravda/Global Look Press
Indoor Christmas events in case you get cold:
It is not forecast to be extremely cold in Moscow this New Year's eve but the city can surprise you with a sudden snowstorm or drop in temperature, so here are a couple of ideas if you want to stay indoors.
'Decorating the city' exhibition at the Museum of Moscow
Until Jan. 29 visitors to the Museum of Moscow (Zubovsky Blvrd, 2) will be able to see an exhibition about city festive designs throughout the centuries. How Moscow was decorated during the tsar's coronation, or how it celebrated revolutionary events; how Moscow looked during the Summer-1980 Olympics and how designers and artists see the city today.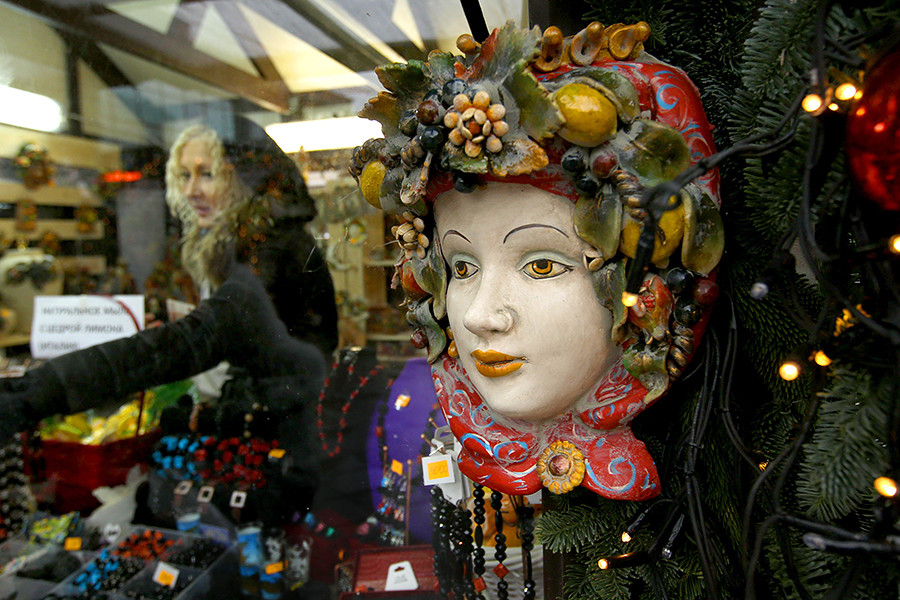 Moskva Agency
'Christmas at the Museum of Fashion' exhibition
Gostiny Dvor building not far from Red Square (Ilyinka st. 4, on the way to Zaryadye Park) offers an exhibition exploring Christmas and New Year fashion traditions in Russian and European design. Items on display include antique New Year tree toys, gifts and accessories from late 19th to early 20th century.
Winter concerts at the Old English Court
The stone mansion of the Old English Court located near the Kremlin on Varvarka Street 4a was built in the early 16th century when tsarist Russia and Shakespearean England established trade relations. In the 1960s restoration work began and in 1994 Queen Elizabeth came to the opening of the Old English Court museum. Now the unique acoustics in the building allows for the arranging of chamber performances of antique music.
The next concert is Dec. 27. On Dec. 24, 28 and Jan. 8 Christmas Vertep (Orthodox puppet theater) will be held in the court.
And don't forget to visit our main museums: the Pushkin Museum of Fine art, Garage Museum of Contemporary Art in Gorky Park and others.
To explore more about "Winter in the city" venues and events please visit the official website in English.
If using any of Russia Beyond's content, partly or in full, always provide an active hyperlink to the original material.