How to get from Sheremetyevo Airport (SVO) to central Moscow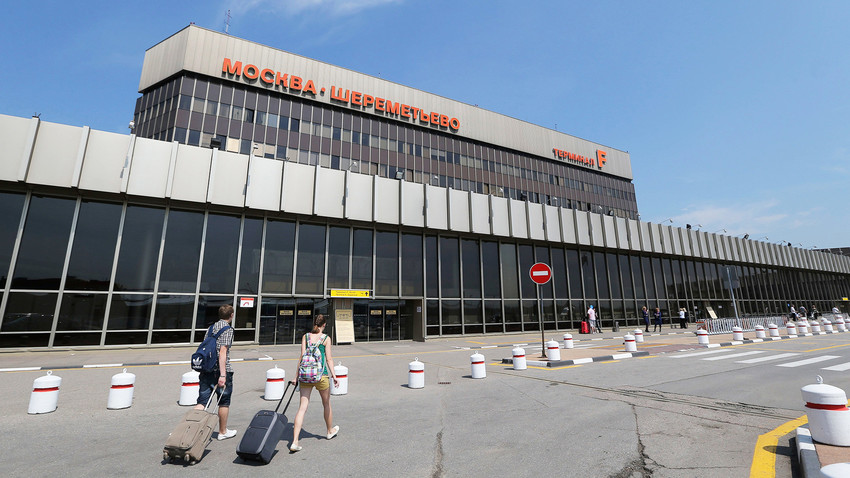 Train, bus, taxi or car sharing – here are some fast and easy ways to reach the downtown
1. Aeroexpress
The fastest way to get from this airport to the center of Moscow is the Aeroexpress train, which has a station right in the airport building. With no traffic on the way, you'll arrive at the Savelovskaya train station in 45 min and the Belorusskaya train station in 53 minutes, from both you can get on the metro, from which it's convenient to go anywhere in the city.
The first train leaves Sheremetyevo at 4:45 a.m., and the last departs 12:42 a.m. Tickets on the Aeroexpress go for 500 rubles ($8) at the ticket office and 450 rubles ($7.2) online. You can buy tickets in advance via the website aeroexpress.ru, or download the app.
2. Bus
Bus is a cheaper way to reach Moscow, but you might end up in a traffic jam. Another disadvantage is that the bus only goes to a metro station at the end of the line, near the city limits, so you'll need another 30 minutes to reach the city center.
To Khovrino metro station (Green line):
- 1195 Aeroexpress buss (departure each 15 min., tickets $150 and available to buy online here)
To Rechnoy Vokzal metro station (Green line):
- Bus No. 851 runs from 5:37 a.m. to 12:49 a.m. (and to 12:45 a.m. on weekends); 55 rubles ($0.8). Travel time about 50 minutes.
- The so-called marshrutka mini-bus No. 949 runs from 6:45 a.m. to 9:45 p.m.; 80 rubles ($1.3). Travel time about 30 minutes.
To Planernaya metro station (Purple line):
- Bus No. 817 runs from 5:22 a.m. to 12:08 a.m.; 55 rubles ($0.8). Travel time around 40 minutes.
- Mini bus No. 948 runs from 6:45 a.m. to 9:15 p.m.; 80 rubles ($1.3). Travel time around 30 minutes.
To Yugo-Zapadnaya metro station (Red line)
- Night bus H1 runs from 0:15, every half an hour, 55 rubles ($0.8).
3. Taxi
If you arrive at night and don't want to wait for a night bus, then take a taxi. But don't take one that's already at the airport because they charge 5,000 rubles ($80) and more; in fact, the ride should cost no more than 2,000 rubles ($30).
There are several services and apps to help you book a taxi in advance and the price is fixed no matter how long you spend in traffic jams:
- Uber is available in Moscow
- Yandex Taxi (the app works in many languages)
- Gett Taxi (works in Russian, English and Hebrew)
- City Mobil (available in English).
The last two are available for booking in advance, but there are usually many cars in the vicinity of the airport that'll pick you up in 5-10 minutes. When you arrive at the airport you can get online with free WiFi in the terminal, and book a car. They'll probably ask you to call after passing through border control because waiting in front of the airport is free for only the first 15 minutes, and then it's quite expensive.
4. Car sharing
Several car-sharing companies are available at Sheremetyevo. You need an ID, driver's license, credit card and a smartphone. You'll need to sign a contract with a company in order to access its vehicle (you can also do this online). The leading companies are: Delimobil (click here to find more about access at the airport); Yandex Drive (available in English on Google Play); and BelkaCar (works only in Russian). You should download an app in advance to find the nearest car.
5. Rent a car
All major car rental companies can be found at Sheremetyevo: Sixt, Europcar, Avis, and Rentalcars. You can rent a car online or by visiting the rental office. Booking in advance doesn't influence the price much but it does provide greater choice of car models.
6. Rent a helicopter
If you're rich enough or adhere to the notion that 'You only live once,' then Sheremetyevo offers a great option to avoid traffic and roads entirely. Go to the airport's website for more information about helicopter rental - www.svo.aero.
Arriving at another airport? Find out how to get from Domodedovo (DME) and Vnukovo (VKO) to central Moscow.
If using any of Russia Beyond's content, partly or in full, always provide an active hyperlink to the original material.