The Izmailovo kremlin, even more kaleidoscopic than the one downtown, with its multicolored towers straight out of a Russian fairytale, is a popular geotag among tourists. People come here for a spot of national color, souvenirs, and a taste of ancient Russia. But sometimes even Muscovites lose their way among the numerous towers. Izmailovo Market, or Izmailovsky Vernisazh (from French vernissage) as the locals call it, is a genuine treasure trove of curiosities.
Kremlin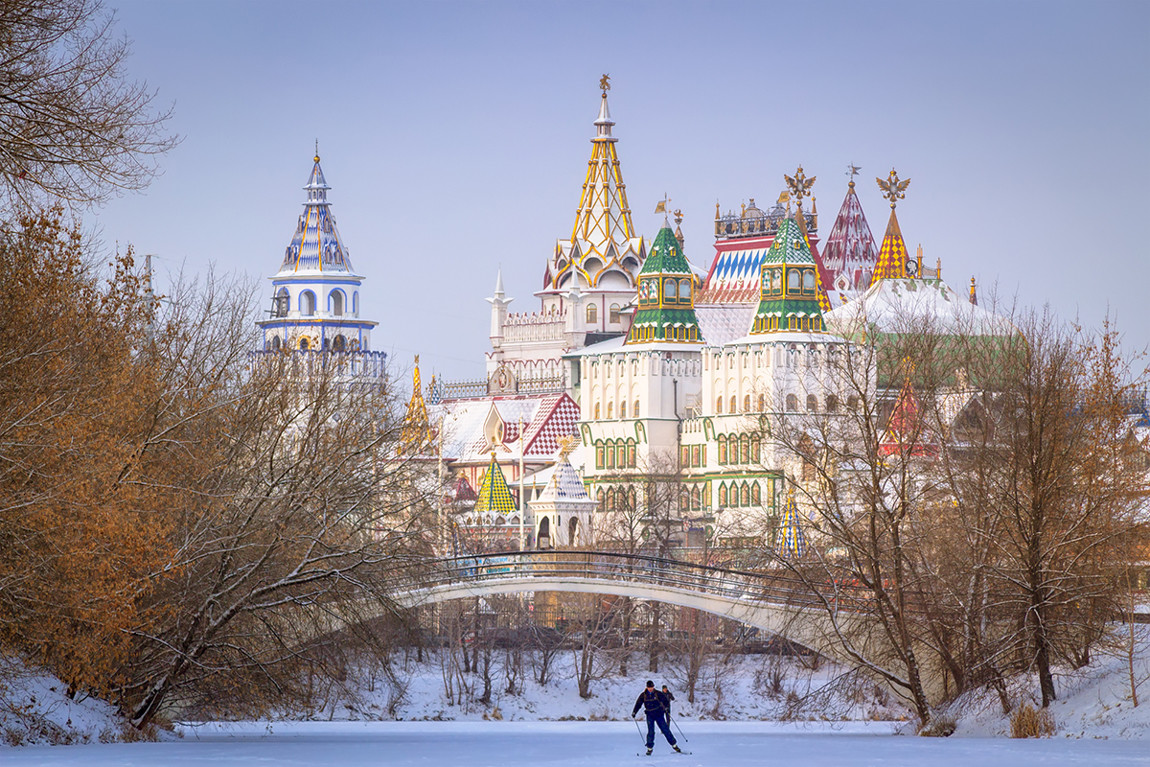 This is the first thing that hits the eye on approaching Izmailovo Market. The actual market itself lies inside, behind the massive walls of the fortress. The exotic "packaging" is pure tourist bait, and perhaps also the biggest disappointment: many believe that the Izmailovo kremlin is a perfectly preserved historical monument. Alas, this is not the case. It was built in 2001 as a recreational zone based on sketches from the 14th-17th centuries.
Chamber museums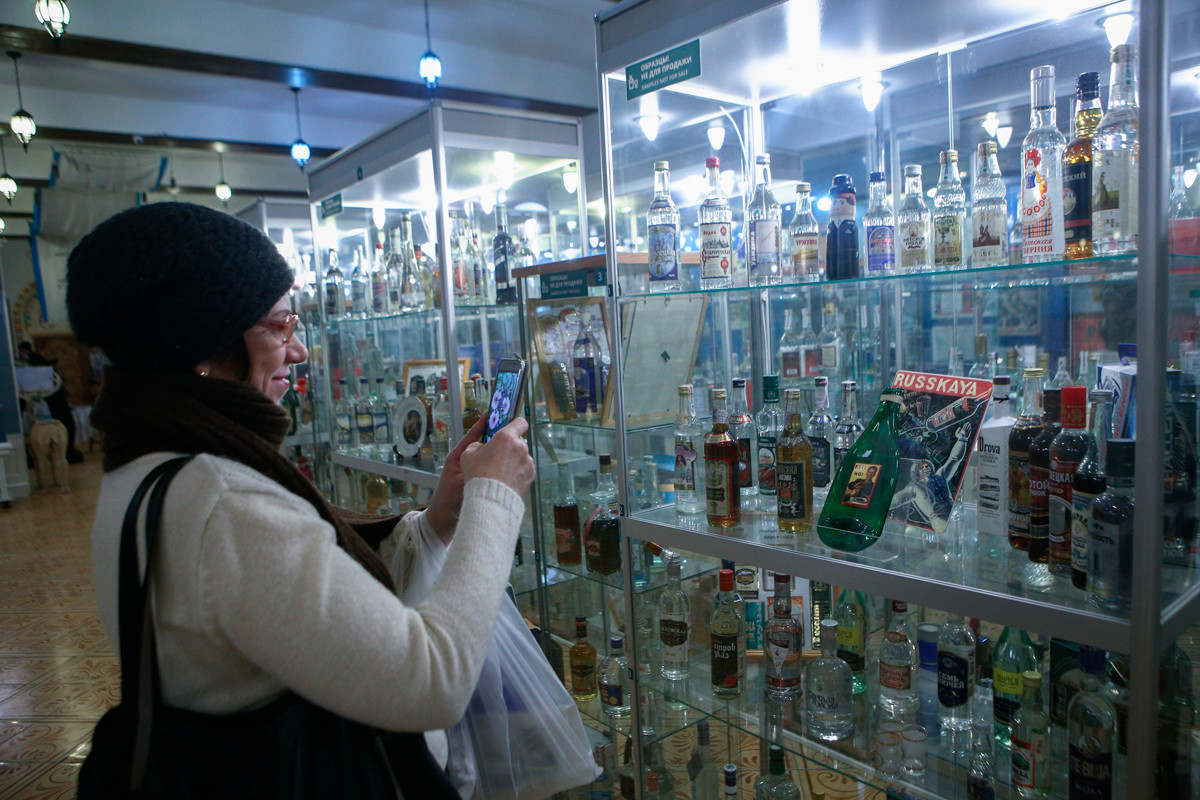 Museum of the History of Russian Vodka
Andrey Nikerichev/ Moskva Agency
There are more than a dozen small museums in the vicinity, all generally located around the perimeter of the kremlin and inside its towers and outbuildings. The closest to the main entrance is the Museum of the History of Russian Vodka (with tasting, of course). It exhibits over 1,000 sorts of vodka, vodka recipes from the 18th century, advertising posters, labels, bottles, and all imaginable paraphernalia related to Russia's so-called national drink. While you're at it, you can learn 300 new excuses to have a tipple.
Another interactive place is the Museum of Russian Toys. It even houses a workshop where you can make your own doll or a "Dymkovo" toy—painted figurines made of clay, straw, or even dough.
You will have to consult a map of the kremlin to find all the other museums on the site. For example, the Soap-Making Museum, where a self-made bar of soap will set you back 500 rubles ($7.30), the Museum of Moscow Animation, or the Museum of Bread (complete with buffet and freshly baked bread). There is even a Museum of Disobedient Children, where parents bring their offspring and show them how unruly kids were punished in ancient Russia, including kneeling on peas and other torments...
Church of St. Nicholas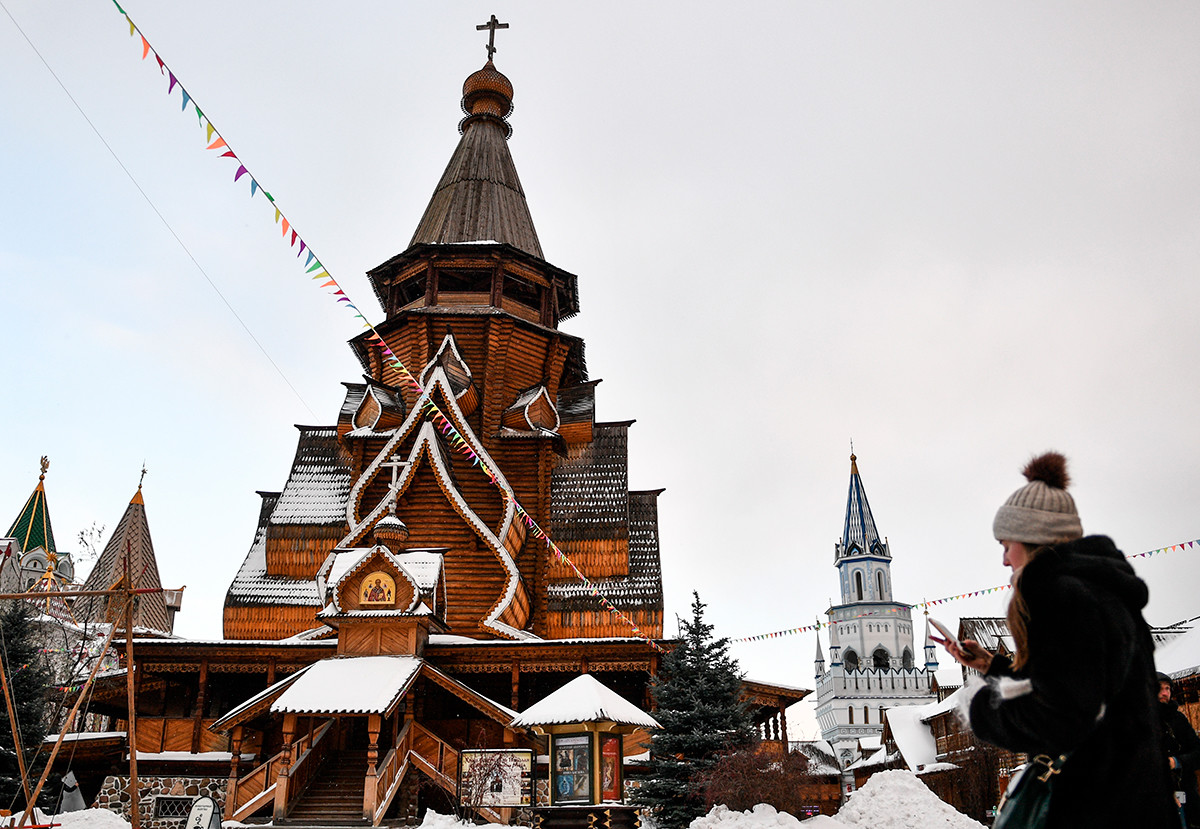 Church of St. Nicholas
Vladimir Astapkovich/Sputnik
To find it, you need to go through the main entrance and about 100 meters up to the central square. This wooden Orthodox church looks like a monument of Russian architecture: such shrines were built in the 17th century. But just like the kremlin itself, the edifice is a replica, built in the year 2000. Nevertheless, it is the tallest wooden church in Moscow, which holds weddings and houses the relics of Peter and Fevronia, the patron saints of lovebirds.
Food. What to try and where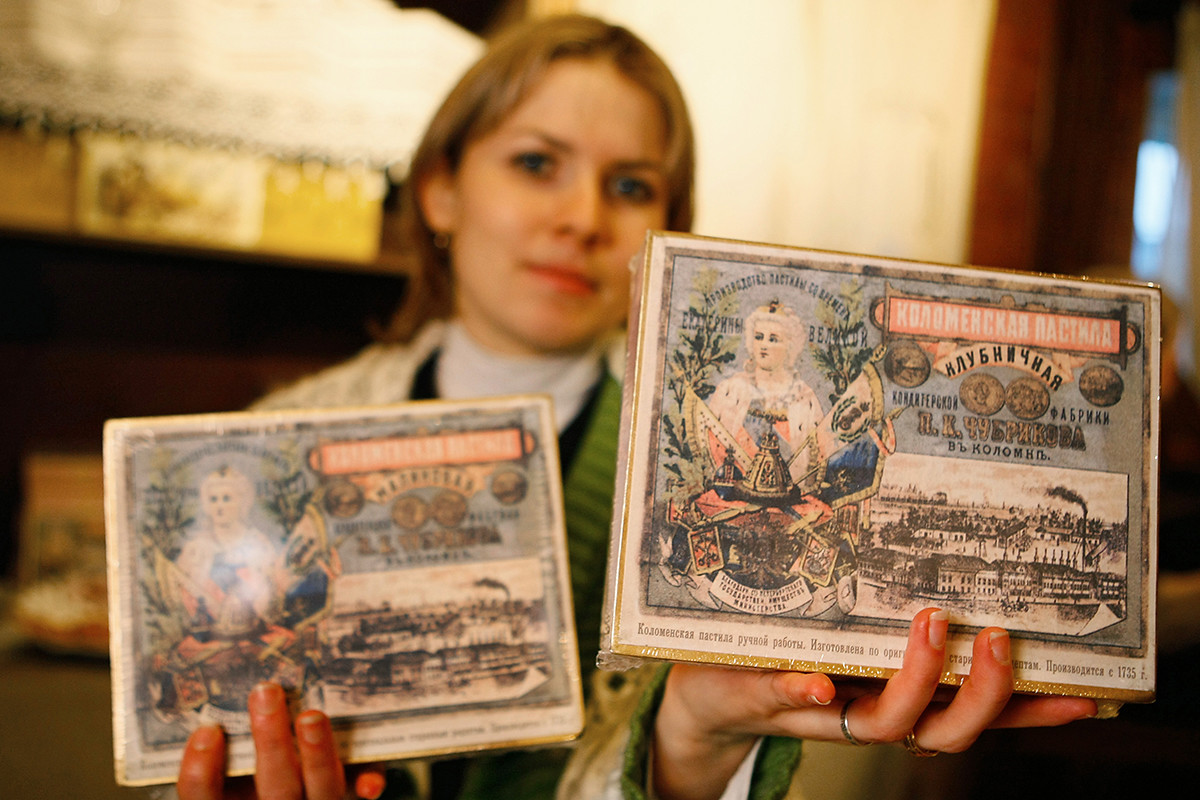 "Pastila from Kolomna"
Ruslan Krivobok/Sputnik
The central square is home to "Pastila from Kolomna"—a candy store selling pastries and original hand-made pastila (a type of fruit confectionery) according to 17th-century recipes. The restaurants here serve mostly Russian cuisine. In addition to roast meat and poultry, check out the traditional mead (known in Russian as medovukha), Russian kvass, and pancakes with a range of fillings. Meanwhile, for some modern brews, head for MEDVEDI, a loft bar with some unique craft beers.
Flea market. What to look for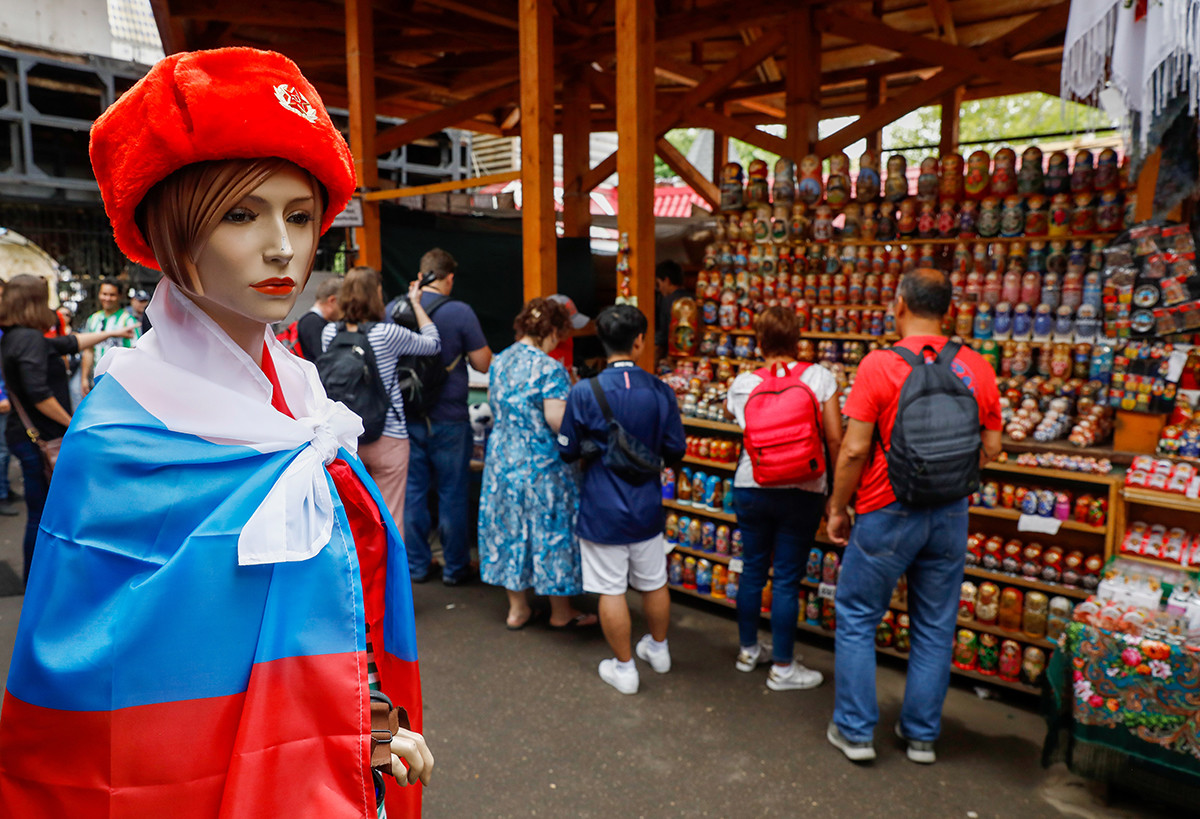 Artem Geodakyan/TASS
This takes up most of the kremlin. Goods are laid out on boxes, chairs, or right there on the ground, and it all resembles a Turkish or Egyptian grand bazaar. The largest flea market in Moscow, it begins to the left of the central entrance to the kremlin and stretches out in endless rows, all with self-explanatory names such as "Handicraft," "Pictures", or "Badges."
Here you can find all kinds of folk crafts, lace, Pavlovo Posad shawls, ceramics, amber, crystal, national costumes, and even military uniforms.
All around antiques are on sale, from 18th-century silverware to antique furniture. It's possible to locate some genuinely rare specimens, such as a tsarist-era silver coaster for 10,000 rubles ($148). However, it might be difficult to confirm its authenticity unless you happen to be an antiques expert.
That said, most of what Izmailovo Market has to offer is ordinary stuff from the 20th century, which can come as a refreshing alternative to matrioshka dolls or hats with earflaps (which abound here too). For example, you might fancy a bust of Lenin for 1,500 rubles ($22), a still working gramophone, or a packet of very cheap and nasty Belomorkanal cigarettes, once popular in the Soviet Union. You can also pick up vintage cameras for a song—more precisely 200-2,000 rubles ($3-30), with a film usually thrown in for free.
How to steer clear of fakes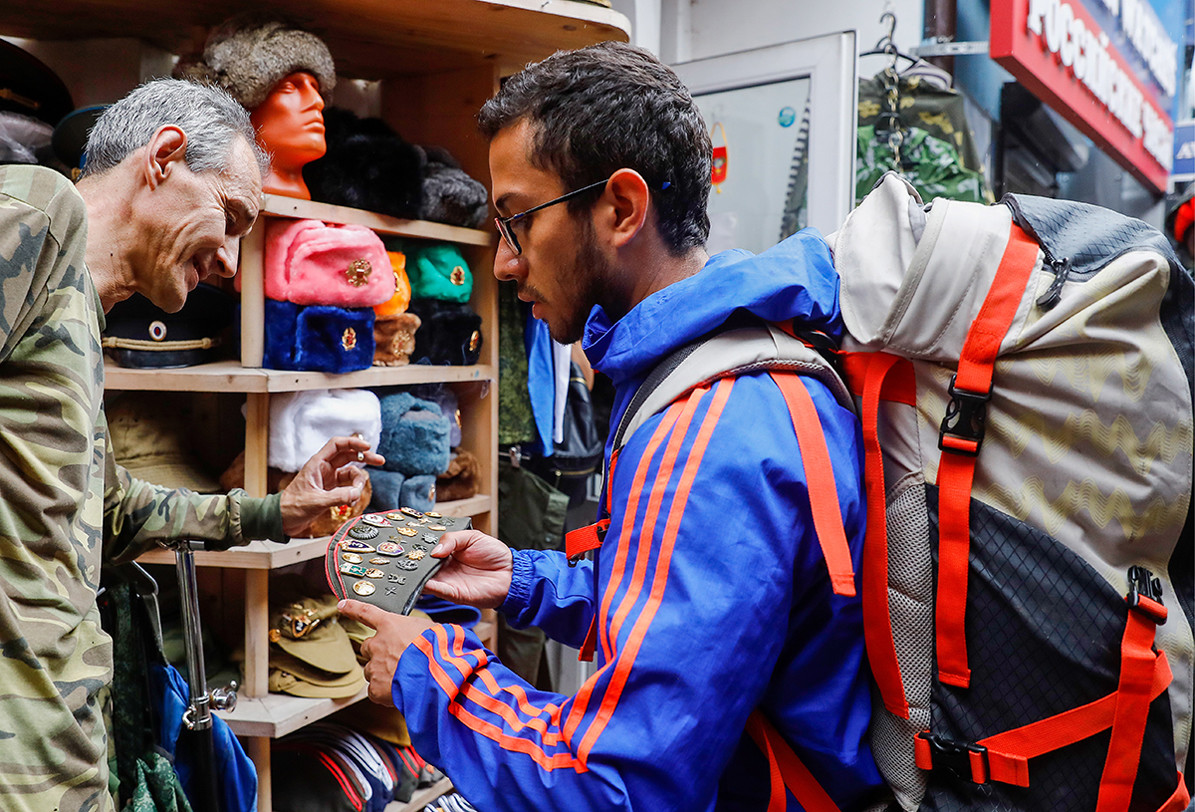 If you want to find something truly unique, go deep into the heart of the bazaar.
Artem Geodakyan/TASS
We already have an entire guide covering this point. But in a nutshell, not all that glitters is gold (or even a genuine tsarist-era coaster). It's a badly kept secret that most of the stuff here is just a modern stylization. And be aware that Izmailovo Market is jam-packed with mass-produced Chinese souvenirs masquerading as Russian handicraft.
For example, there is a lot of porcelain, mainly from the Leningrad Porcelain Factory or from Eastern Europe. It should have a hallmark to indicate that it's not a fake or a replica. No marking should raise your internal red flag.
But if you want to find something truly unique, go deep into the heart of the bazaar, where tourists rarely venture. And ask questions about what you intend to buy (many sellers here know basic English).
Best time to visit
The market is open from 9am to 5pm (museums and cafes on average till 8pm). But the best "catch" is to be had as soon as the doors open, because you'll be competing with professional antique hunters. They usually snatch up all the most valuable stuff in the first few minutes of the working day.
Another tip: come on Wednesday, when sellers have a wholesale day and prices are 2-3 times lower. True, the market isn't as large on this day.
How to get there
The market is located in the east of Moscow, a bit further out than the usual places of interest. But it is reachable from the center by taxi or public transport. The subway ride to Partizanskaya Station (dark blue line) takes 20 minutes from the center. From Partizanskaya to Izmailovo Market is another 10 minutes on foot.
If using any of Russia Beyond's content, partly or in full, always provide an active hyperlink to the original material.