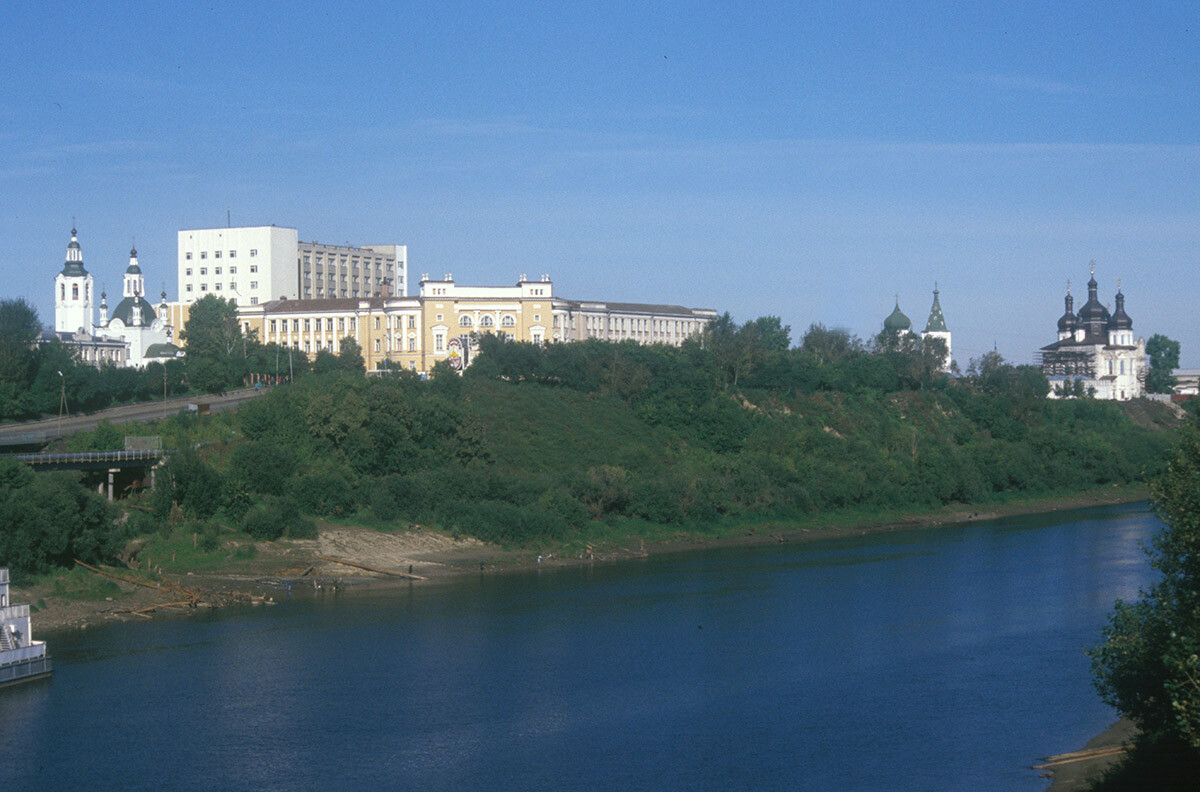 At the beginning of the 20th century, Russian chemist and photographer Sergey Prokudin-Gorsky developed a complex process for vivid color photography. His vision of photography as a form of education and enlightenment was demonstrated with special clarity through his images of architectural monuments in the historic sites throughout the Russian heartland.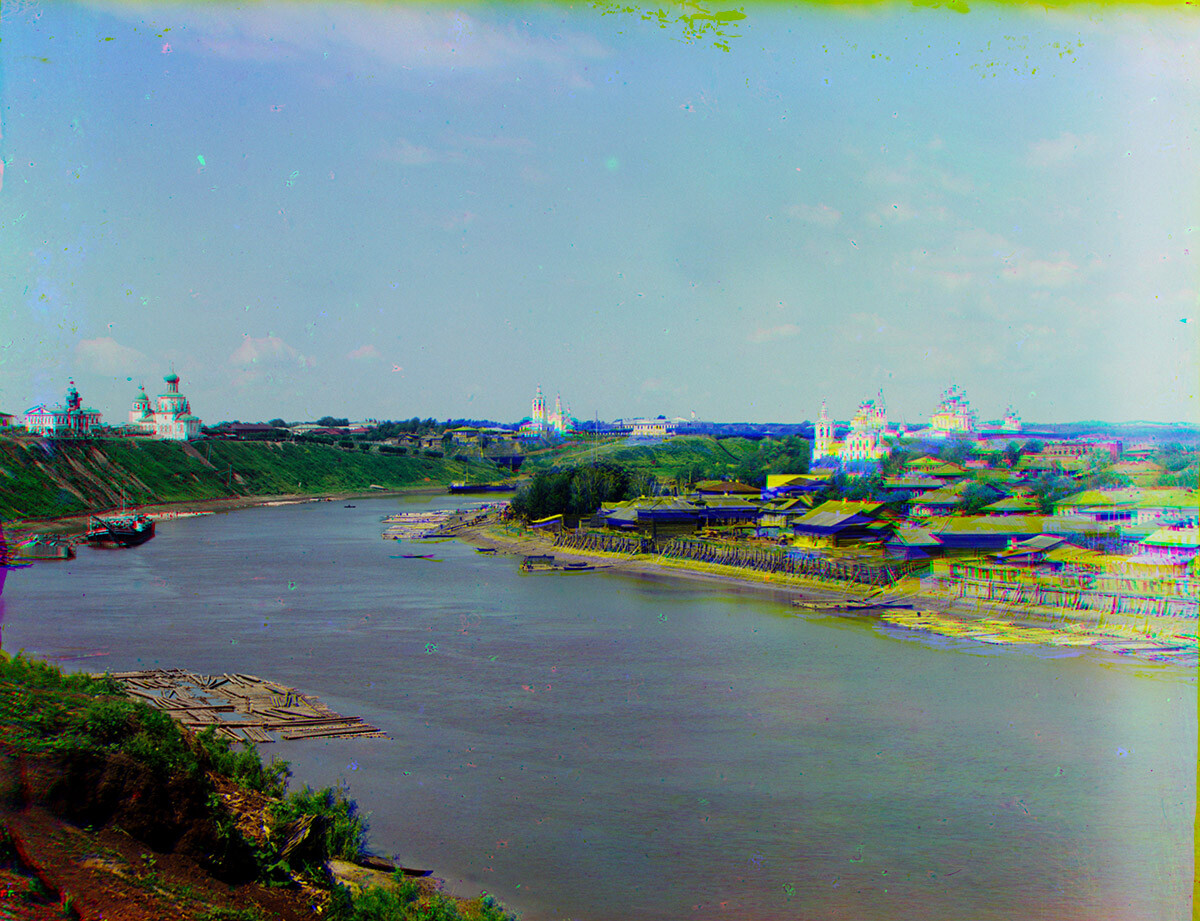 Tyumen. View up the Tura River. From left: Annunciation Cathedral (demolished); Church of Elevation of the Cross; Church of the Ascension & St. George; Trinity Monastery. Summer 1912
Sergey Prokudin-Gorsky
In June 1912, Prokudin-Gorsky ventured into western Siberia as part of a commission to document the Kama-Tobolsk Waterway, a link between the European and Asian sides of the Ural Mountains. The town of Tyumen served as his launching point for the journey north to Tobolsk, on the Irtysh River.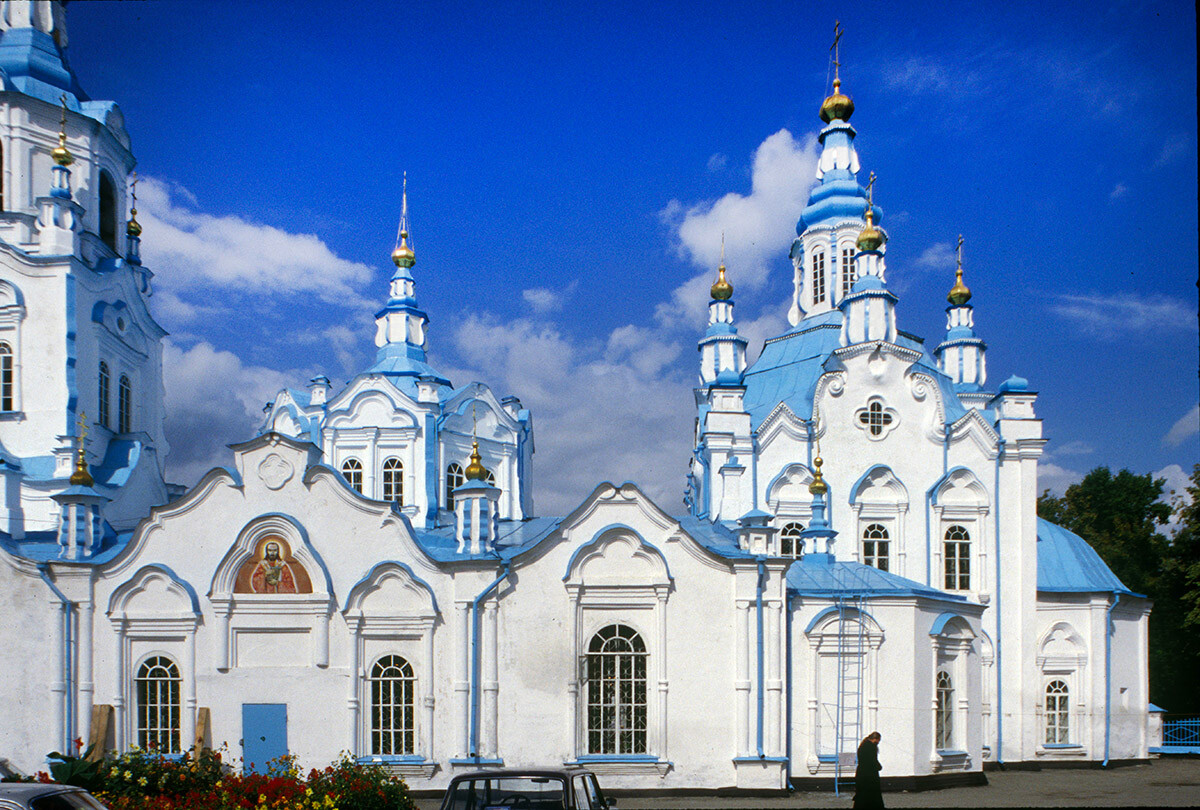 Cathedral of Icon of Virgin of the Sign, south view. August 29, 1999
William Brumfield
During his journey, Prokudin-Gorsky took several extraordinarily valuable photographs of both Tyumen and Tobolsk. My photographs of Tyumen and Tobolsk were taken in the late Summer of 1999.
Humble beginnings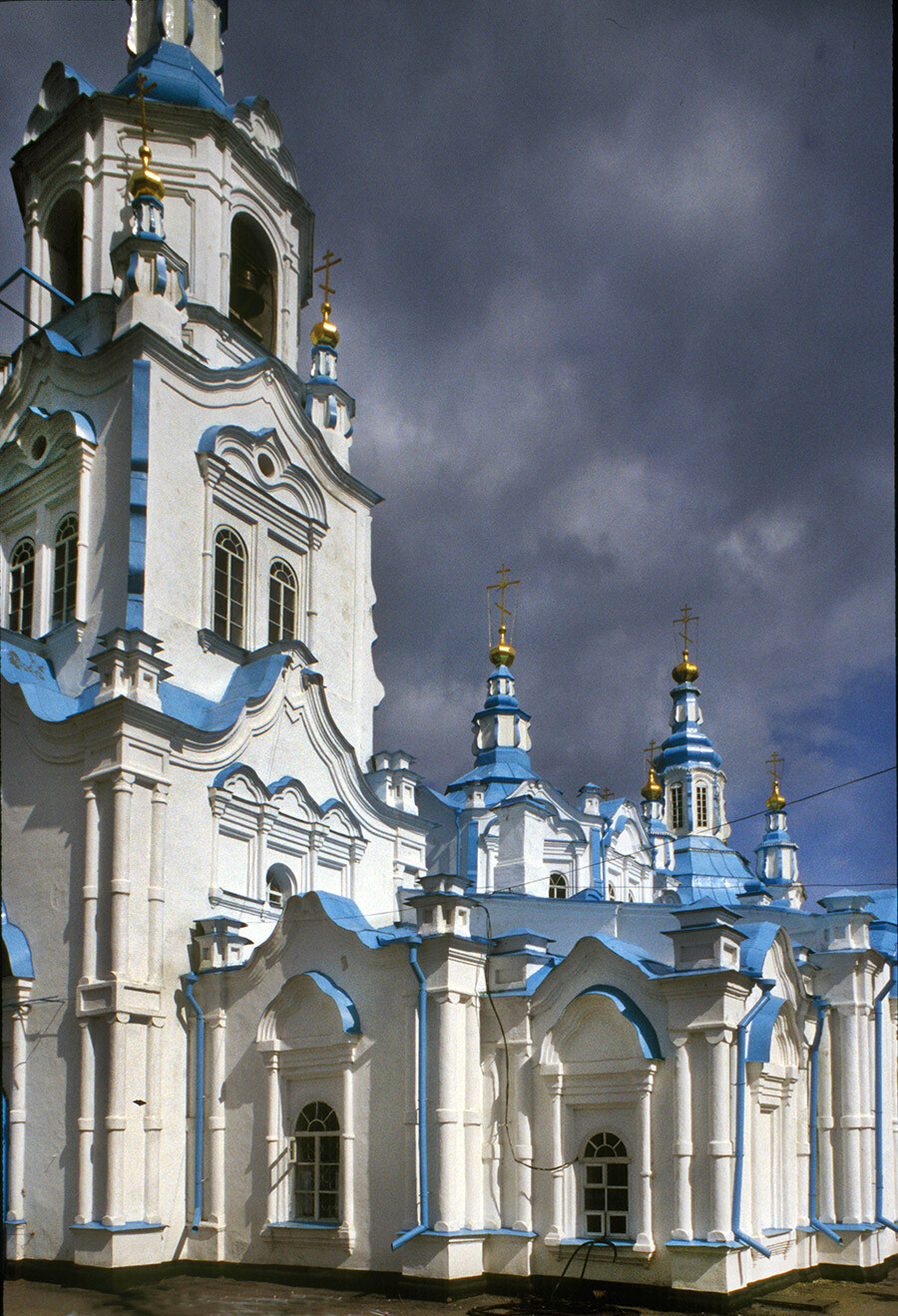 Cathedral of Icon of Virgin of the Sign, southwest view. August 29, 1999
William Brumfield
Considered the earliest permanent Russian settlement in Siberia, Tyumen was founded in 1586 on the site of a Tatar encampment at the confluence of the Tura and Tiumenka Rivers. The initiative for its creation came from Boris Godunov, the power behind the throne of Tsar Fedor (son of Ivan the Terrible) and, eventually, to become tsar himself in 1598.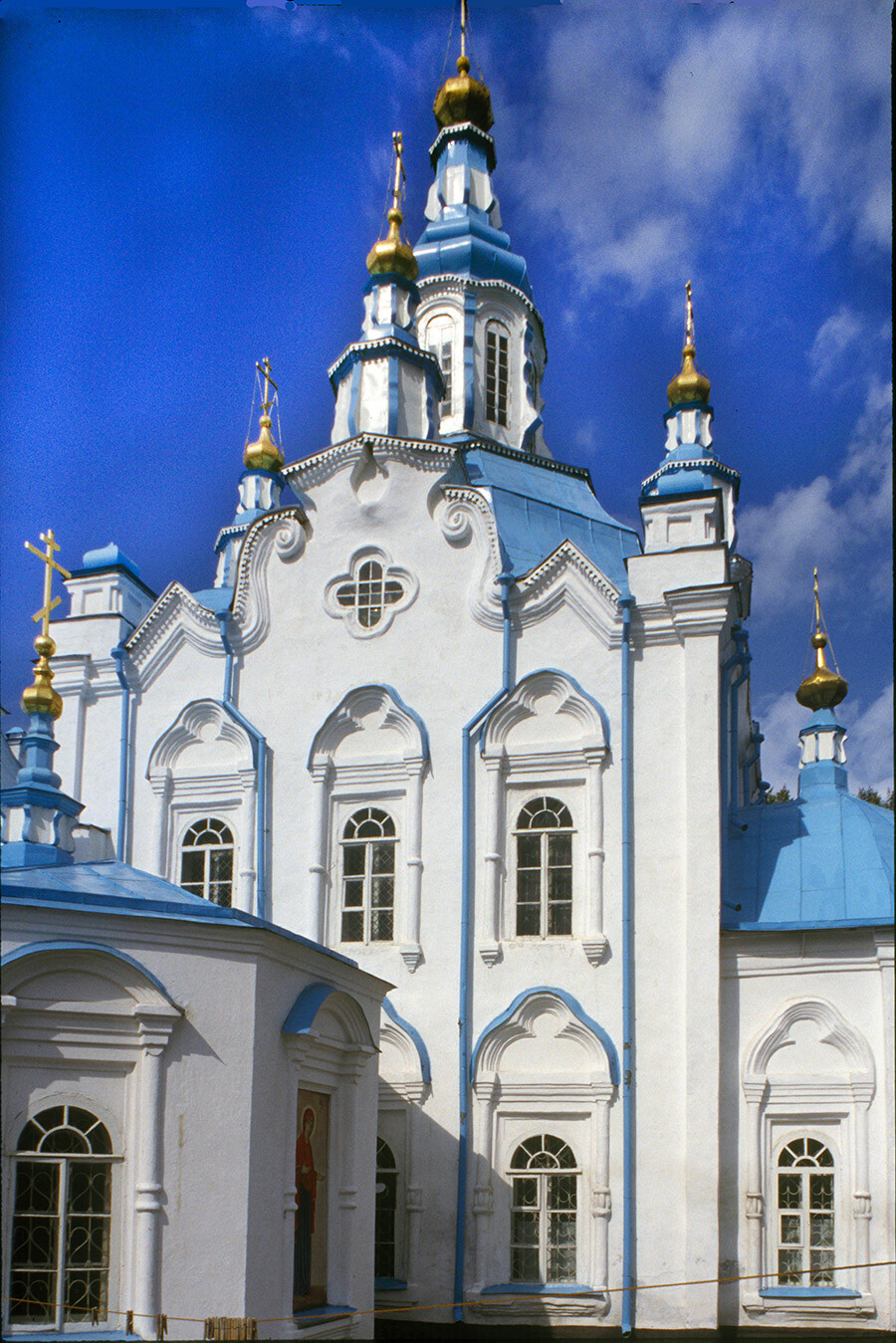 Cathedral of Icon of Virgin of the Sign, south facade. August 29, 1999
William Brumfield
Godunov was closely allied with the Stroganovs, who from their commercial center at the northern town of Solvychegodsk had sent a detachment of Cossacks commanded by a certain Yermak deep into Siberia to challenge the power of the ruler of Siberian Tatars, Khan Kuchum. Although the precise dates are open to question, it appears that, in the Fall of 1581, Yermak captured Chingi-Tura (later Tyumen), but abandoned his conquest, in order to proceed straight to Kashlyk, capital of Khan Kuchum, whom Yermak defeated in 1582 during a battle near the Irtysh River.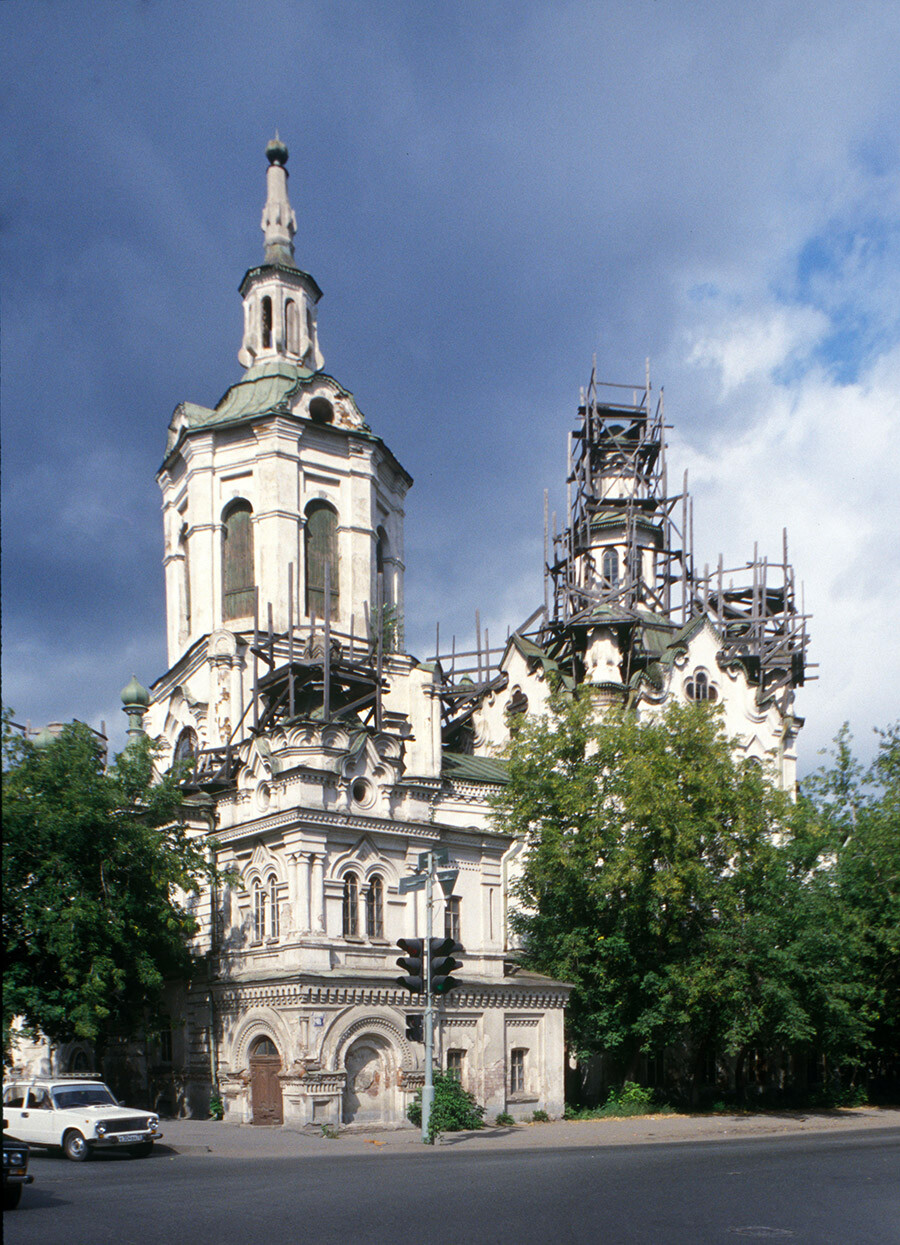 Church of the Miraculous Image of the Savior, southwest view. Originally built in 1794-1819, this is an excellent example of "Siberian Baroque" architecture. August 29, 1999
William Brumfield
Following Yermak's death in a surprise Tatar raid in 1584, his conquests remained temporarily unconsolidated after his death. Nonetheless, Boris Godunov was aware of the enormous significance of Siberia and launched a campaign to found settlements, as he did in other border areas of the medieval Muscovite state.
Church of the Ascension & St. George, south view. Originally built in 1770-89, defaced during the 1930s & restored after 2003 with rebuilding of bell tower. September 4, 1999
William Brumfield
Like other early Russian Siberian towns, Tyumen originally served as a garrison fortress for Cossacks and other troops, who protected newly developing trade routes in all directions. The eastern connections with China gained particular importance during the 17th century.
Location, Location, Location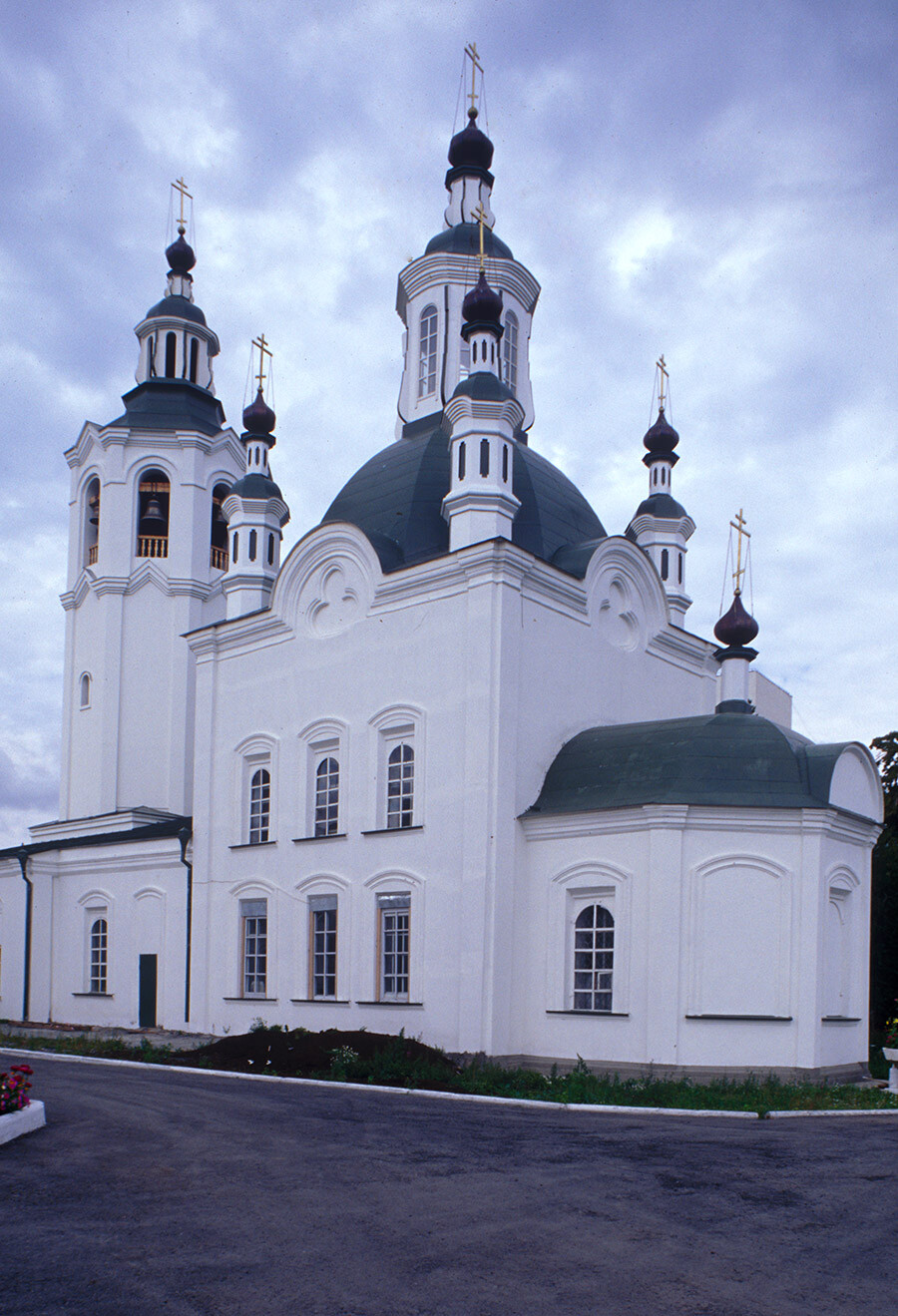 Church of the Elevation of the Cross, southeast view. Built in 1774-91. August 29, 1999
William Brumfield
Tyumen's location on the Tura River also provided a direct link westward with the gateway town of Verkhoturye founded by Boris Godunov on the Asian side of the Ural Mountains in 1598. And to the east and north of Tyumen, the Tura River merges with the Tobol, which in turn joins the great Irtysh near Tobolsk. By virtue of its location, Tyumen was destined from the beginning to play a significant role in the Russian development of Siberia.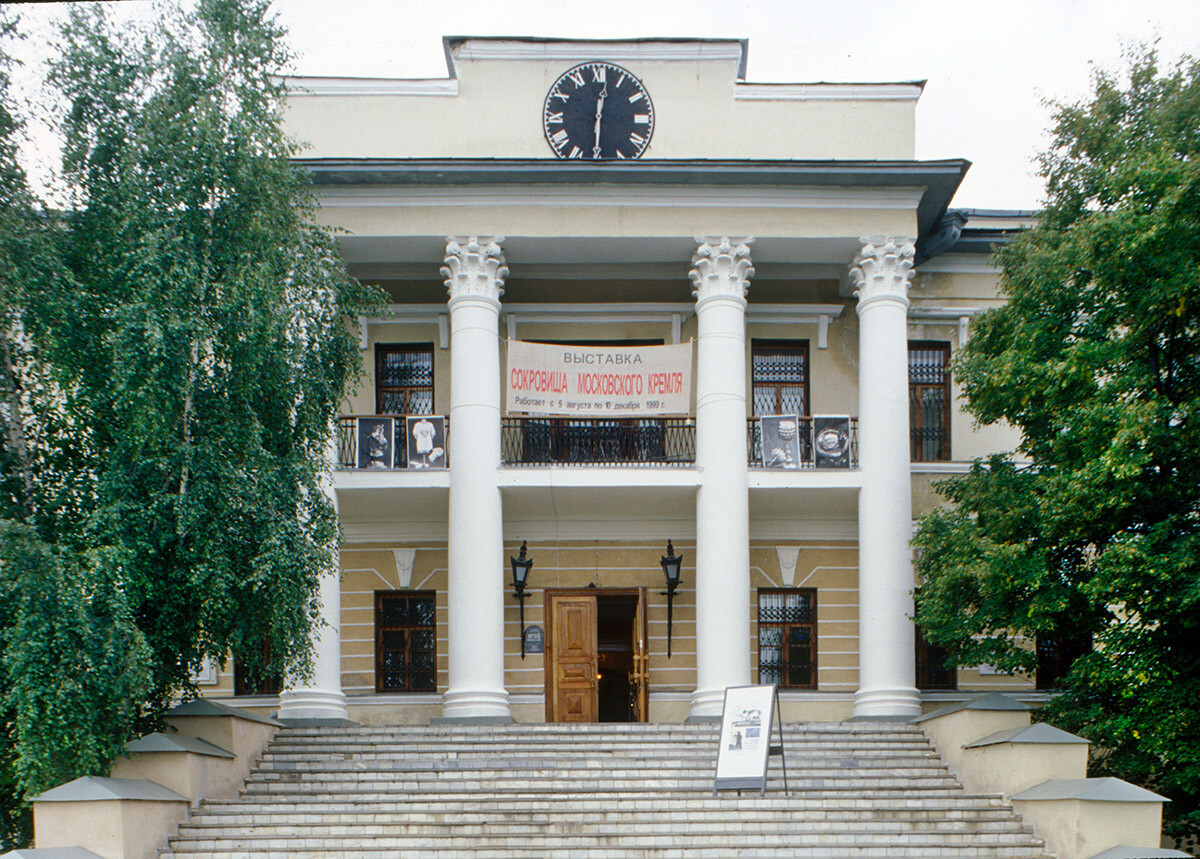 City Council Building. Originally built in 1828-33 in a simplified neoclassical style. Chiming clock was added in 1857. August 29, 1999
William Brumfield
The opening of Siberia for Russian colonization during the late 16th and 17th centuries was an epic confrontation between the vast distances of this severe land and the enterprise of Russian merchants, whose commercial interests coincided with the tsars' appetite for eastern expansion. Although its rivers were only tributaries of the Irtysh (itself a tributary of the great Ob River), Tyumen was well situated to utilize Siberia's vast water network.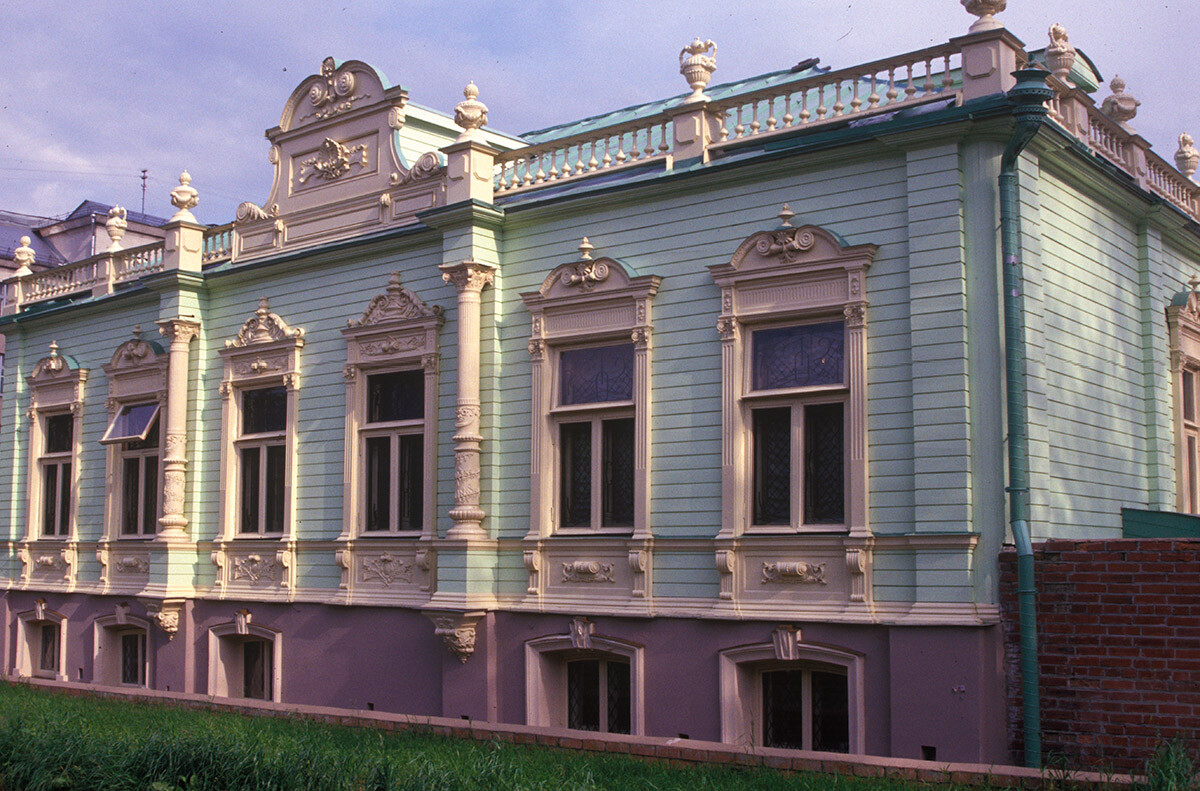 Kolokolnikov house, corner of Republic Street 18 & Turgenev Street. Originally built in 1804 by the merchant Ivan Ikonnikov, this superb example of classical wooden architecture was acquired in 1888 by the merchant Ivan Kolokolnikov, who modified the original design. August 29, 1999
William Brumfield
Like most early Russian towns in Siberia, Tyumen originally served as a fortified settlement for Cossacks and other troops, who in the 17th century protected newly developing trade routes, particularly with China.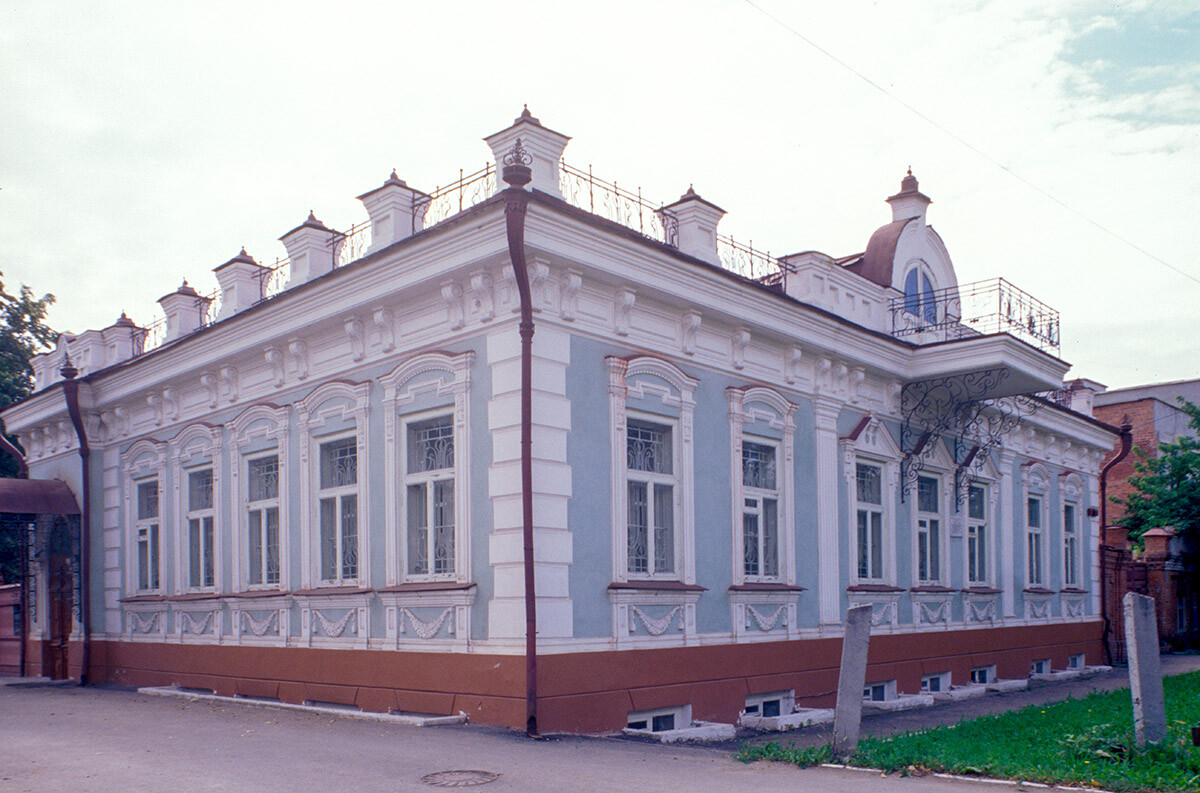 Nikolai Masharov mansion, Lenin Street 24. Built in the late 19th century by the founder of the Tyumen Ironworks. August 29, 1999
William Brumfield
When the southern boundary of Moscow's Asian territory became more settled during the 18th century, Tyumen's importance increased for the development of transportation as well as small commercial and industrial enterprises. Its status as a transportation nexus also involved the exile system, which sent convicts and political exiles throughout Siberia.
Orthodox Church HQ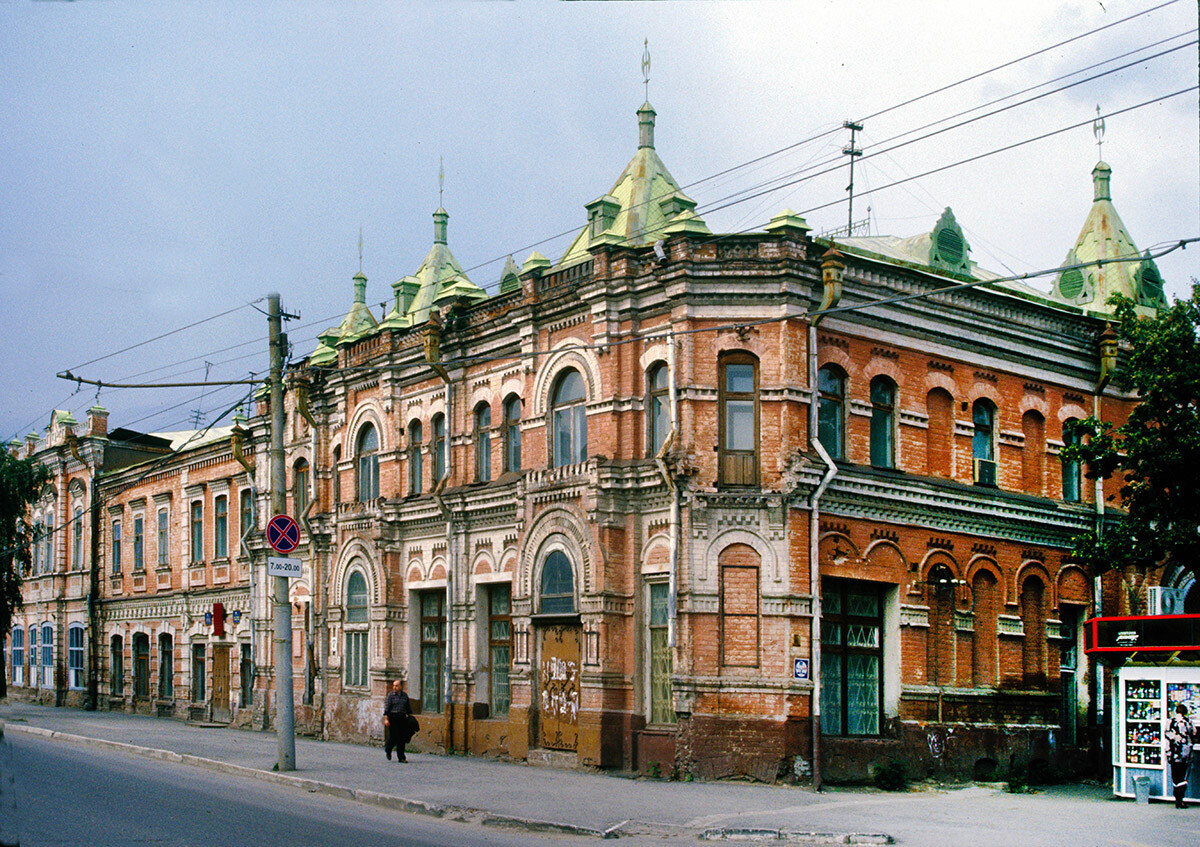 Commercial building (corner of Republic & Kirov Streets) built by the merchant Nikolai Yadryshnikov in 1897. Example of highly decorated "brick style" favored for commercial buildings in late 19th century. August 29, 1999
William Brumfield
As a regional administrative point for western Siberia, Tyumen rapidly became a center of the Russian Orthodox Church. Its Trinity Monastery was founded in 1616 on the high right bank of the Tura River. Originally dedicated to the Transfiguration, the monastery was a modest collection of log buildings until its transformation in the early part of the 18th century by an energetic Ukrainian prelate, Bishop Fyodor Leshchinsky.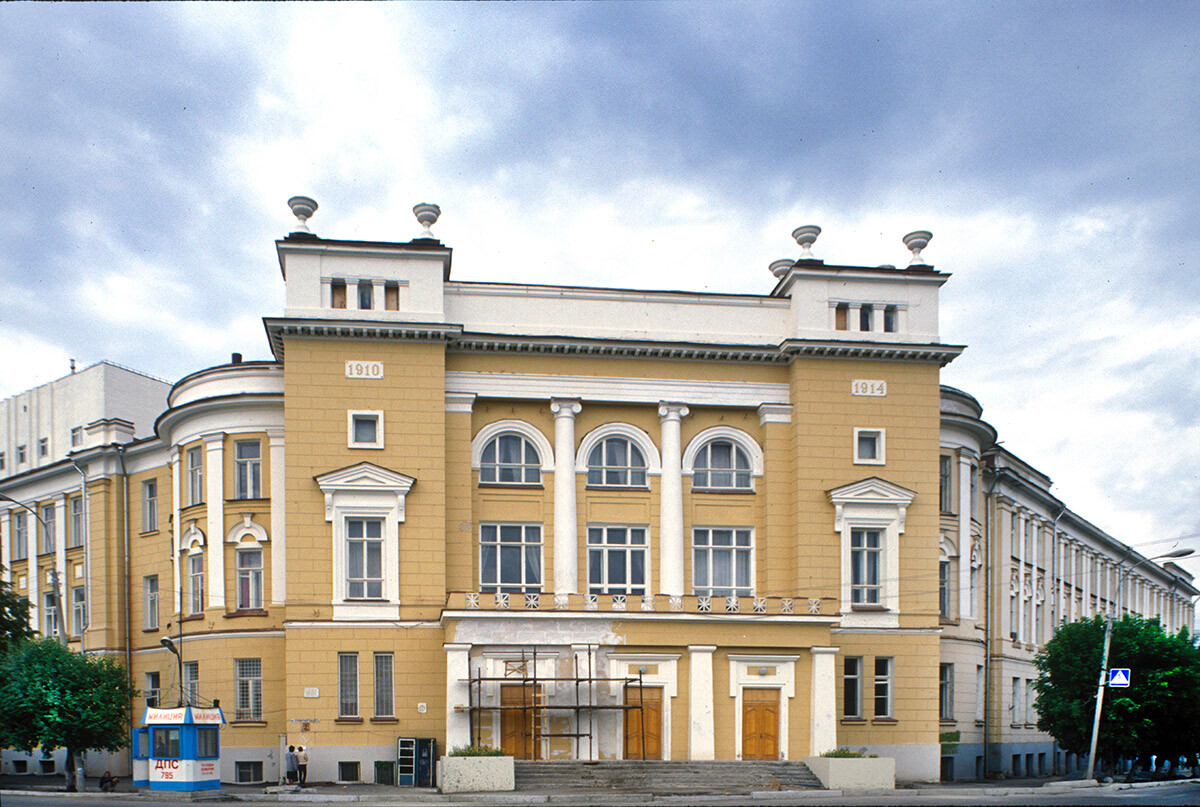 School of Commerce (now Engineering Institute). Completed in 1914 during a Siberian building boom stimulated by development of commerce along the TransSiberian Railway. August 29, 1999
William Brumfield
As an ally of Peter the Great, Bishop Fyodor saw architecture as a reflection of a broad cultural transformation and the Church of the Trinity that he built at the monastery in 1709-1715 is Tyumen's earliest surviving building. Gutted during the Soviet era, the Trinity Church has been renovated (with modifications) together with its neighbor, the Church of Saints Peter and Paul, built in 1741-1755. Fortunately, Prokudin-Gorsky photographed both shrines in 1912.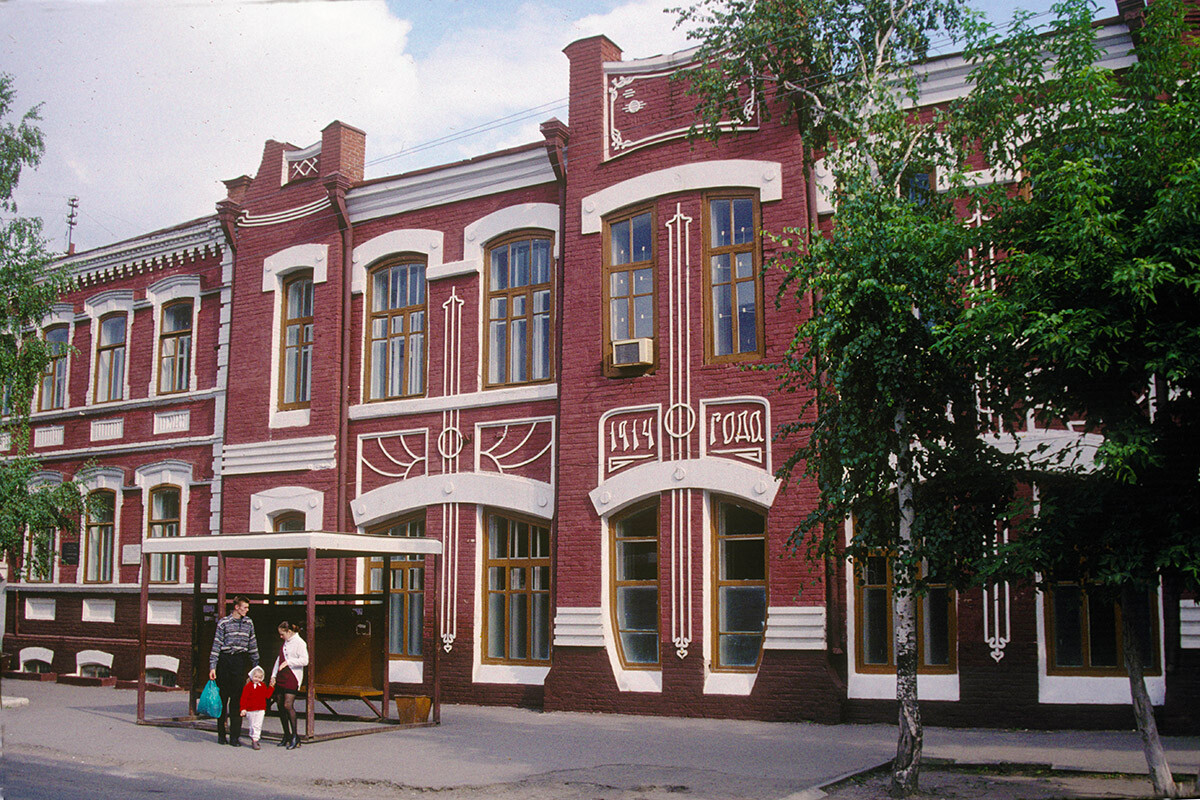 Tekutyev Crafts School, Dzerzhinsky Street 2. Completed in 1914, the building is a fine example of provincial "style moderne". August 29, 1999
William Brumfield
These early examples of a provincial baroque style served as a model for other 18th-century churches in Tyumen, culminating with the lavish Cathedral of the Icon of the Virgin of the Sign (Znamensky), which has recently been splendidly refurbished. Built in several phases between 1768 and 1891, the cathedral displays the florid decoration typical of much of Siberian church architecture.
Submitting Siberia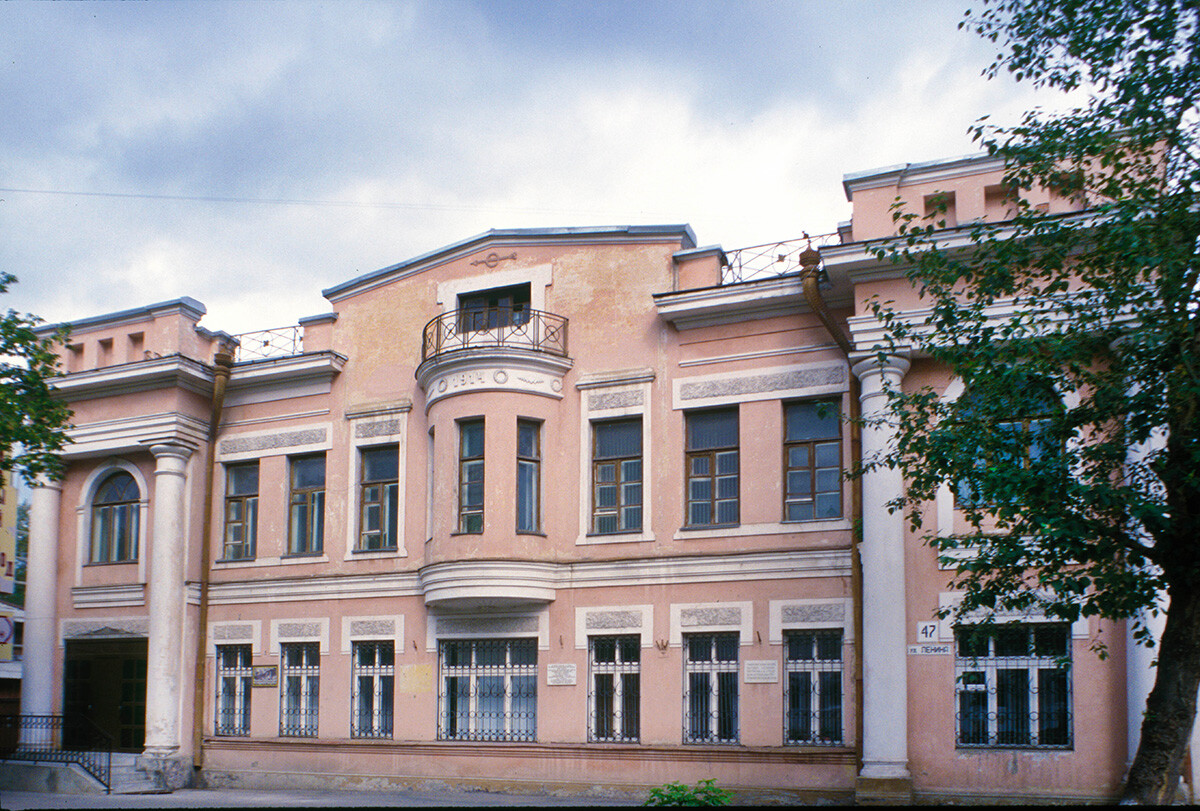 Shaichik mansion, Lenin Street 47. Built in 1914 by Yankel Shaichik, major store owner & trader in dry goods. August 29, 1999
William Brumfield
The daunting vastness of Siberia's reaches gradually submitted in the 19th century to new forms of transportation. The first steamboat to ply a Siberian river was constructed here in 1838.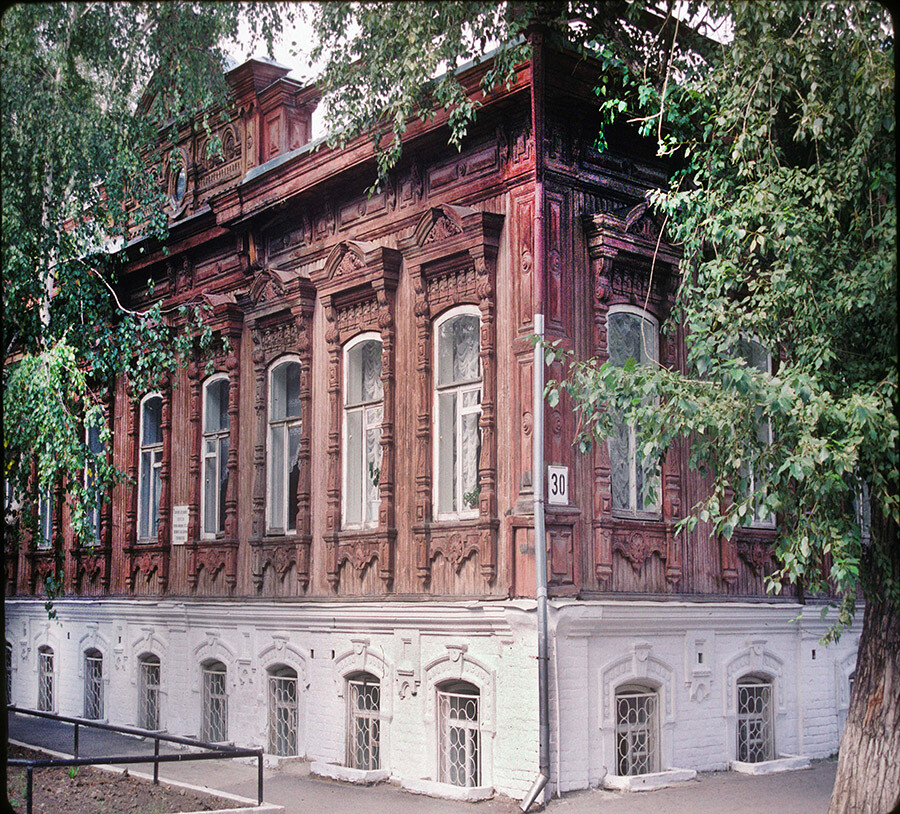 Burkov house, Dzerzhinsky Street 30. Built at turn of 20th century by Vasily Burkov, trader in Siberian grain on an international level (China, Japan). August 29, 1999
William Brumfield
The greatest impulse for economic growth came with the completion of a railroad from Yekaterinburg, on the east slope of the Ural Mountains in 1885. This line ultimately became an important segment of the Trans-Siberian Railroad, transporting the wealth of Siberia's forests, mines and new agricultural regions, as well as leather and other products of local factories.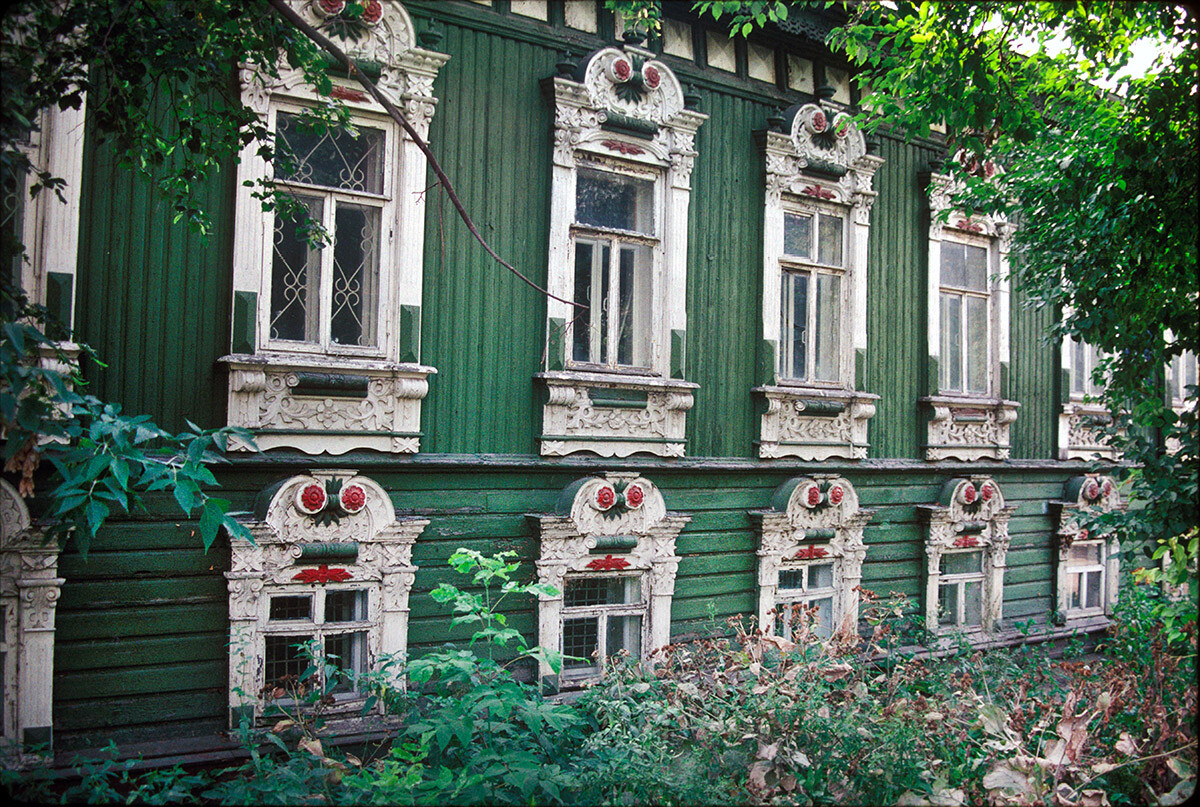 Kozlov house, Turgenev Street 9. Built at end of 19th century by Ivan & Maria Kozlov, local merchants. August 29, 1999
William Brumfield
At the turn of the 20th century, over half a million settlers passed through the town toward Siberia's open, fertile lands. Fortunately, remnants of this period have survived in the central part of the city.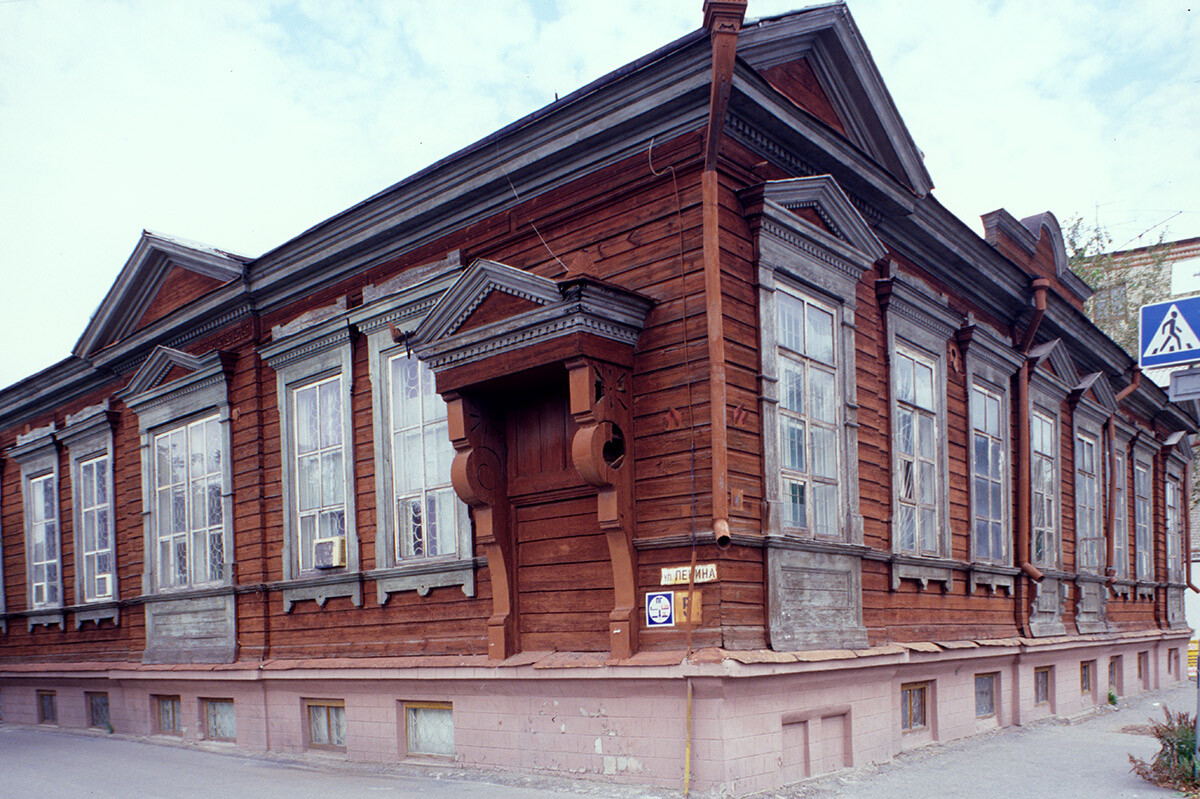 Nikolaevskoe (Nicholas) Primary School, Lenin Street 5. Wooden building constructed in 1897 as part of a public schools network. August 29, 1999
William Brumfield
This memory of the past is especially evident in the city's remarkable wooden houses, with elaborate framed and carved window surrounds in a style specific to Tyumen. These massive window constructions often include carved panels below the sill as an additional decorative and protective device.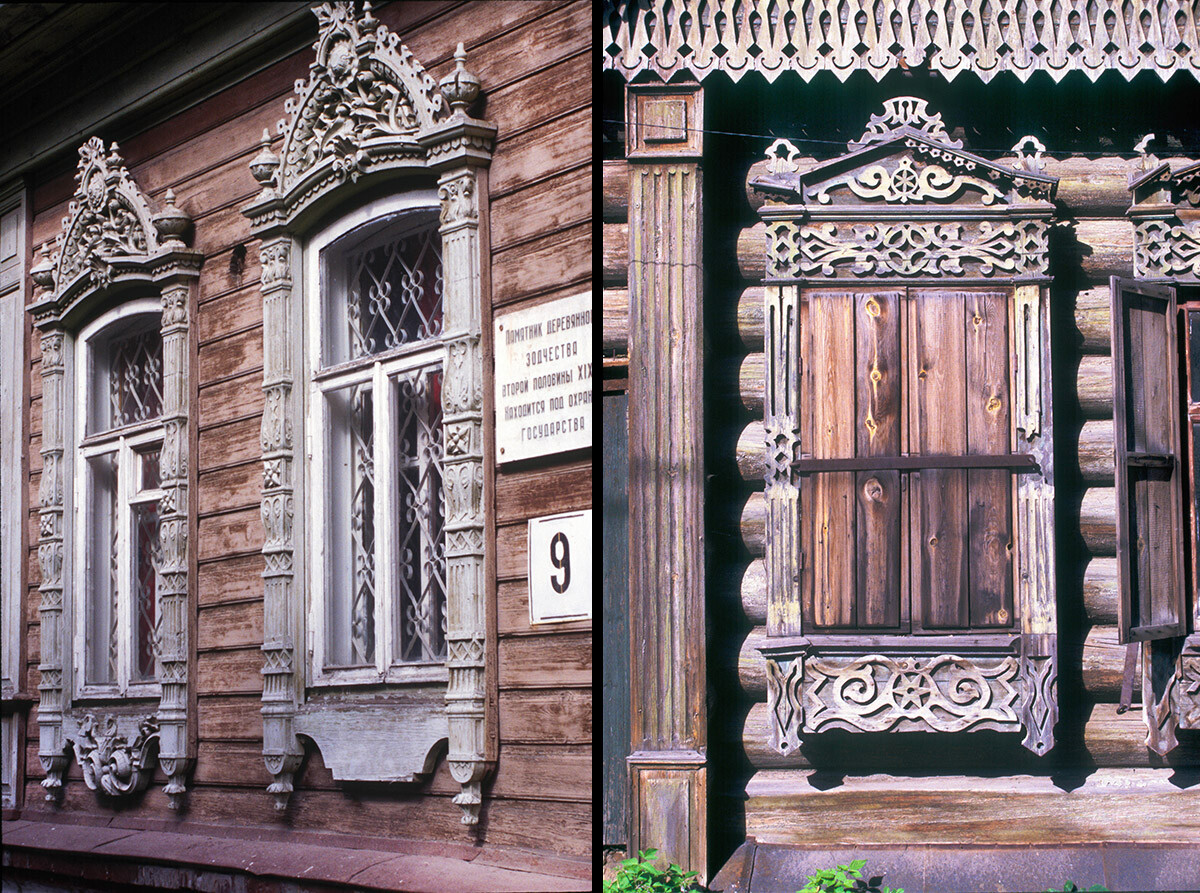 Wooden houses. L:eft: Volodarsky Street. Built at end of 19th century, the house has exuberant carved decorative window frames. Right: Komsomol Street. Built around 1900 as a wing of the A. G. Andreev estate, this small structure displays remarkable examples of decorative fretwork. August, 1999
William Brumfield
Their solid construction allowed rows of large windows in wooden houses even in this harsh climate, thus bringing maximum available light to interiors during the long Siberian winters.
The present & future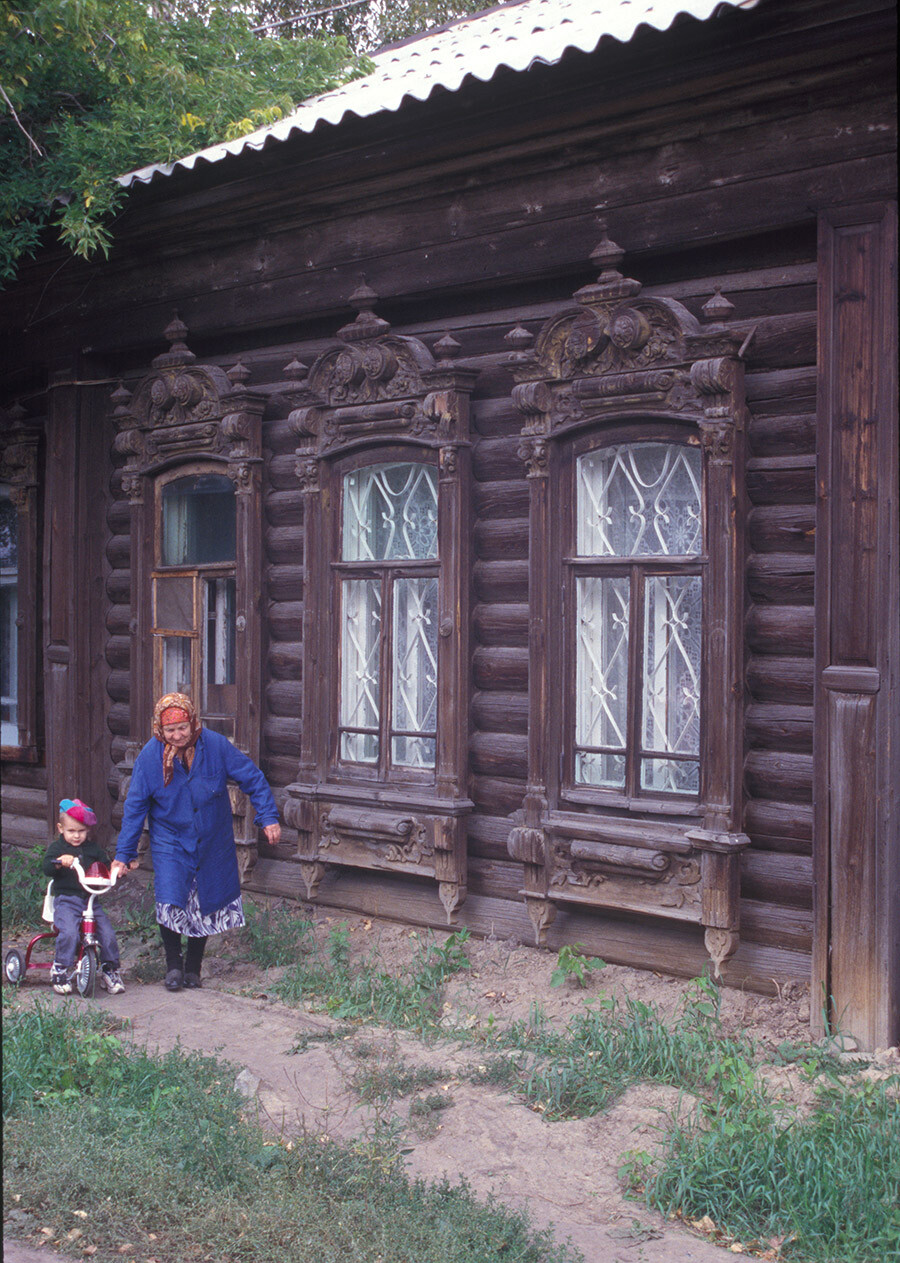 Log apartment house, no. 57 (street unknown; house may have been demolished). Fine example of carved window frames on typical log structure. August 29, 1999
William Brumfield
Tyumen today is the capital of an enormous province - stretching from Kazakhstan in Central Asia north to the Arctic Ocean - that is one of the world's richest energy producing regions. Tyumen has benefited from this bounty of natural resources and is at present one of the few Siberian cities to show major population growth: from slightly over half a million in the 2002 census to some 850,000 in the latest estimate. As usual in Siberian cities, most residents live beyond the historic center in Soviet-era housing developments.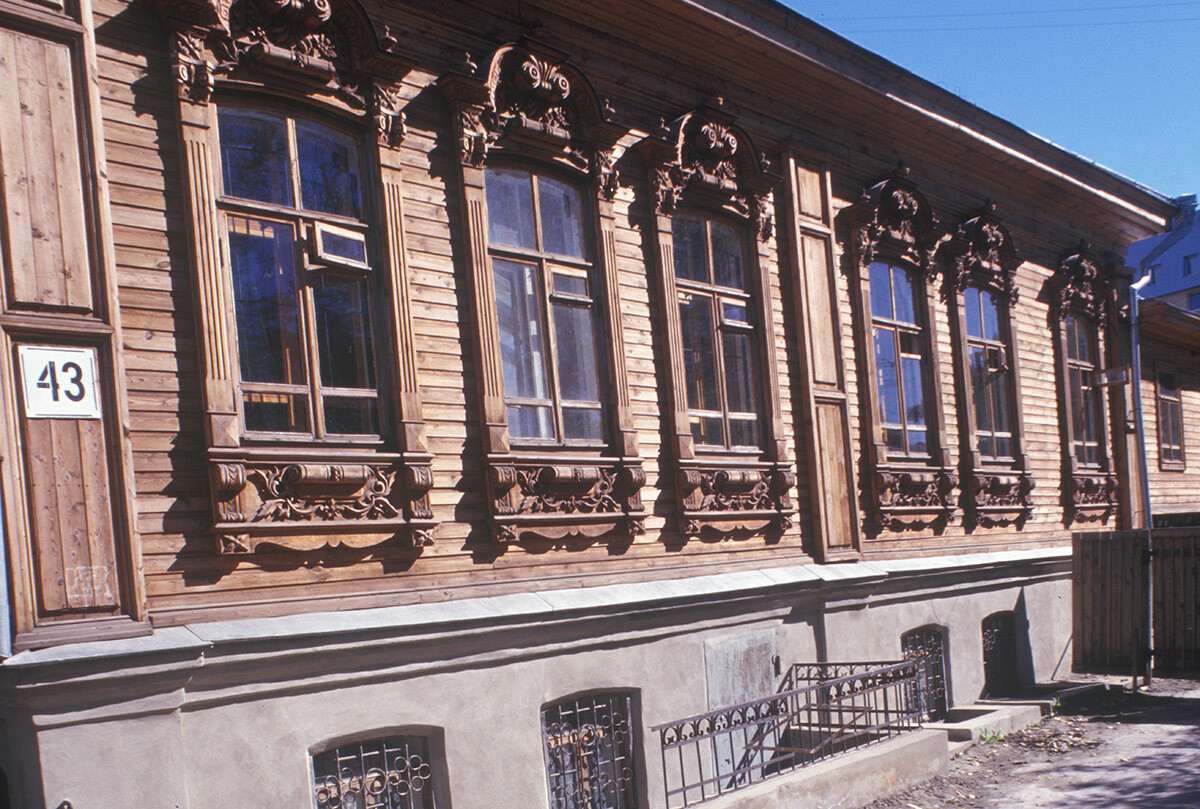 Minshutin house, Vodoprovodnaia Street 43. Built in 1891, the house was restored in 1998 by architect A. Klimchenko with decorative window frames carved by Vadim Sheetov. September 4, 1999
William Brumfield
A walk through the historic center of town shows vivid contrasts of modest pre-revolutionary brick and wooden buildings, rarely more than two stories in height, with ponderous Soviet buildings and sleek new commercial centers. Some of the new structures are private apartment houses, others are banks and office buildings and still others form a part of the expanding Tyumen State University.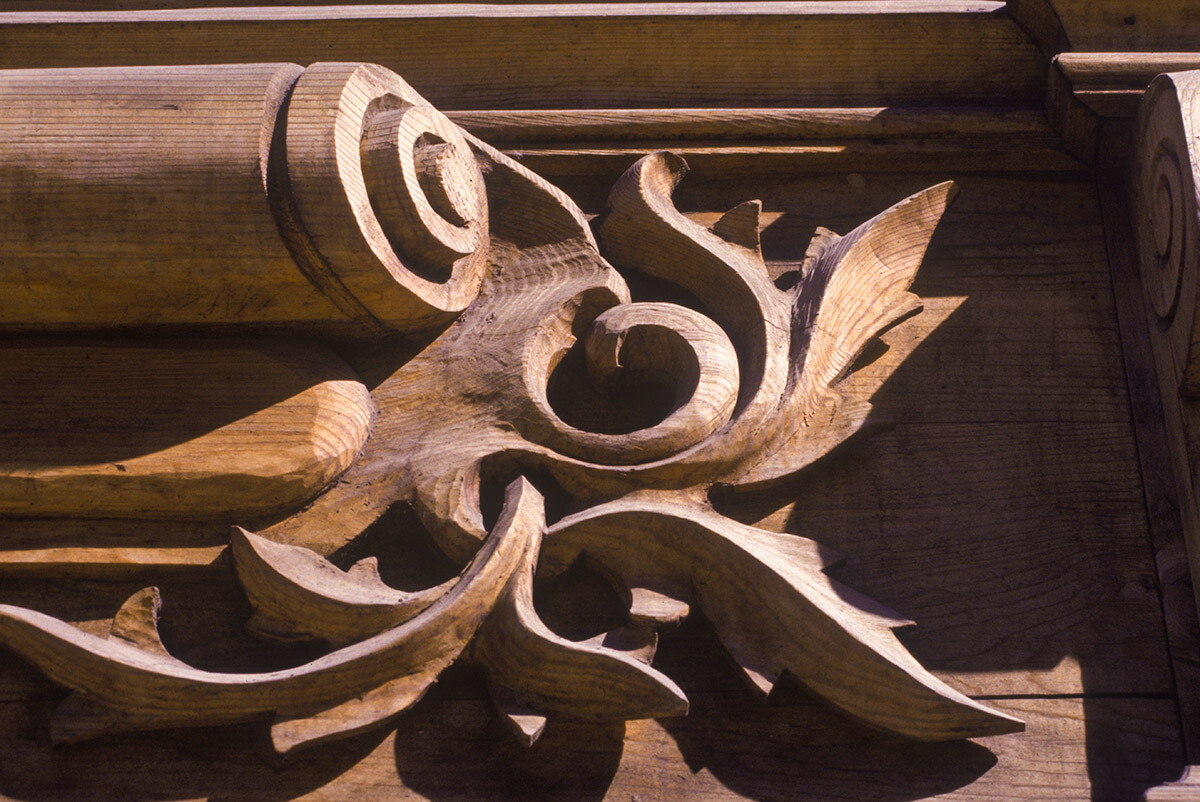 Minshutin house, detail of decorative carving by Vadim Sheetov. September 4, 1999
William Brumfield
In the early 20th century, Russian photographer Sergey Prokudin-Gorsky developed a complex process for color photography. Between 1903 and 1916, he traveled through the Russian Empire and took over 2,000 photographs with the process, which involved three exposures on a glass plate. In August 1918, he left Russia and ultimately resettled in France where he was reunited with a large part of his collection of glass negatives, as well as 13 albums of contact prints. After his death in Paris in 1944, his heirs sold the collection to the Library of Congress. In the early 21st century, the Library digitized the Prokudin-Gorsky Collection and made it freely available to the global public. A few Russian websites now have versions of the collection. In 1986, architectural historian and photographer William Brumfield organized the first exhibit of Prokudin-Gorsky photographs at the Library of Congress. Over a period of work in Russia beginning in 1970, Brumfield has photographed most of the sites visited by Prokudin-Gorsky. This series of articles juxtaposes Prokudin-Gorsky's views of architectural monuments with photographs taken by Brumfield decades later.
If using any of Russia Beyond's content, partly or in full, always provide an active hyperlink to the original material.