Independents' day dawns at local polls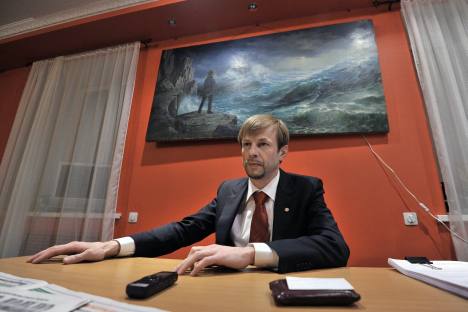 Opposition attracts: Yevgeny Urlashov won the mayoral race in Yaroslavl in fine style. Source: Kommersant
United Russia won only 29 percent of votes in the Yaroslavl mayoral election, revealing widespread disillusionment with the ruling party.
In Yaroslavl, a city of more than half a million people situated about 150 miles outside Moscow, an independent candidate dominated the mayoral election held last month. Yevgeny Urlashov, a veteran of Yaroslavl city council, ran on an anti-corruption platform with support from a broad spectrum of opposition parties – and won 70 percent of the vote.


Observers say that the result highlights two growing trends in Russia: modest victories for the opposition in regional elections; and a critical loss of trust in the ruling United Russia party.


Even before the results came in, there was a sense that Urlashov's campaign had found the momentum needed to carry him to victory. Local opposition parties, including the Communists, Just Russia and Yabloko, united behind the former United Russia city councilor. More than 1,000 election monitors travelled to Yaroslavl from Moscow, St Petersburg and other cities to prevent ballot stuffing and other methods of voter fraud, a sign of the growing political activism among rank-and-file Russians. "The road to the Kremlin goes through Yaroslavl," wrote the Democratic Choice movement leader Vladimir Milov in a blog posted before the poll.


As opposition protests in Moscow started to run out of steam, a campaign for civic participation gradually took its place. Activist Boris Akunin proclaimed: "The civic movement has entered a new phase. The first phase, romantic and euphoric, is over." He argued that the opposition should gather power from the ground up.


Opposition parties in other areas also won modest victories in the March elections. Several young opposition candidates, supported by the "Our City" initiative (a movement encouraging normally apolitical individuals to stand against United Russia in district councils), won seats as city councilors in Moscow.


United Russia candidates also lost mayoral battles in two high-profile locations, Chernogolovka and Tolyatti. The city of Tolyatti is the home of Russia's AvtoVAZ carmaker and a recipient of Kremlin largesse. Despite billions in bailout funds to AvtoVAZ, Sergei Andreyev, an independent candidate, won 56 percent of the votes, which was seen as a referendum against the ruling party. Considering that in the UK only four of the 14 directly elected mayors are independent, the success of the three Russian independent mayors is a very significant victory.


In the run-up to the election, Yaroslavl was shaken in September by the loss of its Lokomotiv ice hockey team in a plane crash. While local investigators said pilot error was behind the disaster, Urlashov disagreed, quitting United Russia in the process. By the time of December's parliamentary vote, anti-United Russia sentiment was at its peak in Yaroslavl. United Russia won only 29 percent of the vote there, the party's worst showing in any of Russia's 83 regions.


In an interview with Izvestia , Urlashov accused his United Russia opponent Yakov Yakushev of running a dirty campaign, in what he called an "attempt to seize power". The result of the election was, he said, "only unexpected for someone who doesn't live in Yaroslavl".


United Russia has increasingly been seen as "a party of crooks and thieves", the name given it by corruption whistleblower and opposition leader Alexei Navalny. Because of this public perception, some United Russia party members say the party must change its image.


Political analyst Alexei Mukhin said rebranding was crucial for the success of future elections and that the party would need to "change its name, conduct a deep, internal rebranding and change its leadership." Mr Mukhin also suggested that United Russia should pick new faces from the professional classes in the regions in order to stave off future losses in local, or even federal, elections.


Sergei Neverov, the head of United Russia's general council, warned that Yaroslavl residents would "regret their decision" in the mayoral elections. And, indeed, Urlashov will have his work cut out: local politics in Yaroslavl's city council are dominated by United Russia, and the regional governor supported Mr Urlashov's opponent in the election.


Mr Urlashov has flatly 
rejected returning to United Russia in order to garner 
political support, but he told Izvestia newspaper that he was ready to work with local politicians as "institutions of government".


"I will work with them 
in a business-like manner, fruitfully and constructively," he added.
First published in Russia Profile. Read the original article here.
All rights reserved by Rossiyskaya Gazeta.