Russians on trial: from Bout to Gaydamak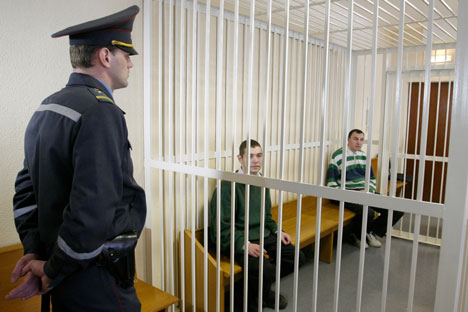 Russian natives Artyom Breus and Ivan Gaponov detained by the Belarusian militia on Dec. 19, 2010, were accused for participating in the mass protests that swept the country after presidential elections. Source: RIA Novosti
Viktor Bout is far from the only Russian citizen who has been subjected to prosecution abroad. Here are 10 of the most notorious.
On April 2012, one of the most headline-grabbing cases in recent years ended when a U.S. Federal Court in New York sentenced Russian native Viktor Bout to 25 years in prison for a combination of offenses including conspiracy to kill Americans, attempts to purchase and sell weapons, and support of terrorism. The court also ordered him to forfeit $15 million. This is not the only case of criminal prosecution against citizens of the Russian Federation abroad. Here are 10 of the most notorious.
1. In March 2011, Russian native Vladimir Sadovnichy and Estonian native Aleksey Rudenko, pilots of two An-72s operated by the Russian company Rolkan Investments Ltd., were detained at the Qurghonteppa airport (formerly known as Kurgan-Tyube) by the officers of the National Security Committee of Tajikistan. The local authorities sentenced both pilots to 10-and-a-half years in prison for illegal crossing the border and smuggling. However, in six months they were released under an amnesty program. Observers suggested the release was the result of intervention by the Russian Ministry of Foreign Affairs.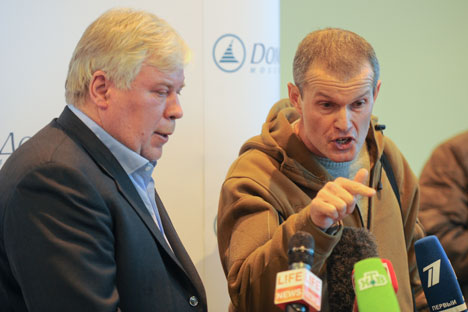 Russian native Vladimir Sadovnichy, right, and Estonian native Aleksey Rudenko, left. Source: ITAR-TASS
2. On Dec. 19, 2010, the Belarusian militia detained Russian natives Artyom Breus and Ivan Gaponov. According to law enforcement, the two participated in the mass protests that swept the country after presidential elections. The Russians spent over a year behind bars waiting for trial; they were eventually released and fined $3,500.
3. On Dec. 2, 2010, Yekaterina (Katia) Zatuliveter, a former assistant to British MP Mike Hancock, was arrested on suspicion of spying for Russia. She was released on a bail and within a year, the British government dropped all charges.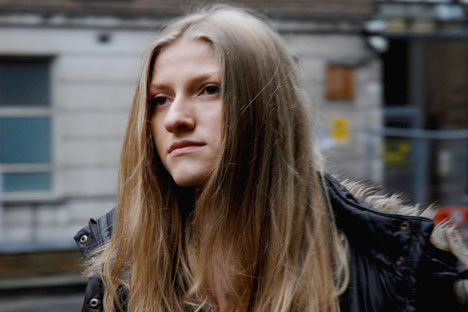 Yekaterina (Katia) Zatuliveter, a former assistant to British MP Mike Hancock. Source: RIA Novosti
4. In July 2010, renowned Russian musician Mikhail Pletnyov was arrested in Thailand on suspicion of child sexual abuse. The entire case was based on the statement made by the relatives of an alleged victim. A search of Pletnyov's house in Pattaya, Thailand produced no proof or compromising material, and all charges were eventually dropped.
5. On June 28, 2010, the U.S. Department of Justice reported the detention of 10 alleged Russian sleeper spies. The next month, Russia and the U.S agreed to an exchange of prisoners.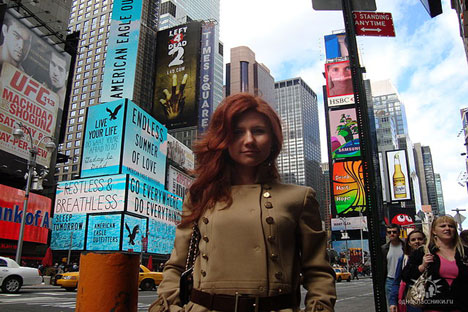 Anna Chapman was involved in the 2010 spy scandal between Russia and the U.S. when 10 alleged Russian sleeper spies were detained in America. Source: AP
6. On May 28, 2010, Liberian authorities detained Russian pilot Konstantin Yaroshenko, who was suspected by the U.S. of drug trafficking. Two days later, the Liberians handed Yaroshenko over to officers of the U.S. Drug Enforcement Administration. Despite the efforts of the Russian Ministry of Foreign Affairs, in September 2011, the U.S. court sentenced the pilot to 20 years in prison.
7. In September 2010, Norwegian authorities detained Russian native Vyacheslav Datsik, who was wanted by Russian authorities. Datsik requested political asylum and surrendered his gun to Norwegian police, but in March 2011, Datsik was deported back to Russia.
8. In October 2005, a court in Zurich, Switzerland pressed charges against a Russian civil engineer from Vladikavkaz named Vitaly Kaloyev. He was charged with the murder of air traffic controller Peter Nielsen. Kaloyev blamed Nielsen for the 2002 mid-air collision between a Russian passenger jet and a DHL cargo plane that killed Kaloyev's entire family. The court found Kaloyev guilty of murder and sentenced him to eight years in a maximum-security prison, but in November 2007, Kaloyev was freed on parole.
9. On Feb. 19, 2004, members of the Qatar special services arrested three Russian natives in Doha and charged them with the murder of Chechen separatist leader Zelimkhan Yandabiyev. One of the detained turned out to be a first secretary of the Russian Embassy in Qatar, Aleksandr Fetisov. Because he had diplomatic immunity, he was eventually released. Two other Russians were given a life sentence for the crime, although Moscow they were later handed over to Russian law enforcement.
10. In 2000, French authorities pressed charges against Arkady Gaydamak, an Israeli businessman of Soviet descent for illegal arms trafficking and he was sentenced to six years in prison in absentia. According to media reports, the businessman is living in Israel.
First published in RIA Novosti.
All rights reserved by Rossiyskaya Gazeta.