Vladimir Putin came into office on May 7 and immediately signed 11 decrees setting the goals and priorities of his new presidential term. In many respects, they repeat the promises he made in his pre-election articles, but they contain a timetable for implementation, according to spokesman Dmitry Peskov.
Putin said that carrying out his promises will cost 1.5 percent of GDP in additional annual budget expenditures; the Ministry of Finance puts the figure at 2 percent of GDP and the Center for Macroeconomic Research (CMR) at Sberbank said they would cost 5.1 trillion rubles ($168 billion) for 2012-2018.
The decrees can be divided into three topics: social (decrees on state social policy, housing and utilities, health care, education and science, demography, international accords, public administration); economic (long-term government economic policy); and military (improvement of the military service, the military-industrial complex, and foreign policy).
Social policy remains the top priority. By 2018, the plan is to increase life expectancy from the current 69 years to 74, and to raise real wages by approximately one-and-a-half times. In 2012, the average salary of teachers will already rise to the average wage in their region, and the salaries of university professors and physicians will be twice that figure within six years. These two measures alone will cost the budget 3.5 trillion rubles ($115 billion), according to the CMR's calculations.
Those who have reached retirement age(nothing has been said in the decrees about increasing that age), but who do not retire right away and keep on working, should receive a higher pension, Putin instructed. This amounts to a hidden increase in the retirement age, said Sergei Guriev, the rector of the New Economic School. Vladimir Nazarov of the Gaidar Institute disagrees with Guriev, saying instead that the increase is not hidden, but voluntary: "This is one of the measures to combat the deficit in the pension system, but to be successful, citizens need incentives to keep on working — for example, doubling the pension if a person works another five years after retirement age," Nazarov explained.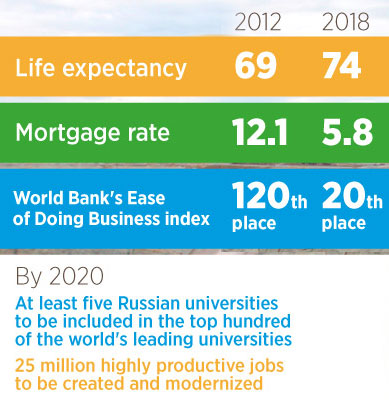 Putin also said that by 2018, people must be able to improve their housing situation at least once every 15 years, if they so choose. For this to happen, mortgage rates should not exceed inflation by more than 2.2 percentage points, while the cost of 1 square meter of housing should be reduced by 20 percent due to an increased amount of affordable housing, according to the decrees. Land parcels not being used by government agencies will be withdrawn and shifted to the fund for development of housing construction; they will be provided to developers free of charge to build affordable housing, with a cap on the sale price.
In April, the average weighted interest rate on mortgage loans was 12.1 percent, according to Central Bank statistics. Annual inflation (April 2011 to April 2012) was only 3.6 percent, and so, based on Putin's formula, banks should not have been lending at higher rates than 5.8 percent per year.
Andrei Stepanenko, deputy chairman of Raiffeisenbank, said that only Sberbank can provide a rate like that for the cost of financing a mortgage. According to the projection, up to 2014, the government wants to hold inflation to 4-6 percent; therefore, the maximum mortgage rate should be about 8 percent. To ensure that, Russia will have to have a full-fledged, long-term money market, said Stepanenko. "Such a market could be created by using non-performing pension funds," he added.
The large state-owned banks could issue mortgage bonds for 5-10 years; then the rate would reach 9-10 percent, suggested Yegor Shkerin, head of unit sales at Uniastrum Bank.
One co-owner of a large development company said that an affordable mortgage with no increase in the volume of construction will lead to higher housing prices. "If today we are building 50-60 million square meters per year, it would take a 20-30 percent increase in annual construction to reduce housing costs by 20 percent; and with a more affordable mortgage, the volume of construction would have to be doubled, i.e., up to 100-120 million square meters per year," said the developer. This requires that the land parcels be provided with the necessary infrastructure and that regions and municipalities are prepared to build social infrastructure.
Another of Putin's decrees promises that by 2014, 70 percent of citizens should be able to access state services over the Internet, and the waiting time to speak to a live operator will not exceed 15 minutes. By 2020, at least five Russian universities will be included in the top hundred of the world's leading universities, and as of November 2012, immigrants — with the exception of highly qualified professionals — will take an exam on the Russian language, Russia's history, and the basic provisions of its law, another decree threatens.
Concerning the economy, Putin is planning by 2020 to create and modernize 25 million highly productive jobs, while the proportion of high-tech industries in the GDP will achieve a 1.3-fold increase (it is now 11.6 percent). By 2018, the productivity of labor should increase 1.5-fold compared to 2011. In the World Bank's Ease of Doing Business index, Russia will rise from its current 120th place to 20th place by 2018.
Putin has given former President Dmitry Medvedev's unfulfilled mandate to expand the privatization program to Prime Minister Medvedev, instructing him to carry it out by October 2012. But in President Putin's version, the state should withdraw only from non-raw materials companies that work in competitive sectors. This means that Putin heeded the warnings of Igor Sechin and opposed the withdrawal of the state from Rosneft and Zarubezhneft, by preserving the "golden share" of their capital.
The main benefit from the possible privatization of Rosneft is the improvement of the liquidity of the Russian market, said Denis Borisov, an analyst at Nomos-Bank. Now the total capitalization of all traded companies is comparable to the value of just two U.S. companies — Apple and Google. Which type of company is more effectively managed — public or private — is almost a philosophical question, Borisov added; now, according to value indicators, Rosneft is traded without a significant difference from the level of private companies in the West.
Putin also demanded that, by the end of 2012, the government will amend the laws that prohibit state companies and state banks with a share of more than 50 percent from acquiring new assets; Medvedev had also issued such a mandate at the end of 2011.
Putin has proposed that government orders for items costing more than 1 billion rubles must be subject to a public discussion. However, Alexander Stroganoff, the general director of the State Orders Placement Center, noted that orders could be split to avoid a hearing.
Guriev of the New Economic School said that it's a good thing Putin has not ignored the promises he made during the election campaign. Said Guriev, "[There's] not much in the way of specifics, but more than expected. It is important that plans have been set to improve the investment climate and privatization."
Guriev does not venture to predict whether Putin will succeed in what he has planned. The previous program, known as"the Gref strategy," was only 36 percent implemented, according to the analysis conducted by the Center for Strategic Research (CSR). It succeeded in raising the standard of living of the population, doubling GDP, and maintaining the solvency of the state. It did not succeed in creating social institutions and strong local self-government, carrying out judicial reform, diversifying the economy, and strengthening its competitiveness, according to the CSR report.
First published in Vedomosti.ru.
All rights reserved by Rossiyskaya Gazeta.