Equal rights a long way off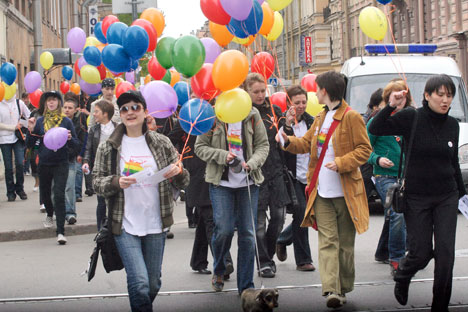 Russia's gay activists taking to the streets to defend their rights. Source: ITAR-TASS
Gay rights campaigners still face significant social and political obstacles in their quest for recognition and equality.
Homosexuality in Russia was punishable by exile to Siberia under the Tsars and up to 8 years in prison during the Soviet era, with all strictures being removed on June 3, 1993. However, the introduction of a 'gay propaganda' law in several cities has angered many in the community, who argue that this shows entrenched anti-gay attitudes remain in the country and are supported at a governmental level.
Gay rights Activist Sergei Ilupin asserts that "in Russia LGBT people constantly suffer from homophobic aggression, violence, and murders, while investigation of these crimes is often discontinued under some contrived pretext." Ilupin believes that same-sex couples in Russia must be granted the rights to get married, adopt children and obtain legal safeguards.
Ilupin notes that "it is virtually impossible to prove that dismissal from work, expulsion from educational institutions, acts of violence or murders are homophobia-motivated, since the very notion of homophobia is not found in the legislation, and LGBT are not recognized as a social group." Furthermore, there is active resentment against what is seen as the propagation of a gay agenda.
Prohibition against rainbow-colored symbols and open demonstration of homosexuality has already come into force in Astrakhan, Ryazan, Novosibirsk and St. Petersburg, where fines are being enforced for those who participate. Nikolai Alekseev, one of the regular organizers of St Petersburg Gay Pride marches, was fined 5000 rubles for holding a poster quoting the famous soviet actress Faina Ranevskaya, who declared "homosexuality is not a perversion. Field hockey and ice ballet are."
In Moscow where the 'gay propaganda' law has not yet been adopted, the authorities have chosen a different route, banning gay pride parades for 100 years. Gay rights activists have taken advantage of a loophole in the law and proclaimed their march a cultural event. Alekseev himself tried to obtain a permit, but the response he received contained neither the permit nor an express prohibition. The letter was presented to a court, which declared the ban a perfectly legal measure.
The Russian gay community has had some successes, holding a legal event titled The March of Burning Hearts on June 2, 2012. The event was branded a gay pride event by the Russian mass media, but had a broader scope; aiming to support not only the rights of the LGBT community, but also the rights of ethnic minorities, women and laborers, and one of its active organizers was the left organization Committee for a Workers' International.
These events, however, might soon be banned, given that the 'gay propaganda' law has every chance of being adopted across the whole country. "There are no reasons why it shouldn't be adopted. Even more so since the regional initiatives have already become legal. Gay emancipation in Russia is impossible. We have to enhance our birth rate, there's also an issue of moral principles and the culture," argues a United Russia party deputy, Alexander Khinshtein.
The MP admits that gay people have the right to freedom, but he believes that they must not make their lifestyle "fashionable and romantic." In Khinshtein's view it is the participants of gay pride marches who are responsible for provoking religious people and nationalists, which means that they should not be granted special laws for protection. Khishtein states, "I do not support their actions, although I believe that they are not motivated by hatred, it is rather an aggressive protection of morals."
People in many Russian cities share his reluctance to support the gay rights movement. During the recent LGBT film festival in Siberia, residents of Novosibirsk attempted to attack its guests. The police, who were there to ensure security in the cinema, were reluctant to interfere, and one of senior police officers said to the organizers: "I am not going to protect you here tomorrow."
All rights reserved by Rossiyskaya Gazeta.