Susan Lehrman: Connecting Russian and American cultures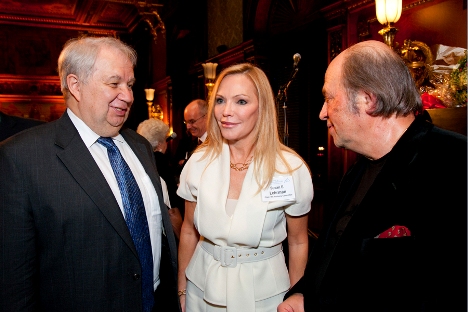 Russian Ambassador Sergey Kislyak and IRC Chair Susan Lehrman speak with Igor Bril after his performance. Source: ImageLinkPhoto.com.
Susan Lehrman is becoming known as an international philanthropist with her eyes, and her heart, on Russia.
RBTH: You have worked with many countries in the past with a host of philanthropic projects. Why did you decide to work so closely with Russia?
Susan Lehrman: "When I was chairing the National Opera in Washington, D.C., my interest in music blossomed and I fell in love with Russia's contribution. I realized how much Russian influence there is in America today, and some of it stirred memories from my childhood – "Peter and the Wolf," "The Nutcracker," and various Russian fairy tales.
Being from a musical family (my father was a violinist and sister – a concert pianist), I was also exposed to a lot of great Russian music of the 20th century (like Rachmaninoff and Shostakovich) at an early age. If you look back in history, many Americans have a connection to Russia. I chose American University for that initiative because there was a good reaction to what I was trying to do as a philanthropist.
RBTH: How closely do you work with the Russian embassy?
S.L.: "Ambassador Kislyak has been most helpful to us and very supportive of our efforts by not only offering the use of the newly renovated Embassy theater but as Honorary Co-Chair, by personally attending many of our events and by offering his help, advice and encouragement to us throughout. It was amazing to see American undergraduates inside the Russian embassy discussing about geopolitics with the Russian ambassador in English – he enjoys it a lot."
RBTH: I hear you made your first trip to Russia last year. What kind of impact did it have on you personally?
S.L.: "I was amazed by people's kindness toward newcomers, generosity and hospitality. This concerns practically everyone: from ladies working in shops who are willing to help a non-native speaker to the people who are constantly giving me flowers, chocolates and other gifts. I even now feel embarrassed that some Russians visiting the U.S. for the first time could have a relatively unwelcoming experience. I'm also impressed by the level of cultural education many Russians have. Russia is really a fabulous tourist destination once you get past the visa process. I was also surprised to learn about how huge a sacrifice and how great a contribution the Russian people made in World War II. That information is not widely known or understood in the U.S".
RBTH: How can a cultural project affect the relationship between Russia and the United States?
S.L.: "A solid base for positive relations between the United States and Russia comes from culture. Culture is what lasts. Political leaders and agendas change, but culture stays with us as a legacy forever. It's difficult to judge the long-term effect the Initiative will have at the moment, but after only one year, three students with no previous background have developed an interest in Russia. One of them is now writing her senior thesis on Russo-American mutual perceptions in the antebellum period; another has moved to the country to learn the language. Students at American University recently re-established the Russian Culture Club with help from the IRC after it had been dormant for several years."
All rights reserved by Rossiyskaya Gazeta.