Cleric murdered in 'civil war'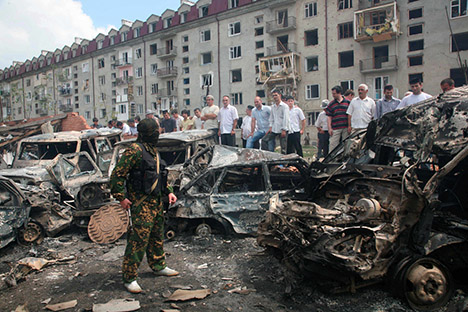 Legacy of violence: the aftermath of an earlier attack by insurgents in Ingushetia. Source: AP
A string of sectarian killings amid escalating violence in Russia's Muslim provinces threatens to destabilise a fragile peace.
Sheikh Said Afandi, an influential Sufi cleric, was killed in Dagestan last week along with six others in a suicide bombing police say was carried out by an ethnic Russian woman who had converted to Islam and who had ties to the Islamic insurgency in the volatile North Caucasus region.
Afandi, 75, was known to have publicly denounced Islamic fundamentalism, and his murder follows the coordinated attack on July 19 on two high-ranking muftis in the Volga Republic of Tatarstan, one of whom, Valiulla Yakupov, was shot and killed. Both Yakupov and Ildus Faizov – who escaped with leg injuries when an explosion ripped through his car – were perceived as state-approved religious leaders who attacked radical Islam.
As a cleric in the Sufi Brotherhood, Afandi was a key leader in the sect of Islam which is traditionally popular in the North Caucasus but despised by Islamic fundamentalists, who practise an ultra-conservative form of Sunni Islam known as Wahhabism. While Sufis incorporate the worship of saints and highly ritualised ceremonial prayers into their practice, Wahhabis condemn this as idolatry and are opposed to other non-traditional forms of worship. They also call for the establishment of Islamic rule and sharia (Islamic law).
Afandi, like Yakupov and Faizov, played an active role in discouraging local populations from adopting radical Islam, and enjoyed support from the local authorities. "There have been 57 Islamic spiritual leaders killed in Russia over the past 15 years, but last year was a record," said Roman Silantyev, religious scholar and associate professor at Moscow State Linguistics University. "These most recent killings involved child victims and a mosque being burnt to the ground. This didn't happen before."
Aslambek Paskachev, the chairman of the Russian Congress of the Peoples of the Caucasus, disagreed. He said: "This isn't anything new. Many religious figures have been attacked in the past 10 to15 years. Whenever some semblance of peace returns to the Caucasus, some new attacks happen. This shows that there are serious forces that are not interested in a lasting peace."
In his blog, In Moscow's Shadows, the Caucasus security expert Mark Galeotti said that Afandi had been targeted "because he was a rival source of religious authority" to the Wahhabis and "challenged the legitimacy of their Manichean world view". He said that the attack showed a growing "Muslim civil war" was developing in the region.
Silantyev noted that not only was compromise between Sufis and Wahhabis in Dagestan impossible, but the peace talks in which Afandi took part may have actually led to his death. "I believe that those people who call for negotiations with terrorists, Wahhabis and Salafis should be prosecuted in court," he said.
Nikolai Svanidze, chairman of the Interethnic Relations Committee of Russia's Public Chamber, disagreed. "We need dialogue. The reasons behind the conflict are social: inequality and strange court decisions."
"The Wahhabis are getting stronger every year... If they destroy their ideological opponents, Islam in Russia will radicalise and we'll be able to forget about the religious peace that we're so proud of," Silantyev said.
"The only person who managed to effectively combat the Wahhabis is [Chechen President Ramzan] Kadyrov. The authorities have a chance to continue his work," said Silantyev.
Paskachev said: "The situation will depend on how efficiently our law enforcement bodies will work. If they do their job [and punish the perpetrators], tensions will decrease."
All rights reserved by Rossiyskaya Gazeta.