Art-Moscow fair targets younger art collectors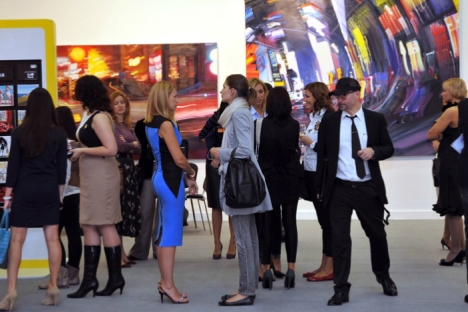 The 16th annual Art-Moscow contemporary art fair will run through until the end of September. Source: Art-moscow.ru / Press Photo
Thirty-five galleries, a few stars, and a new ideology: "You don't need to be a millionaire to become an art collector!" It all adds up to the 16th annual Art-Moscow contemporary art fair.
This year, it seemed as though everything was set against the 16th annual Art-Moscow fair. Only 35 galleries were booked this time around — in the past, there had been twice as many. Few of these galleries expected to be laughing their way to the bank afterward, since the fair has only turned a profit once, in 2007. In fact, three major galleries closed before the event even began. To top it all off, the competing ViennaFair and its new Russian sponsors scheduled their own event for the same dates as the Art-Moscow fair; they even managed to lure away the latter's curator.
Still, the show not only went on, but managed to put the word out with unexpected gusto. Major Moscow galleries such as Triumph, RuArts, and Fine Art all contributed, along with galleries from France, Austria, Hungary and Portugal, the White Space Gallery from London, and three participants from Iran. The remainder of the program consisted of Russian (non-Moscow) and Ukrainian galleries, showcasing an altogether lively event.
Moscow gallery owner Ekaterina Iragi joined the fair's Advisory Panel (her own gallery Iraqui is already an established participant) and was unexpectedly thrust into the role of ideological mentor. The guiding force behind the fair, in her view, was a transformation of the relationships between artists and galleries, buyers and sellers, the artistic community and government structures. There was not much in common with Western art fairs – Art-Moscow lacked comparable financial backing and status. But there was plenty of more or less high-quality art to be found, as well as plenty of visitors coming to see it.
Iragi pinned her hopes on the increasing quality of the fair's visitors. Moscow is full of considerably large contemporary art events, and young people are quite used to visiting art centers and enjoying works of art; but the last step is convincing younger audiences that it really is possible for them to purchase art themselves. The Art-Moscow fair at the Central House of Artists needs to become more accessible to a wider range of people, yet it remains to be seen how far these ideas will go with other gallery owners.
These issues were discussed as part of an unusually busy discussions program, which included talks with such titles as "You don't be a millionaire to become an art collector" and "The European vision of modern Russian art." The answers to these and other questions may help to transform the relationships between those who produce art, those who market it, and those who purchase it.
Source: Art-moscow.ru / Press Photo
Discussions at Art-Moscow were set against a worthy backdrop. Commercial exhibitors showcased large-format works by Dubosarsky and Vinogradov (from the Triumph gallery), canvases by Alexander Rodchenko and Dmitry Baltermants (Glaz gallery), stereo panels by Konstantin Khudyakov (from Art & Space in Munich) and "New Cuban Glamour" from Collage Haban Gallery. Meanwhile, Tehran's Ariana Gallery is presented a collection of works by Charles Hossein Zenderoudi, based on traditional Islamic calligraphy. The non-commercial exhibits that took part in the fair included the West Ukrainian Warhol's Precursors project, photography by Vita Buyvid, conceptual carpet weaving, limited-edition silk prints of pop-art masters, and a sculpture by Aleksei Morozov. A program of international work was screened in the video lounge, which was created especially for Art-Moscow by Sorbonne professor Olga Kiseleva.
Adding to its list of achievements, Art-Moscow managed to include itself in the Moscow Art Week event, which was on in conjunction with the Biennale of Contemporary Art. This meant that Art-Moscow opened at the Central House of Artists on the same day that a separate exhibition by Spanish artist Alicia Martin premiered at the same venue. Martin's exhibition featured work created from recycled materials, including an entire waterfall of old books. Following the Art-Moscow fair, the Central House of Artists plans to display a project titled "Scientific Art," along with a creative competition called "The Laboratory of Light."
First publihsed in Russian in Kommersant Weekend Magazine.
All rights reserved by Rossiyskaya Gazeta.