Bout makes an attempt to be heard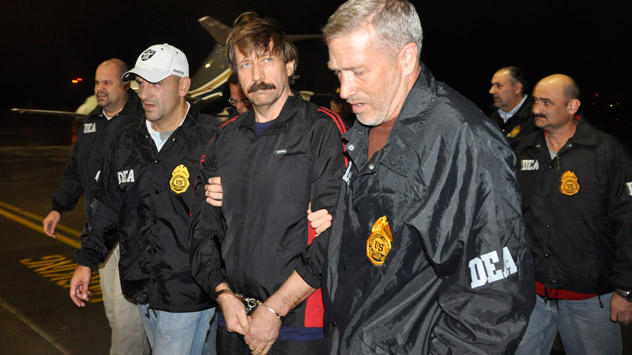 Viktor Bout is serving his sentence in a prison-wing with restricted communication provisions, under which the contact that prisoners have with the outside world is overseen with special vigilance. Source: AP
Russian citizen Viktor Bout describes conditions in the U.S. prison where he is serving his sentence. Bout's cell-mates are amenable and friendly, and Bout spends his time studying and doing sports.
Russian citizen Viktor Bout is currently serving out his sentence in a special wing at the Marion U.S. Penitentiary, in the State of Illinois. In an email sent to a correspondent of Russian Press Agency ITAR-TASS over a closed email network, Bout described conditions in the facility and how he has been spending his time in prison.
The case against Viktor Bout
The "Viktor Bout Case" began in the spring of 2008, when the U.S. incriminated the 41-year-old Russian aviation-industry businessman with charges of illegal arms trafficking and aiding the radical terrorist group FARC. Bout was arrested in Bangkok and extradited to the United States in 2010. Since that time, he has faced charges on four counts: criminal conspiracy to murder American citizens; conspiracy to murder U.S. government officials; obtaining and selling anti-aircraft weaponry; and the supply of weaponry to terrorist groups. In April 2012, Bout was sentenced to 25 years in jail. Bout's lawyers continue to call the process of Bout's conviction and sentencing illegal. An official representative of the Russian Foreign Ministry has said that it will lobby for Bout to be returned to Russia.
Prison authorities offered Bout use of the closed email network in July, after one Russian journalist requested to personally visit the inmate at the Marion penitentiary. Until recently, two-way correspondence had failed to be established. Bout, according to his wife and his lawyers, had only received correspondence, but had been unable to reply to it "for technical reasons."
Bout was finally successful in sending his first email in September. The inmate describes his relationship with those around him as "good, as far as it can be." According to his letter, Bout is in an isolation unit that has its own special regime. No personal contact with the penitentiary staff is permitted for detainees, and detention procedures are specially designed to prevent this from happening.
"Luckily the prisoners are very peaceful and orderly," Bout wrote. "For the most part, they are Muslims – they're amenable, quiet and friendly. I haven't seen any outbursts of aggression. Our wing is an exception in that way. The majority of guys aren't in here for violent crimes."
Bout writes that he prefers to spend his time alone reading, studying, listening to music, and sometimes drawing or painting. "I'm trying to stay in shape – doing exercises, running, that kind of thing," he wrote.
Alongside the main text of his email, Bout included a "quote of the day" from the writings of the well-known Hindu mystic Osho. The quotation says that "a silent man can't be part of society" and can join society only by speaking up.
Viktor Bout is serving his sentence in a prison-wing with restricted communication provisions, under which the contact that prisoners have with the outside world is overseen with special vigilance. Bout was sent to this wing specifically because the various charges against him included "conspiracy to murder citizens of the United States" and other similar accusations. The U.S. Justice Department has stated that the situation regarding the conditions of Bout's detention "will be regularly reviewed."
The story is based on the information from Rossiyskaya Gazeta.
All rights reserved by Rossiyskaya Gazeta.