U.S. final debate puts Russia on agenda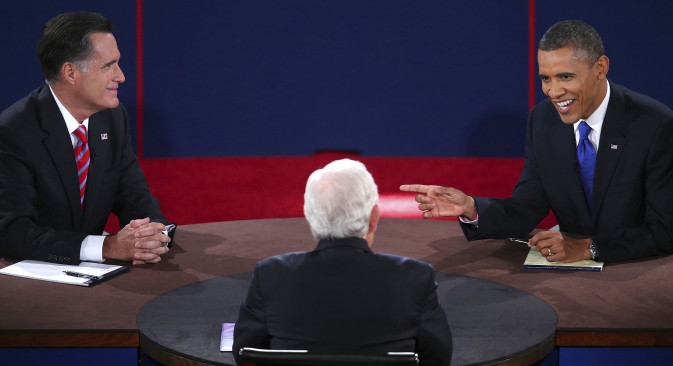 The Obama administration considers its reset policy to be successful and most likely will continue to engage Russia, with a special focus on the promotion of a bilateral economic agenda, according to some American experts. Source: AP
Russia comes back into focus during third presidential debate between President Barack Obama and Gov. Mitt Romney.
President Barack Obama portrayed Russian-U.S. relations as improved under his watch during the third and final presidential debate in Florida on Tuesday, October 23. He also stepped up his attacks against his presidential rival, Mitt Romney, who in turn called Obama's foreign policy "weak."
Romney's charged answer during the election campaign that Russia is the biggest geopolitical threat facing the United States came back to haunt the governor Tuesday night. "Gov. Romney, I'm glad you recognize that Al Qaeda is a threat because a few months ago when you were asked what's the biggest geopolitical threat facing America, you said Russia—not Al Qaeda—you said Russia," stated Obama.
The president continued with, "The 1980s are now calling and asking for their foreign policy back," a quote that became a meme with Democratic bloggers by Wednesday morning.
In response, the Republican presidential nominee struck a defensive tone, stating that "attacking me is not an agenda." Nevertheless, he did not back away from his comment, underscoring that "Russia is a geopolitical foe" because Moscow "does continue to battle us in the U.N. time and time again."
In line with his election campaign rhetoric, Romney said that he has "clear eyes on Russia" and won't look at Russia's President Vladimir Putin "through rose-tinted glasses." He pledged to show backbone, if he is elected president, in bilateral relations between Washington and Moscow.
However foreign policy experts stress that Gov. Romney's harsh statements are unlikely to transform into real policy action even if he wins the election on Nov. 6.
Steven Pifer, director of the Arms Control Initiative at the Brookings Institution, told RBTH that if Romney gets to the Oval Office he "would still need to have Moscow's support on arms control, cooperation on Afghanistan, Iran and other issues." In that sense, Russia remains a priority for any sitting U.S. president.
According to Pifer, the Obama administration considers its reset policy to be successful and most likely will continue to engage Russia, with a special focus on the promotion of a bilateral economic agenda.
However other experts are cautious about predicting a renaissance of relations during a second Obama term if that were to happen. "If reelected, the president may not be as inclined to invest the same amount of political capital into relations with Russia. During Obama's first term, it didn't exactly pay off as the current administration had hoped," said Matthew Rojansky, deputy director of the Russia and Eurasia Program at the Carnegie Endowment for International Peace. Rojansky cited the recent stand-off on Syria as a controversy that could weaken political will.
Observers and post-debate polls indicated that Obama managed to secure a blow to Romney's presidential ambitions. The CNN/OPC poll revealed that 48 percent of Americans said the 44th U.S. President won the debate, while 40 percent of Americans said Romney won. The race itself however, is still extremely close, with only two weeks of campaigning to go.
Alexander Gasyuk is Rossiyskaya Gazeta's Washington D.C. correspondent.
All rights reserved by Rossiyskaya Gazeta.