Moscow's wacky street art, and where to find it (PHOTOS)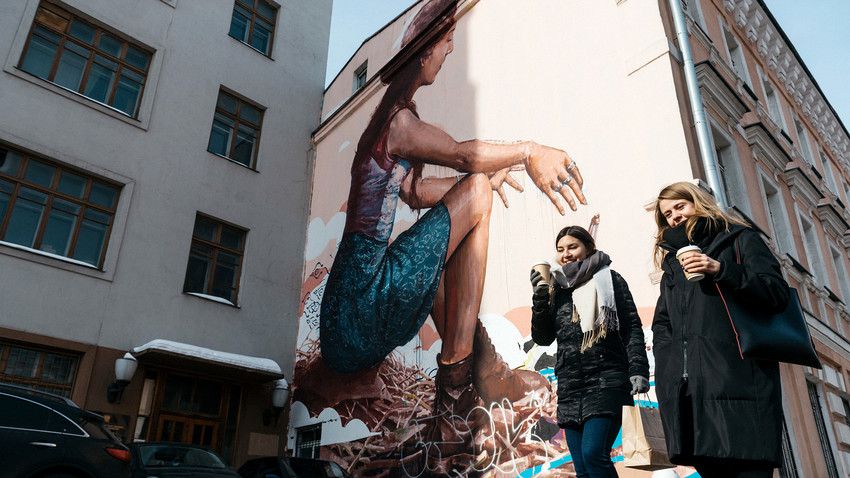 Two women passing Fintan Magee's 'Message'
Anton Belitskiy
Moscow's brazen street art sticks out like a sore thumb in a city that does its utmost to erase all manner of fantastical self-expression from its walls.
Moscow is known for having very low tolerance for graffiti, and the city has always done its best to remove any unwanted creativity that spoiled the chaotic urban landscape, which itself looks as if designed by someone with a propensity for unpredictable mood swings. We take you around town to see some of the more impressive examples of graffiti that have survived the 'purges'.
1. Various – Flacon Design Factory graffiti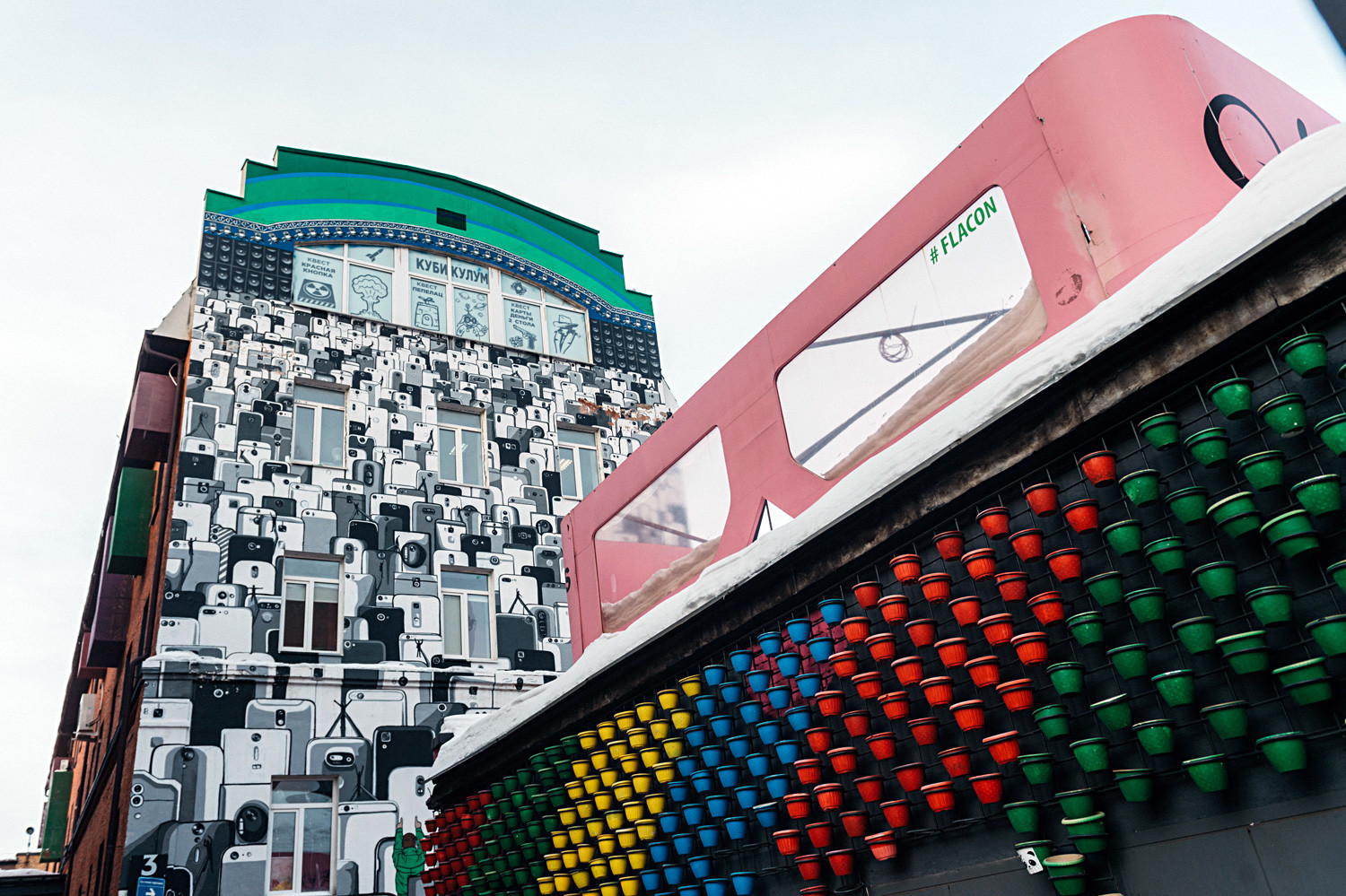 When it comes to the abstract and eclectic, one place you can always count on is the Flacon Design Factory, which is known for facade art that seamlessly integrates into the brutal factory-style aesthetic, sometimes hinting at social commentary, and at other times, just randomness. The previous work – before it was removed – required 150 cans of spray paint. We suspect that a similar amount was used on this huge mural depicting dozens of smartphones.
2. Vostok – no name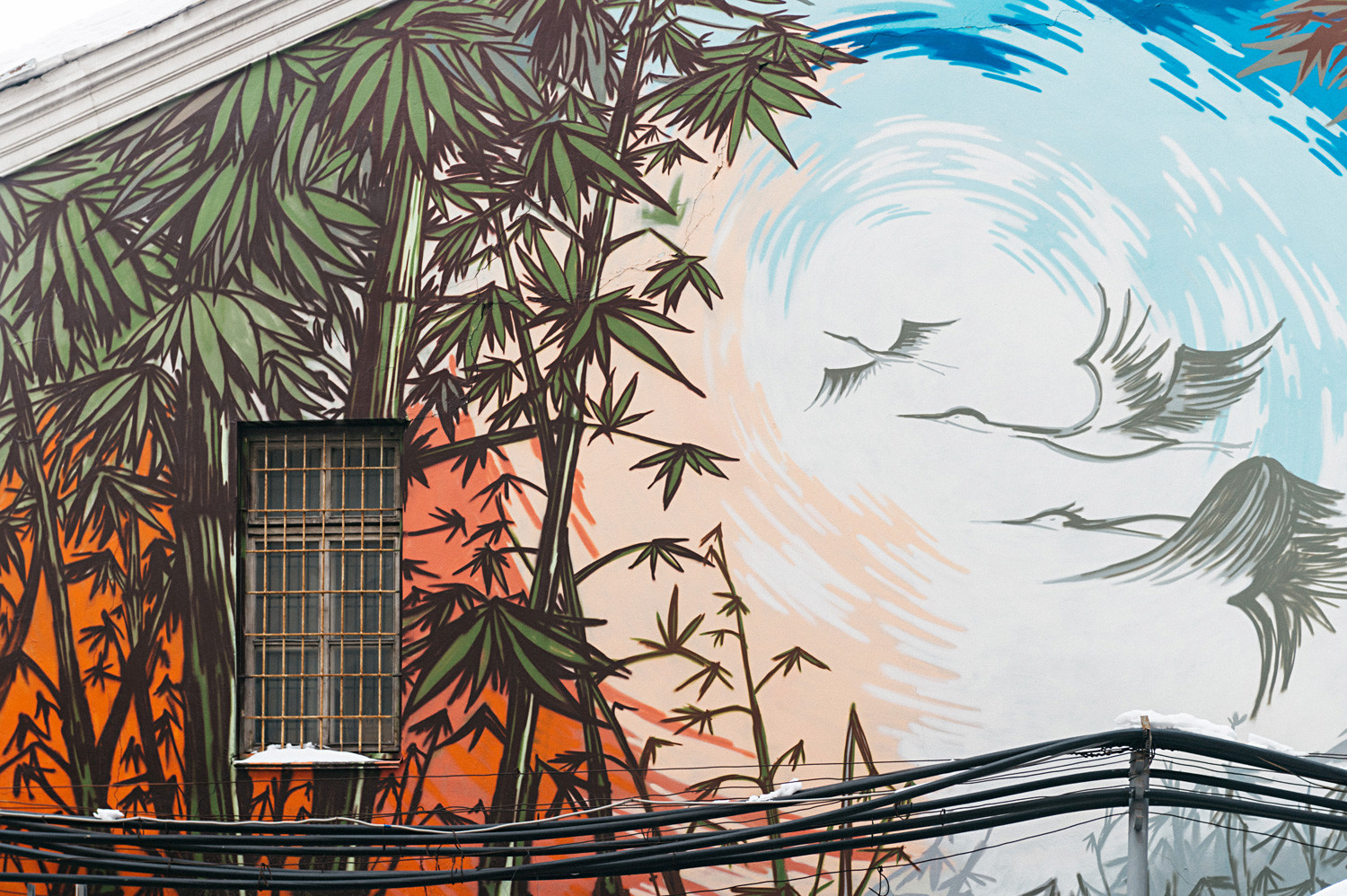 One of the Vostok graffiti
Anton Belitskiy
This artwork by Vostok was part of the Best City on Earth festival. There is something enigmatic and sad about some of Moscow's best street art being concealed behind garbage bins, in courtyards and cul-de-sacs. All one has to do usually is turn into an alley somewhere – in this case, one of the central streets, Tverskaya 8, near the Tverskaya/Chekhovskaya/Pushkinskaya metro stations.
3. Fintan Magee – Message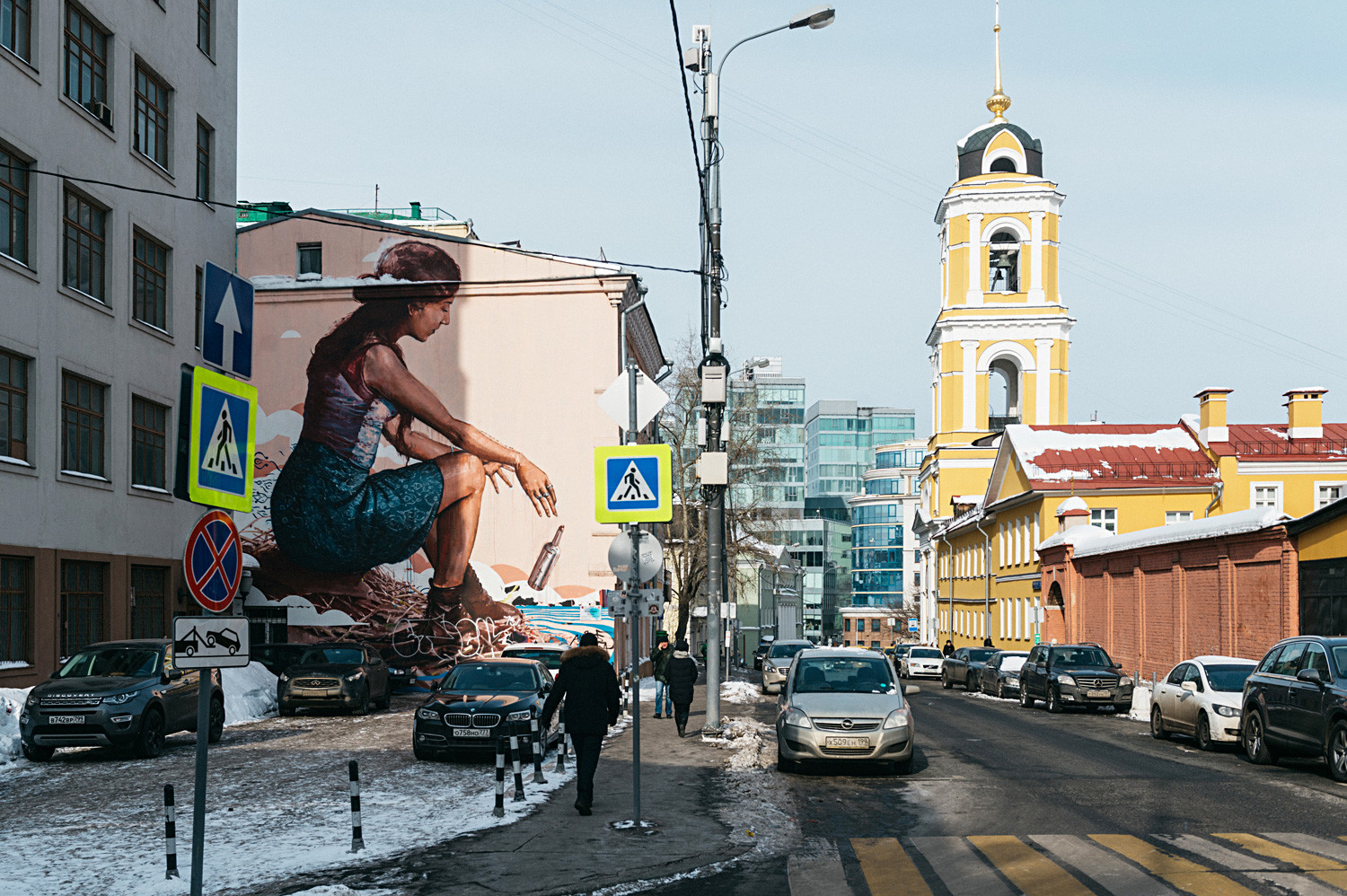 'Message', by Fint Magee
Anton Belitskiy
Created as part of the Best City on Earth graphic art festival, which showcases the work of some of the world's best street artists, this piece by Australian Fintan Magee is quite melancholic and very realistic. Depicting a young woman who sends a message in a bottle, it can be glimpsed near Trubnaya metro station, at Rozhdestvenka 23/5, building.
4. Vova Kupalov (Nootk): The bourgeois-styled mural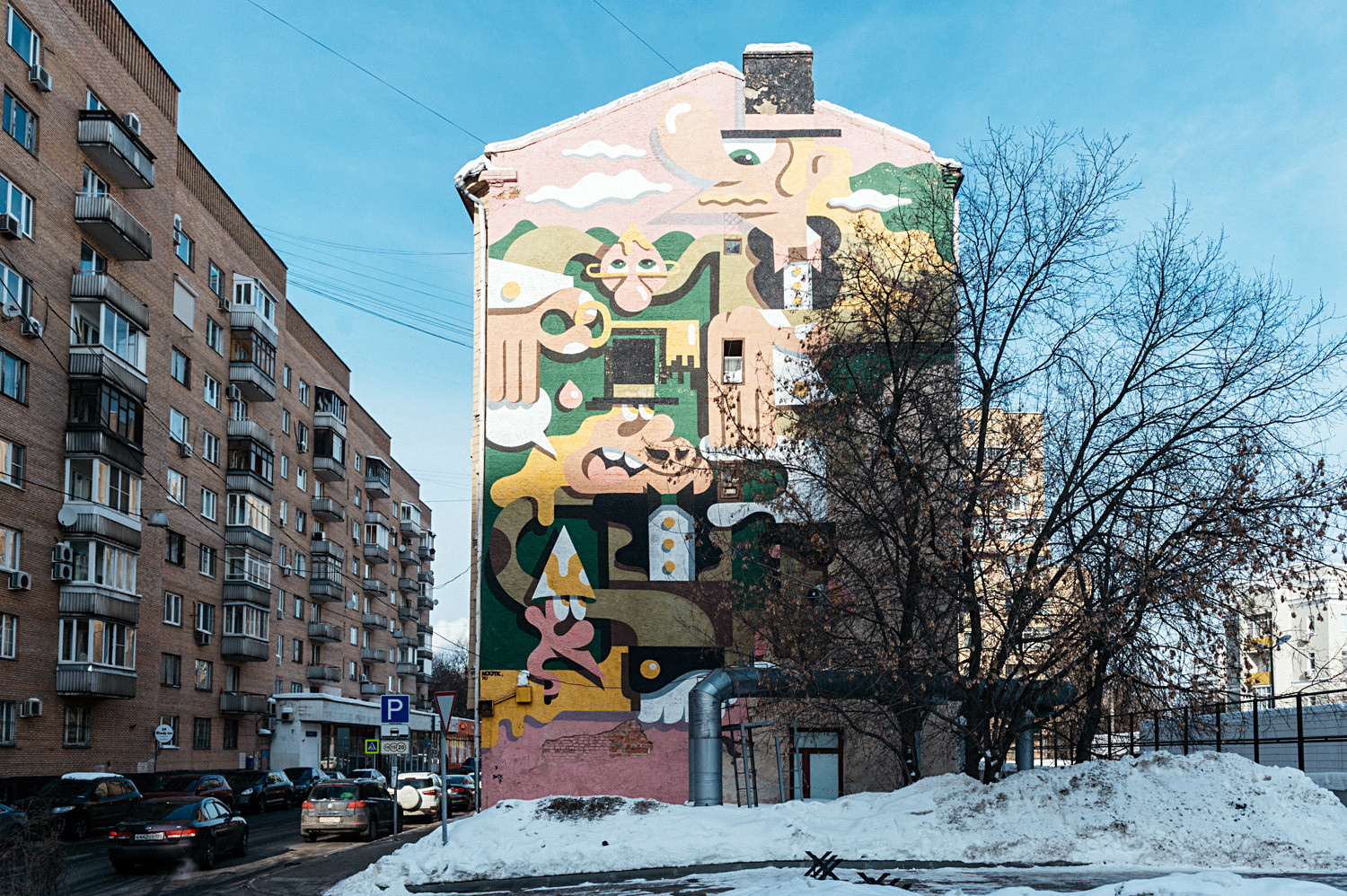 Vova Kupalov's (Nootk) work
Anton Belitskiy
Winner of the Moscow Street Art Festival grand prix, Vova Gupalov is extraordinarily talented. He covered the entire wall of Astrakhansky Pereulok 8 in less than five days, working in seven-hour shifts. Some 200 cans of spray paint were used. The artwork is a satirical depiction of the various inhabitants that Vova envisioned had lived there over the years.
5. Unknown Artist – Dali's Girl at a Window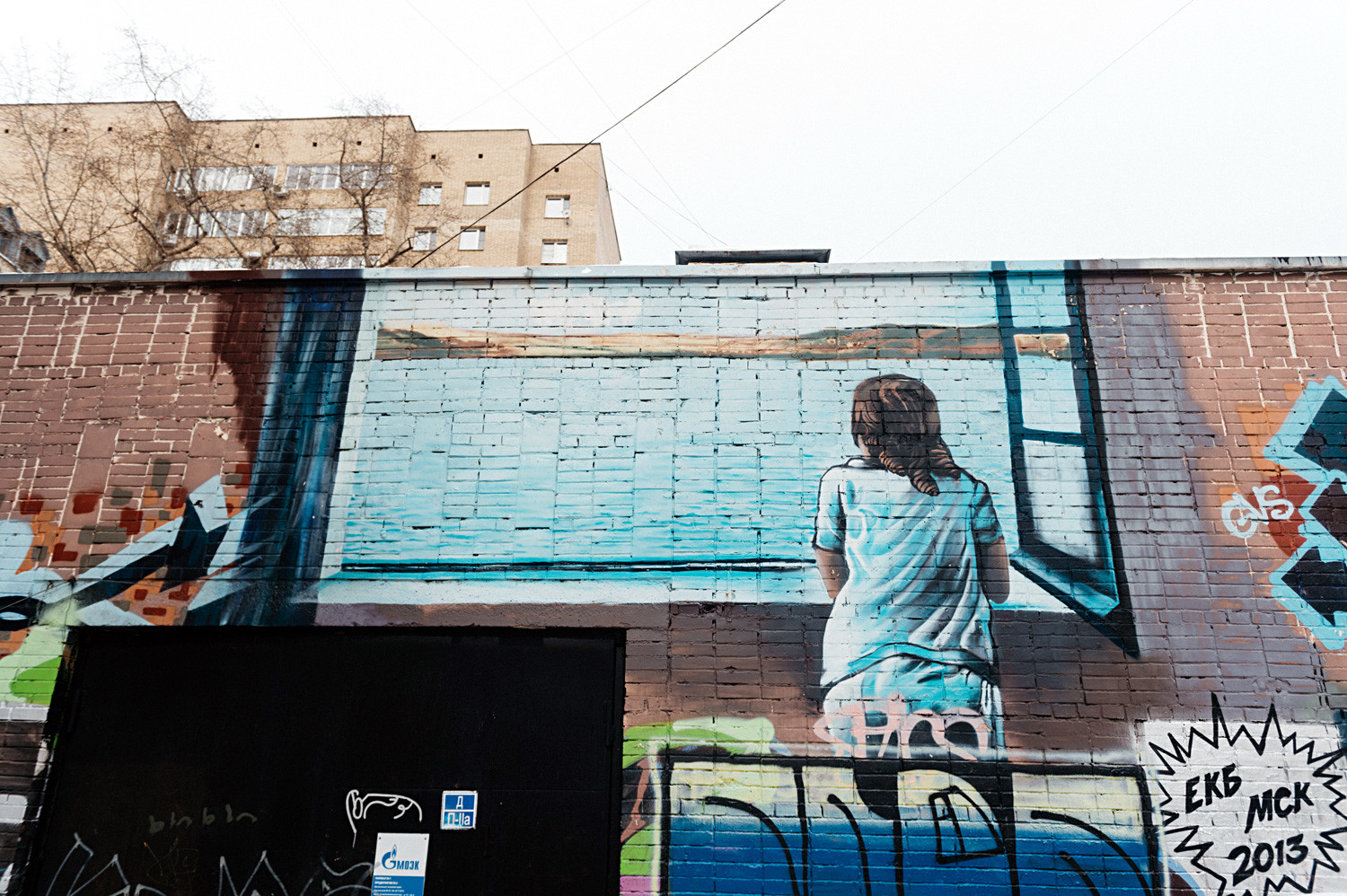 Dali's 'Girl at a Window' reimagined by an unknown artist
Anton Belitskiy
We don't know the true identity of this artist, but one thing's for sure – he or she has a gift not only for graphics but also for lighthearted humor. Unlike Salvador Dali's famous, "Girl at a Window," this young lady wears sneakers, and has a stereo system next to her. In other ways, this is an exact replica. It can be seen on an electrical transformer booth on Staropimenovsky Pereulok 14/4, in the vicinity of Mayakovskaya metro station.
6. Winzavod and ArtPlay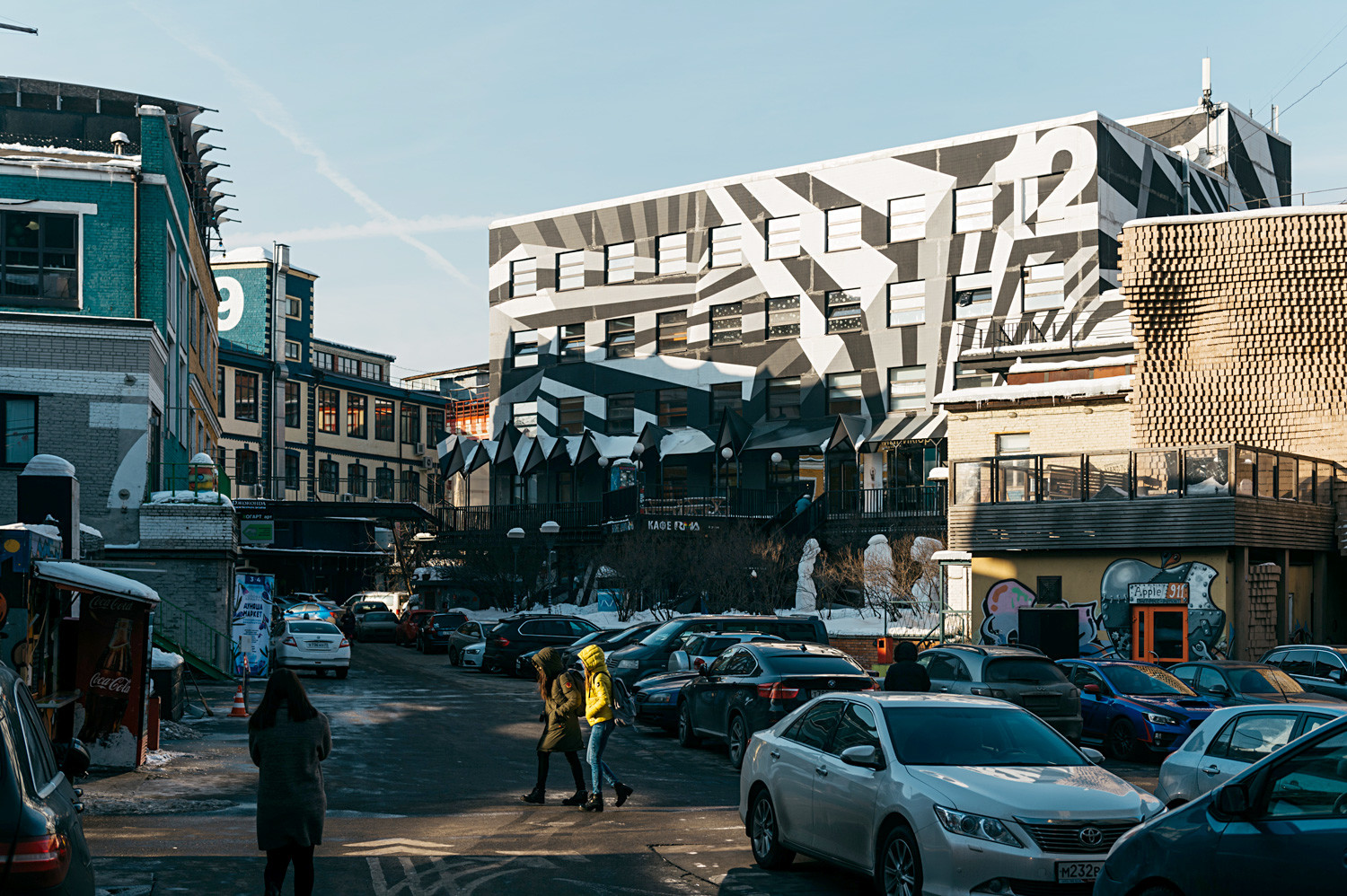 Artplay/Winzavod
Anton Belitskiy
Both spaces, located within walking distance of each other, are major venues for contemporary art, and attract anyone who wants to be inspired creatively - be it the plethora of exhibitions taking place there, or a night out. With its art spaces, shops and clubs (check out Rodnya), ArtPlay and Winzavod are popular among young people who have a flair for all things whimsical and cutting-edge. There's a lot to be seen there, so go check them out!
7. Dutch/Russian artists – Khruschev-era apartments at Babushkinskaya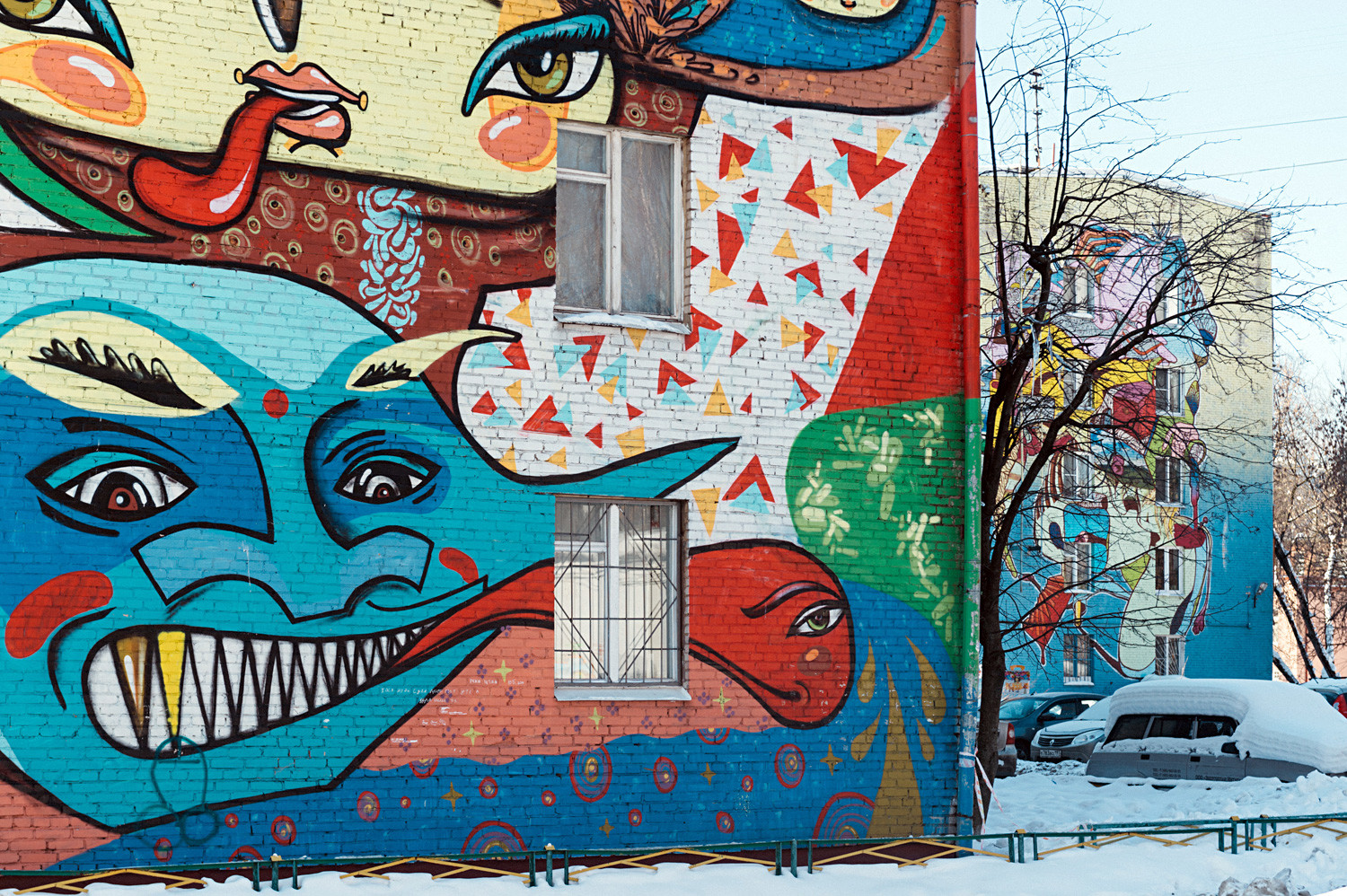 Babushkinskaya apartment blocks
Anton Belitskiy
In 2007, an alliance of Russian and Dutch artists was invited to decorate 13 buildings on Izumrudnaya Street, near Babushkinskaya metro station. Since we all know that living in a khruschevka is a clear path to crippling depression, such fantastical street art is a welcome addition to the dreary Babushkinskaya landscape. The district now looks like a radiant contemporary art gallery. At the very least, people won't get lost when you invite them over for drinks.
8. Andrey Adno – the lonesome 13-story building at Bibirevskaya, 19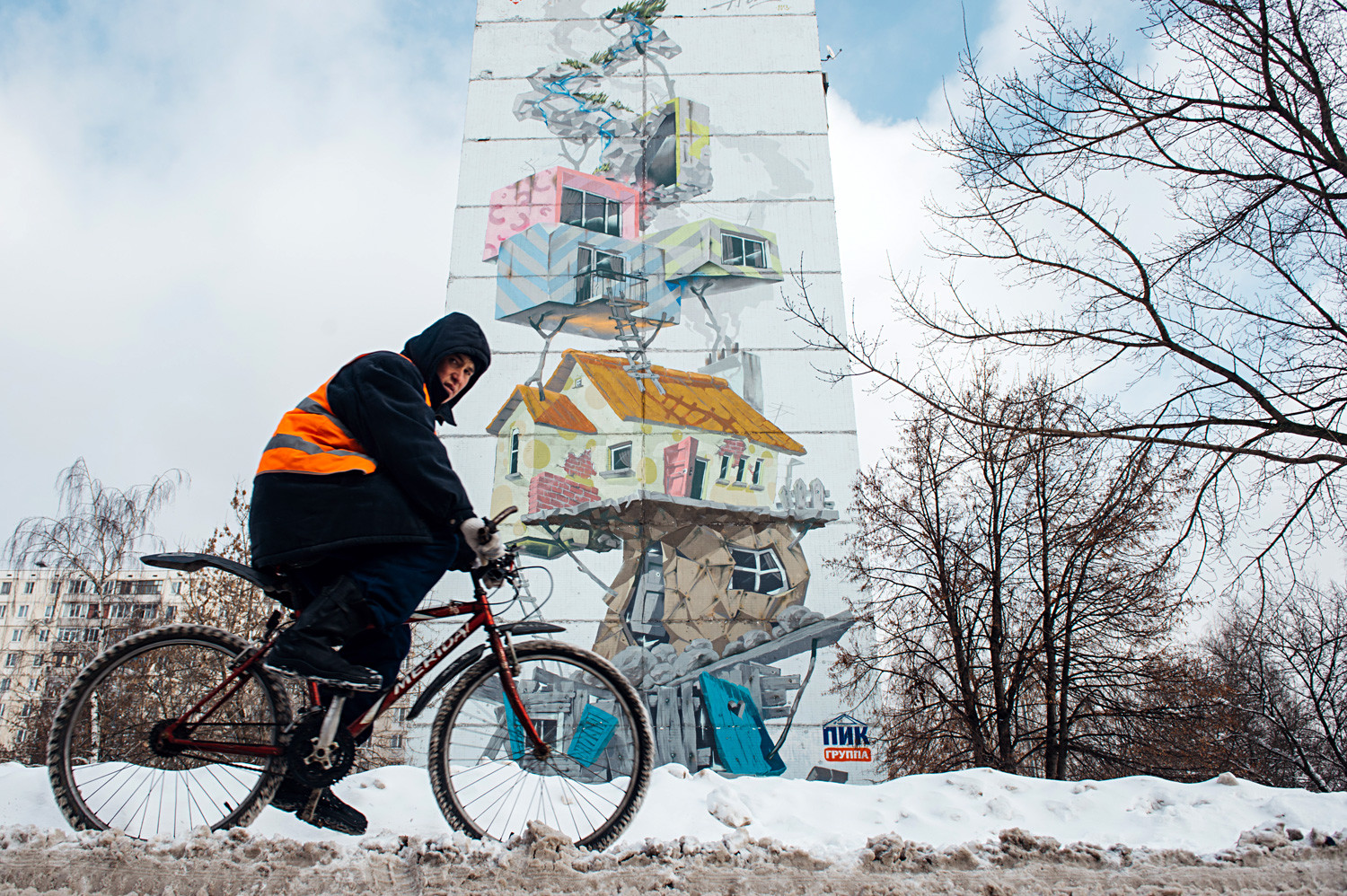 'Domiki' by Andrey Adno
Anton Belitskiy
This creation by Kaliningrad-born Andrey Adno is simply titled 'Domiki' (little houses), and it's exactly what it says: a bunch of different houses, ranging from an izbushka (a shack in the woods) to apartments perched at the top. Located in the far-flung Bibirevo district (Bibirevo metro station), it symbolizes arrival in the big city from the hinterland, and then making one's way to the top – only to once again dream of a little shack in the woods.
Andrey is a professional designer, and the owner of Art Family Group. He is also an avid graffiti artist, and his works can be seen in New York City and San Francisco, as well as Russia.
If using any of Russia Beyond's content, partly or in full, always provide an active hyperlink to the original material.