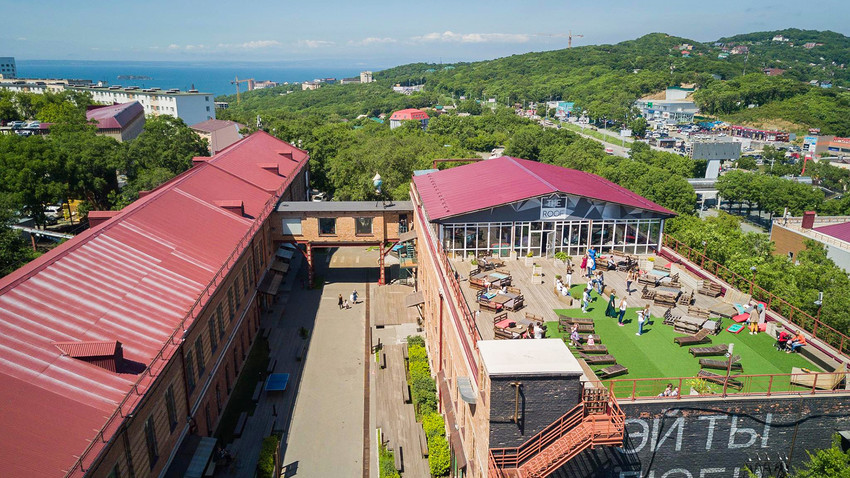 In the past few decades converted red brick factories have been the preferred stomping grounds of Russia's urban bohemian crowd who are eager to display and enjoy contemporary art. Thanks to both the tsarist and Soviet eras, there's no lack of authentic and atmospheric venues that inspire with their industrial dilapidation.
The first trendy places opened in the mid 2000s, such as the Winzavod Center for Contemporary Art, which made a home in Moscow's oldest winemaking factory. Then in 2006, the Garage Center for Contemporary Culture opened in a 1920s Constructivist bus garage.
Since then, thousands of Moscow hipsters have flooded those art meccas, passionate for the new, fresh air of contemporary art and design.
By the way, in the early 2000s the word "art" directly entered the Russian language as "АРТ," and since then it's used almost everywhere to emphasize that an event, institution or object is more creative than you might expect.
'Art' continued to make giant steps across Russia's vast expanse, eventually reaching Perm with the Perm Museum of Contemporary Art (PERMM), as well as Yekaterinburg with its Ural Industrial Biennale, and finally reaching Russia's Far East.
Cultural sunrise in the Far East
Vladivostok has a few state art galleries: the Primorye State Picture Gallery was formed in the 1960s with art works from the State Tretyakov Gallery, State Hermitage Museum and other major art institutions.
The Primorye Gallery has masterpieces by Valentin Serov, Marc Chagall, Wassily Kandinsky and other renown artists, but mostly the collection represents the Soviet view on fine art. Another gallery, ARKA, was Vladivostok's main institution for contemporary art until 2013 when a new creative cluster opened at the defunct Soviet-era Zarya Textile Factory.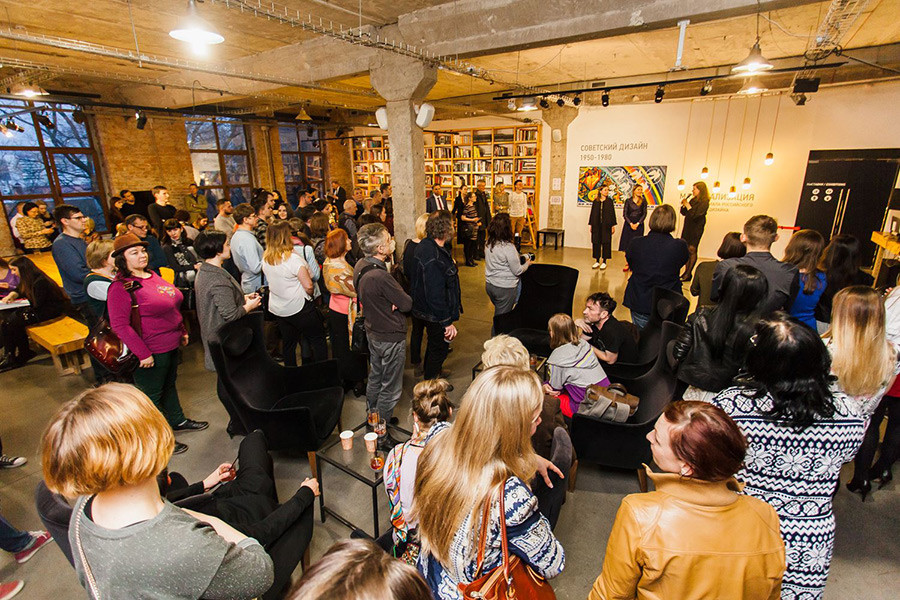 Opening day of "Soviet Design, 1950–1980" exhibition, 2017
Press photo/Zarya
The project was the personal initiative of philanthropist Alexander Mechetin. Zarya is a socially focused project with free entrance, library, lectures and classes for children. But it's also a home for artists in the literal sense – anyone can apply for a residency, studio and a grant (find details here).
Currently, two duos of Finnish artists live and work in residence: SASHAPASHA are Russian émigrés, and Lilli Haapala & Juri Jalasmaki came to Vladivostok from Finland by train.
The name 'Zarya' was an important concept during the Soviet era, and translates as 'sunrise.' It was used as a name for many Soviet-made items: watches, household equipment, newspapers and more. It meant hope, the birth of a new day and era.
Local resistance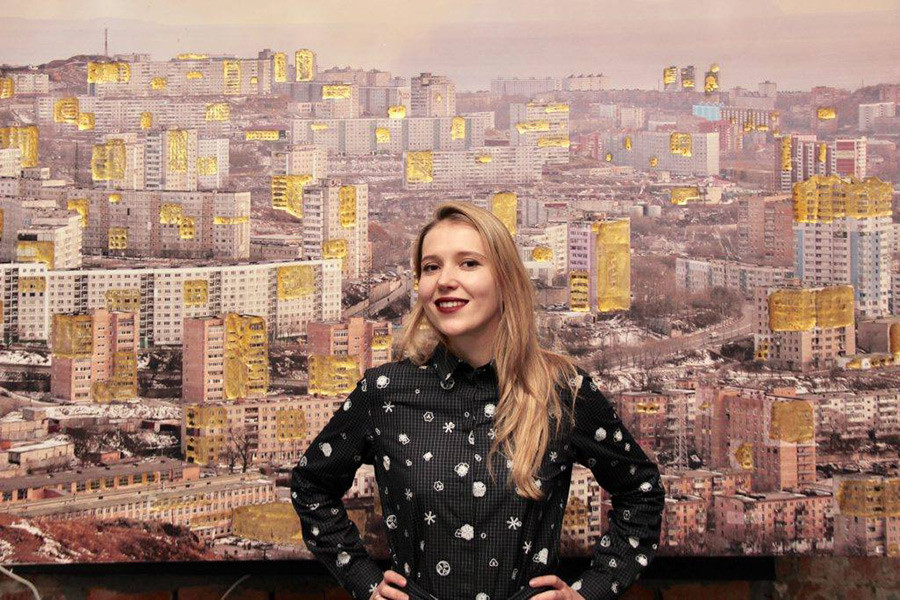 Zarya's chief curator Alisa Bagdonaite
Anton Pastukhov
"Most of our exhibition program involves contemporary art," said Alisa Bagdonaite, Zarya's chief curator. "But we can't show only ultra-modern things because local people haven't seen much else."
One of the first exhibitions that Bagdonaite arranged was a feminist project. She thought it would be very symbolic because women worked for decades at the textile factory. But outcast from the factory after its closing, former female workers didn't want to return here and the feminist angle appeared to be relevant only to a small audience. The general (mostly patriarchal) local public was not enthusiastic and perceived the exhibition in a negative way.
So, Alisa decided to reconsider her approach. "I understood that the scene in Vladivostok was very distanced from the main cultural events and phenomena, which were never presented, explained or discussed here. People lacked more context."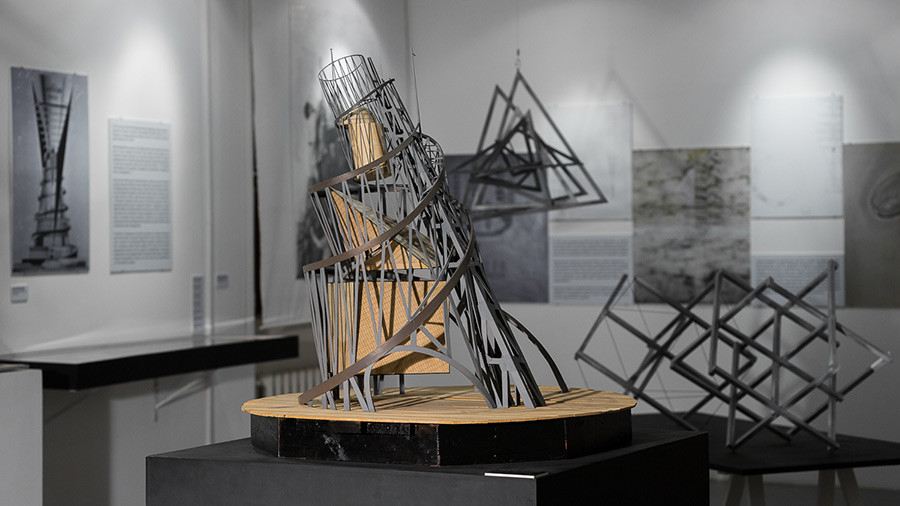 Vladimir Tatlin. A model of Tatlin's Tower, or the project for the Monument to the Third International. ("Perpetuum Mobile: Russian Kinetic Art" exhibition, 2017)
Press photo/Zarya
Therefore, Zarya began to arrange retrospective exhibitions. "We were the first art space in Russia to tell the history of Kinetic art, and we took Avant-garde art as the entry point," said Bagdonaite.
Usually, Zarya organizes two exhibitions simultaneously: one flagman display is focused on history and researches the topic in progress; while the other show gives another perspective, angle or curator's vision on the same topic. In case of Kinetic art, there were two satellite small exhibitions reflecting contemporary development of this art in social focused actionism art and in new media.
Last year Zarya displayed Soviet design, but at the same time it featured contemporary designers.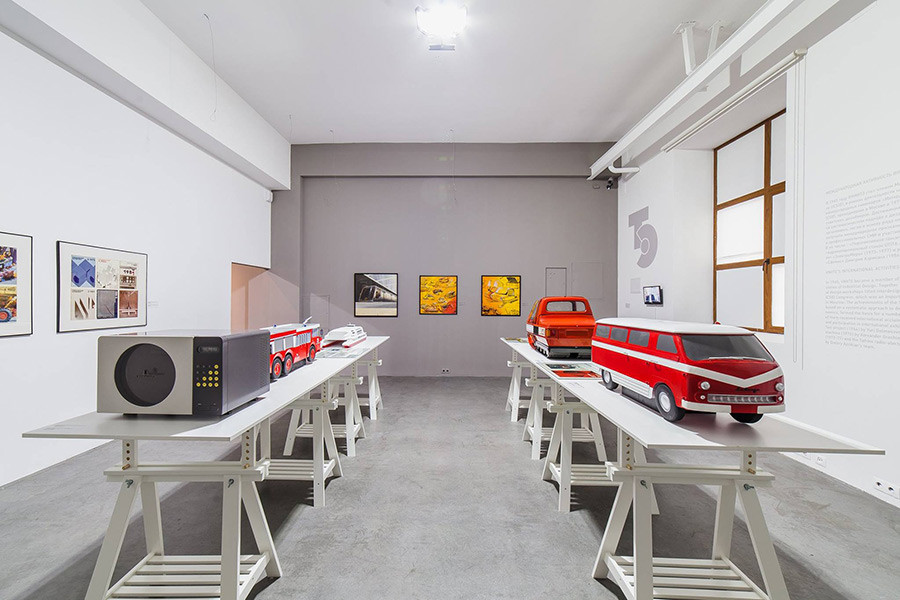 "Soviet Design, 1950–1980" exhibition, 2017
Press photo/Zarya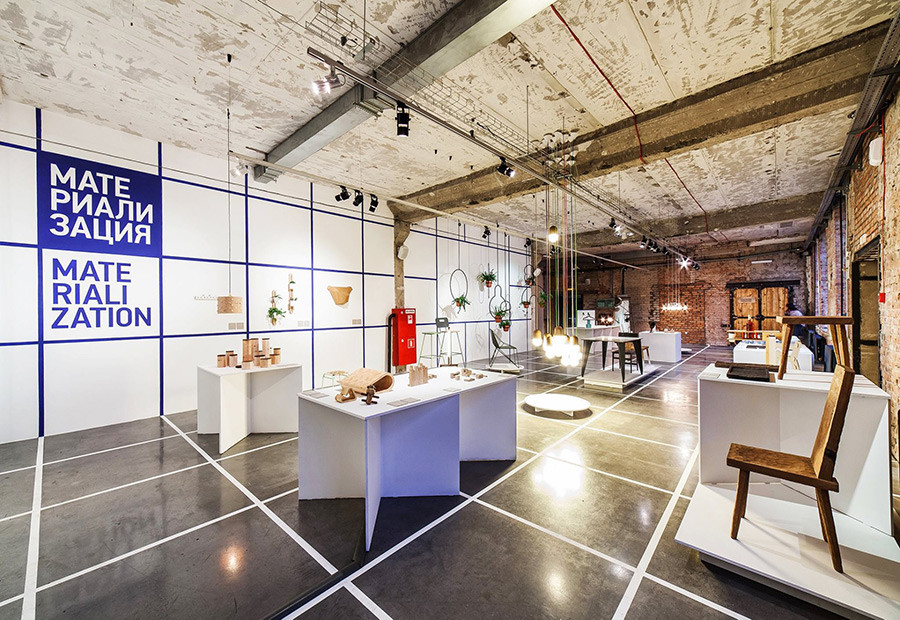 "Materialization" exhibition featuring young Russian designers and studios, 2017
Press photo/Zarya
This approach earned decent results, and each year about 40,000 people visit Zarya, a figure that Bagdonaite is happy with.
Far Eastern identity
One of Zarya's main goals is to reflect the local landscape and life. Bagdonaite is especially proud of the exhibition, "Rebels at the Edge: Contemporary Art in Vladivostok, 1960s – 2010s," which features more than 20 Far Eastern artists and their creative work in the 20th century. After the show, Zarya published a catalog that's now available online both in Russian and English.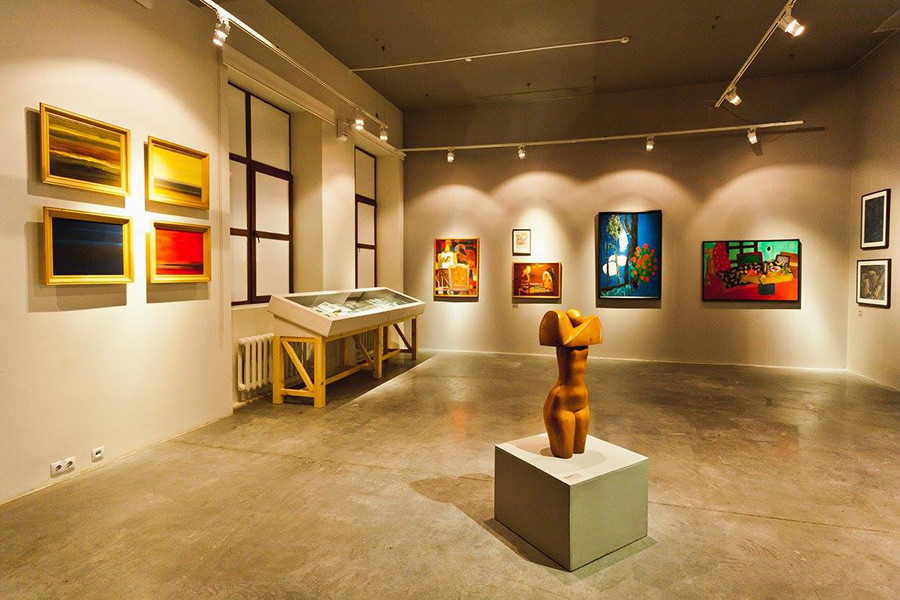 "Rebels at the Edge: Contemporary Art in Vladivostok, 1960s – 2010s," exhibition, 2015
Press photo/Zarya
Recently, Zarya opened an exhibition that it had long been dreaming of: "Architecture: Doomed to Optimism." This exhibition focuses on the development of architectural methods in Russia, from the very first experiments of the 18th century, up to the Avant-garde of Rodchenko and Tatlin.
"While geographically we are in Asia, when we look around we see the post-Soviet urban landscape, which is the space that we live in mentally," said Bagdonaite.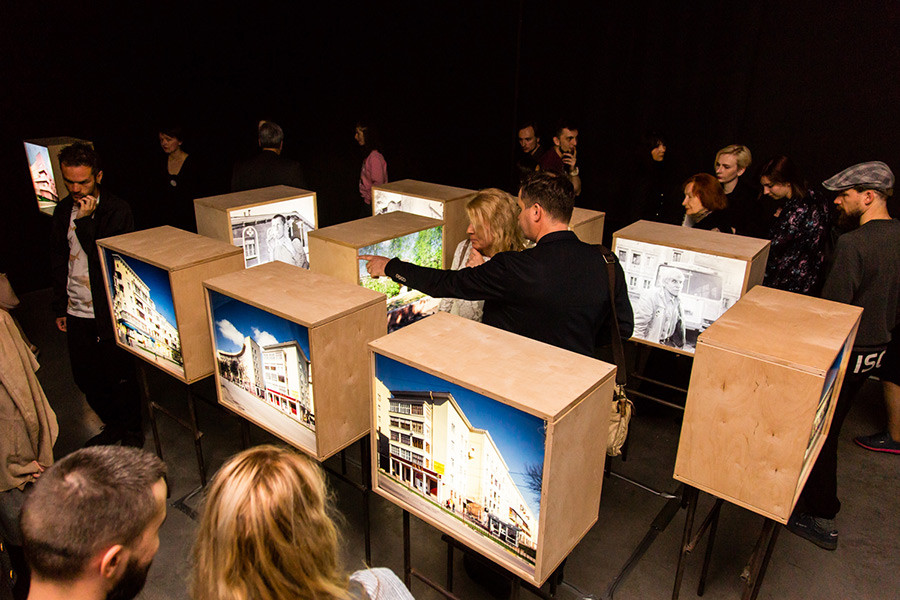 "Architecture: Doomed to Optimism," exhibition, 2018
Press photo/Zarya
Arranged chronologically, the exhibition takes a closer look at Vladivostok's urban development. One rare item is an official 20th century city general plan that shows how architects failed to pay attention to local hilly landscapes, but instead planned linear constructions that should have focused on the seaport as the main center.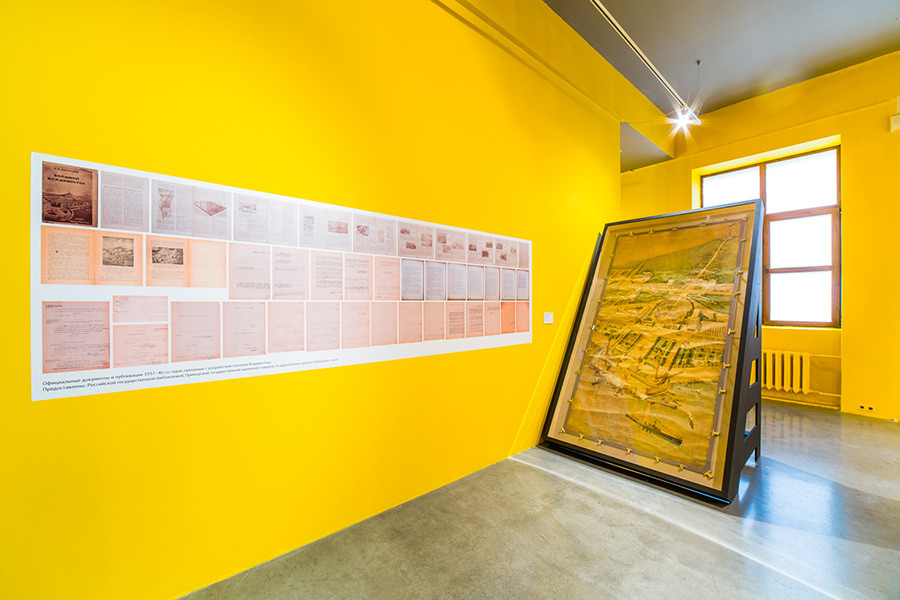 "Architecture: Doomed to Optimism," exhibition, 2018. On the right: the 20th century city general plan
Press photo/Zarya
In fact, this feature gave birth to a large amount of supporting walls for structures on the hills, and today these frequently abandoned and ruined walls are popular 'canvases' for street artists.
Top 5 street art objects on Zarya territory:
1. Valery Chtak - Many cats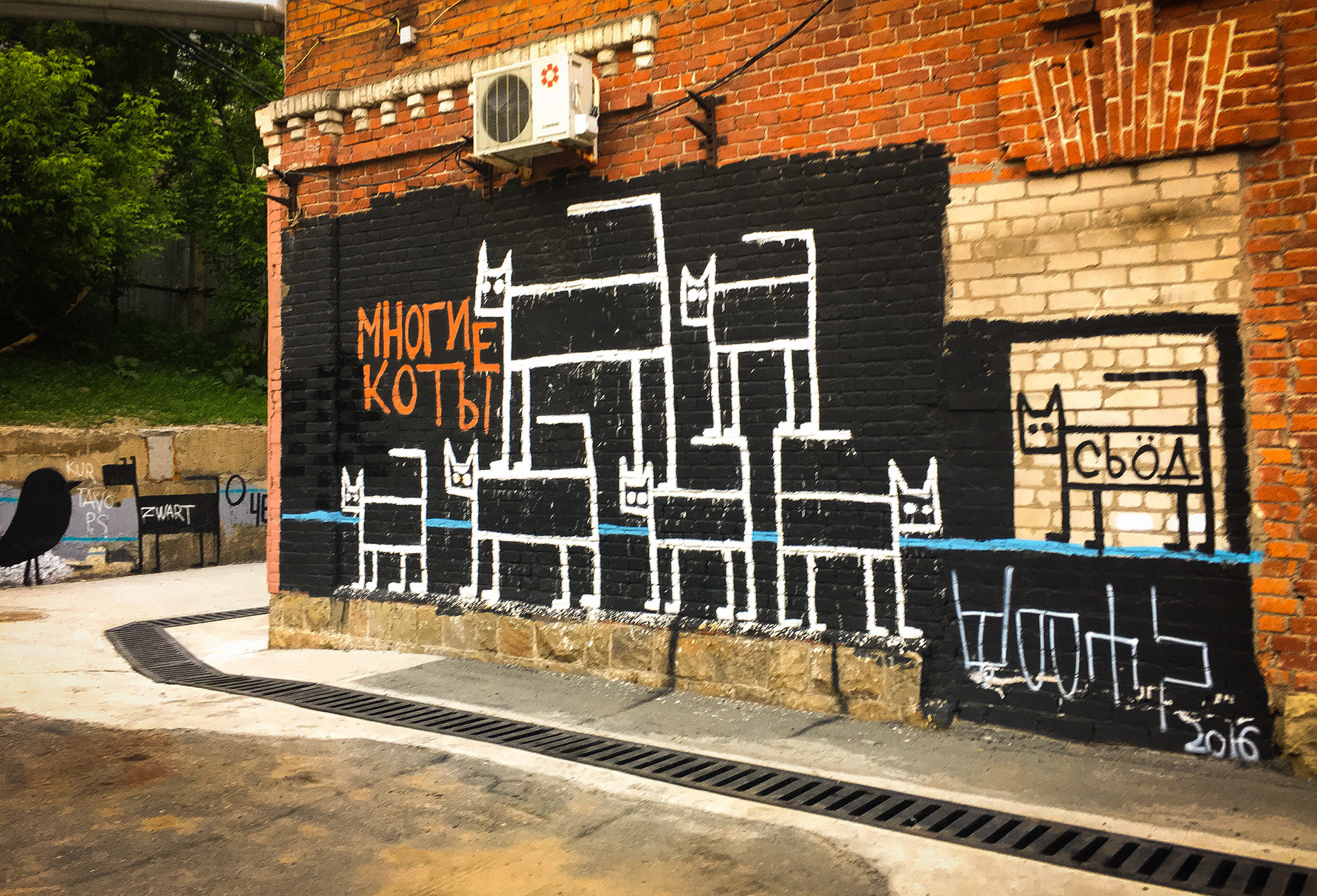 Alexandra Guzeva
2. Pavel Zumkin - Razzle Dazzle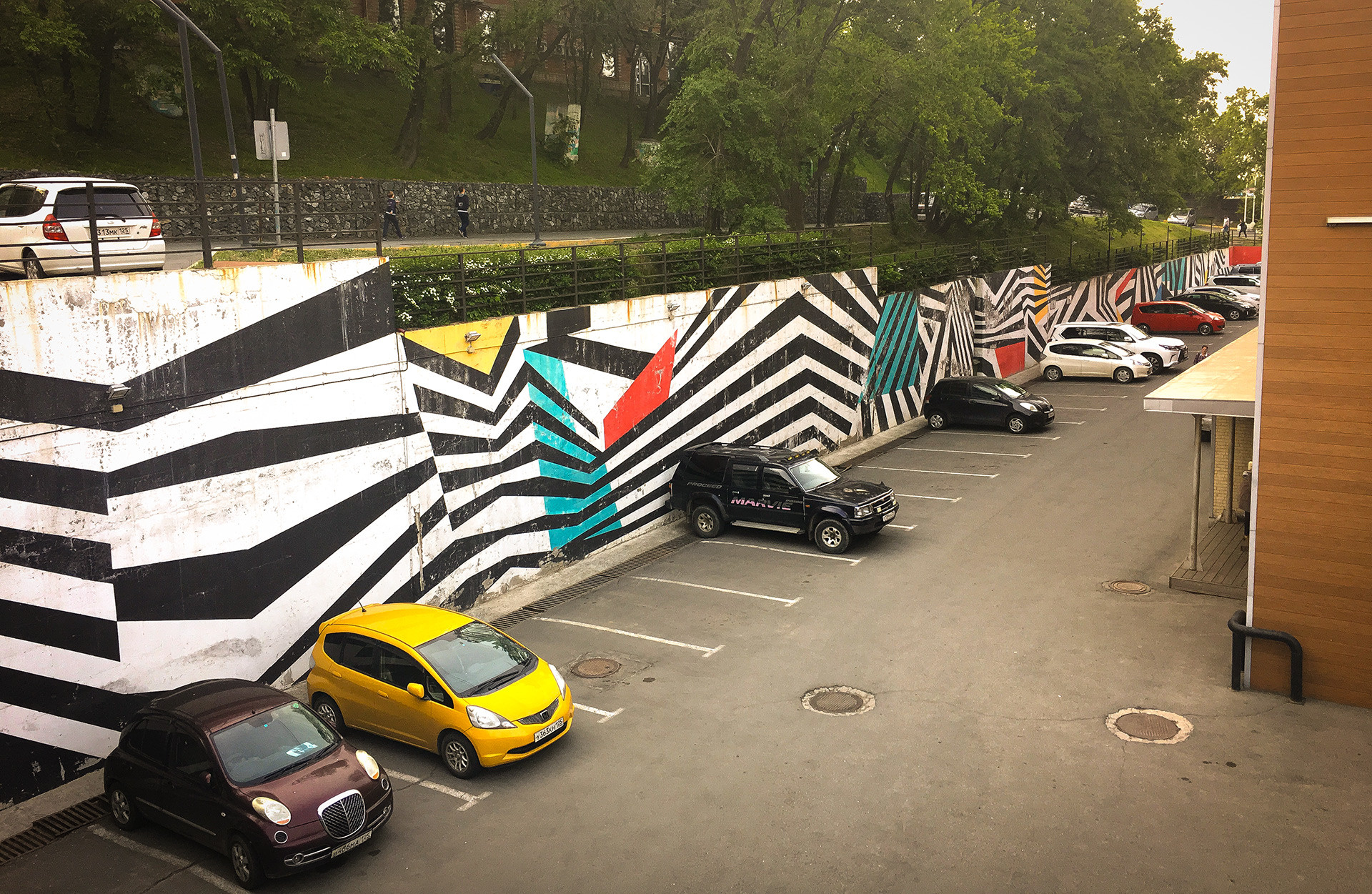 Alexandra Guzeva
3. Pasha 183 - Alyonka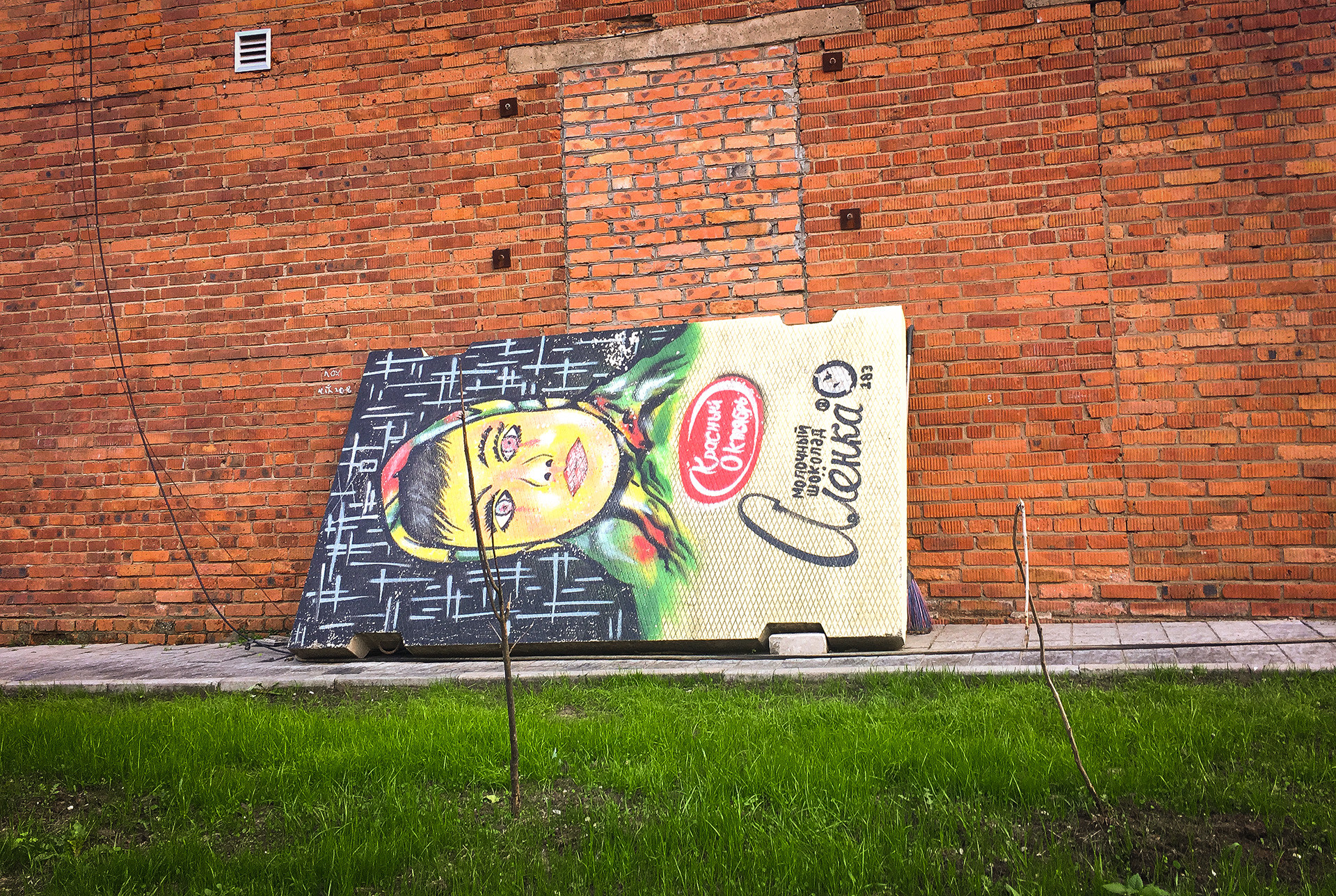 Alexandra Guzeva
4. Slava PTRK - Tiger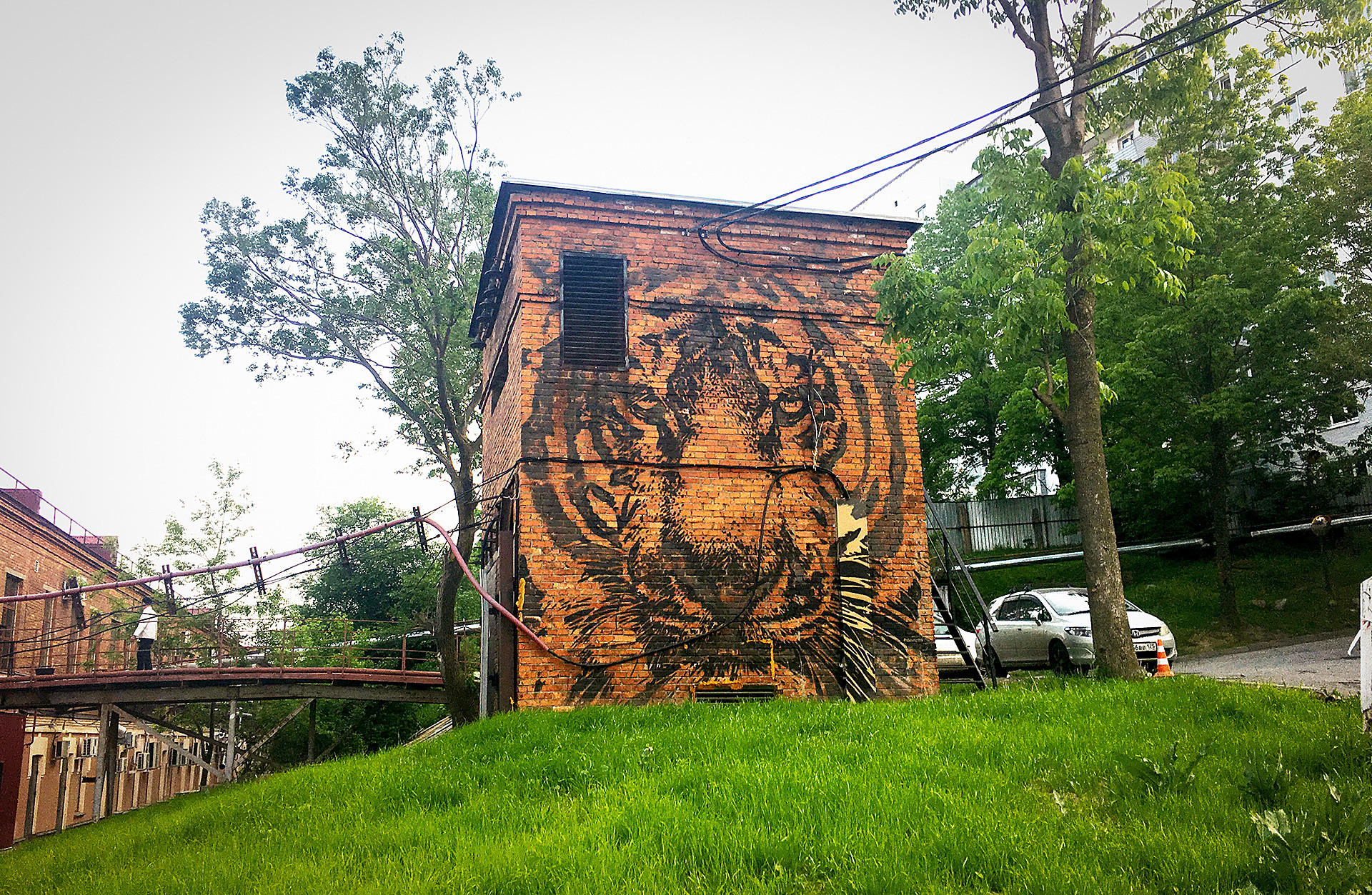 Alexandra Guzeva
5. Timofei Radya - Hey you, love me!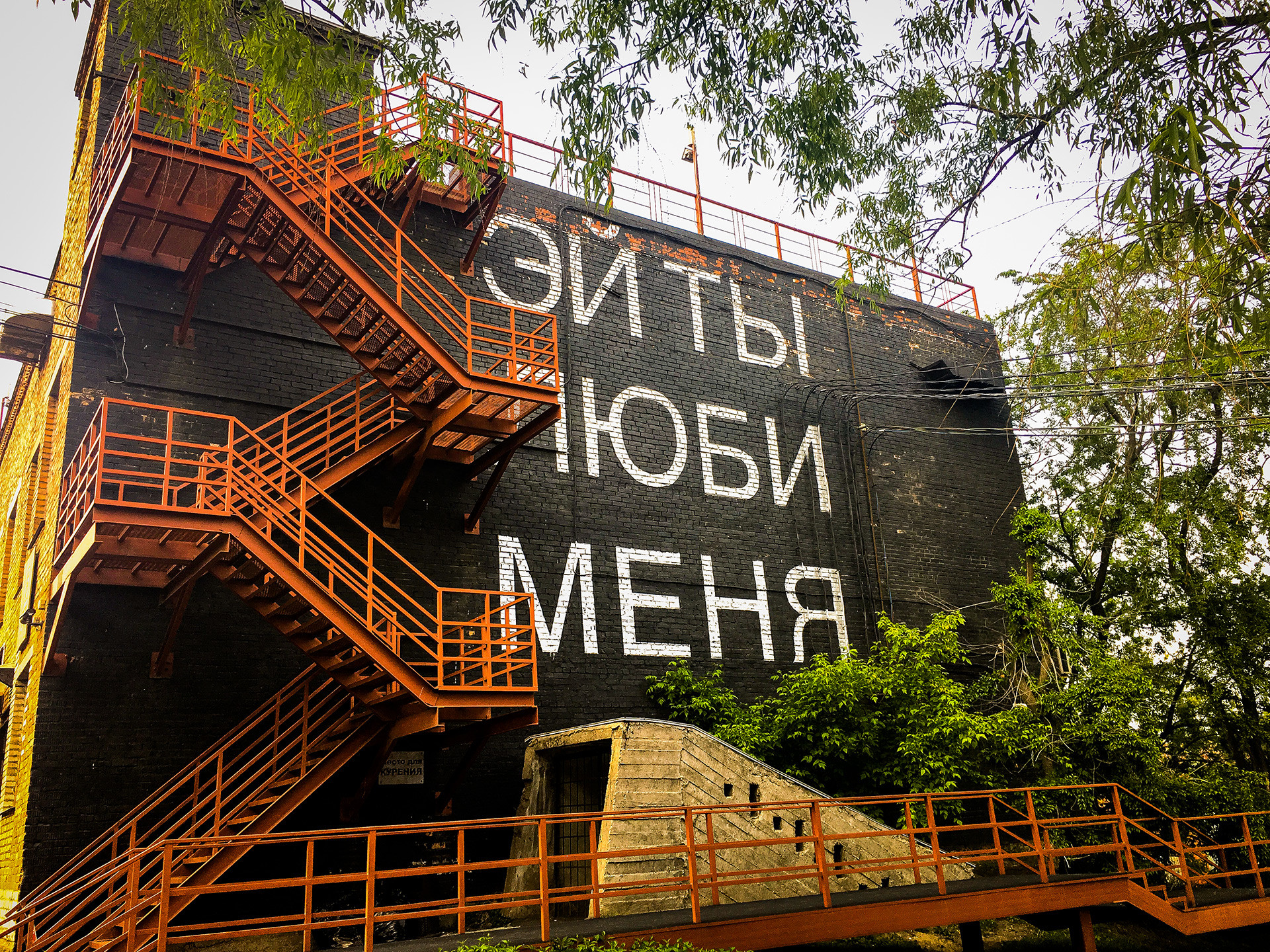 Alexandra Guzeva
Read more: Where to find contemporary art in Moscow and St. Petersburg
If using any of Russia Beyond's content, partly or in full, always provide an active hyperlink to the original material.