Abroad, Ivan Turgenev is not well-known, unjustly so, since he is one of the great Russian classic writers of the 19th century. In honor of the 200th anniversary of his birth (Nov. 9), we explain why it's time to fill this gap and start reading his stories and novels.
1. He created the image of the strong-willed woman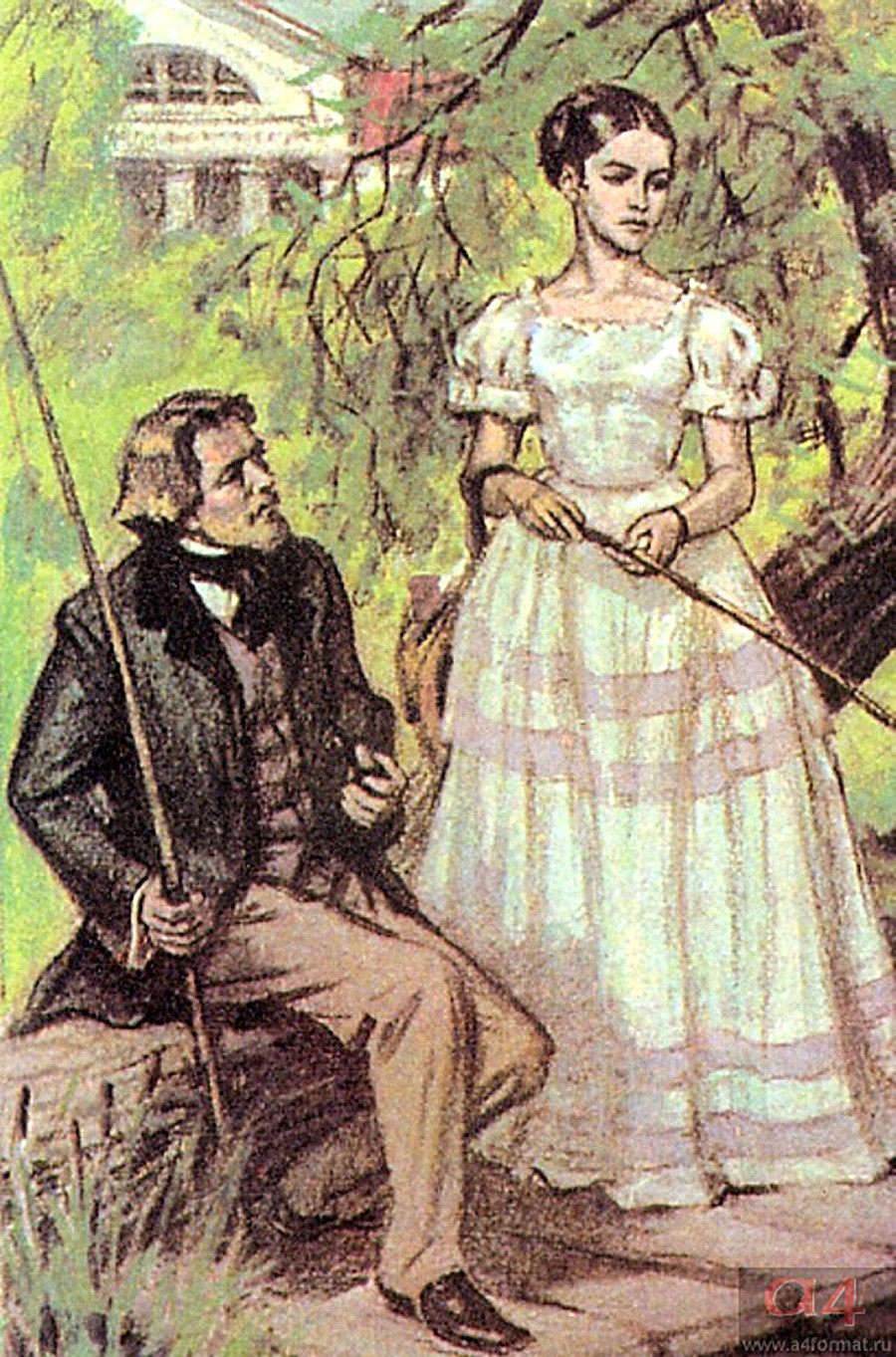 Most Russian literature in the first half of the 19th century is focused on male images, with women acting as flowery wallpaper, suffering from the occasional agonizing affair of the heart.
The "Turgenev lady" – an expression that has become popularized in Russia in a somewhat simplified sense, signifying a "touchingly delicate, rosy-cheeked damsel" – is in fact a strong and independent woman. Next to her, male characters look spineless and indecisive. Asya from the eponymous story, Elizaveta Kalitina from A Nest of Gentlefolk, and Natalya Lasunskaya from the novel Rudin are all educated women who have grown up on rural estates, and are thus not constrained by secular conventions. They are capable of real actions for the sake of love, and of appreciating men's genuine nature, not the ostentatious outer shell.
Nevertheless, Turgenev lightly mocks what he views as overly emancipated women: Kukshina from the novel Fathers and Sons is close to a caricature. She smokes, tries unnaturally to be like a man, and makes random quotes from high-brow literature that always miss the mark.
2. He put his finger on the most important issues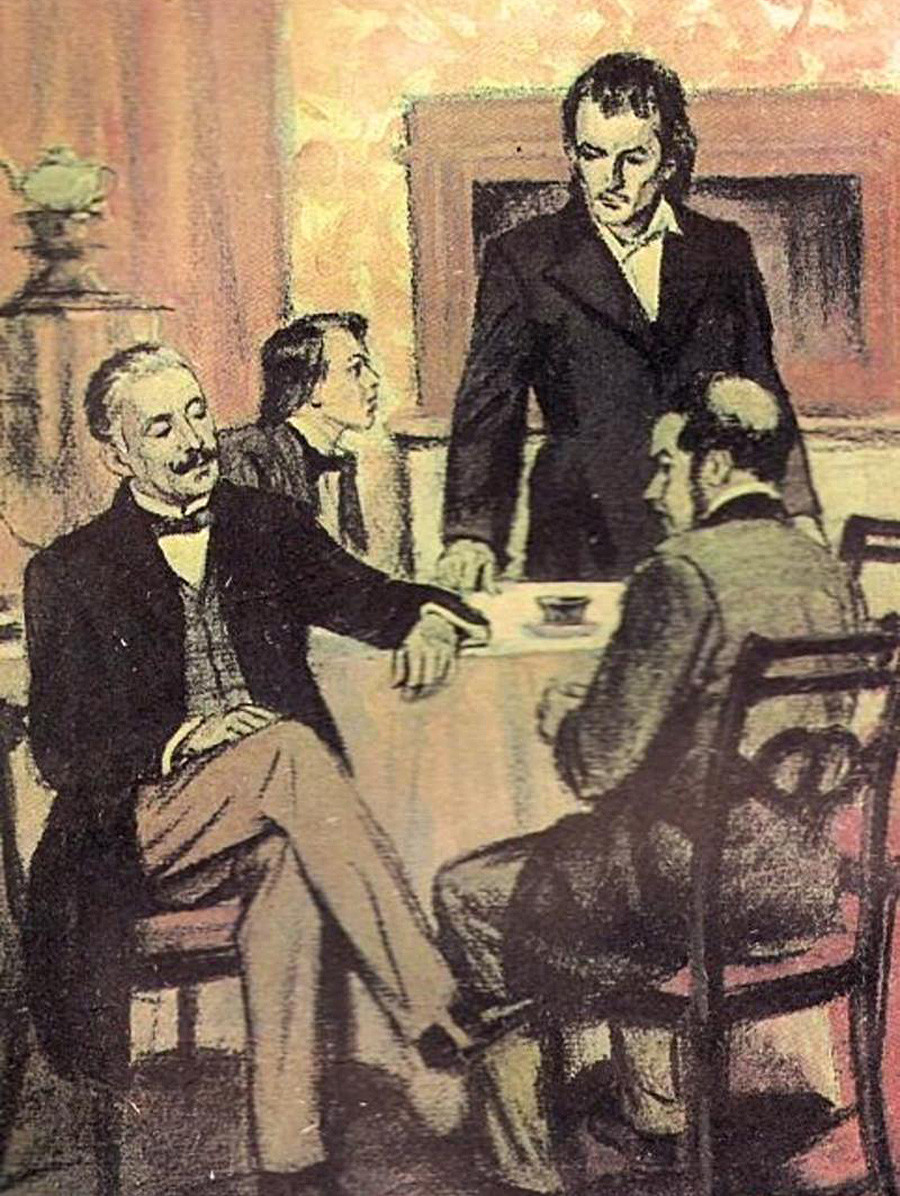 Illustration for 'Fathers and sons' novel
David Borovsky
19th-century Russia is a literary-centric society that gets its news from books. In his famous novel Fathers and Sons, Turgenev is the first to raise a question that speaks to all times and nations: the contradictions and antagonisms between parents and children, between two different generations, are intractable; one side is from Mars, the other from Venus.
The literary hot potato that was Fathers and Sons also opened the public's eyes to the existence of nihilists – people who deny all religion and social etiquette, and even love ("It's chemistry, nothing more").
What's more, Turgenev introduced the term "superfluous man" in reference to an intellectual skeptic who feels superior to others. Turgenev portrays them in many of his works, in particular, Bazarov in Fathers and Sons, Lavretsky in A Nest of Gentlefolk, and Chulkaturin in The Diary of a Superfluous Man.
3. He championed the rights of serfs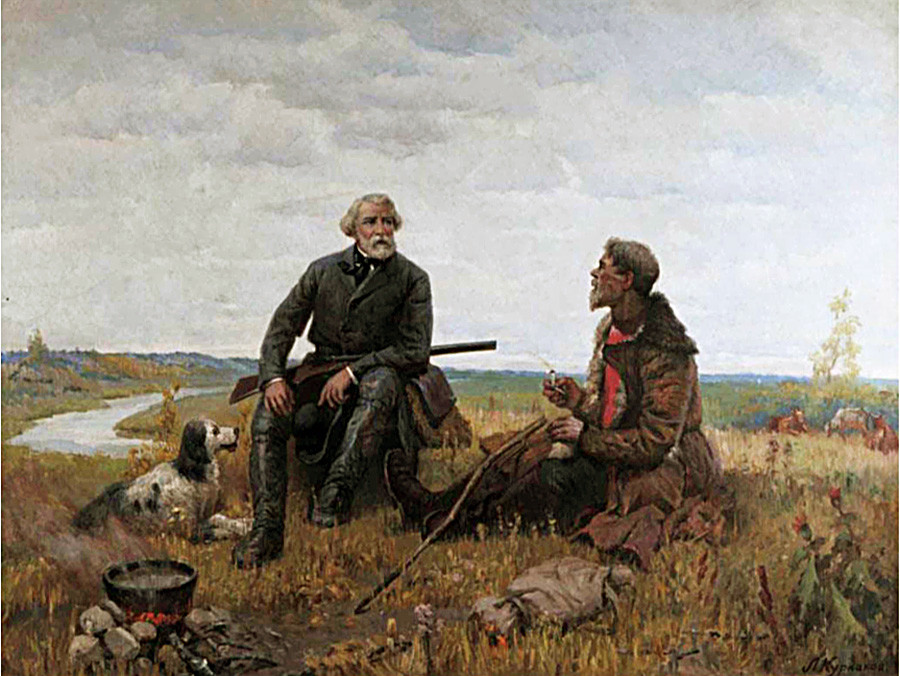 'Turgenev hunting' painting
L.I. Kurnakov
The fight against serfdom (read, slavery) Turgenev described as his raison d'être. In his collection of stories The Hunting Sketches, the writer shines a light on the oppressed Russian people, poeticizes the diligence and kind-heartedness of ordinary people, and describes their terrible suffering at the hands of tyrannical landowners.
The collection brought Turgenev overnight fame. However, the censor who allowed its publication was dismissed on the personal orders of Tsar Nicholas I.
After the abolition of serfdom in 1861, the theme of the oppressed masses was taken up by another Russian literary great, Nikolai Nekrasov, a friend of Turgenev and the editor of Sovremennik ("Contemporary") magazine, in which the first story from the Sketches was published.
4. He was one of the first to spot the talent of Leo Tolstoy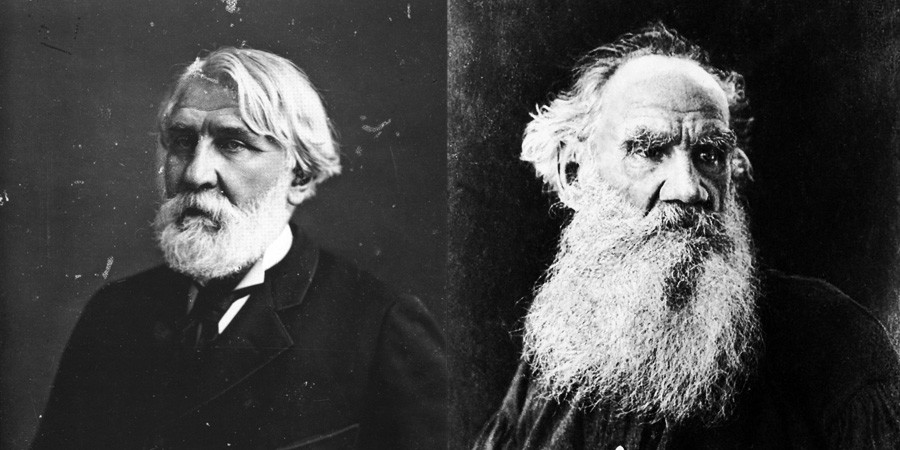 Ivan Turgenev (L); Leo Tolstoy
Archive photo
Ten years older than Tolstoy, Turgenev was already a high-minded and famous writer when the young Leo was just embarking on his literary journey. After reading the manuscript of Tolstoy's autobiographical story Childhood, Turgenev paid homage to what he described as the author's "robust talent." After the release of Tolstoy's second novella Boyhood, Turgenev gushingly wrote that Tolstoy had joined "the ranks of our finest writers."
Tolstoy in turn admired Turgenev's writing skills, in particular, his masterful descriptions of nature and the affection with which he depicts common people. An entry in Tolstoy's diary states that after reading The Hunting Sketches, he found it difficult to write.
5. He popularized Russian literature in Europe
L-R: Alphonse Daudet, Gustave Flaubert, Émile Zola, Ivan Turgenev
Archive photo
Turgenev traveled extensively, studying in Berlin and living in Baden-Baden and Paris, and corresponded and communicated with the most prominent Western writers, including Dickens, Hugo, Maupassant, Flaubert, and many others. Europe, which could not read Russian, learned about Russian literature and the genius of Pushkin and other writers from the mouth and pen of Turgenev.
Turgenev likewise introduced Russian readers to Western authors. He translated Byron and Shakespeare, lamenting that playwrights were unable to cast off the shadow of the Great Bard and stop imitating him.
Incidentally, Turgenev himself was a successful playwright. Russian theaters actively staged his plays, and still do to this day. In 2014, many European film festivals showed the movie Two Women (starring British actor Ralph Fiennes), based on the play A Month in the Country.
Read more: We (sort of) sat down with Leo Tolstoy to talk about life
If using any of Russia Beyond's content, partly or in full, always provide an active hyperlink to the original material.