Public editor: Pussy Riot, Ukraine and a Russian in America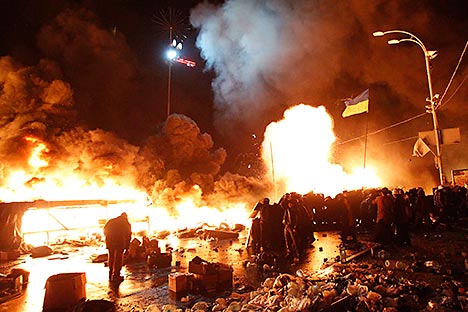 Ukraine is turning into the civil war. Source: Reuters
This week, Sochi had visitors who were arguably more famous than any Olympic athlete, and the world's attention turned to the deepening crisis in Ukraine.
Every morning, a member of the U.S. team at RBTH files a report on what the American press is writing about Russia. We do this to make sure we are covering stories underreported abroad but also to find angles on reported stories that will take our readers, as our name says, beyond the headlines.
This week, we found ourselves struggling to keep up with the news on two topics most associated with Russia in the U.S. media this week, much less get beyond them. This week, the two dominant Russia-related subjects in the international press were the latest adventures of the punk band Pussy Riot and the disintegrating political situation in Ukraine.
Pussy Riot's arrival in Sochi, like nearly all of the band's actions seemed tailor-made to attract attention. This should come as no surprise, considering that some of the group's best known members spent time at the beginning of their careers with Russia's performance art collective Voina. And, since their imprisonment and release, one-time band members Maria Alyokhina and Nadezhda Tolokonnikova have attracted rock-star attention wherever they go.
More surprise, however, was the reaction to the band members by the Cossack civilian patrols ostensibly maintaining order in Sochi during the Olympic period. As was well documented by photographs and videos, Cossack militiamen attacked members of the band, who were wearing their trademark bright dresses and balaclavas, with whips and pepper spray.
The international media and the Russian blogosphere exploded.
However, for every writer reporting the incident as straight news, there was another suggesting that the act was staged. One of these was Russian tv reporter Andrei Loshak who pointedly asked why journalists were filming the incident rather than trying to help Pussy Riot fend off their attackers.
RBTH contributed to the discussion with a brief summary of positions of Russian media personalities. For me, the most interesting part of the commentary was that while all the writers condemned the actions of the Cossacks, they did so because they considered it unacceptable to hit women. If the group had been made up of men, would the beating have been ok? I don't want to speculate as to whether the entire episode was staged or not, but I do think that the group understands the subtleties of media and PR far better than the authorities.
In the words of one of our Facebook fans,
Pussy Riot 2, Kremlin 0.
The beating of Pussy Riot was perhaps the only thing that could distract the world's attention from the situation in Ukraine, where a conflict between government authorities and protestors is threatening to escalate into civil war. It is RBTH policy to walk a very fine line on Ukraine. While many international readers tend to closely associate Ukraine with Russia, they are two separate countries and we feel very strongly that as Russia Beyond the Headlines, we should not comment on the rapidly evolving situation in Ukraine unless there is a Russian angle. This has resulted in our coverage having more statements by Russian officials than is usual on our site.
We did republish a thoughtful opinion by Fyodor Lukyanov about the situation, which helped balance the coverage.
Our audience has reacted with emotion to the news coming out of Kiev, and with more hostility towards each other than I have seen before in our comments. More than any other topic we have covered, reaction to Ukraine has provoked a number of comments that were distinctly anti-Russian and anti-American. I have noted in this column before the high level of discourse among those who comment on our stories, and I would encourage our readers to consider what their comments contribute to the overall conversation before posting.
Finally, again this week, one of the most popular stories on our site was a blog by one of our editors. Vsevelod Pulya's account of his internship last fall with the Denver Post led several readers to recall their own experience with stereotypes.
One of the most memorable parts of Vsevelod's story to me was his interview with the editor of the Denver Post, who encouraged young journalists to have empathy for their subjects. This is part of what we are trying to do at RBTH – to help readers stop looking at Russia as "the other" and show how, despite our differences, much of what we experience is the same.
All rights reserved by Rossiyskaya Gazeta.