It's that time of year again. The prospect of final exams weighs heavy on the minds of Russian students, but their "Last Bell" and graduation celebrations will provide some solace in the form of a Soviet-inspired spectacle. I visited a school in southwest Moscow to investigate.
Saved by the bell
The "Last Bell," or Russian students' last day of school, is a rite of passage that dates back to the 1950s. With exams looming large, this oddity-filled day is the only afternoon when 20 students graduating today from School No. 2035 can be to themselves for a while.
Not that this day is a time for relaxing, either. It surprises me how much effort the girls have put into preparation for this, wearing apron-adorned 19th century outfits that look as though they're more ready for a spot of spring cleaning than for a graduation ceremony.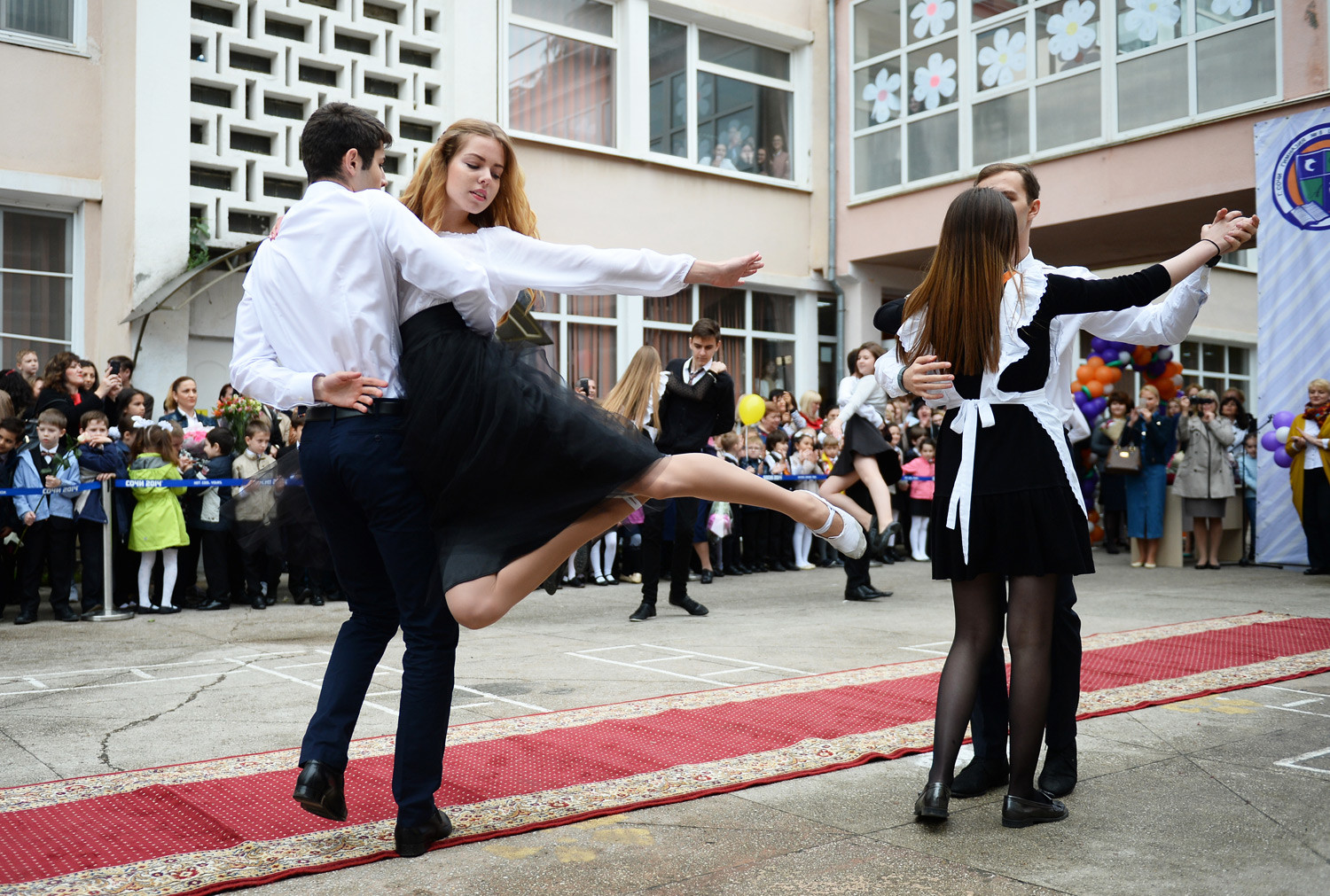 When I ask students what the seemingly over-the-top costumes are about, they seem to be none the wiser. "We do it as a tribute to our parents and grandparents, who also did this ceremony," a student named Ksenia tells us in fluent English. "It's not so important for us, but still we stayed after school for one month to practice the dance."
The dance, as it turns out, is not some kind of teenage cringefest (my year's final performance was a moshpit, performed in front of horrified parents to "Bohemian Rhapsody"). These students instead perform an elaborate waltz with well-rehearsed pivots and flurries. It wows and leaves everybody happy.
The ceremony is striking for how traditional it is, and how much the kids get into it. Although they try to explain it as ineffable teenage indifference, it's clear that the ceremony means something to them.
"We are starting anew, we left a part of us behind," says Ksenia, explaining the planting of a birch tree with the first graders, a ceremonial torch-passing moment. Of course, Russia has a weird obsession with the birch tree, using it to make juices and bathtub-exfoliators, among other things. Why stop at graduation ceremonies?
Tree planting is then followed by releasing the balloons, poetically described to us by Nikolai as "Letting our dreams go to the sky."
Quiet before the storm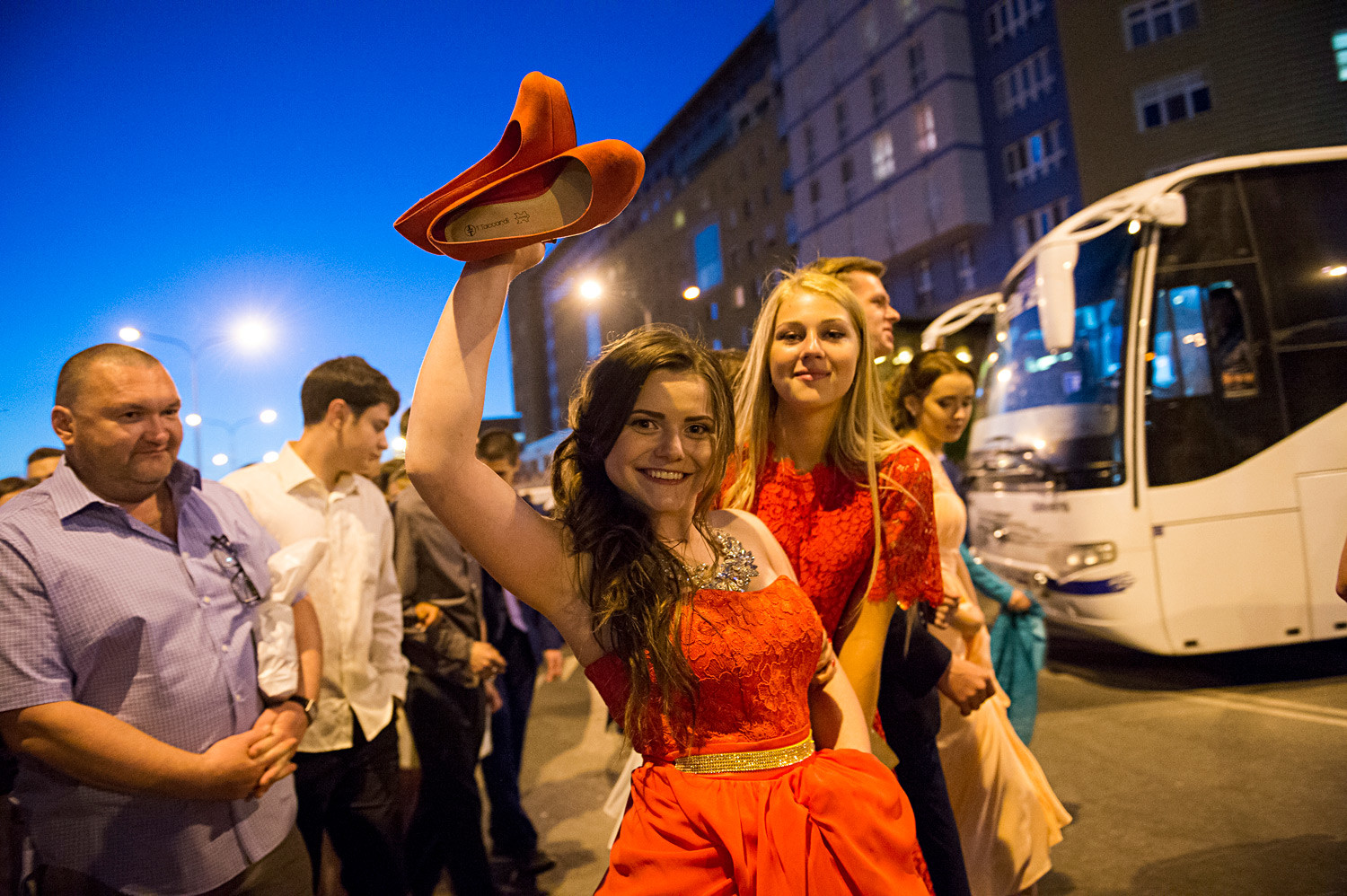 School graduates during open-air celebrations on Irtysh River embankment.
Alexey Malgavko/Sputnik
Of course, the flamboyant but old-fashioned aesthetic of the Last Bell feels very much managed by the teachers – there is a heavy sense that the real festivities are yet to come. Although they assure me that celebrations following the Last Bell will be relatively muted ("hanging out, going to the city center, that kind of thing"), the students are more hesitant to tell us about the graduation party in a month's time.
The typically lavish affair is usually characterized by glamorous parties – sometimes in the city center, sometimes in nightclubs.
"We'll go to a restaurant together, to celebrate passing our exams," says Ksenia. When asked if parents are forking out over $600 for the party, the students are coy. "We don't know, but it's a bit expensive, yes," says one.
What lies ahead?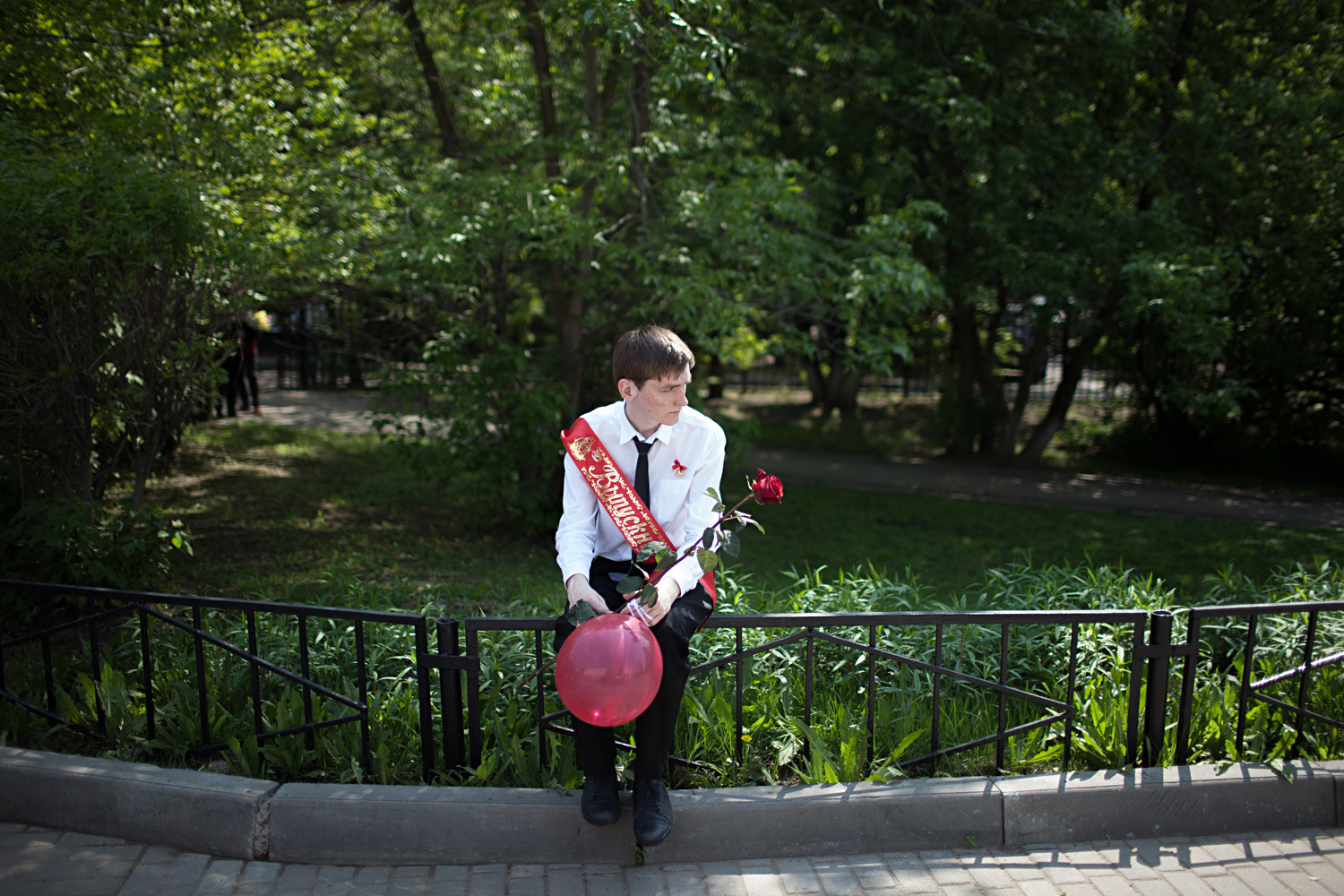 A graduating student at his Last School Bell ceremony at school No. 1517 in Moscow.
Iliya Pitalev/Sputnik
Contrary to teenage stereotypes, most students we encountered seem more focused on their results and ambitions, and have big plans for university.
"I'm going to enter Bauman University to study physics," says Nikolai. "I want to become an engineer in radiotechnology, and I will build components for satellites, that kind of thing."
Nikolai's friend Azat tells us that it is his dream to attend Moscow State University, where he plans on studying sociology.
For Ksenia, the desired destination is Moscow State Linguistic University. "I want to study English and Chinese and become an interpreter. I lived there [in China] for a long time and liked it; my father worked there for the Russian army."
I'm taken aback by the extent to which the students not only know which field they want to pursue and in which university, but exactly to which career it will lead.
Of course, this wasn't the case for everyone – other students have more open plans.
"I will do the IT and English exams," says Alex, "But I don't know how to connect these two subjects. Maybe I'll be accepted at a university. I won't do a gap year, because they'll take me to the army," he jokes.
But first, the students will embark on their surprisingly modest summer plans. In full knowledge of the time and energy that state exams are likely to exact, the students didn't seem to be tempted by any Russian equivalents to Magaluf or Cancun.
"I'm just going to chill, I don't want to go anywhere," says Alex.
Ksenia, meanwhile, is perfectly content "just going for a walk" this summer.
Some are just easily pleased, I guess.
If using any of Russia Beyond's content, partly or in full, always provide an active hyperlink to the original material.