Moscow rarely sleeps – never more so on June 22, 2008 after the quarter-finals of the Euros in Austria and Switzerland, where Russia routed the Netherlands 3-1. Led by Dutch manager Guus Hiddink, Russia smashed Holland, who were favorites going into the tournament. And boy, did the Russians celebrate.
'Pure happiness'
"It's unforgettable," Maxim, a Muscovite who was 16 back in 2008, recalls. "The seconds after the game ended, my friends and I, we ran to the streets, got to the city center… it was full of people – happy as hell, many drunk, shouting and cheering, cars honking endlessly. Strangers were hugging each other and shouting "RUSSIA! RUSSIA!" It was pure happiness."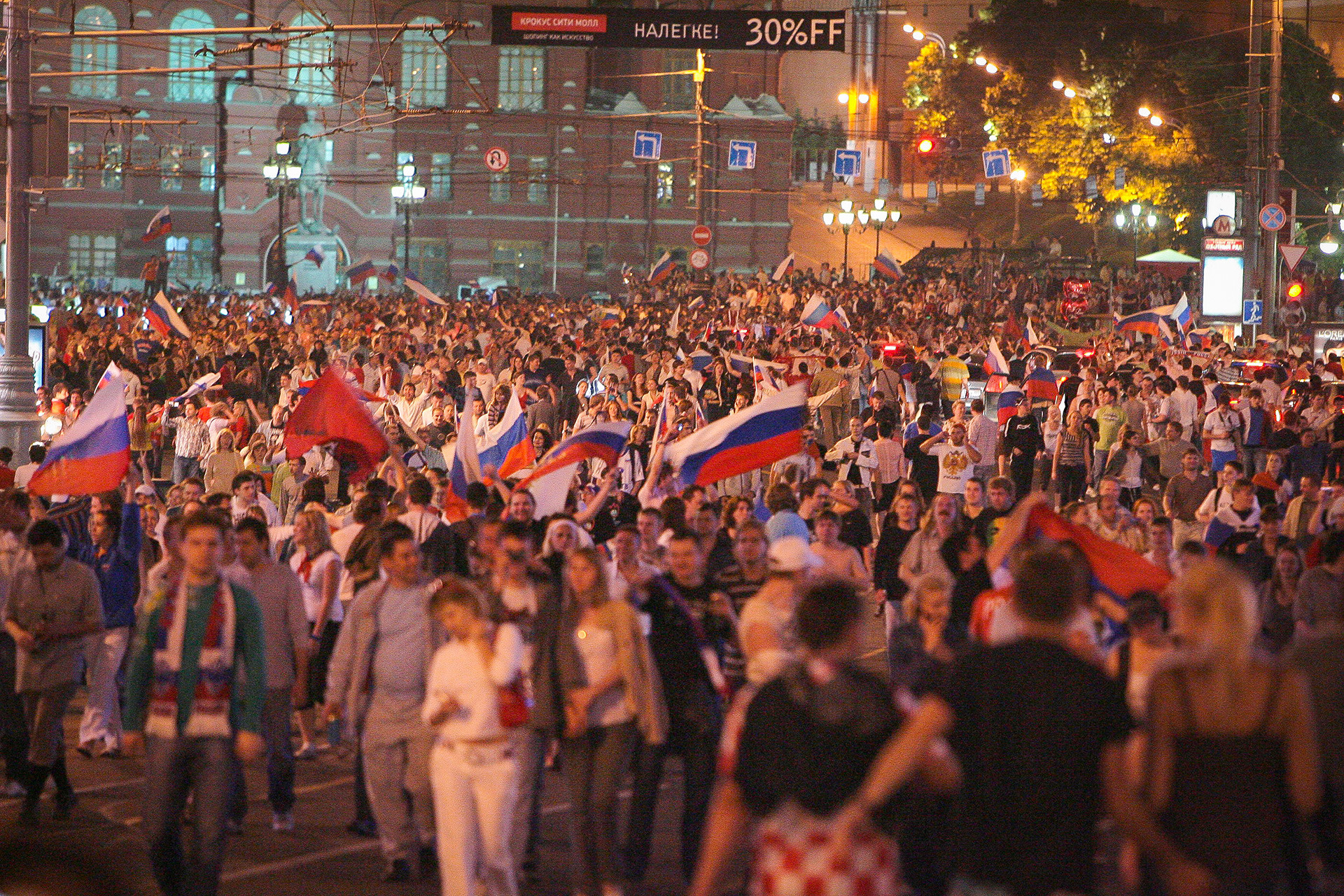 Vasily Utkin, a Russian sports reporter, was left speechless (like many Russians) and wrote right after the game: "By now, at the Euros, no one plays football better than us. You can't argue with that." After three victories – against Greece (1:0), Sweden (2:0) and Netherlands (3:1), with the Russian team playing more bravely and beautifully in each game – it really was the case. How did Russia get there?
Long hard road
Since the collapse of the USSR, Russia's never been a favorite for any serious tournament. The country didn't even qualify for the World Cup in 2006. After that, the national football federation hired the first foreign manager, Guus Hiddink, who previously coached the Netherlands, South Korea, and Australia.
During Euro 2008 qualification, Russia only just scraped through, beating England but then losing to Israel: Only Croatia's victory over England led Russia to the final stages of the Euros. In Group D, Russia started with a heavy defeat – 4:1 against Spain – but then showed real guts, beating three teams in a row.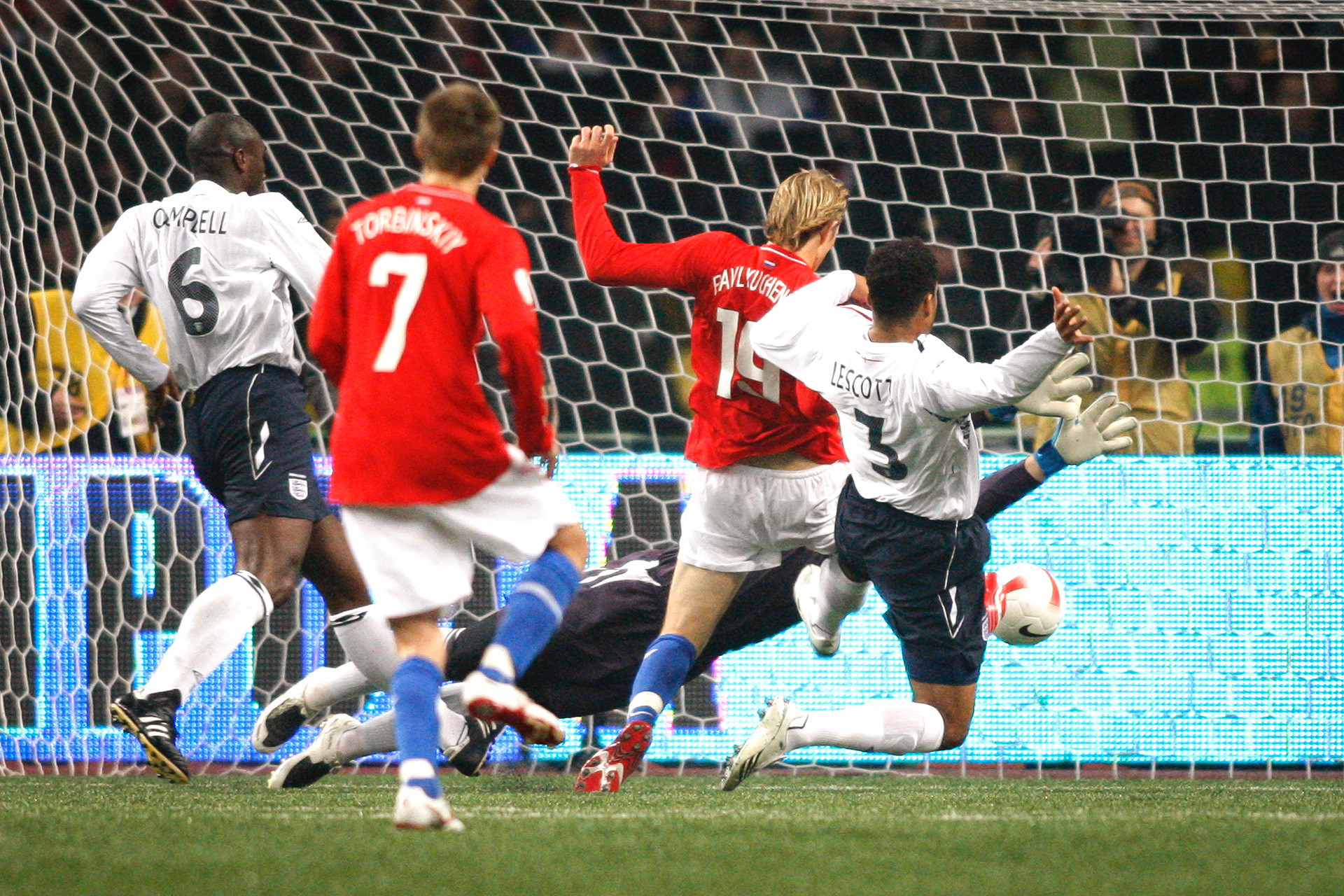 Roman Pavlyuchenko scoring in the match against England (2:1). This victory led Russia to the Euro, leaving the English team behind.
Anton Denisov/Sputnik
Happiness never lasts long – especially if you're a football fan in Russia. In the semi-final the national team lost to Spain again, this time 3:0, and went home. Nevertheless, for an underdog such as Russia, winning bronze, was a major success – even a film about the tournament was named The Golden Bronze. So how did Russia manage it?
Perfect combination
As Stanislav Minin, a sports reporter for Match TV, tells us, "there was a combination of factors that led to success – it's impossible to single out just one". Here are the main three.
1) Serious infrastructural background
Experts point out that the National Football Academy fund founded in 2004 and sponsored by Russian businessman Roman Abramovich, contributed to the progress of Russian football. The fund was reported to spend around $150 – 200 million on infrastructural development, building 140 new football fields and hiring Guus Hiddink.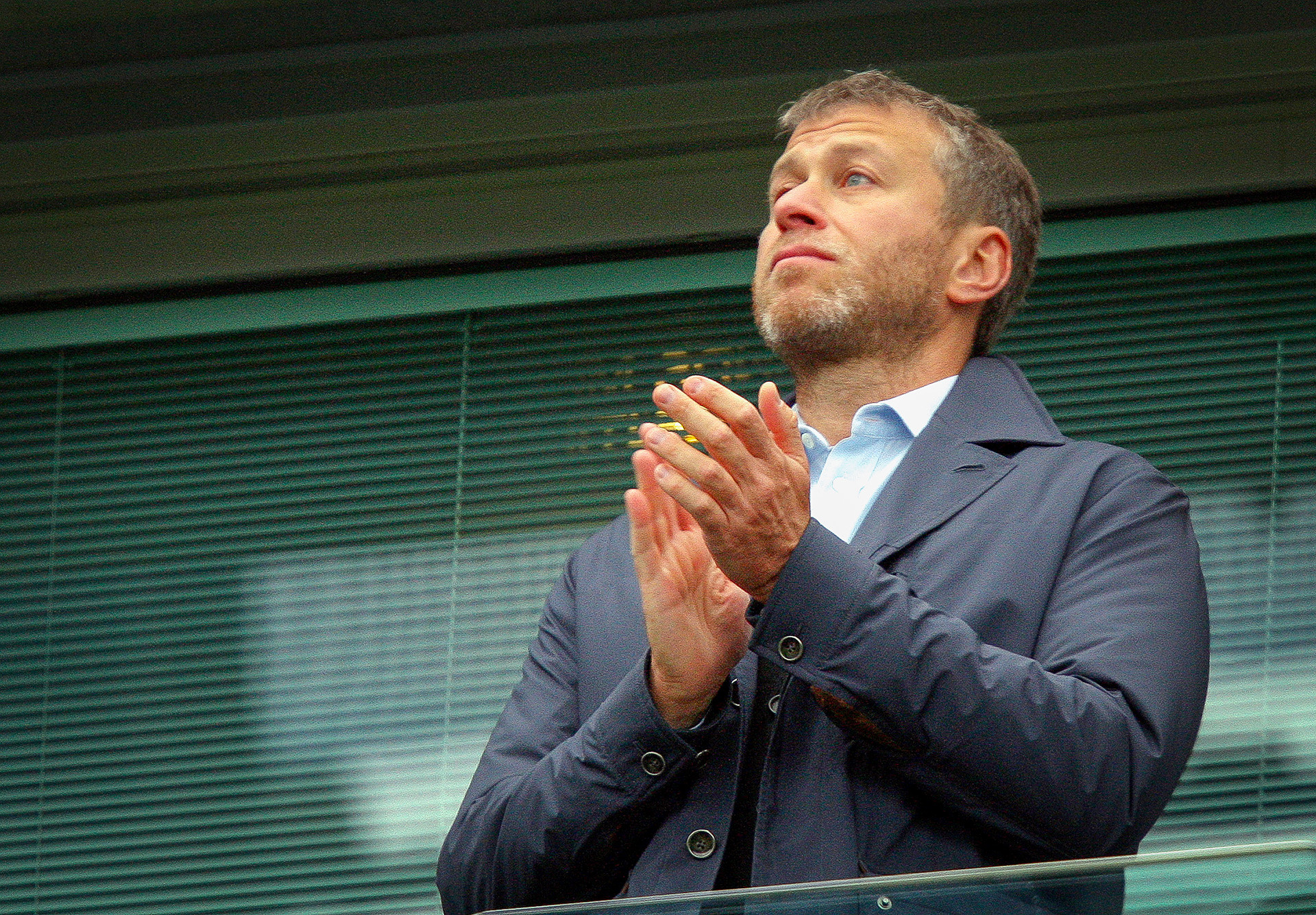 Roman Abramovich. The owner of 'Chelsea' contributed in the success of Russian football as well.
Reuters
"Abramovich's 'academy' gave a base to Russian football, something to build things on," Minin tells Russia Beyond. "That was very helpful."
2) Generation of outstanding players
Andrey Arshavin, who scored twice in three matches and earned a place on the team of the tournament, is still considered one of the greatest Russian players in history. He, Roman Pavlyuchenko (three goals) and several other stars of Euro 2008 were snapped up by English Premier League teams after the tournament.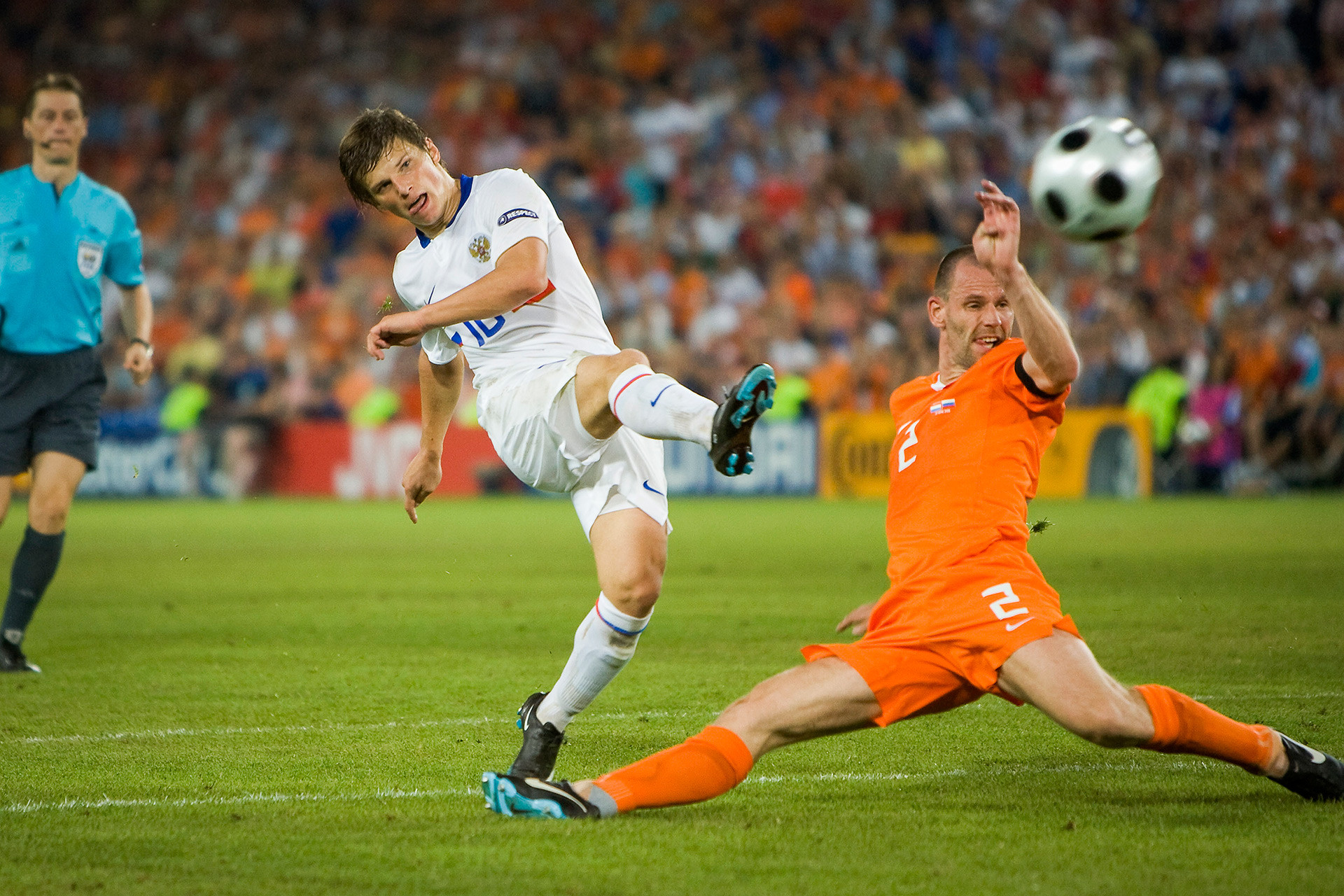 Andrey Arshavin.
Leo Vogelzang/Global Look Press
"It was a very strong generation of footballers," Minin comments. "What's more, they were on top of their game in 2008, in the best shape of their careers. Not only the national team played greatly – Zenit St. Petersburg won the UEFA Cup that year, and many from Zenith played in the national team as well."
3) Guus Hiddink's skills
After the game against the Netherlands, Hiddink became a national hero in Russia. President Dmitry Medvedev joked that he could have granted the Dutch manager citizenship, several babies were named Guus (not a typical Russian name), and the coach was nicknamed "The Wizard.".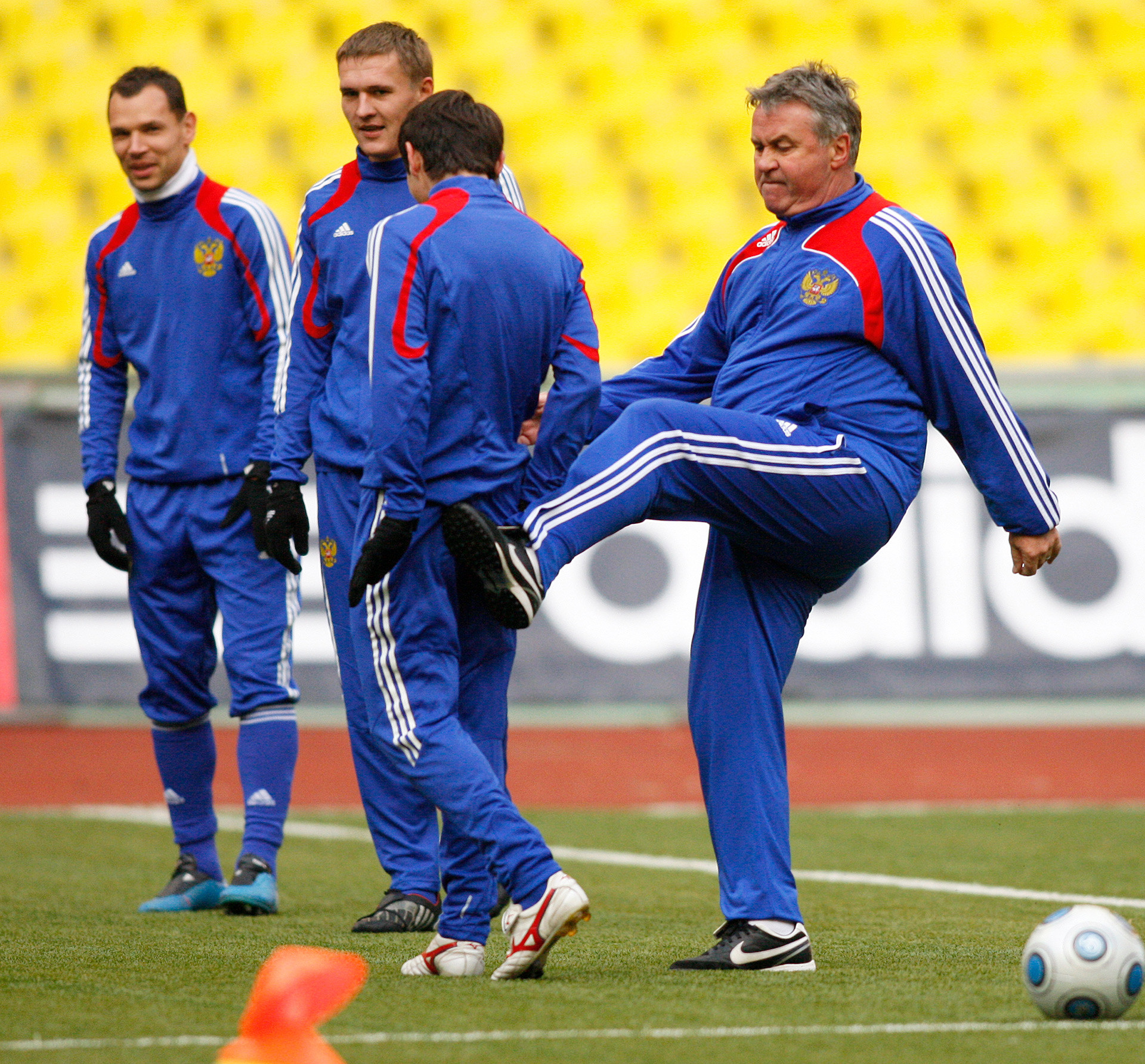 'The Wizard' Guus is giving one of his players a (magic) kick. Many believe that's what he did to all the Russian football.
Alexey Kudenko/Sputnik
Everyone agrees that Hiddink changed the game. "It was his style," Minin explains. "He had worked with average teams before – South Korea and Australia – and he was successful everywhere, for he understood the strong and weak features of each player. Before the Euro he and his assistants chose a very rational preparation system, making the team reach top gear in the most important matches."
Going down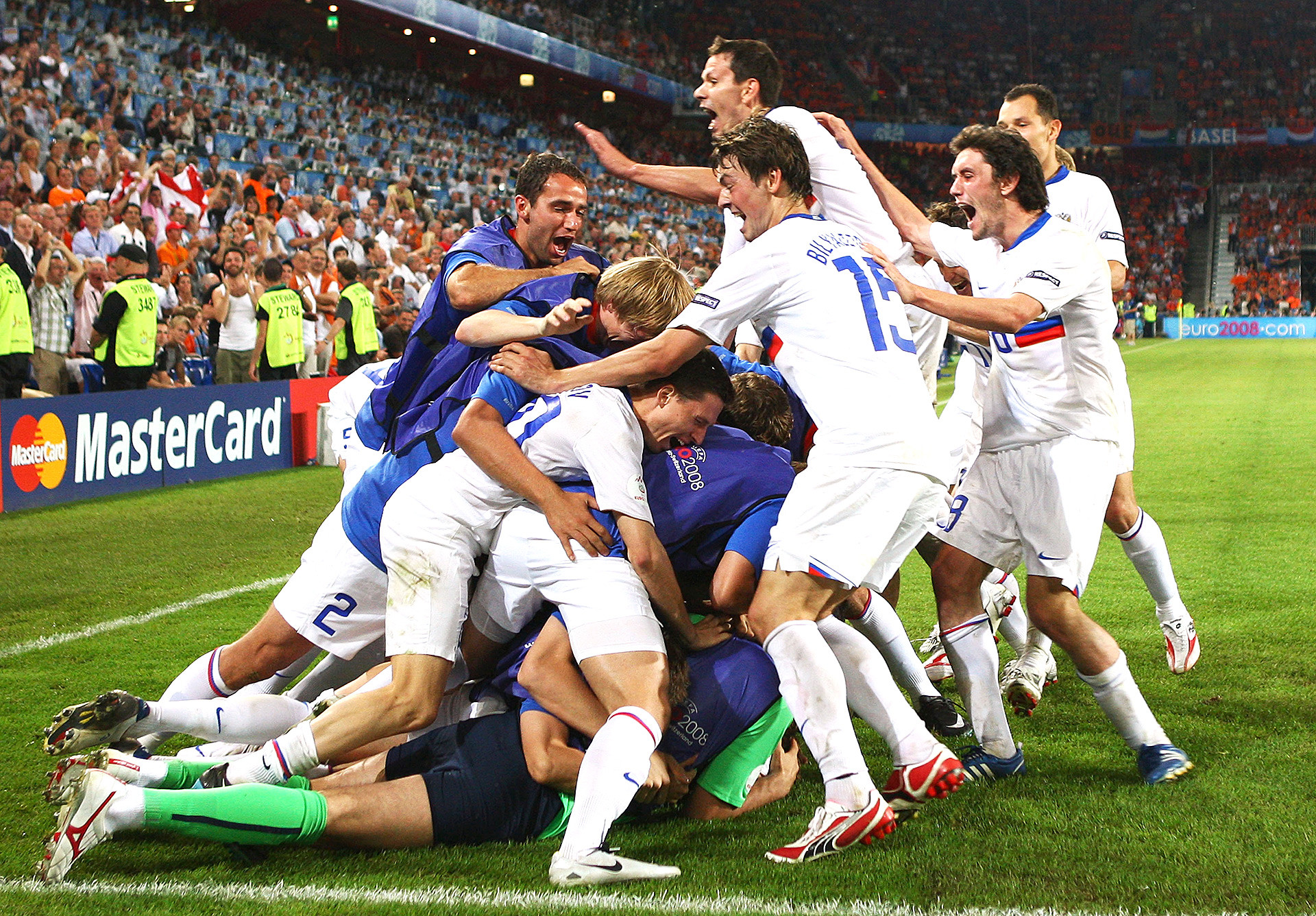 The match against Holland was a moment of pure euphoria. Unfortunately, then things became worse.
Getty Images
Many fans thought Russia's success at Euro 2008 would herald in a new era, but this wasn't the case. Hiddink's team didn't qualify for the 2010 World Cup in South Africa, losing to modest Slovenia in second round play-off.
After that defeat "The Wizard" left Russia and things went downhill. The national team went back to trying different managers, both superstar foreigners and prodigies from the Motherland – but to no avail.
Minin says Russian football didn't make the most of its chances. "Inviting Hiddink, the first foreign manager, was a risk – afterwards, the officials were acting too cautiously, being afraid of risk, hiring coaches like Fabio Cappello, whose best days had long been over. Our footballers, unfortunately, also didn't make it to another level – some, like Arshavin, spent a couple of seasons abroad but showed that they were unable to keep up the high standard all the time."
It's been 10 years and now Russia faces another tournament. The expectations are not very high – after all, the last game Russia won was back in October 2017 – but as all football fans know, this game is great at surprising people.
Here we have an article on why the Russian football is not, to put it mildly, on top of its game today.
If using any of Russia Beyond's content, partly or in full, always provide an active hyperlink to the original material.