1. Peter the Great: Love without borders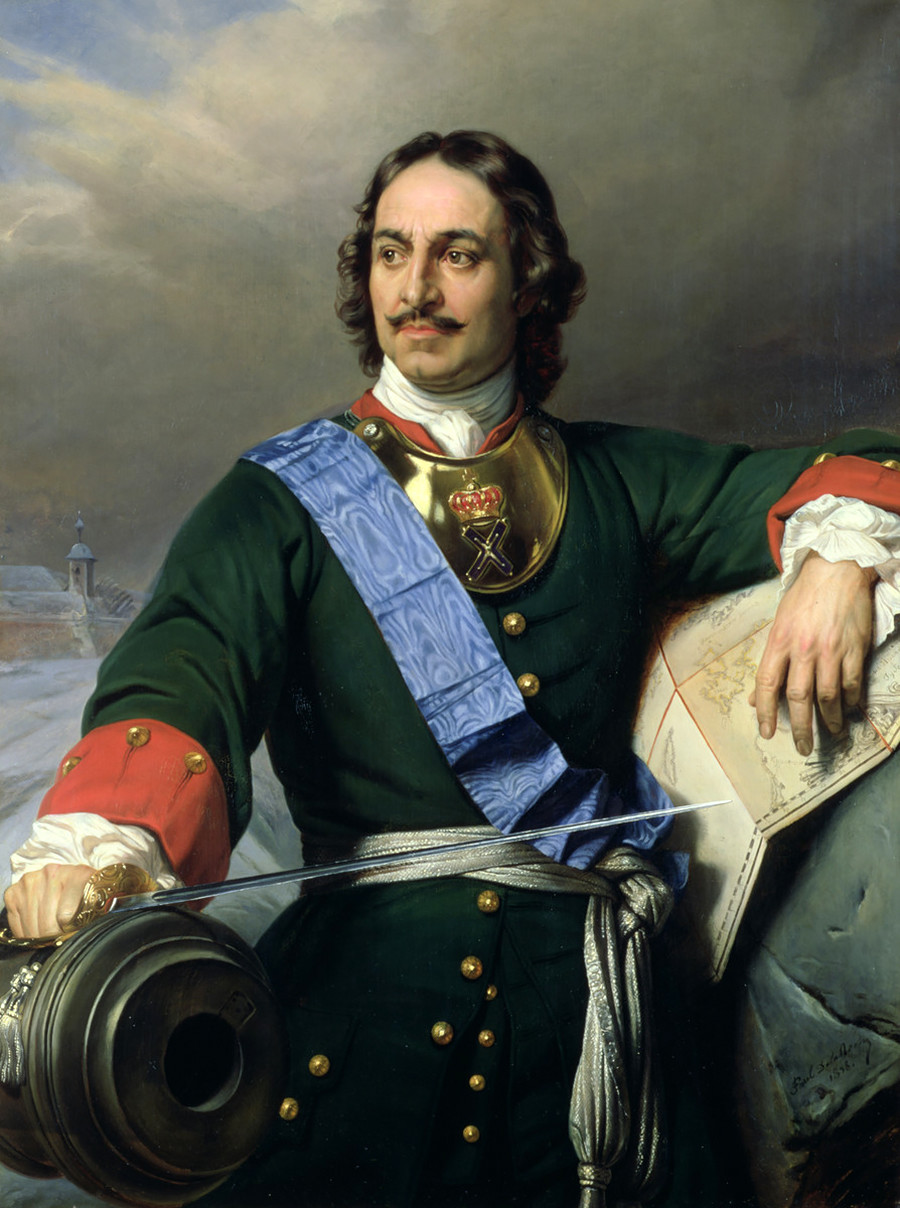 Peter the Great didn't really love his first wife, Evdokiya Lopukhina. His mother chose her when Peter was 16 and coming of age. Of course, marriage was an inevitable part of that process.
Evdokiya was old-fashioned, and didn't share Peter's passion for Western culture. The young Tsar soon left her, but not before in 1690 she gave birth to the ill-fated heir, Alexey Petrovich.
In 1698, after he learned that her father was plotting against the state, Peter forced Evdokiya into a convent in Suzdal (120 miles from Moscow). The former tsarina, however, continued to lead a secular life in the monastery. In 1709, she had an affair with Major Stepan Glebov, who was sent to Suzdal to conduct an army draft, but who instead found himself in a long-lasting love story.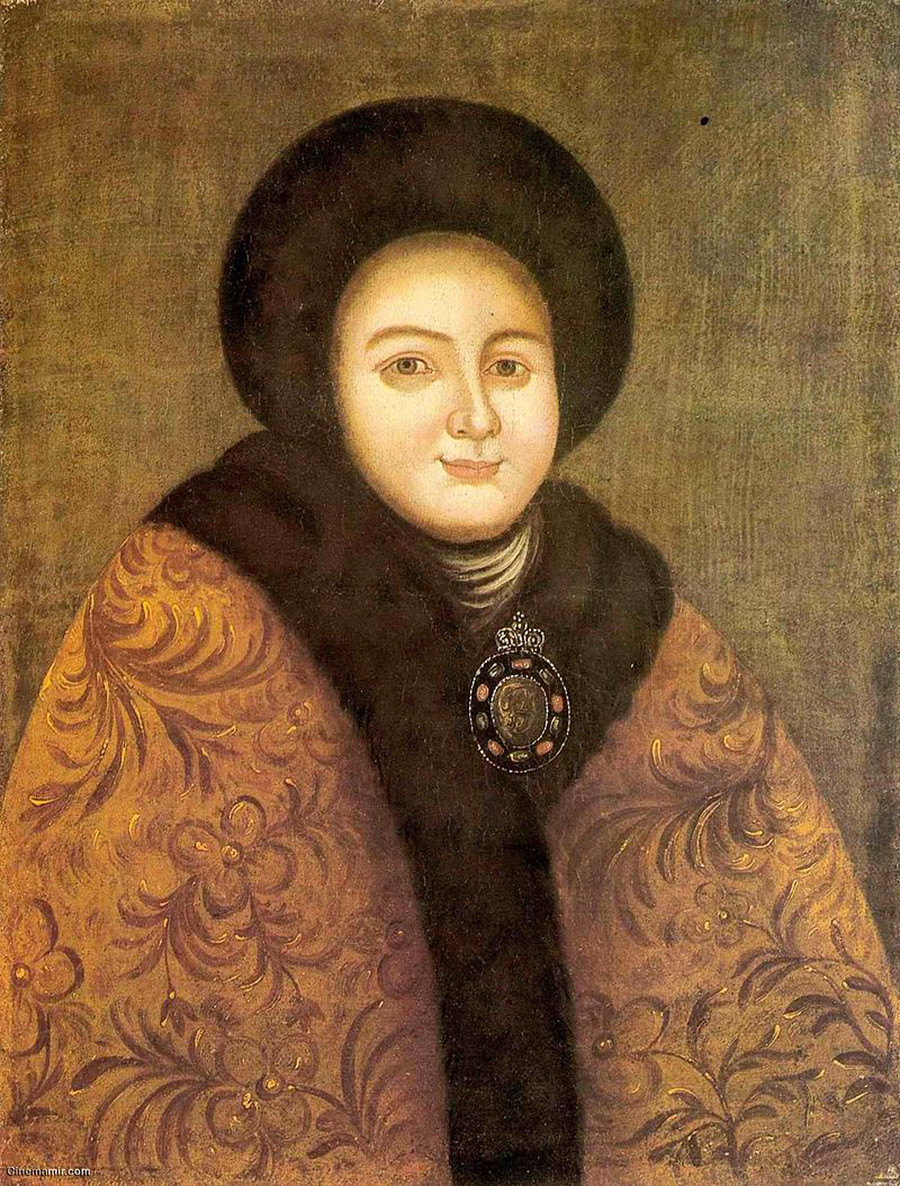 Evdokiya Lopukhina, Peter the Great's first wife (1669 – 1731)
Public Domain
Their happiness lasted for 9 years, until in 1718 Peter found out about the affair from other nuns put under questioning. Caught and tortured, Major Glebov confessed to having an affair with Evdokiya, insisting it was all his initiative, trying to protect his love.
Evdokiya was taken to Glebov's execution, and legend has it that soldiers forcibly kept her eyes open so that she could not turn away from the gruesome sight of her lover suffering (he was executed by impalement). Sadly, Evdokiya was not the only Peter's mistress to suffer from his cruelty – another one, Lady Hamilton, was executed because of the same reasons – she dared to have another love affair.
2. Catherine the Great: Giving birth during house fire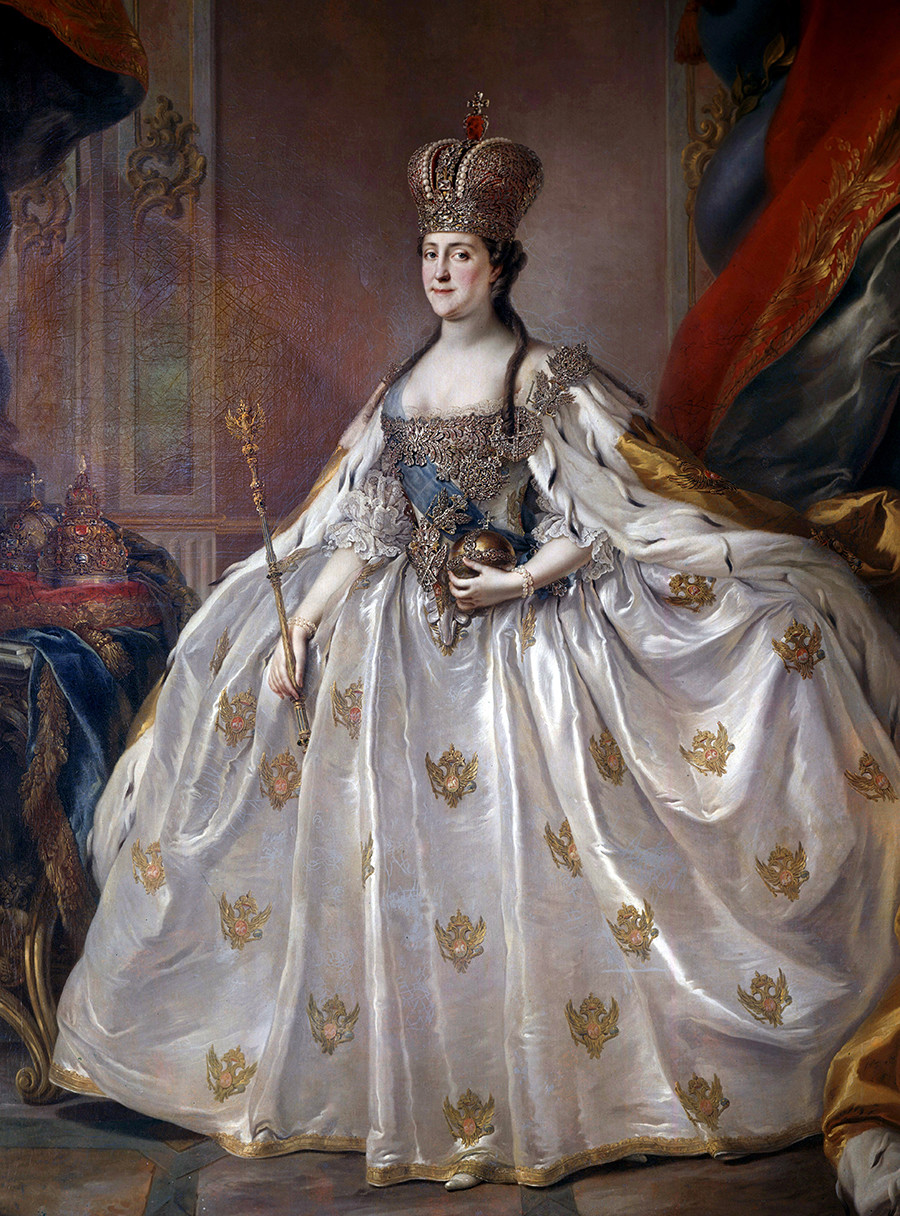 Catherine the Great (1729 – 1796)
Getty Images
It is widely debated whether Catherine the Great and her husband, Peter III, had any sexual life. But one thing is for certain – Catherine had at least 20 lovers and favorites during her lifetime.
"God knows how, but my wife is pregnant. I don't know for sure if the baby is mine and if I must accept it as mine," she quoted her husband as saying when she was pregnant with her daughter, Anna, conceived probably during her romance with Stanisław Poniatowski, the future king of Poland.
Grigoriy Orlov (1734 – 1783)
Public domain
Grigory Orlov, Imperial Guard and one of the men who helped Catherine overthrow her husband, was Catherine's favorite for 12 years. They had a son, named Alexey Bobrinsky, who became a general and a scientist. When he was yet in the womb, Catherine went through great pains to conceal this pregnancy from her husband, but giving birth was problematic.
Catherine's trusted servant, Vasily Shkurin, had a solution. He knew that Peter III had a bizarre passion for watching houses burn, so Shkurin set his own St. Petersburg house on fire. As the Emperor rushed from the palace to watch the fire being put out, Catherine gave birth to a baby who was put in Shkurin's care and later made a Count.
3. Nicholas I: Prosthetic marriage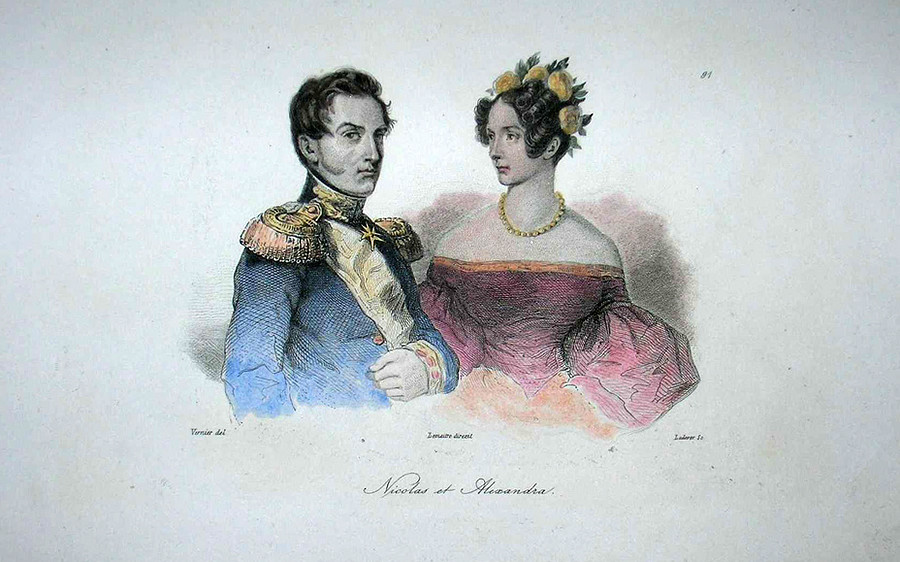 Nicholas I (1796 – 1855) and his wife Alexandra Feodorovna (1798 – 1860)
Public domain
At the age of 21, Grand Duke Nicholas, the future Emperor Nicholas I, married Princess Charlotte of Prussia, who was baptized in 1816 into Orthodoxy under the Russian name, Alexandra Fedorovna. Their romance lasted well into their marriage, and they were considered one of the most beautiful aristocratic couples in Europe.
After the death of Nicholas's eldest brother, Alexander I, the Decembrist revolt took place. Nicholas became emperor instead of his elder brother, Constantin. During the night of the revolt, Alexandra suffered a breakdown and developed a nervous twitch that lasted for the rest of her life.
By 1832, Alexandra had given birth to seven children, and was so exhausted that doctors forbade her having any more sex. Coincidence or not, a few years before that Nicholas had given his wife a wonderful country residence as a gift. Alexandra spent more and more time there, while the Emperor – and many people in St. Petersburg knew it – was involved in numerous romantic flings with ladies from aristocratic and court circles.
Varvara Nelidova was the most important of his lovers, but at the same time she was Alexandra's favorite lady-in-waiting. In 1845, the enraged Empress ordered Nelidova to follow her on a trip to Italy. The plot played well: the relentless Nicholas dropped all his duties and followed both of them to Naples.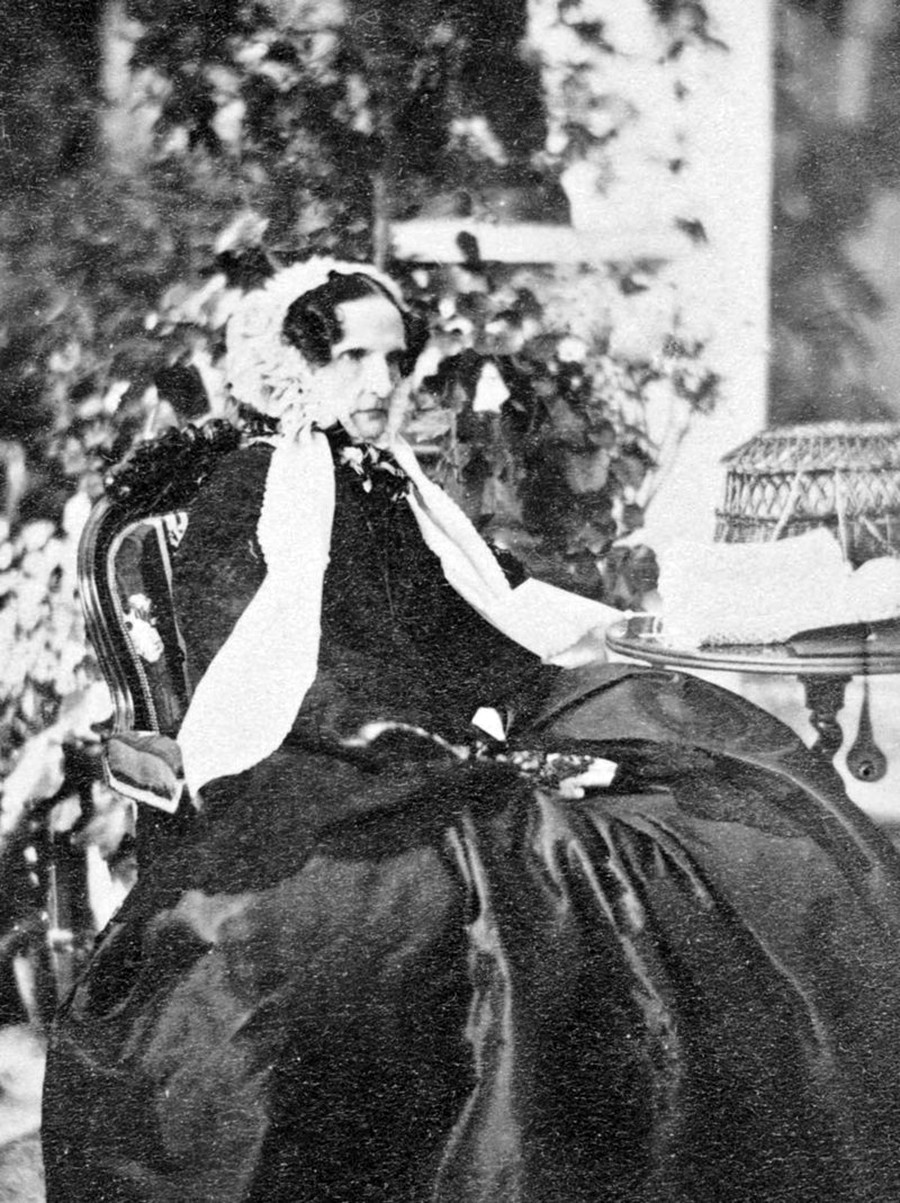 Dowager Empress Alexandra Feodorovna, wife of Nicholas I, in 1860
Public domain
Legend has it that the three worked it out and returned to St. Petersburg together. The romance of Nicholas and Nelidova lasted until his death in 1853. Acknowledging her love for the deceased Nicholas, Alexandra allowed Nelidova to spend an hour at his body's side. After that, Alexandra helped Nelidova to get a favorable position at the court – it was love for the same man that helped the two women stay friends after his death.
4. Grand Duke Nicholas Konstantinovich: Mad about you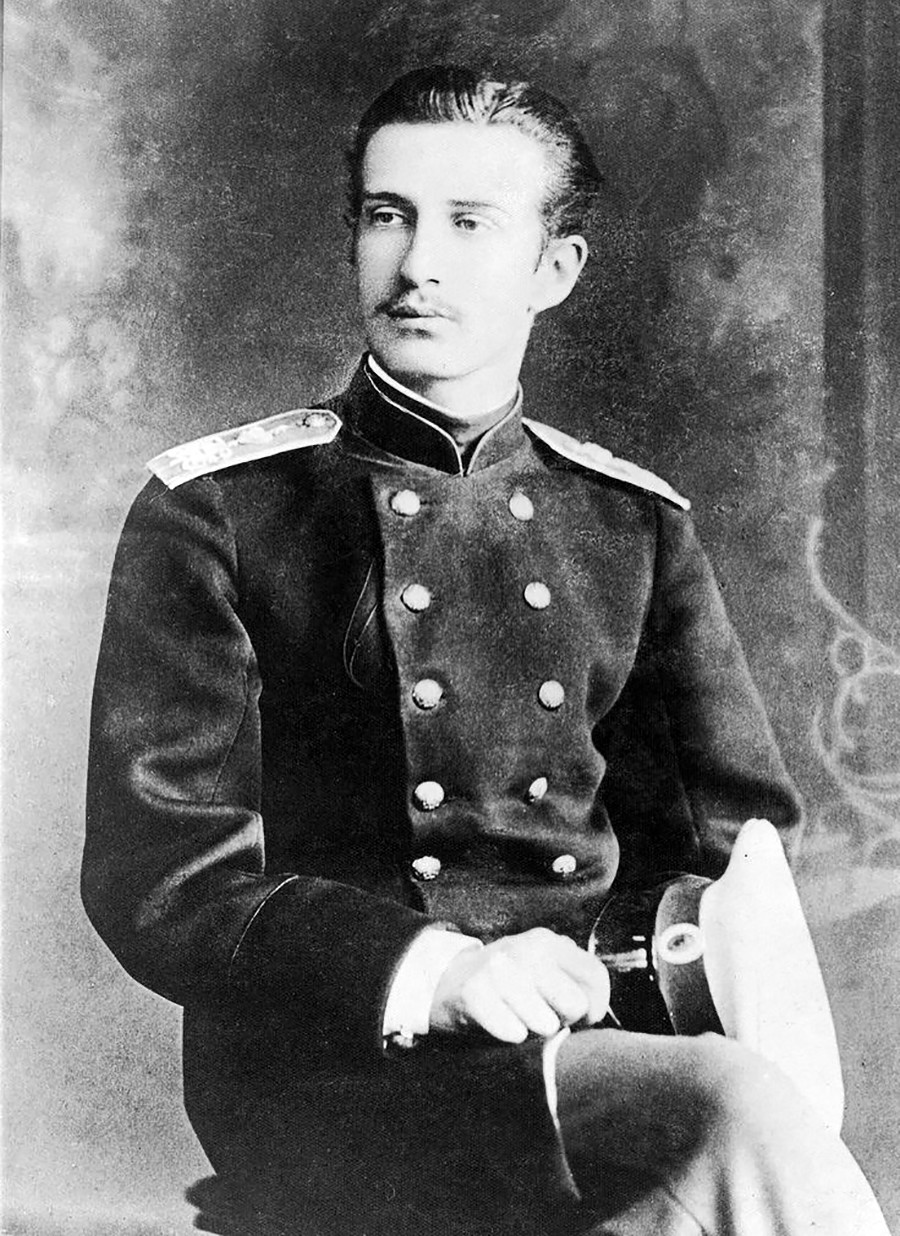 Grand Duke Nicholas Konstantinovich of Russia (1850 – 1918)
Public domain
His father was the younger brother of Alexander II. Nicholas was considered the fairest of all Grand Dukes. Resourceful, clever and fit, Nicholas was the heir to one of the Empire's greatest fortunes.
During a ball in St. Petersburg, he befriended Fanny Lear, an American actress and dancer. At first just a fling, soon their romance became a headache for the ruling family – an unequal marriage would ruin Nicholas's fortune and shame the Romanovs. So, the Grand Duke was sent away to fight in the army. As soon as he returned, he embarked on a European journey… with his fiancee, and he spent enormous sums of money on her.
Eventually, the Grand Duke's credit ended. (Like any member of the ruling family, he couldn't just endlessly spend – he was assigned certain sums each year.) Then, in April 1874, diamonds were stolen in the palace of Nicholas's parents, taken from the revetment of one of the most cherished icons in the family, the one that Nicholas I had blessed his younger son, Nicholas's father, and his wife with.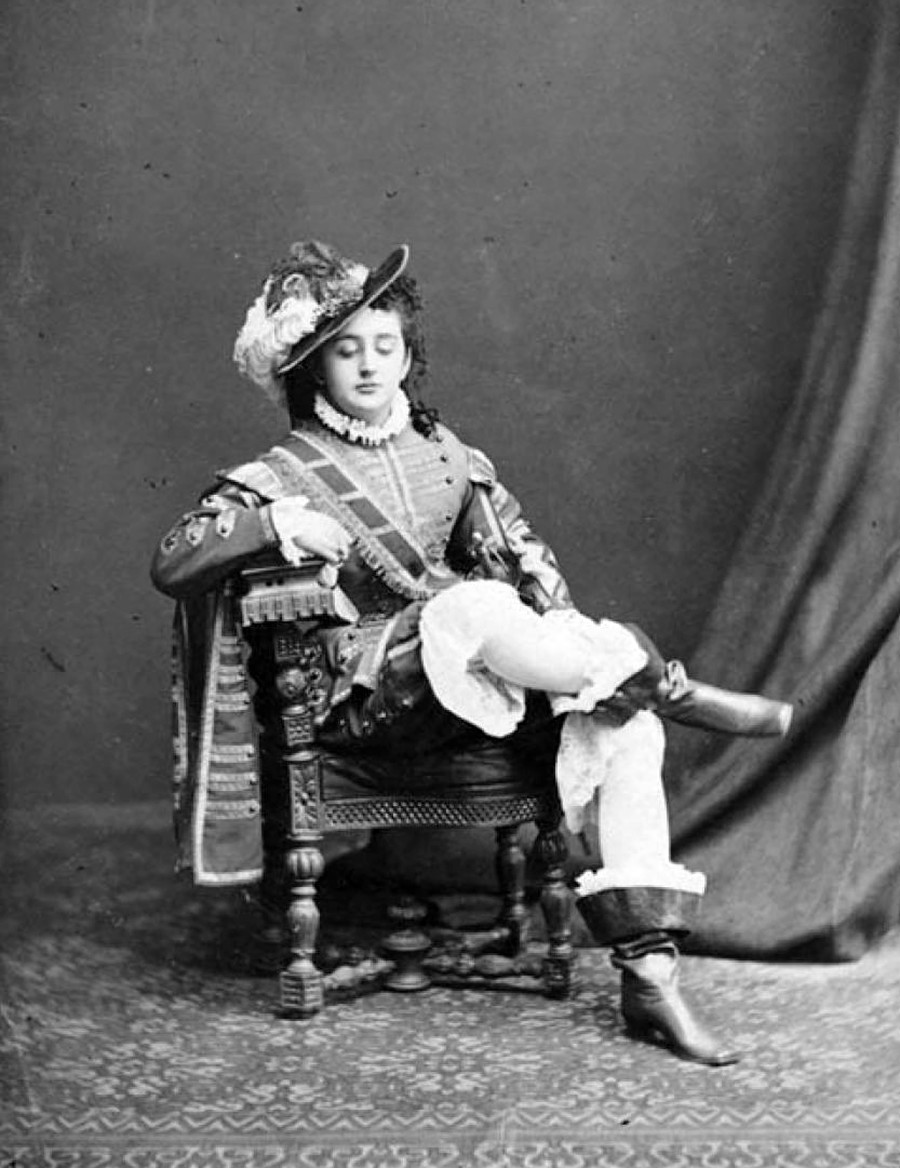 Fanny Lear, American actress
Archive photo
The investigation led to an astonishing discovery – the diamonds were stolen and sold to a pawn shop by Grand Duke Nicholas! He planned to spend the money on gifts for his Fanny. The Grand Duke didn't show a hint of remorse at the crime, so at his parents' order he was declared insane, lost all his privileges as a member of the Imperial family and was sent to the countryside, and eventually to Central Asia. He wasn't even allowed to attend the funeral of his uncle, Alexander II, in 1881.
In Tashkent (1,740 miles from Moscow), the Grand Duke dedicated himself to helping people: he invented and supervised the building of the much-needed melioration system, built a local theater and financed education. He only returned to St. Petersburg briefly after the Revolution, but soon went home to Tashkent, where he passed away in 1918. Needless to say, he never again saw Fanny Lear.
If using any of Russia Beyond's content, partly or in full, always provide an active hyperlink to the original material.