How is Russia connected to the firing of FBI Director James Comey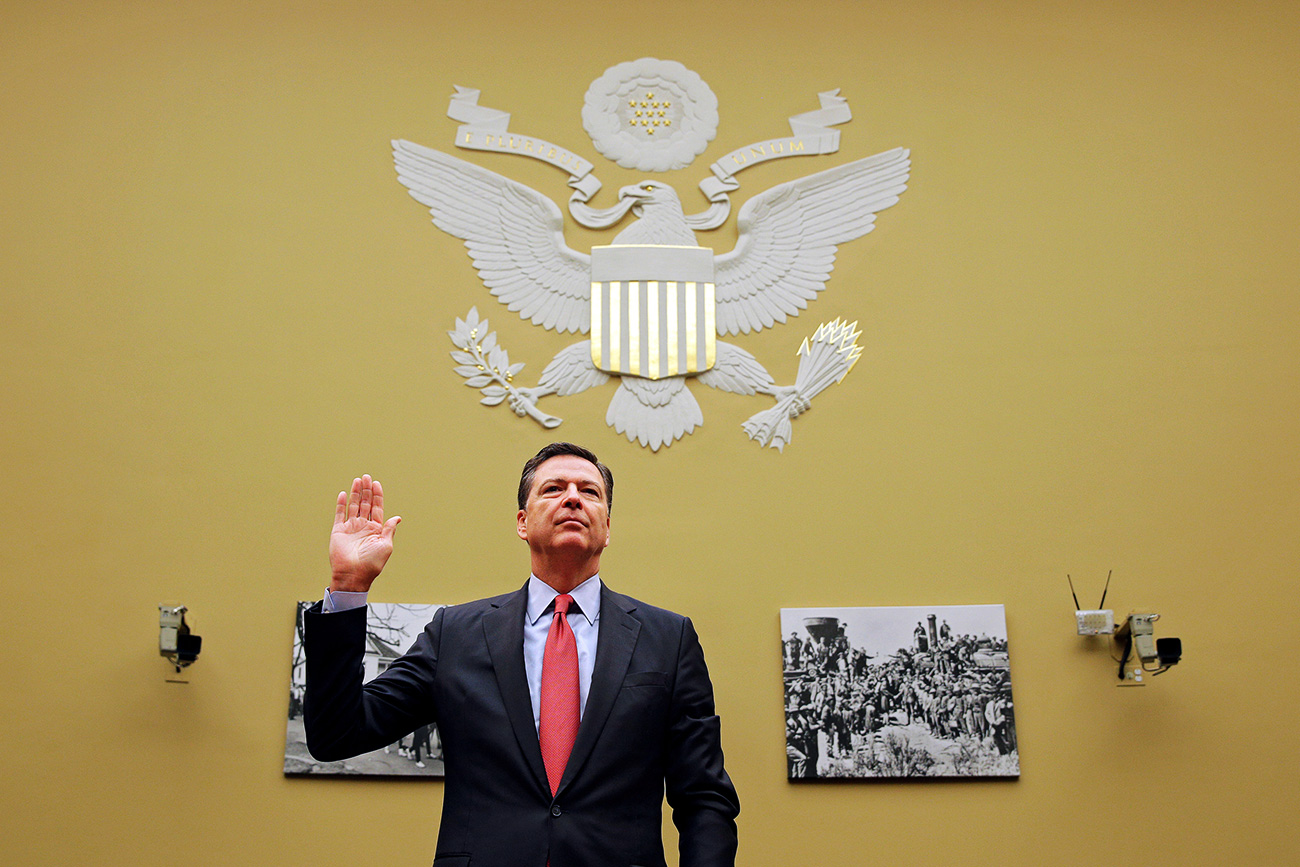 Comey's firing has made a strong impression that the FBI was actually onto something regarding to its Russian connection probe.
Reuters
Donald Trump's decision to fire the FBI Director James Comey has triggered yet another round of Russia-related headlines. RBTH explains what Moscow has to do with the sacking that's rocked American politics.
Did Russia influence Trump's decision to fire Comey?
It did, indirectly. James Comey was leading a bureau responsible for the ongoing investigation into the links between President Donald Trump's aides and Moscow. The Russian connection has already caused trouble for the newly formed administration as Trump had to get rid of his National Security Advisor Michael Flynn and to defend his pick for the Attorney General Jeff Sessions against similar allegations.
Trump was reportedly worried about the alleged Russian links tainting his early presidency and the FBI's investigation did not make things easier. Some believe Trump could have fired Comey to stall the investigation, others say this is unlikely as the investigation would move on anyway. In a nutshell, it's not clear if Trump sacked Comey because of the investigation, but the odds are the Russian factor was at least partially a reason why the director was given his marching orders. As one source familiar with the view of FBI employees on the matter told RBTH: "Comey's firing was all about Russia. No doubt."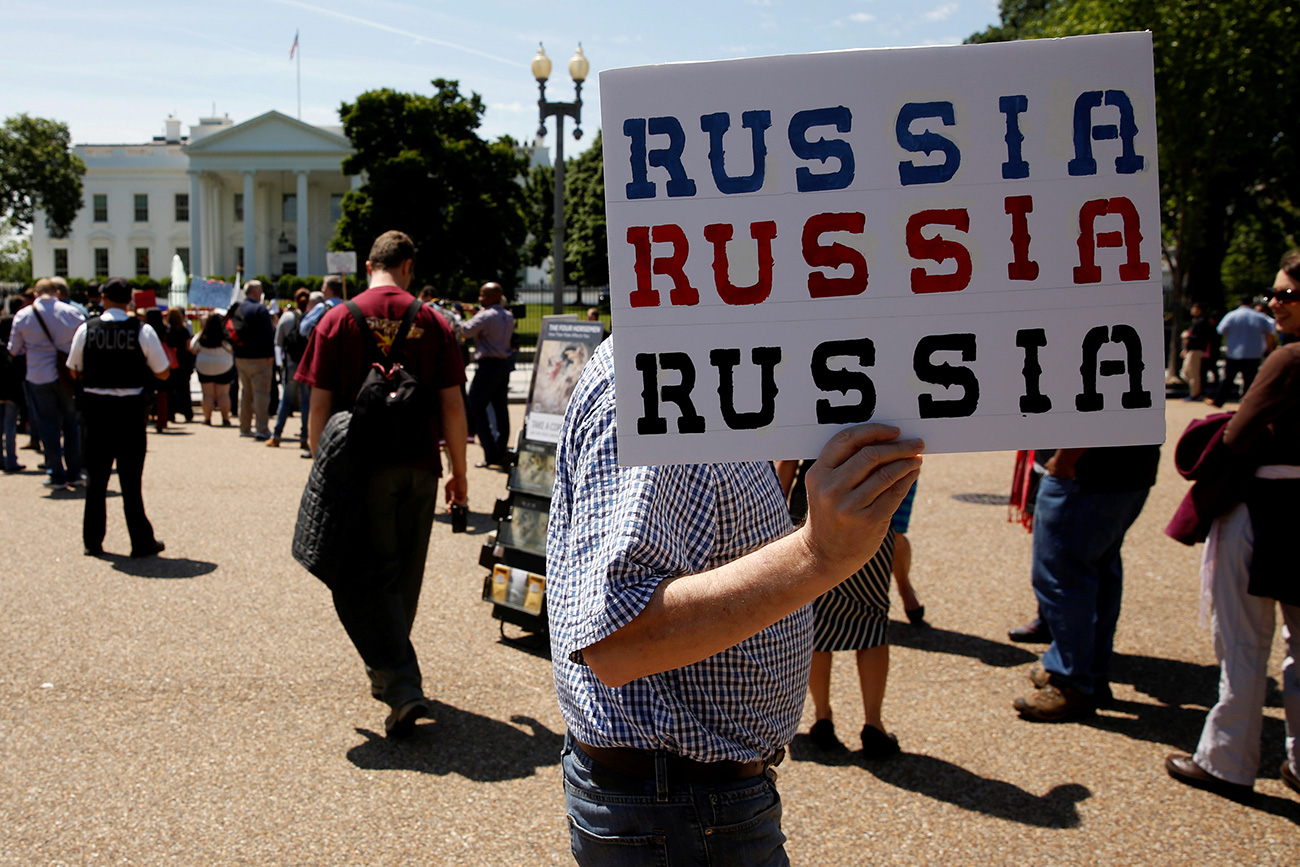 Protesters gather to rally against U.S. President Donald Trump's firing of Federal Bureau of Investigation (FBI) Director James Comey, outside the White House in Washington, U.S. Source: Reuters
Does Russia have anything to do with how events leading up to the firing unfolded?
It does, partially. Accounts of what was the actual reason behind the decision to dismiss the FBI Director vary, but every bit of information out there leads back to the presidential campaign of 2016 that was marked by two parallel scandals: Hillary Clinton's use of her private server while Secretary of State and the Trump campaign's alleged ties to Russia.
Here's where Director Comey and the agency come into play. On Oct. 28 Comey rocked the presidential campaign by publicly announcing he had reopened the Clinton email investigation. Practically everyone agrees that was a terrible timing for the announcement. As Comey himself said later, "It makes me mildly nauseous to think we might have had some impact on the election."
Against all odds, Trump won, but his first days in office were troubled by a snowballing scandal about Russian interference into November's elections. Three months after Trump's inauguration, Comey announced the bureau was investigating alleged links between the Trump campaign's aides and Russia.
An alleged Russian plot to undermine Clinton and crown Trump has been a recurring theme during the campaign which ultimately led to Comey's firing. For now though, nobody knows if these suspicions are at all grounded in reality.
What does Russia say about Comey's firing?
Russia denies it has anything to do with it. It was unlikely that the prodigy of Russian diplomacy, Foreign Minister Sergei Lavrov, was genuinely surprised when a reporter mentioned that the FBI director had been fired, but he once again demonstrated his prowess to troll the American press when he shot down the journalist's question about Comey.
Russian President Vladimir Putin similarly shrugged off the same question seconds before opening a Night Hockey League match in Sochi. "We have nothing to do with it. President Trump is acting in accordance with his law and constitution," said Putin, visibly cheerful (either about the game or about the lack of evidence to nail the "Russian protégé" in the White House).
"The best Russia can do in this situation is not to comment, to avoid a perception it's further interfering into America's domestic affairs," said Maxim Suchkov, an expert at the Russian International Affairs Council and a Russia-Mideast editor for U.S. news website Al-Monitor.
Will the firing impact Russia-U.S. relations?
It depends. The figure of FBI director has little to do with how Washington deals with Moscow. "James Comey is not an architect of Russia-U.S. relations, nor is he an architect of U.S. foreign policy. This is why the change of FBI director will not impact Russia-U.S. relations," said Ivan Timofeev, program director at the Valdai Discussion Club.
At the same time, the firing has already triggered a lot of buzz in the media and made a strong impression that the FBI was actually onto something regarding to its Russian connection probe. "The new round of 'Russian influence' allegations is arising which could yet again derail some of the important initiatives, including those in Syria, that have just started to prop up," said Suchkov.
Will the Russian connection surface once again?
Yes, absolutely. Despite fears that Donald Trump would derail the potentially explosive FBI investigation by removing the agency's director, he will not. While the firing caused mild surprise among some Republicans on the Capitol Hill, Democrats overwhelmingly called for either a special prosecutor to be assigned on the case or for an independent investigation led by a congressional committee. In any case, the FBI is going to proceed with its investigation, only under more scrutiny from Congress. Besides, with all the hype Russia earns in the U.S. media these days, it's virtually impossible to imagine the "Russian connection" story dying out anytime soon.
If using any of Russia Beyond's content, partly or in full, always provide an active hyperlink to the original material.