Entering Russia
Do I need a visa?
You need a visa if you want to enter Russia during the World Cup, but there are some exceptions. If you don't have any tickets to the games, you'll have to sort out a visa before you arrive, and you can check exactly what you need to do by visiting this website before booking your flight.
But if you are lucky enough to be going to a game, you don't need a visa. To cross the border or walk free from the airport after arriving you'll need to show both a ticket and personal FAN ID is vital (see below).
If you are an accredited journalist covering the World Cup or you've officially participated in the preparations for the event, you will be granted visa-free travel to the Motherland starting five months before the first game kicks off.
FAN ID
What is it?
A FAN ID is a personalized spectator/visitor card introduced by the Russian authorities to improve the World Cup experience for football fans.
Do I need it?
Yes, everyone attending a game needs to have a personal FAN ID card, including children, Russian citizens, and residents. The card is only issued once and you may use it for all World Cup matches. It also grants the right of visa-free entry for foreign citizens.
How do I get my FAN ID?
To file an application for your FAN ID, go to the fan-id.ru website and follow the instructions. If you happen to be in Russia, you may also apply for a FAN ID in one of the Registration Centers that will soon be operating in all the cities hosting World Cup games. Make sure you bring your FAN ID to all matches you attend, along with entry tickets. One important thing though: You cannot have a FAN ID without a ticket, so make sure to buy tickets before applying.
Your application will be processed within 72 hours and delivered via post to your address. It's a good idea to apply in advance as postal delivery from Russia may take just a tad longer than you think. You can also collect your FAN ID upon arrival in Russia, but how you enter the country without a FAN ID and a visa remains a mystery.
Tickets
When can I buy match tickets?
Tickets for the World Cup went on sale Sept. 14.
Go to the FIFA website's ticketing section and file an application for your tickets online. If there are too many applications and you're unlucky, do not worry: There will still be an opportunity to buy tickets on a first-come, first-served basis after Nov. 16.
The second phase of the sale begins Dec. 5
Avoid purchasing counterfeit tickets through other websites or via intermediaries – there's a high risk of missing the game and losing your money.
How do I buy the ticket/s?
To buy a ticket, you first need to register on the FIFA website. Then submit your ticket application. Each ticket is personalized and can only be issued if you provide your personal information. Purchased tickets will be delivered to the owner in person by post.
You can pay for the tickets with your credit card, via a bank wire, or in cash (in Russia only).
How many tickets can I buy at a time?
Each fan can buy several tickets for each game. When booking more than one ticket, however, you will need the other people's personal details.
In addition to individual tickets for certain matches, you can also apply for team-specific and venue-specific tickets.
Corporate clients may purchase ticket packages via the FIFA website's special section.
Are there different ticket categories?
Yes, there are four. Category 1 tickets are for private areas and are the most expensive ranging from $210 to $1,100. Category 2 and 3 are for normal seats and will set you back between $105 to $710. Category 4 tickets offer special low-priced tickets but these are only available for Russian residents - ranging from $20 to $120.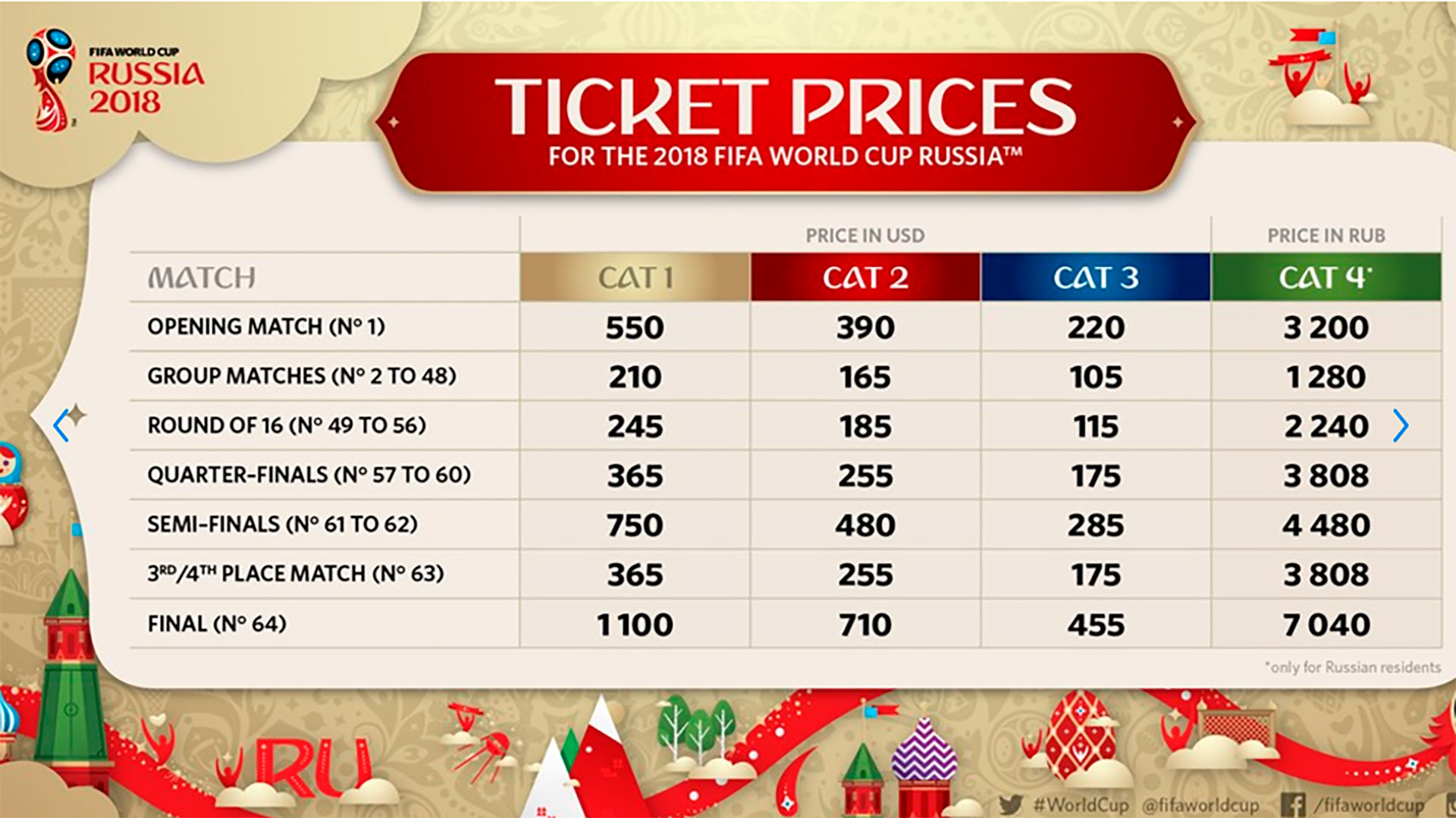 Each fan can buy several tickets for each game. When booking more than one ticket, however, you will need the other people's personal details.
fifa.com
Are there special tickets for disabled people?
Yes, special access tickets for disabled people, wheelchair users, people with guide dogs, and obese people are also available. Make sure you indicate your conditions when booking your tickets online and have a proof of eligibility document ready. Successful special access applicants will be offered one additional ticket for a person to accompany them to the match.
Travel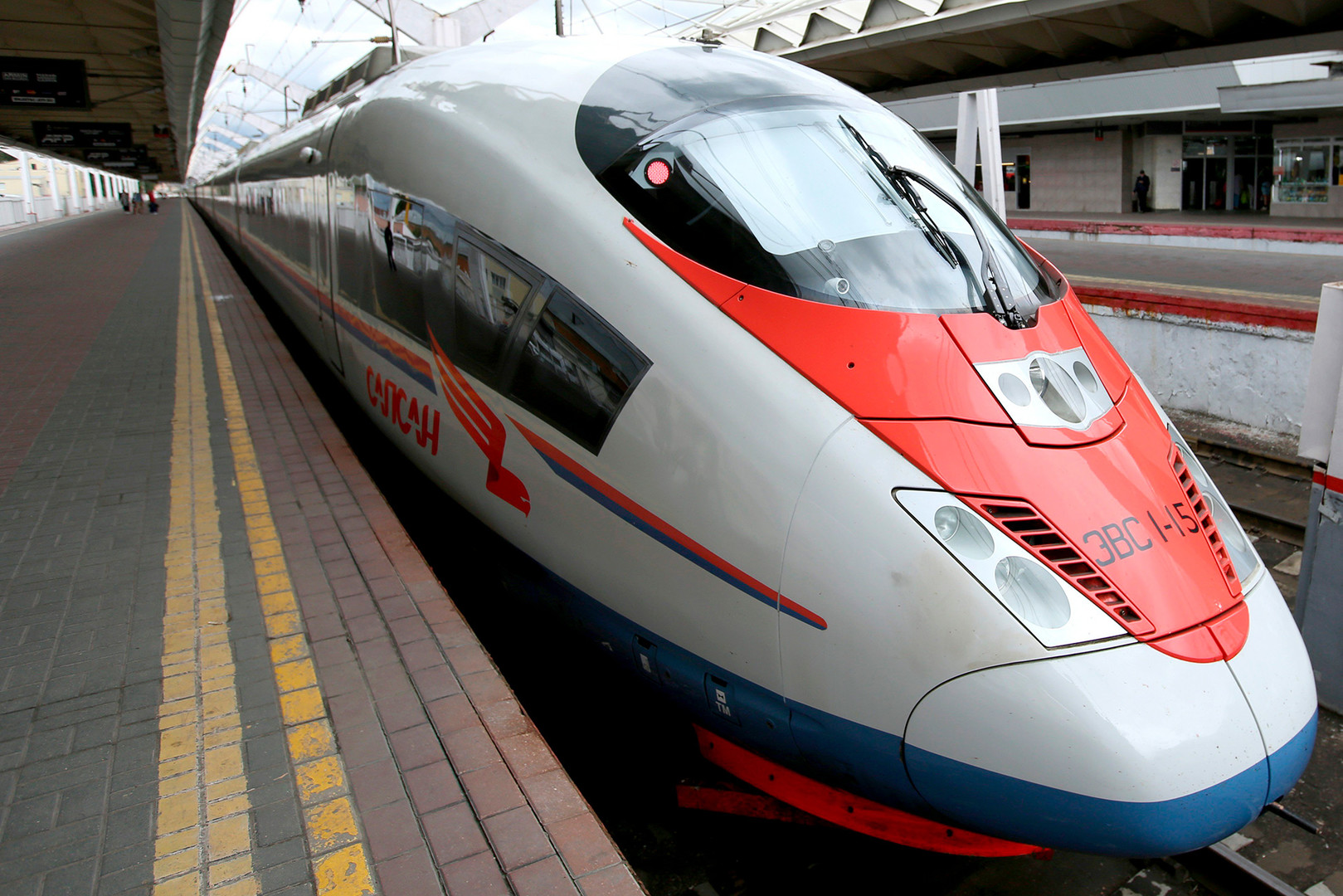 To travel between the cities you can fly, catch a train, or take a bus.
Kirill Zykov/Moskva Agency
Where are the games held?
There are eleven host cities located in Russia's west: Moscow, St. Petersburg, Sochi, Kazan, Kaliningrad, Yekaterinburg, Nizhny Novgorod, Rostov-on-Don, Samara, Saransk, and Volgograd.
Check out this stylish World Cup schedule. Although it's too early to tell who is playing who just yet, it shows you which city is hosting which games and when. One thing we know for sure: Team Russia opens the World Cup at Luzhniki Stadium in Moscow on June 14, 2018.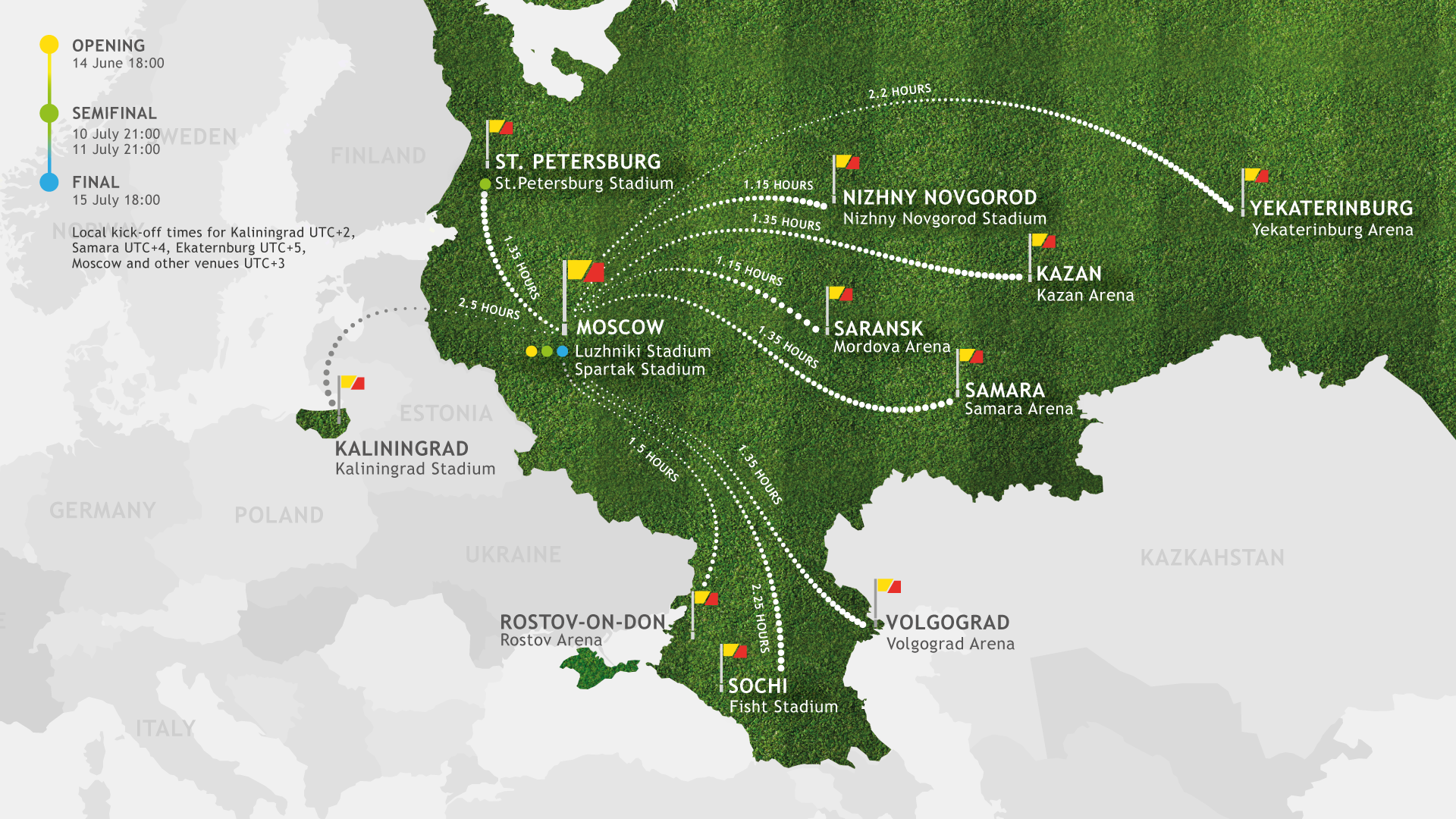 Team Russia opens the World Cup at Luzhniki Stadium in Moscow on June 14, 2018.
Russia Beyond
How do I get to the host cities by air, train, and bus?
Check this webpage for detailed navigation instructions for cities like Moscow, St. Petersburg, Sochi, and Kazan.
As a general rule, avoid taking taxis at the airport: One opportunist driver once charged an unsuspecting Chilean journalist $850 for a short ride. Use buses, shuttles, and comfortable express trains – they take passengers from airports to the center much faster and are considerably cheaper than cars.
If you don't fancy taking the train, Uber and its Russian analog Yandex Taxi, work well in most Russian cities.
How do I travel between the host cities?
To travel between the cities you can fly, catch a train, or take a bus. For train tickets go to the Tutu.ru website (available in English), choose your route and date, and pick a train that fits your schedule and budget. Pay online and voilà, you are ready to go. Just don't forget to print out your e-ticket and bring your passport to the stations.
If the thought of experiencing Russian romanticism on the train is not your thing, go to the Skyscanner website for flights.
In case you feel deep-seated distrust towards tickets aggregators like SkyScanner, try the websites of Russian airlines. Your options are Aeroflot, Rossiya, S7, Aurora, and famous lowcoster Pobeda. But remember that Pobeda does not serve meals and imposes strict rules on the size of cabin baggage.
If you are up for a bus ride, go to Busfor or Tutu's bus section and prepare to enjoy the beauty of Russia's vastness by road. Beware of traffic jams - these can considerably prolong your ride.
Remember, the earlier you buy your tickets the cheaper they'll be. Do not leave everything to the last moment; plan your trip in the Motherland well ahead and your World Cup experience will run far smoother.
If using any of Russia Beyond's content, partly or in full, always provide an active hyperlink to the original material.