Only seven Russian cities have a metro. This is not only the quickest and most efficient means to travel through a city, but riding the metro in Russia is also a great way to see underground cultural treasures. Which stations do locals appreciate most?
Arbatskaya, Moscow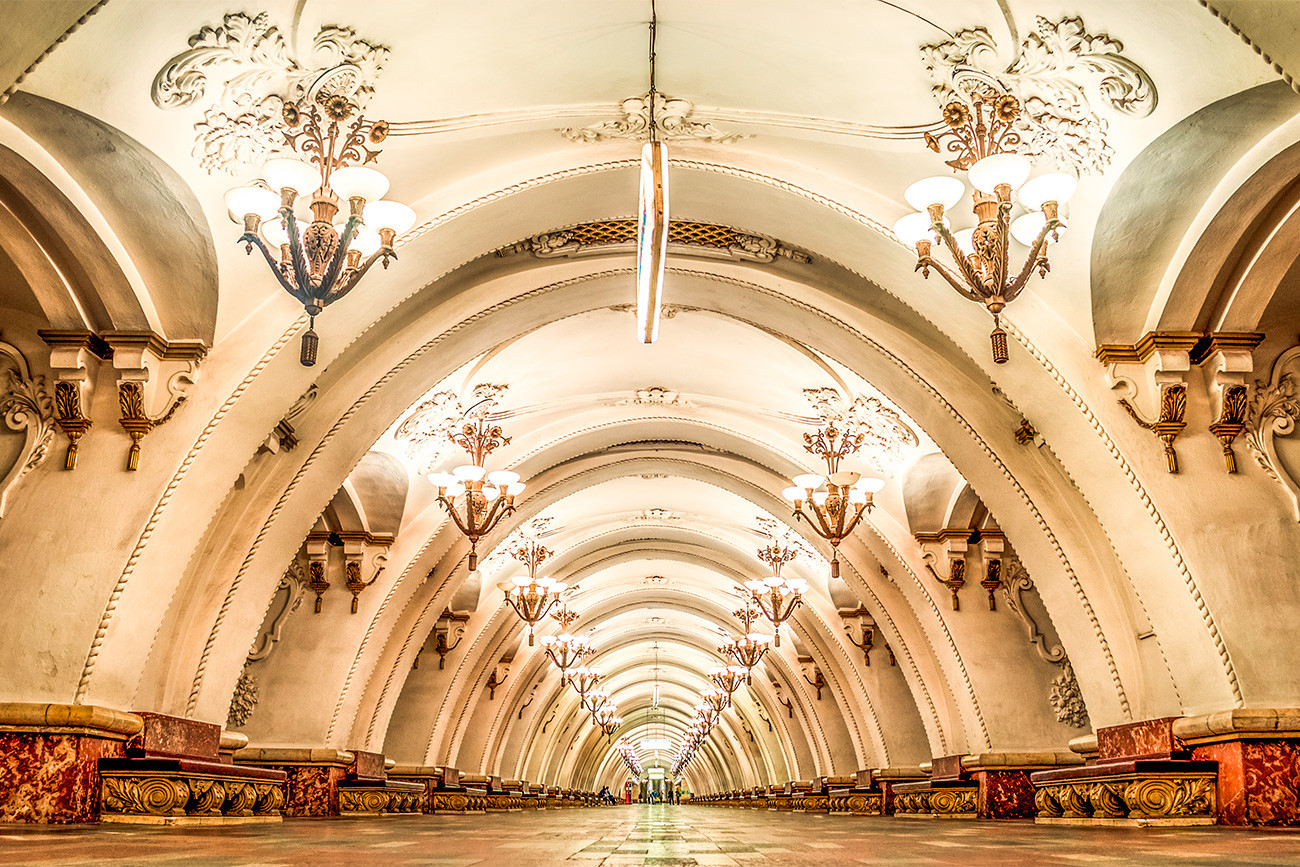 The Moscow metropolitan is the country's oldest and largest underground rail system. The first stations (red line) were opened in 1935. Today, the massive subway system includes 12 lines with 203 stations. Every day 10,000 trains carry more than seven million passengers. Central hub stations look like underground palaces, decorated with marble, intricate mosaics and bronze sculptures.
"The most beautiful station in Moscow is Arbatskaya (dark blue line) decorated lushly with marble and stucco molding," said Maria Zagryadskaya, an HR manager. "The station was designed by prominent architects of that era in the style of the Moscow Baroque."
Turgenevskaya, Moscow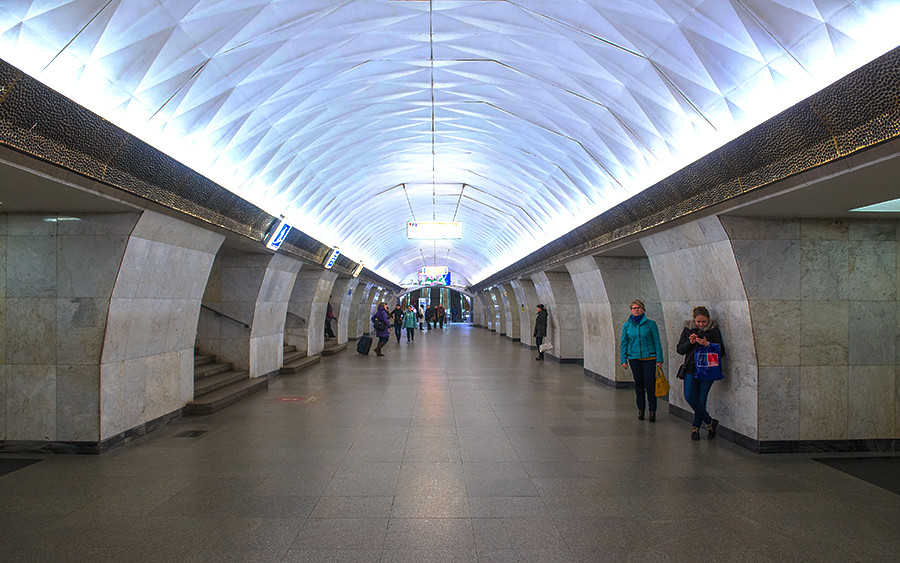 Nikolai Galkin/TASS
"My favorite station is Turgenevskaya (orange line) and its tunnel passages to Chistye Prudy and Sretensky Boulevard. This station is very cozy and comfortable," said Olga Ruzanova, who works as a marketing manager. "I really like the area around this station: the Turgenev Library, the Tea House, and Myasnitskaya Street. My life in Moscow started here – I lived in a nearby hostel when visiting as a tourist; it was a 19th century house with iron gates (it often can be seen in movies). I used to walk along Myasnitskaya Street in the morning, got some fresh cookies at the Tea House and often saw TV stars there. And so I decided to move to Moscow from Novosibirsk."
Among other stations, Ruzanova recommends to see the beautiful stained glass at Novoslobodskaya, and enjoy the observation deck at Vorobyevy Gory.
Admiralteyskaya, St. Petersburg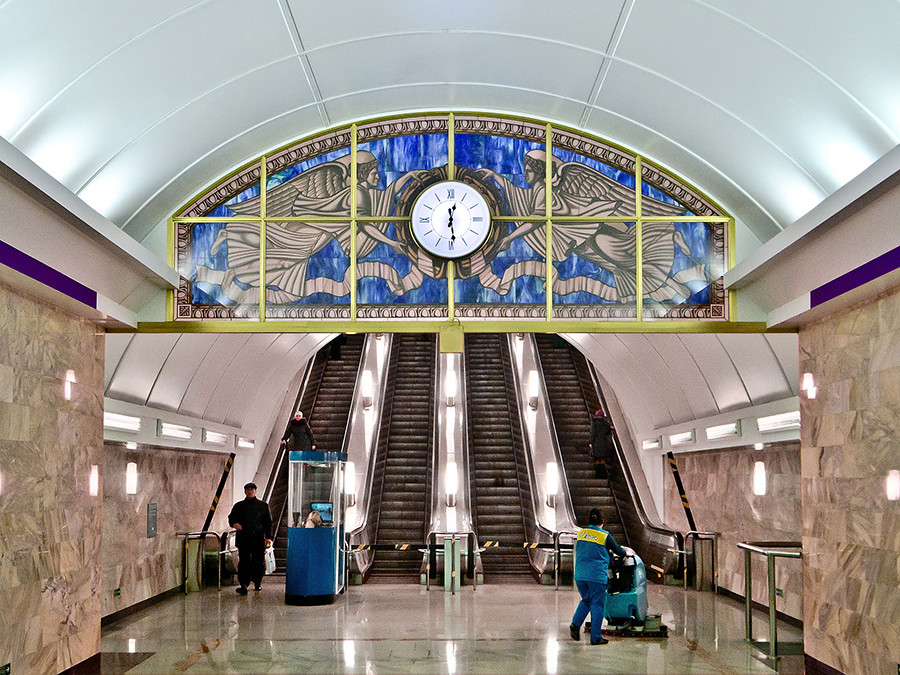 Florstein
The St. Petersburg metro is the country's second oldest and largest. Opened in 1955, it has five lines with 67 stations. This is the world's deepest metro system, and some stations are at a depth of 100 meters. Eight stations are officially listed as cultural heritage sites.
Many stations in St. Petersburg are beautiful and even opulent, said Irina Efros, founder of English in Action, an event company. "Some stations dating to Stalin's rule even have palace decorations. For example, Avtovo has 16 columns covered with glass panels. Previously, such crystal columns were installed only in the Winter Palace and the Catherine Palace in the city of Pushkin."
Still, Admiralteyskaya station (violet line) is Efros' most favorite.
"This is Russia's deepest station and one of the deepest in the world. It has amazingly beautiful decorations dedicated to naval topics," Efros said. "You can spend half an hour looking at the mosaic panels: 'The foundation of Admiralty;' 'Neva river;' and 'Neptune.' There are also columns decorated with bas-reliefs of famous Russian admirals and naval commanders: Ushakov, Makarov, Apraksin, Grigorovich, Nakhimov and Bellingshausen; as well as lattices with gilded anchors on the track doors, and wind rose diagrams on the floor, etc."
Opened in December 2011, the builders failed to meet the original deadline set for 1997. Between 1997 and 2011, Admiralteyskaya was a so-called 'ghost station,' as trains passed it without stopping. "For many years it looked like an ugly wasteland in the middle of the city. Now we are happy to have this beautiful station, which makes travel in this area more convenient," Efros said.
Geologicheskaya, Yekaterinburg
The very first metro in the Ural region was opened in Yekaterinburg in 1991. With only one line and nine stations, it carries about 200,000 people each day.
"One of my favorite stations is Geologicheskaya," said journalist Yulia Shevelkina. "The station's walls are fitted with windows behind which you can see different layers of the earth in various colors, all made of semi-precious stones found in the Urals. Such decoration conveys the Ural's uniqueness, because the region is famous for malachite and other gems."
Chkalovskaya, Yekaterinburg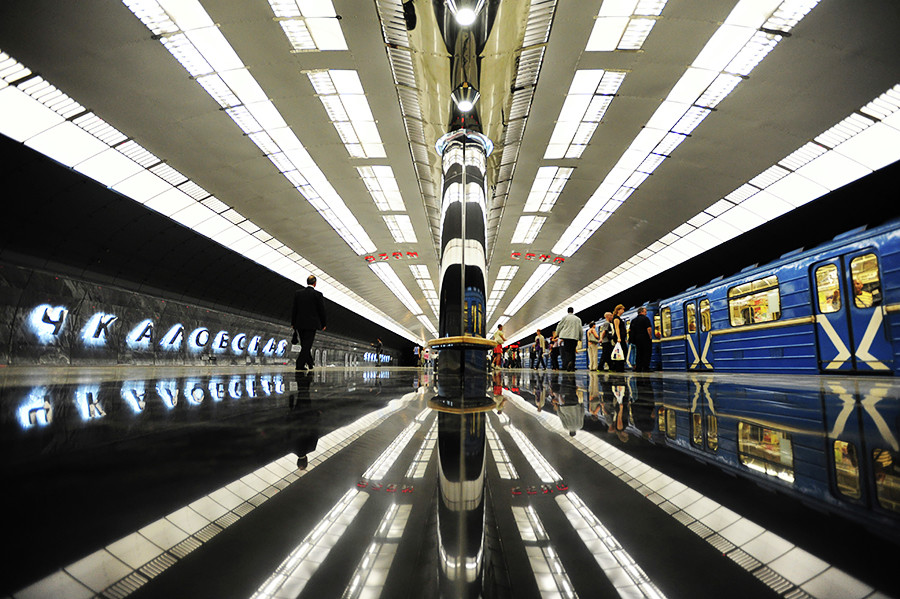 Pavel Lisitsyn/Sputnik
Another remarkable station is Chkalovskaya. "Decorated in memory of Chkalov's flight to America, inside it looks like a plane, and the walls resemble a fuselage," explained Yulia. "There are portraits of his crew, and Pravda newspaper clippings made of marble."
Dvigatel Revolyutsii, Nizhny Novgorod
The metro in Nizhny Novgorod is Russia's most shallow, with stations located no deeper than 20 meters. The first stations were opened in 1985, and now the subway consists of two lines and 14 stations.
"My favorite station is Dvigatel Revolyutsii ("Engine of the revolution") on the red line," said Yulia Petushkova, who works as a manager. "The locals especially love it because of the impressive name, which honors a Diesel engine factory."
Kremlevskaya, Kazan
The Kazan metro is Russia's newest, and the only one opened in the country since the fall of the Soviet Union. The first passengers boarded in 2005, in time to mark the city's millennium. Today, this metro has one line with 10 stations. Kremlevskaya is one of the most famous stations.
"It's a beautiful station and even though it's in the very heart of Kazan, surprisingly it's not crowded," said journalist Elena Vavilova. "You can always find a seat, and enjoy the national character depicted in the design on the walls and the ceiling."
Another notable station in the Kazan metro is Ploshchad Tukaya, whose walls are decorated with mosaics showing scenes from Tatar fairy tales, said Vavilova.
If using any of Russia Beyond's content, partly or in full, always provide an active hyperlink to the original material.