Russia reacts to hammering Saudi Arabia 5-0 in World Cup opener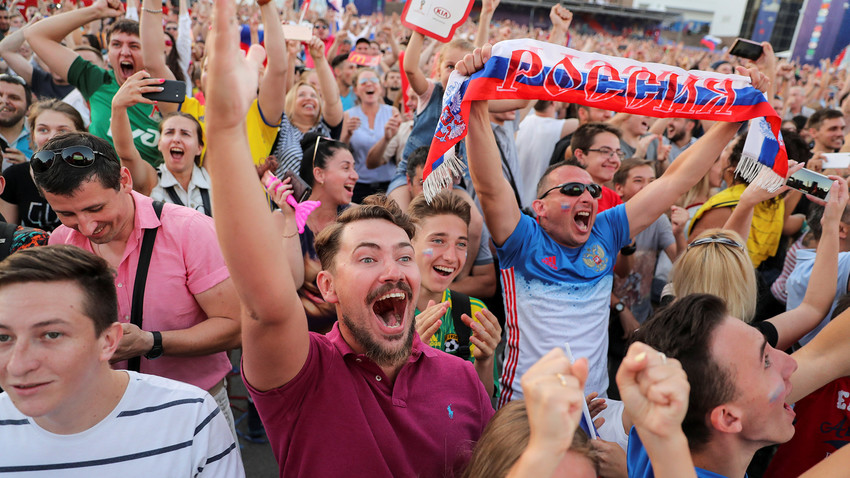 Fans celebrate fifth goal
Reuters
Spirits are sky-high following Russia's 5-0 thumping of Saudi Arabia last night. Social media was stunned and relieved, to say the least…
If expectations of the Russian national team were low going in to the 2018 World Cup, that's all changed now.
The opening match in Moscow was a sight to behold (our statmen tell us it was in fact the biggest World Cup opening day victory since 1934). After standout performances by Denis Cheryshev and Aleksandr Golovin, the Sbornaya impressed the experts and set Russian Twitter on fire. We bring you the highlights:
Changing minds
Russians discovering a newfound faith in their national team was a common theme on social media last night, as the country now has to pull itself together and pretend it believed in its boys all along.
One fan wrote: "All my life: Russia are losers at football, the players are paid too much, my god, I don't want to watch the shame. Russia rips up Saudi Arabia by a score of 5-0: Amazing, I always believed in them! Our country is the best!"
This fan refused to believe this was even his team: "1-0 – Oh, they scored, great. 2-0 – Ooph, they still got it. 3-0 – Nice one, is this actually our team? 4-0 – DID YOU SEE HOW HE SCORED WITH THE OUTSIDE OF HIS FOOT? NO REALLY, DID YOU SEE THAT??? 5-0 – German national team, get changed. You've been found out."
Even Moscow Mayor Sergei Sobyanin got in on the action, admitting his uncertainty: "When the first goal was scored, I thought it was a great start. After the fifth goal, it had the feeling of a full national celebration. Way to go! Forward, Russia!"
Much attention was also brought to Putin's smugness in the face of Saudi Crown Prince Mohammed bin Salman:
"Hey, sorry"
Midfielders Denis Cheryshev (who scored two beauties) and Juventus-bound Aleksandr Golovin (who scored an inch-perfect free kick and bagged two assists) got most of the plaudits. You can watch Golovin's personal highlights here:
"There are 19 outfield players on the pitch and one genius. Finally, Russia has given birth to a real footballer. Golovin!!!"
Cheryshev's deft flick for the second goal sent fans wild, too: "Sweet, Cheryshev sent two lads straight for an early buffet"
How far can Russia go? According to the pundits, they have a fighting chance of progressing to the knockout stages.
"Of course no one expected that result," says Ilya Zubko, Assistant Sports Editor at Rossisskaya Gazeta. "Best case scenario, I said 2-1 or 1-0 to Russia but I feared a draw. But it seems we overestimated the strength of the Saudis and underestimated Russia."
"Golovin played his best game in a Russia shirt, and Cheryshev showed us why he plays for a strong club in Spain [Villarreal]. Aside from those two, I also liked Zobnin, who did a lot of the dirty work in the holding zone, and Gazinsky, whom few expected to start."
Others weren't so coy going into the match, however. "I said before the match it would be 2 or 3 nil," Stanislaw Minin, commentator at Russia's Match TV, tells us. "It was a great night, but I wasn't too surprised, because I didn't expect much from the opposition. Cheryshev worked well on the wing when he came on, and showed that we can replace Dzagoev. I knew we could do it."
"The big challenge will be the next match against Egypt, although they'll be a different team if star man Salah doesn't play. Even so, they have some good players who play in England. I expect them to press us more."
If using any of Russia Beyond's content, partly or in full, always provide an active hyperlink to the original material.