It's 4:30 pm somewhere in the south of Moscow, and I'm finishing off a kvass and a cigarette, mentally preparing to walk through the door in front of me plastered with football hooligan stickers. The location? My very first ryumochnaya.
The ryumochnaya, with roots in the Soviet Union, (from the Russian word ryumka, a sort of mini wine glass you drink vodka shots from), was designed as a kind of no-frills working man's pit stop that took all the pretentiousness out of the Russian Empire's taverns. Although less popular nowadays due to modern-day competition from bars and restaurants, it seems the nation's humble thirst for vodka by-the-milliliter hasn't completely dried up yet.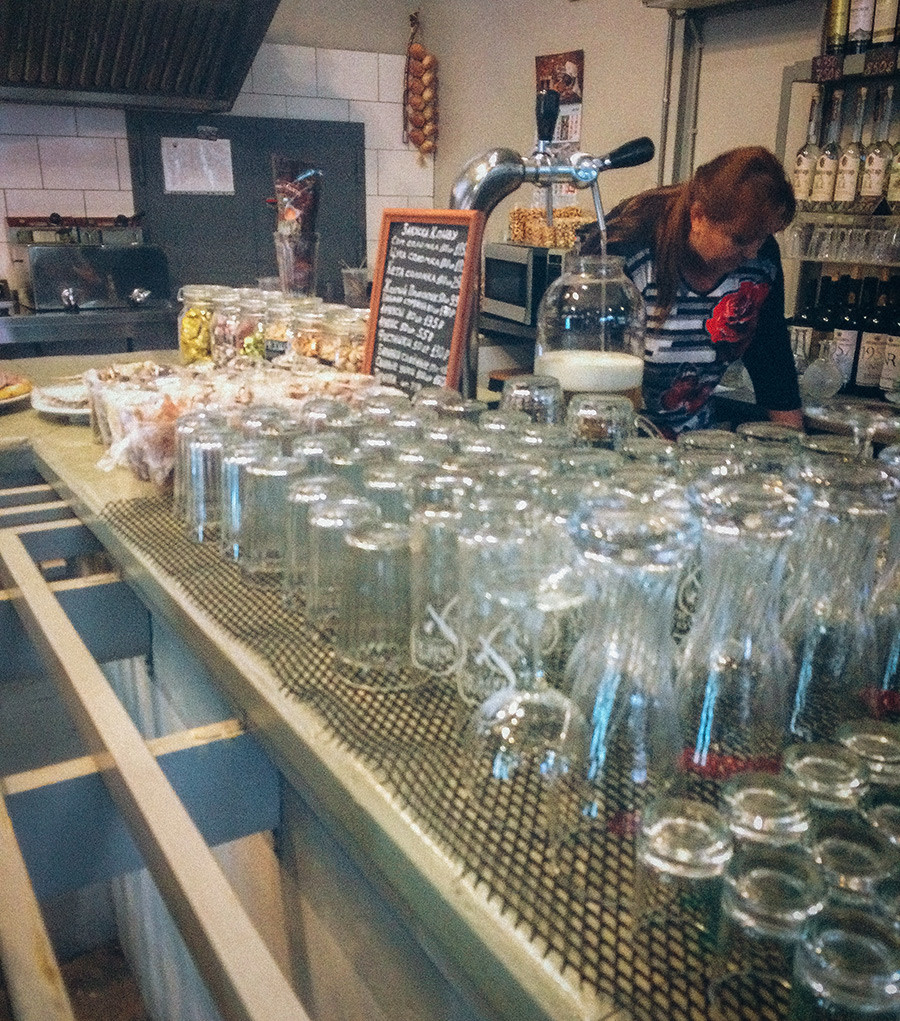 From what my friends tell me, the traditional ryumochnaya involves standing by high tables, questionable snacks, what they call a "canteen vibe," and an almost exclusively male clientele (although this is changing). Sound appealing? Maybe not, but I have a noble mission here that I mustn't overlook: To drink for as little money as possible, so that you can do the same.
Thank me later.
1. Ryumochnaya at Zuzino (Bolotnikovskaya St. 21/3, Metro Kakhovskaya)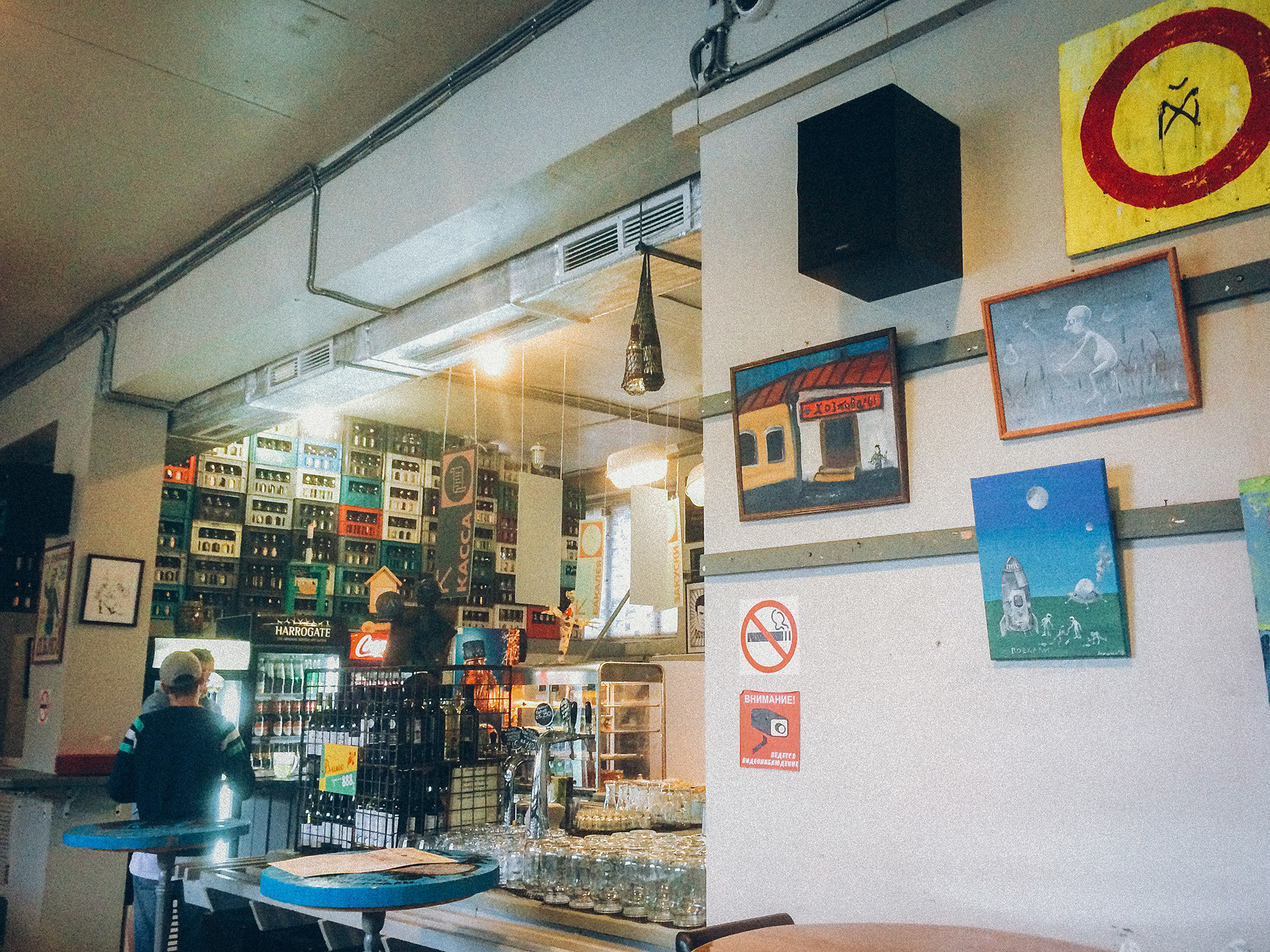 Tommy O'Callaghan
The journey begins with immediate relief – after eventually making it past the football hooligan stickers outside this joint, I'm pleasantly surprised by two things:
1. This place has a visible lack of football hooligans.
2. They serve pizza, which makes it slightly less authentic, but means I can delay my first taste of herring.
That's not all though: It's actually an effortlessly cool spot with live music, art on the wall, and vintage Soviet beer crates stacked up as decoration. The owner tells me there's frequent poetry slams here, too – needless to say, they're having no problems adapting to the forthcoming generation of hipster millennial punters.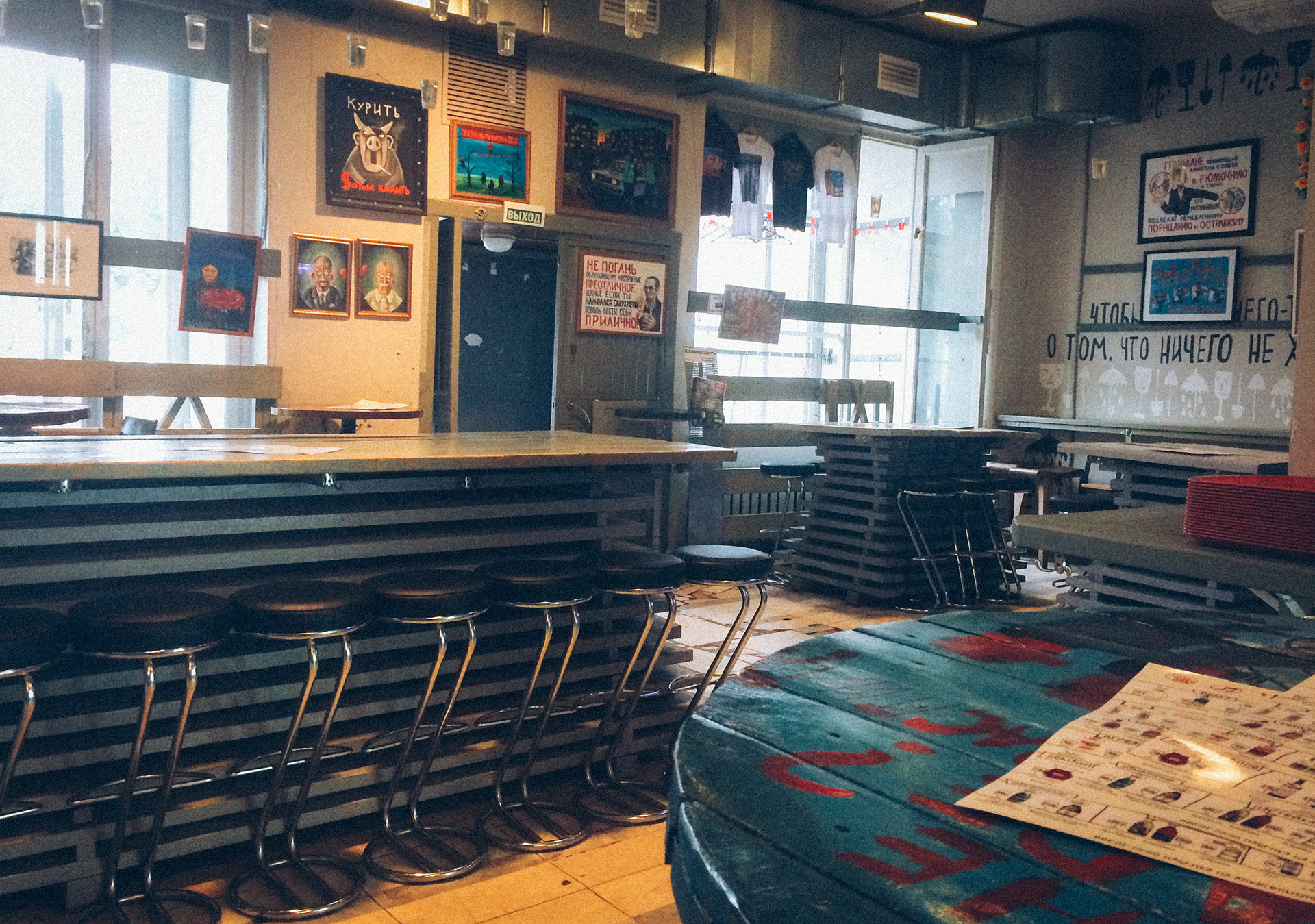 Ryumochnaya at Zuzino, before it livened up a bit
Tommy O'Callaghan
After ordering a three-liter jar of beer (because that's a thing here), me and my friends get chatting to Alexei, a self-professed regular. He spends an hour animatedly telling us about his recently broken car window – boring? Maybe, but in a way, a nice change as the token foreigner in a Russian bar to talk about something other than the differences between Ireland and Russia, and so on. At the ryumochnaya, I'm one of them. Is this what being Russian feels like?
Price: 590 rubles ($9.30) for three litres of beer ($3.10 per person), plus 55 rubles ($0.90) for pizza.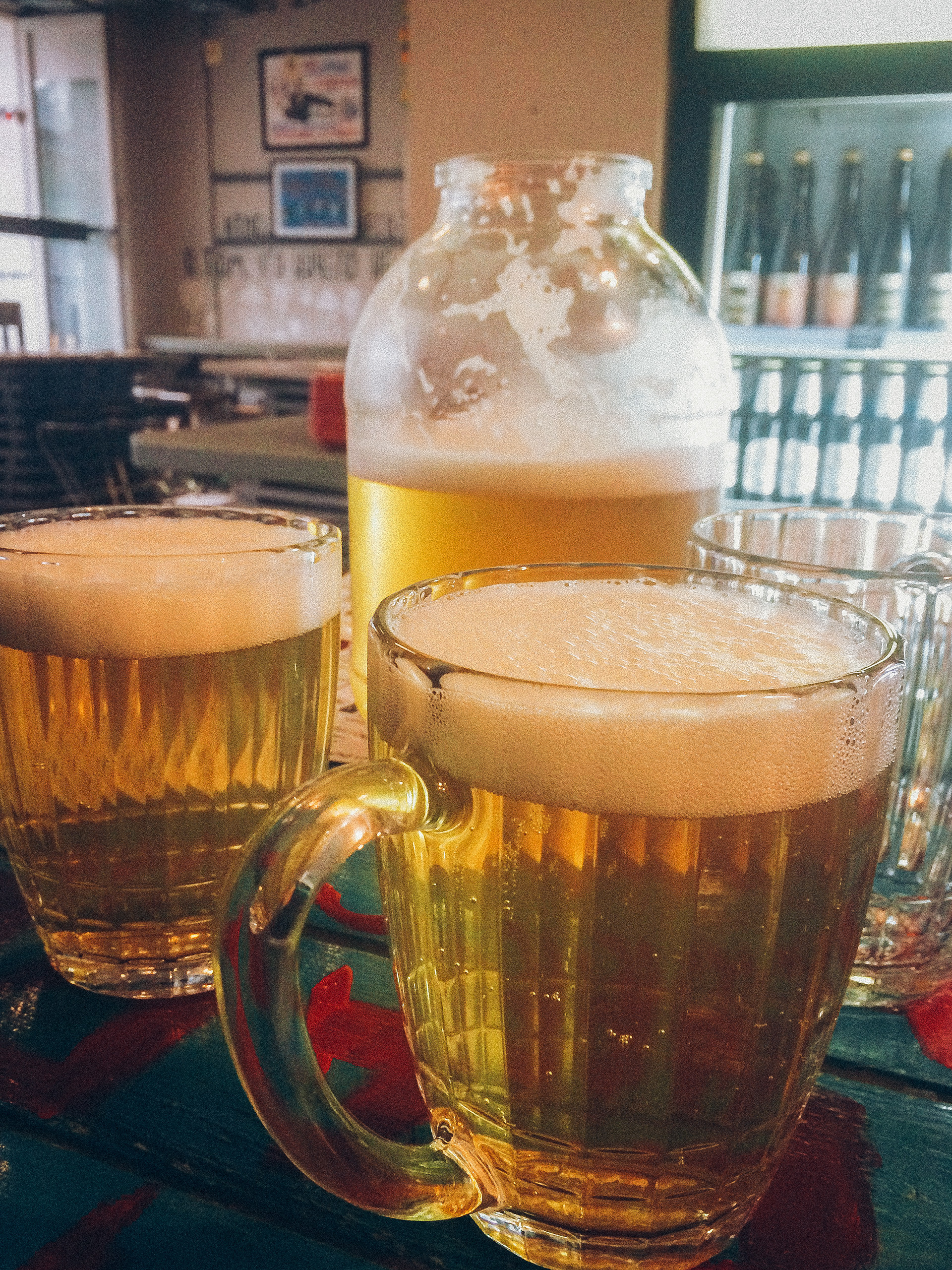 Tommy O'Callaghan
Total: $4
2. Ryumochnaya (Bolshaya Nikistkaya St. 22/2, Metro Arbatskaya)
I think I'm starting to see a pattern on how ryumochnayas pick their names – it's a utilitarian approach, to say the least.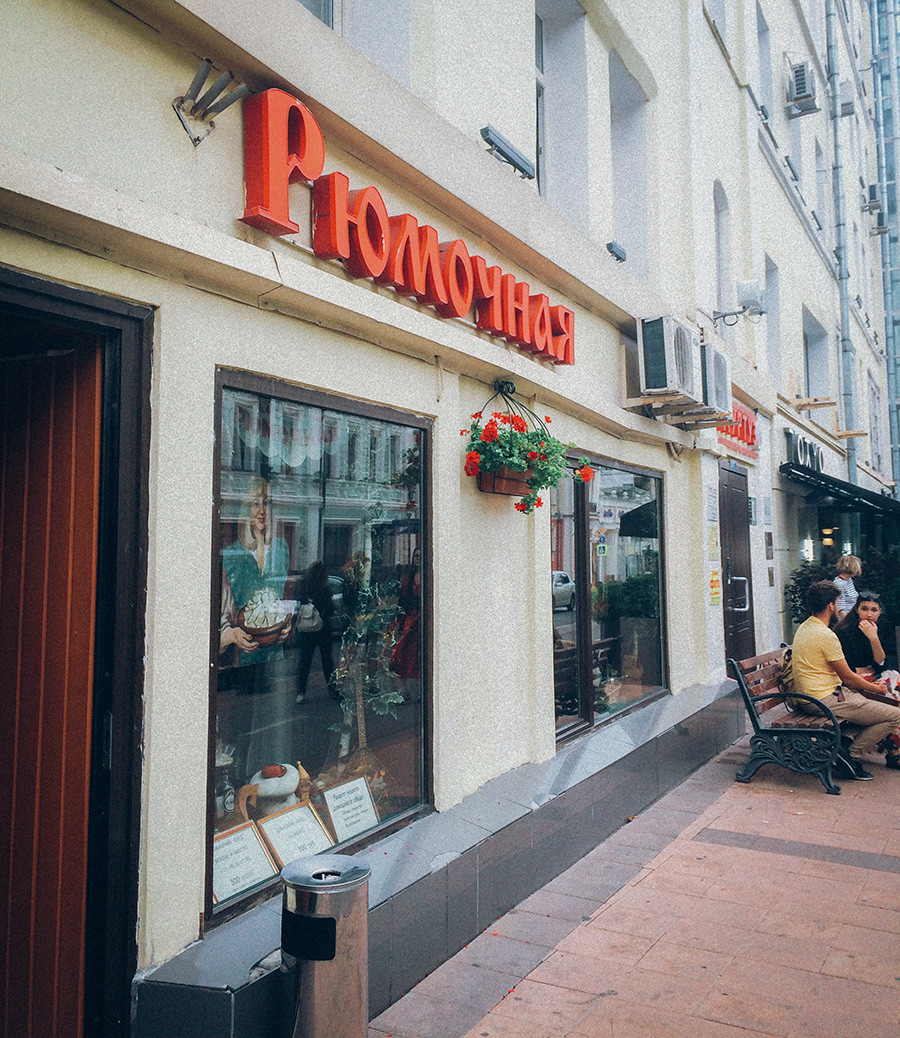 Tommy O'Callaghan
Anyway, I've had an easy run so far with my pizza and hipster music. It's time for some authenticity, and this quiet shack is as old-school as they come: We're talking wooden walls and furniture, dim lighting, tiny tables, and a menu that's literally an A4 sheet stapled to the wall.
I go for some herring on bread and a vodka, but the man in the queue beside me insists that "vodka without beer is like throwing your money in the wind." One beer, one vodka, and one herring on bread it is.
Being Irish, there's a familiarity to this place – this is an old man bar, where everyone seems to be on first-name terms with the barman and darts a look your way when you enter for the first time. There's a good atmosphere to it, though; the joint quickly fills up with an after-work crowd, who sit around engaged in deep discussion.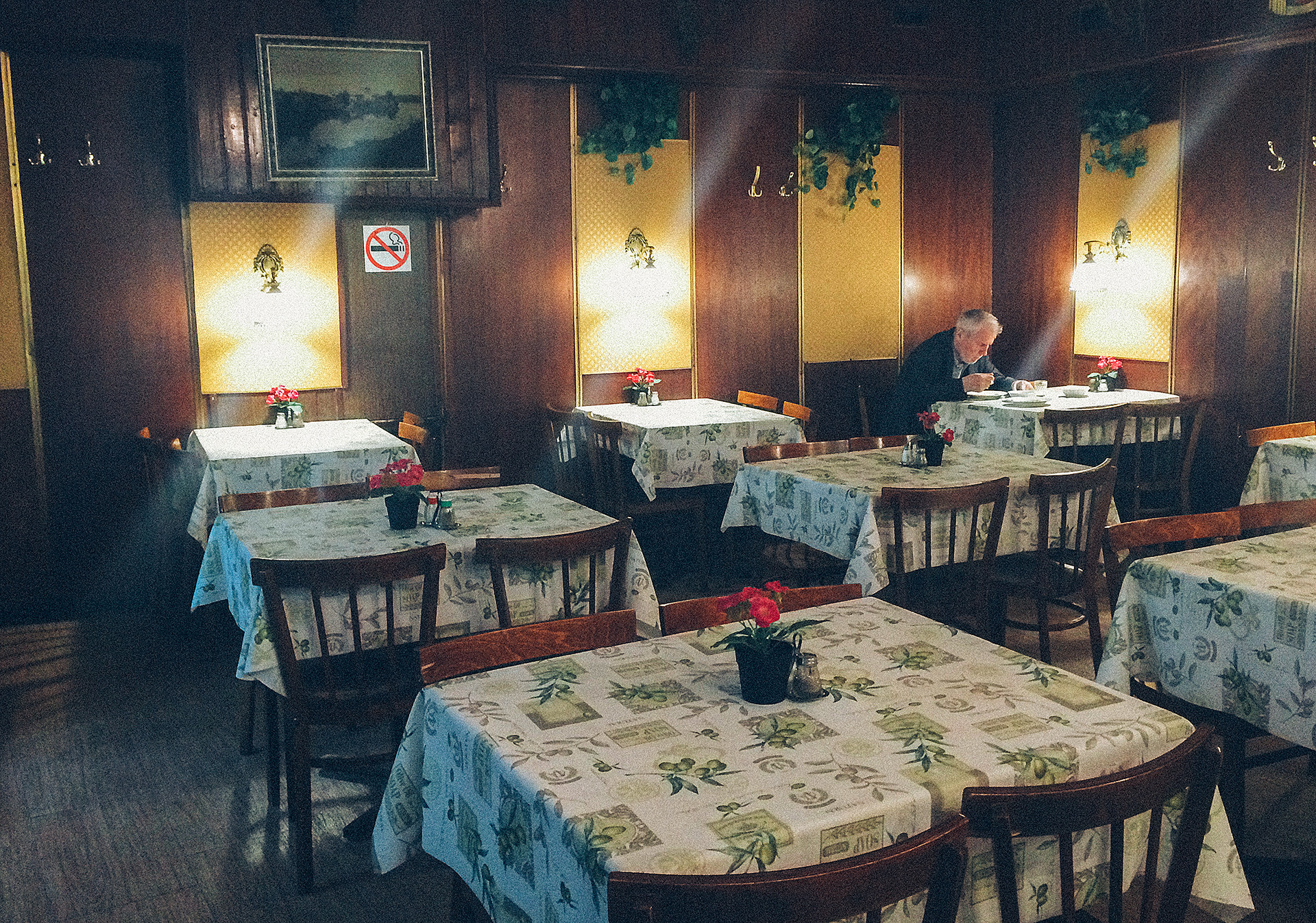 It did fill up, I promise
Tommy O'Callaghan
As for the herring – it's best not to mention it.
Price: 410 rubles ($6.50) – that's 120 for vodka, 80 for herring, and 210 for beer.
Total: $10.50
3. Cheburechnaya USSR (Bolshaya Bronnaya St. 4, Metro Pushkinskaya)
The joint may not realize itself, but this place is actually quite cool.
As the name suggests, the bar makes no effort to conceal its Soviet impression. In literally the best way possible, it's strangely reminiscent of the canteen scene in Orwell's "1984"; it's underground, slickly functional, fluorescently white, and packed to the rafters. Perhaps the best thing about Cheburechnaya USSR is the crowd, which is a mix of all ages.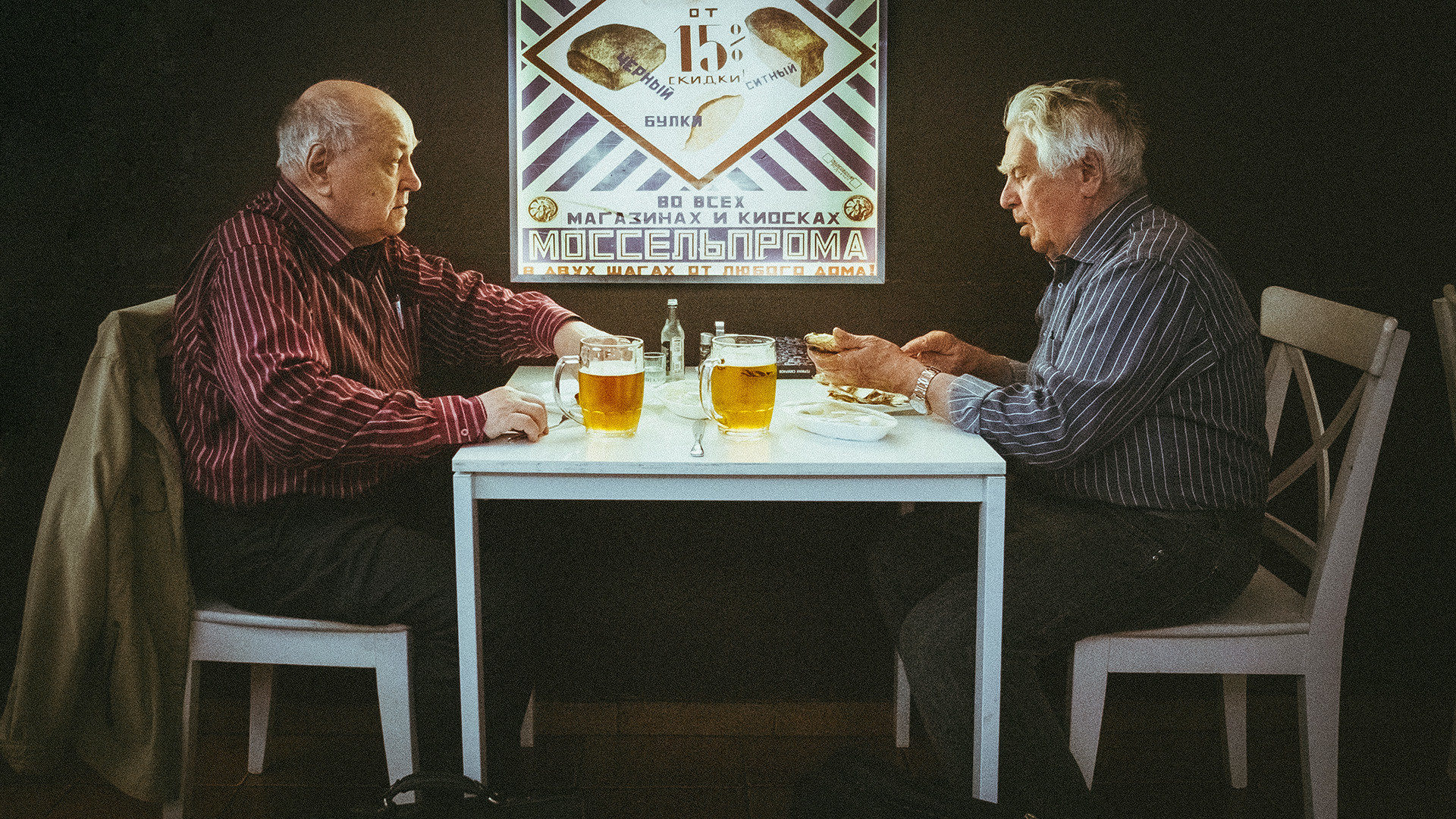 Maria Ionova-Gribina
I got chatting to some Belgian tourists who enjoyed the novelty value of the joint and had bought some Soviet-era posters as souvenirs. It may not be the most authentic spot I visited, but it was certainly the most buzzing.
Price: 270 rubles ($4.30) – that's one beer at 150 and one vodka for 120.
Total: $14.80
4. Druzhba (Pankratievsky Pereulok 2, Metro Sukharevskaya)
While the last place might have been USSR-themed, Druzhba has actually been going since Soviet times, and it looks like little has changed since then.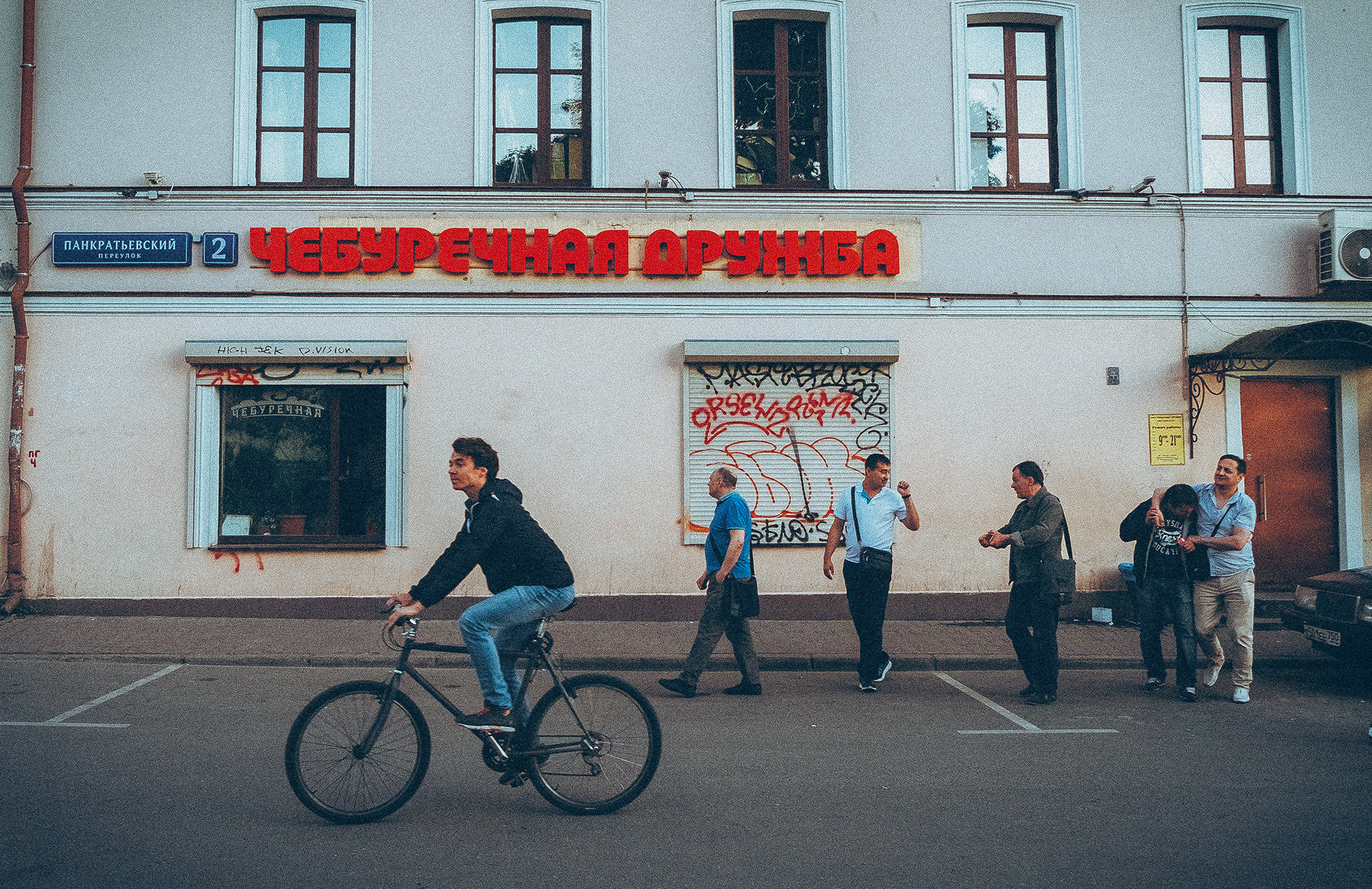 Maria Ionova-Gribina
In spite of this ryumochnaya's unashamed shabbiness, it seems to draw in people of all color and creed. Although some of the clientele rocked up in Mercedes, in here they stand in line with the babushkas and students, and then nibble on chebureki (massive, deep-fried meat dumplings). Just as the Soviets would have wanted.
I expected the ryumochnayas to all have the chairless, long-table setup, but this was the first one. I have to say I loved it, too – when you think about it, why do we pay to go out for food in social environments, only to then sit in our own sections, cordoned off from everyone around us?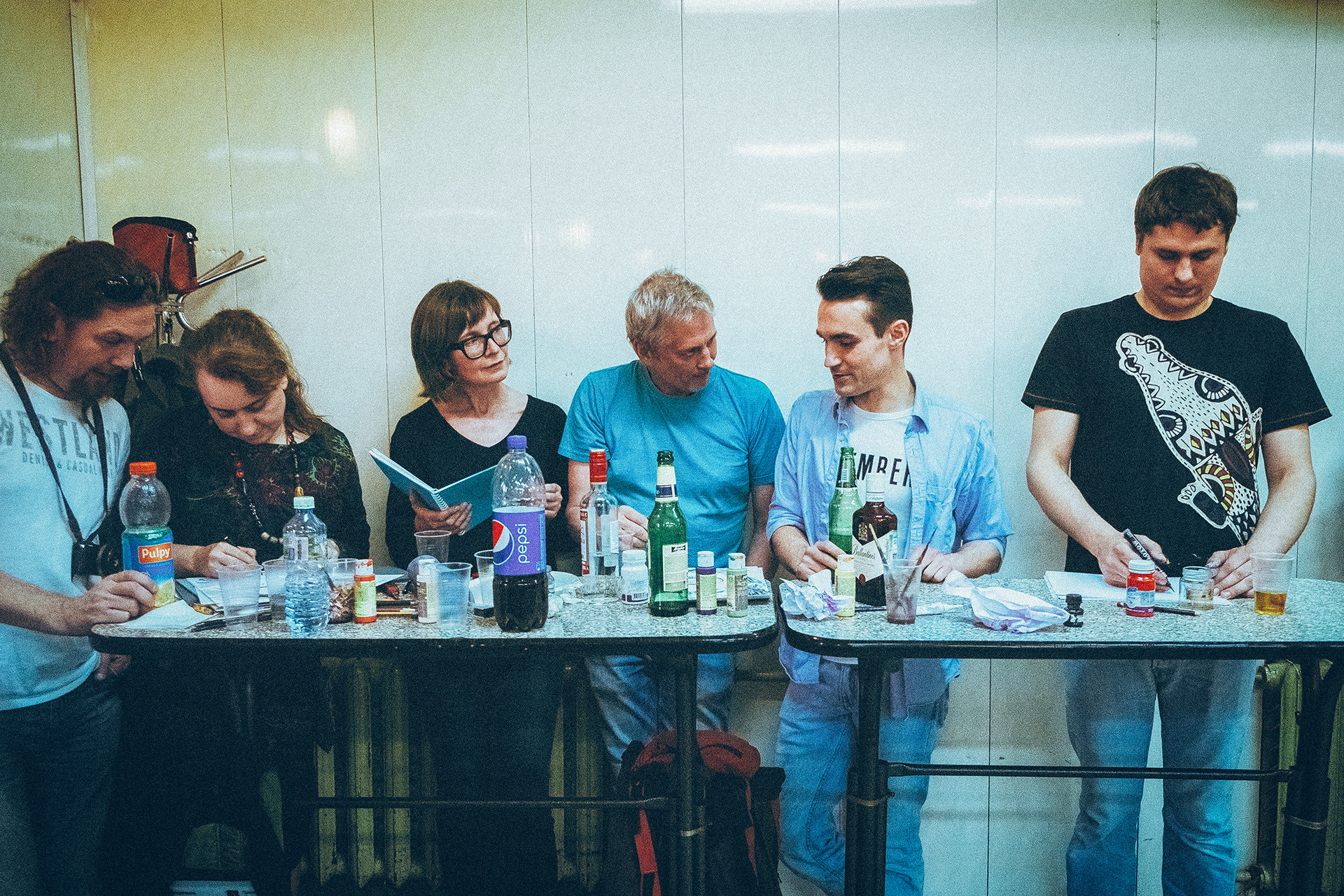 Maria Ionova-Gribina
Price: 190 rubles ($3), which got us a cheburek for 50 and a bottle of beer for 140.
Total: $17.80
5. Zandukeli's Shpinat (Voznesenskiy Pereulok 14, Metro Okhotniy Ryad)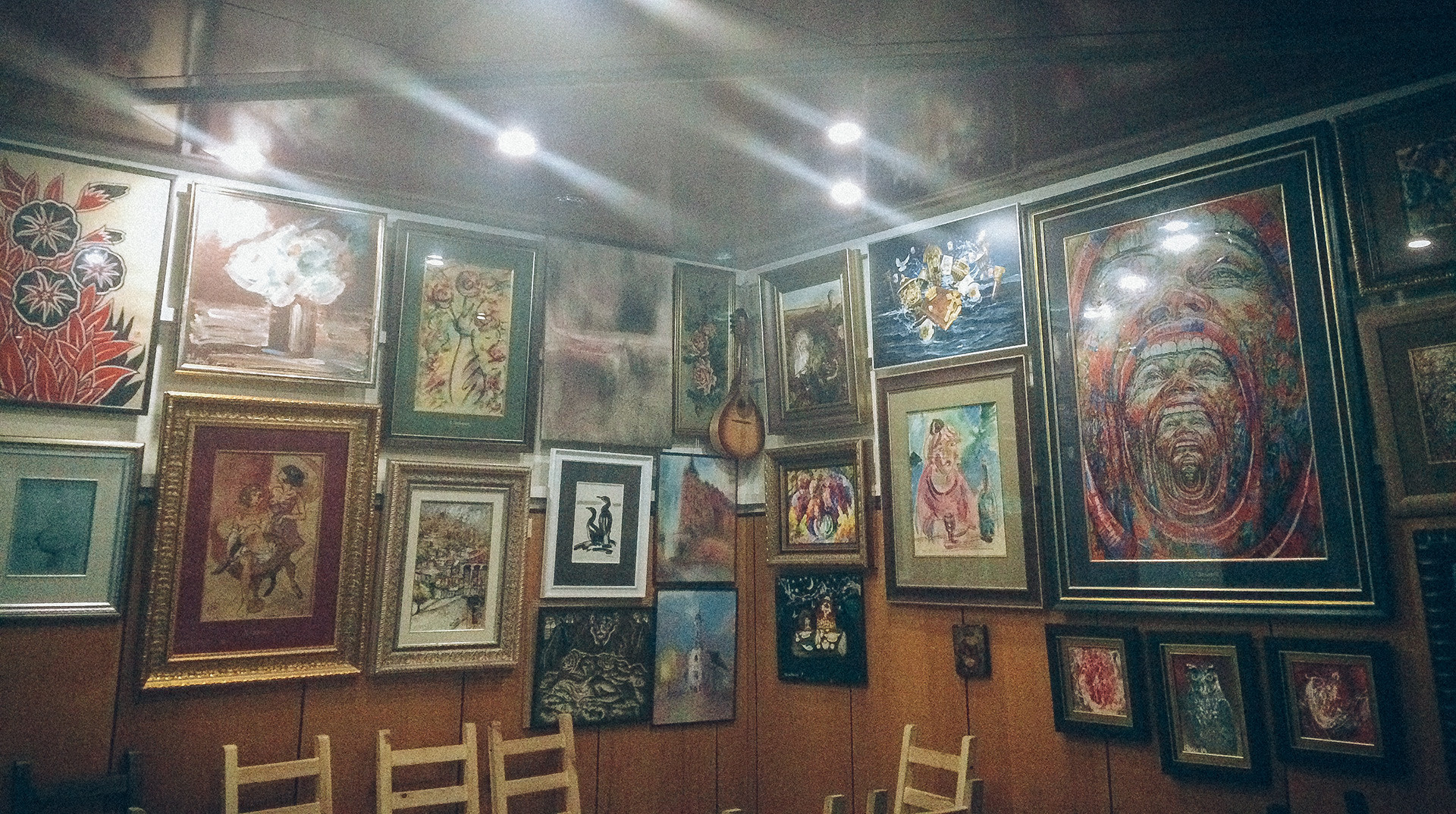 Tommy O'Callaghan
Right, so it's not technically a ryumochnaya by the fact that it's Georgian. Why not throw it in for a little diversity though? It's basically the same thing, anyway: The owner describes his establishment as a "cheap and cheerful restaurant with a strong emphasis on Georgian alcohol." For argument's sake, let's call Shpinat the "Georgian ryumochnaya."
When it comes to food in Russia, I've always been of the mind that Georgians do it better (sorry). After visiting this nifty joint, it seems the theory applies to alcohol, too: The homemade cognac here is genuinely the best thing I've ever tasted. After three heavenly shots of the stuff, the owner even decided we'd earned a chacha (Georgian grappa) on the house.
While the other Soviet-style ryumochnayas all have their own charm, frankly speaking the Georgian element to Shpinat brings a certain flair that the spots we've been to just can't match. For one, every inch of the walls are completely covered with psychedelic art, which you can't help but sit back and soak in – the whole experience is actually surprisingly trippy (especially after a few cognacs).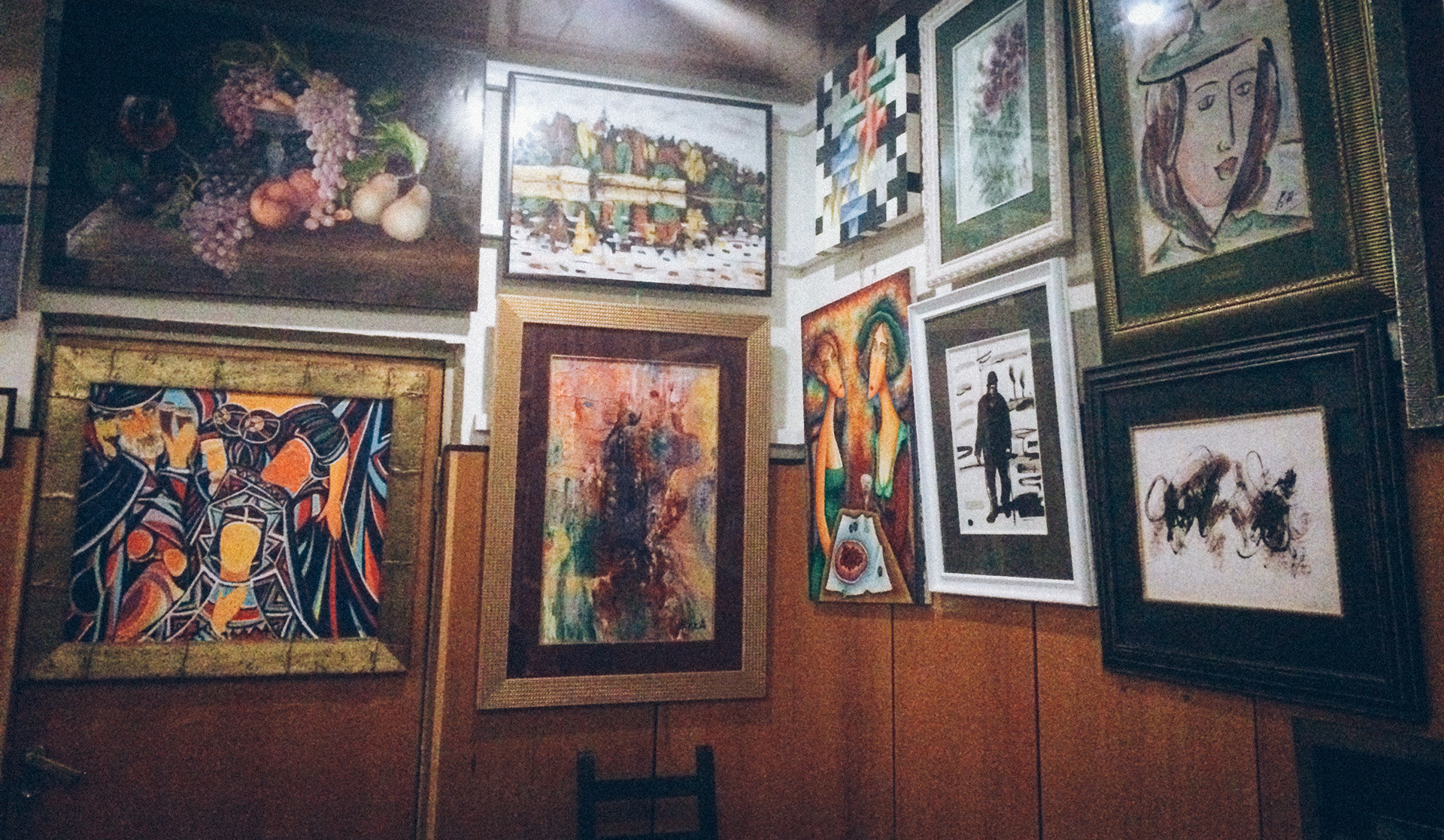 Tommy O'Callaghan
The service is top-notch and extraordinarily welcoming, too. Let's just say the Russians aren't exactly renowned in that domain.
Shpinat is the perfect ending to a tour which, aside from proving how cheap Russia can be, laid bare to me the essence of the nation's drinking culture which is much famed but rarely understood. As I watched the locals knock back vodka, a thought of the sheer sincerity of it all came to mind: Where I'm from, you "go for one beer" and then guiltily take it from there. In Russia, once you transgress whatever stigma there may be around heavy drinking, to not follow your friends into oblivion would be nothing short of rudeness.
In other words, the notion of "half-hearted ryumochnaya-drinking" sounds about as likely as "going for a couple massive vodkas and then calling it a night."
Price: 420 rubles ($6.70) – 3x homemade cognac at 140 rubles a pop
Grand total: $24.50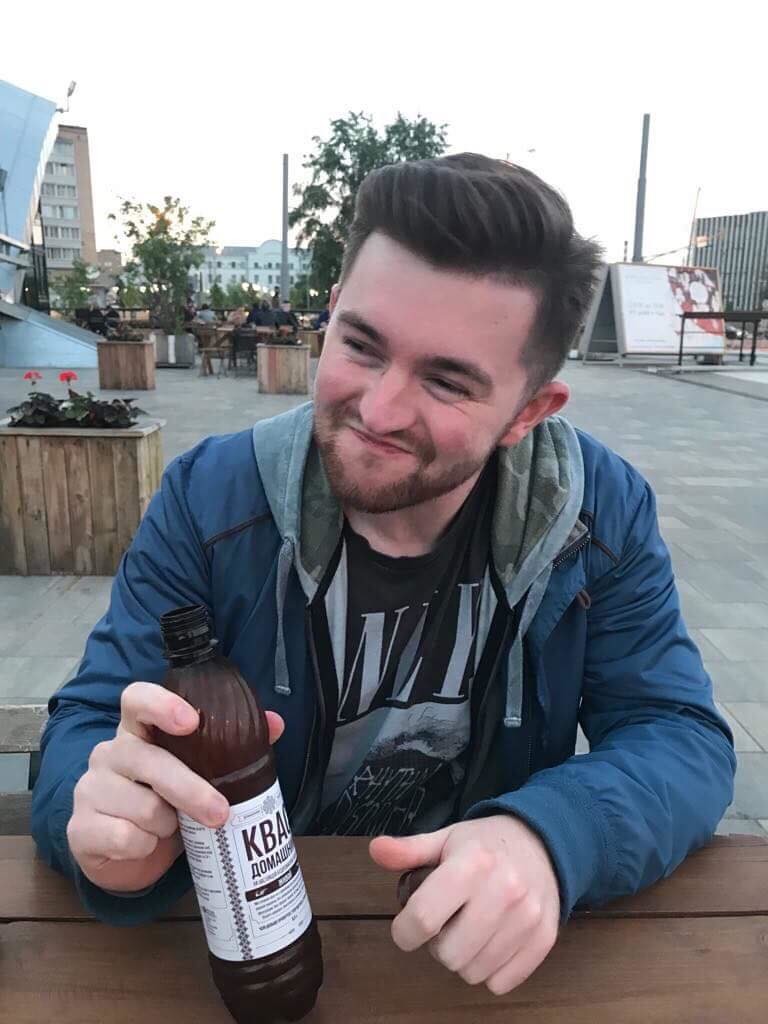 My pre-game kvass. Not impressed
Tommy O'Callaghan
If using any of Russia Beyond's content, partly or in full, always provide an active hyperlink to the original material.