When he arrived in South Africa's Potchefstroom, Semen Dukshanin, a 17-year-old from a small Siberian town, had the flu and suffered jetlag.
Despite feeling terribly rundown, the Russian teenager went ahead and participated in the International Powerlifting Federation's competition for IPF sub-junior and junior world powerlifting.
When it was over Semen had claimed a close victory against his nearest competitor, Portes Filip from the Czech Republic, by a margin of a mere 40 kilos. Those people congratulating the big Russian on his first major international triumph had no idea that success came in spite of Dukshanin's dire financial constraints and severe physical adversity.
An accidental champ
Semen came the world of powerlifting by a string of unexpected circumstances. In search of something that he liked very much to do, the young man spent seven years in an arts school, two years doing karate, and a year practicing archery. He even dedicated a few months to powerlifting but dropped out after he failed to achieve any sound results.
These were the years when Semen had been gaining weight uncontrollably, eventually becoming a problem. Going to school was increasingly difficult because he was bullied for his weight.
"I weighed 80 kilograms when I was 12, and so I went to the gym because I was overweight," said Semen.
Failing to take his new hobby seriously at first, Semen skipped some days at the gym and was never serious about his training. Then, thanks in large part to his natural physical abilities, he scored his first victory.
"When I started winning competitions, it motivated me, and then an even stronger motivation came when I lost," said Semen.
Natural physical abilities and a few subsequent victories cinched the deal: one of the most prominent trainers in his little hometown, V.V. Kortunov, noticed the young athlete.
"He may not be a star trainer, but every trainer in Krasnoyarsk Region knows him – he already trained two world champions," said Semen, who was more than happy to test himself under Kortunov's guidance.
Quickly, the tandem proved effective and successful. The champion partially ascribes the positive synergy to the mutually-respectful relationships that the two were able to foster. "We communicate well, we always have something to talk about. He is like a good friend, always kind and ready to help," said Semen.
The young man's natural strength in the hands of a capable trainer paved the road for success. There was only one problem: money.
Penniless team comes on top
Semen comes from a simple family. His father works on the railways, while his mother receives a pension for disability. "My parents had to save money over the course of an entire year in order to cover the cost of my trip to the world championship in South Africa," said Semen, who does not have any income of his own. "I was promised some money for the victory, but I've not yet been paid."
Lack of money frequently hinders Semen's progress, and even affects his diet. "I would have adhered to a diet but my financial means are limited. I can't even afford to buy sports nutrition for training before every competition," said Semen, who remains an optimist despite the hardships. "I'm lucky to have good genetics," he added, dismissing his substandard nutrition as a minor inconvenience.
Finding money to sponsor his triumphant trip to South Africa was a struggle. "Russia's junior team [in powerlifting] is poorly sponsored. If it wasn't for my trainer who helped find additional finances, the trip would have cost 110,000 rubles ($1,700). He has good friends, and so the trip cost me only 60,000 ($900)," said Semen.
His sports school helped pay for the doping test – a procedure that costs 17,500 rubles ($270) and which is usually covered by the athletes themselves.
In the end, thanks to support from his parents, school, and trainer, Semen was able to go to South Africa where he managed to squat, bench press, and deadlift 780 kilograms in total, outperforming his competitors even though he faced jetlag and the flu.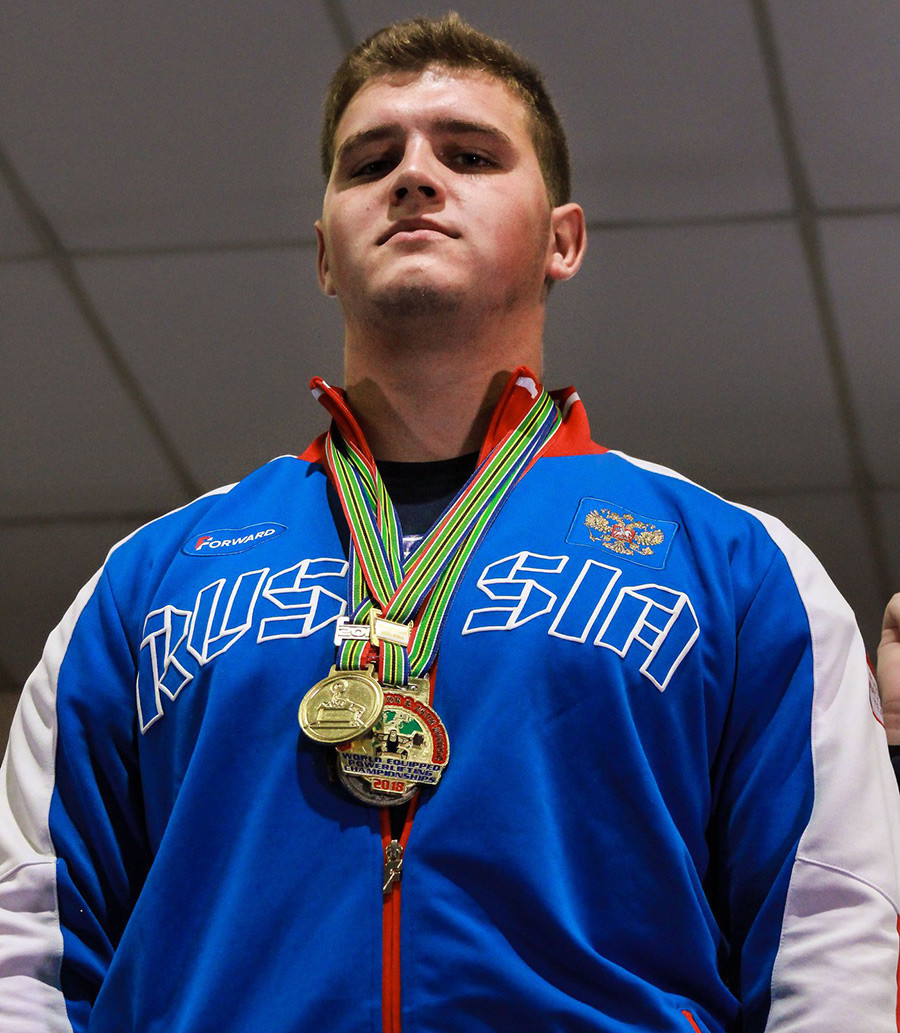 Despite his young age and early success in sports, Semen dreams small: one day he will move to Moscow and hopefully open a private gym.
So far, however, he has had to return to Bogotol, his native town of 20,000 people, and has resumed training. He hopes to do better in the future.
"I'm satisfied with my performance, but I could have done better," said the champ.
Powerlifting is not for everybody. Read about Russians' obsession with street football here.
If using any of Russia Beyond's content, partly or in full, always provide an active hyperlink to the original material.