Are Russians more obese than Americans?
These results will probably shock you.
In Russia, if you're aged 55 or over you're in the club most likely to suffer from obesity, that's according to research by the Ministry of Health. Evidence shows that as people grow older they tend to do less exercise while eating roughly the same amount, which leads to bulging waistlines and excess weight.
"People get used to eating 3,000 calories but only burn 2,500 calories, for example. These extra 500 calories turn into fat," says Victor Tutelyan, an expert from the ministry.
Obesity is internationally defined as a body mass index (BMI) of 30 or more. People in this bracket are at higher risk of developing heart disease, diabetes, and cancer, making obesity a major cause for concern.
What's the situation in Russia?
Obesity is on the rise in Russia. In 2016, 1,825,362 people (1.24 percent of the population) were labelled clinically obese, while in 2017 this number grew to 1,936,272 – 1.3 percent of the population.
Children under 14 are also increasingly being diagnosed as obese. The number of overweight kids in the country has ballooned by 30 percent since 2005, according to Russia's Rospotrebnadzor Director and Chief Sanitary Inspector Anna Popova.
Every year up to 135,000 young men are rejected from national service in the army because they're out of shape.
According to the Federal Research Center for Nutrition and Biotechnology, among Russians aged over 30 in 2018, 60 percent of women and 50 percent of men were overweight with 27 percent of these men and 31 percent of these women officially obese.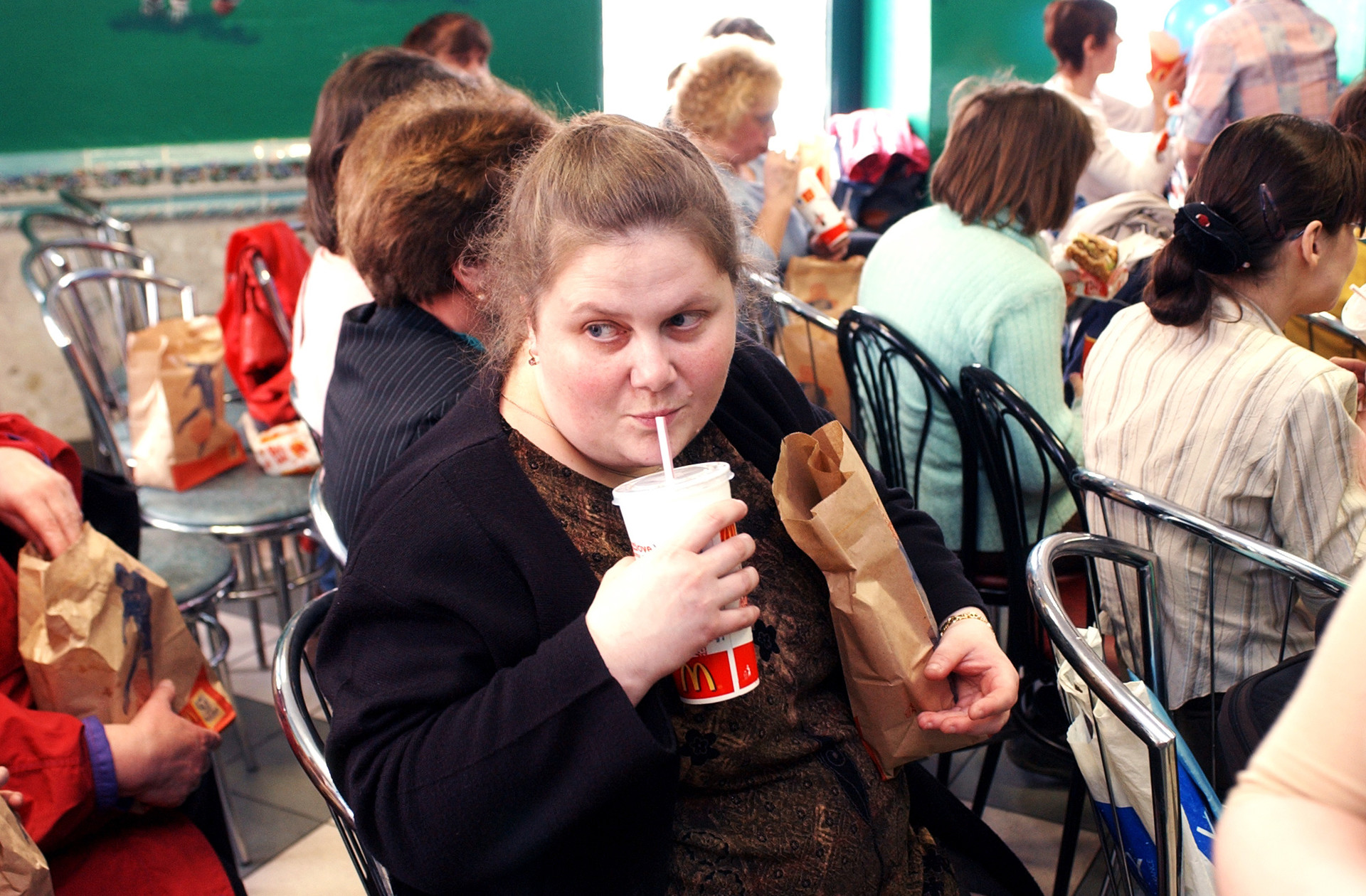 Eating more, exercising less
Why is this happening? The authorities say the main problem lies in the lack of a systemic approach to educating the masses about the disease. "There are three times more overweight teenagers and youth than five to six years ago," Popova says. "Parents often not only fail to explain to their kids why it's bad to overeat or eat unhealthy foods, but also show a bad example with their own food habits."
Health experts claim that obesity in Russia is linked to poor food habits. According to Angela Tarasenko from the Federal Research Center for Nutrition and Biotechnology, Russians are eating too much salt, sugar, and fat and forgoing fiber, high-grade protein, and biologically active substances found in natural foods. At the same time people are doing less exercise. "We eat more but move less – so this is the result. Plus, good sleep is also important – when we sleep we develop hormones that destroy fat. Many people tend to put on weight due to stress, eating their way through it," she says.
In 2017 the Russian authorities launched a project promoting a healthy lifestyle. The government hopes to increase the number of people following a healthy lifestyle from 36 percent (2017) to 60 percent by 2025 and increase the number of those doing sports from 34 percent to 45 percent. To fight obesity as well as addiction to alcohol and drugs, the government is considering limiting TV ads for sausages, fast food, soda, and chips, and introducing clearer food labeling.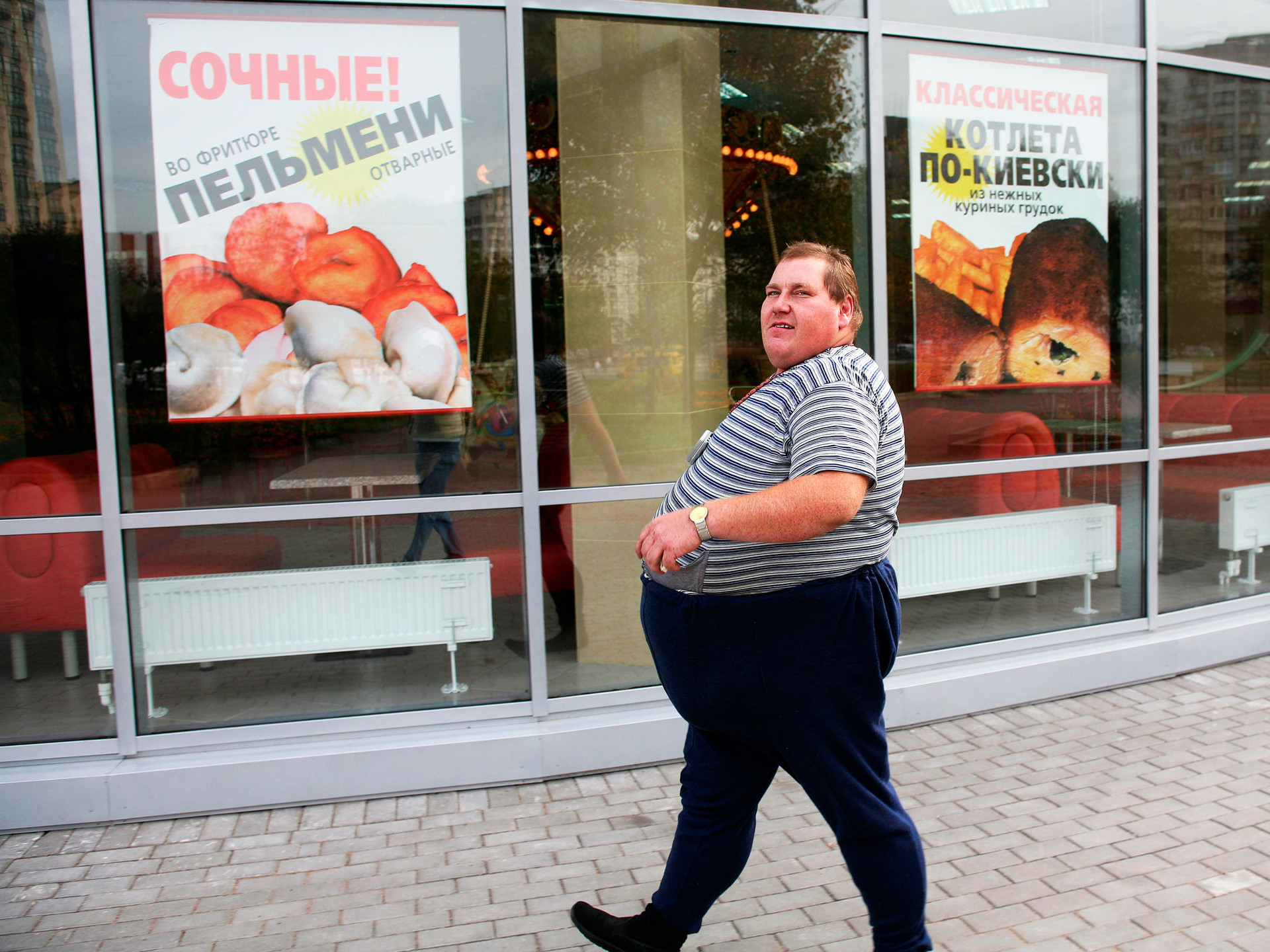 Legion Media
Is Russia's obesity crisis worse than in the U.S.?
Russia may not be a world leader when it comes to obesity but the situation is still very worrying. According to the World Health Organization (WHO), in 2016 more than 1.9 billion adults were overweight. Of these over 650 million were obese.
In 2016 Russia (with 23.1 percent) was ranked 70th in the world in the adult obesity chart while the U.S. was ranked 12th (36.2 percent). Topping the list are the Pacific Island states of Nauru (61 percent), the Cook Islands (59.9 percent), and Palau (55.3 percent).
As for the U.S., according to the most recent National Health and Nutrition Examination Survey (NHANES), 18.5 percent of children and 39.6 percent of adults were obese in 2015 and 2016. These are the highest rates ever documented by NHANES.
If using any of Russia Beyond's content, partly or in full, always provide an active hyperlink to the original material.