Bulgakov and Bykov come to Piccadilly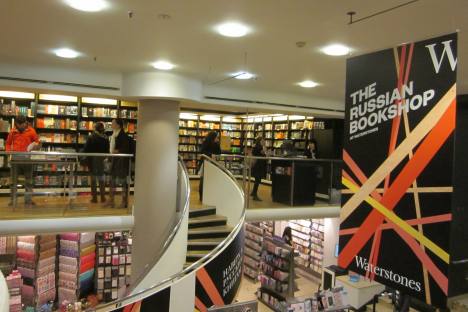 A new Russian-language bookstore in London. Source: Phoebe Taplin
Alexander Mamut unveils a brand new Russian-language bookstore in the heart of London.
The opening of a new bookstore does not sound like a particularly glamorous occasion or a great social event. In these recessionary and digitalized times, with e-books decimating the world of print, bookstores are more likely to close down than start up. But the official launch of The Russian Bookshop in the high-profile Piccadilly branch of Waterstone's on March 1 bucked the prevailing trend on all these fronts. Not only that, but most of the 5,000 books on sale there are in Russian.
This is excellent news for London's growing community of expats and Russophiles. Natasha Semyonova, who has lived in London for 15 years, made her first visit to the store and purchased a book of essays by Tatyana Tolstaya and some short stories by Sergei Dovlatov, whose work she praised as refreshingly funny and unpretentious. Semyonova said she could see herself as a regular customer. "I used to bring suitcases of books over from Moscow," she said, adding that she feels the mark-up on prices is not unreasonable. "When you think how many happy minutes you will have with a book and that it only costs the same as two average glasses of wine."
When Russian billionaire Alexander Mamut bought the Waterstone's chain of nearly 300 bookstores last year, he asked his new managing director, James Daunt why none of them included a Russian section. At the launch party for The Russian Bookshop, Daunt said that with the help of radical Moscow bookseller and philosopher Boris Kupriyanov, they had very quickly created "the most authoritative Russian book shop in London," adding, "I personally feel an enormous sense of pride in it."
Kupriyanov is determined to create a high-quality shop, and rejected the idea that the store should cater to the popular taste for "psychology books and cheap detective novels." Instead, The Russian Bookshop has a strong emphasis on art, poetry, literary classics and fine contemporary writing, as well as history, politics and some beautiful children's books. The English corner of the shop also has a decent selection of books about Russia and works in translation, selling everything from graphic novels of "The Master and Margarita" to William Brumfield's tome on Russian architecture. Muscovite Maya Kucova from Snob magazine was excited by the range of books on offer. "I've never seen such a selection of Russian books in London," she said. "Even in Moscow it can be hard to find this kind of quality."
Pictured (left to right): Booksellers Dina White, Karolina Duskova, Marina Fountain, Maryia Padziarei, Tatiania Sidornia. Paul Read / The Press Photo
Mamut, co-owner of the SUP media company that runs the popular blogging platform LiveJournal, expressed his love of real books and of Russian culture; he also helped to advertise the forthcoming series of "Citizen Poet" concerts in London. Yevgeny Chichvarkin, who is organizing the concerts, was at the store's launch party, wearing bright pink, along with his creative partners. In a surreal moment, guests could look up from admiring a row of novels by Dmitry Bykov to see the distinctive, larger-than-life figure of the author himself coming up the spiral staircase that leads to the book shop. Bykov was back in the store on March 3signing copies of his latest book.
Other writers who raised a glass of champagne in the new shop included Tom Stoppard, Anthony Beevor and Orlando Figes. Cyril Tuschi, whose new film about Khodorkovsky premiered the first weekend in March, also came to celebrate. Mari Vanna, a new, top-end restaurant in Knightsbridge provided drinks and canapés and symbolically presented each guest with a key to their front door.James Meek, award-winning journalist and author of "The People's Act of Love" joked: "Most expat communities have to make do with a dusty, little kiosk on the edge of town… Only the Russians would open a flagship store on the most expensive shopping street."
All rights reserved by Rossiyskaya Gazeta.