5 top Moscow restaurant bars that serve exotic cocktails
Russia's capital city offers excellent restaurants where you can eat, learn Russian geography and understand that Borodinsky is not only bread. And even more delightful, some of these restaurants offer the finest mixed drinks and cocktails east of Berlin.
Russian taste
The bar at the restaurant, RUSKI, is located in the skyscraper OKO in "Moscow City," and it lives up to its name. Here, you can enjoy cocktails made with Russian liqueurs.
An old Russian recipe book has inspired the resident barmen, and after several sips you'll be asking him to explain the difference between cloudberry and Arctic raspberry.
Try the Borodinsky cocktail (250 ml / 570 r), which includes rye polugar, campari and bread-black currant cordial.
Another cocktail - Isaev - is made with condensed birch juice, vodka and lemon peel (150 ml / 570 r). There is nothing excessive in the cocktail named after fictional Soviet spy Maxim Isaev, (also known as Stirlitz), who is the main character in the popular TV series, "Seventeen Moments of Spring."
You can also choose a Russian version of the popular Negroni cocktail (250 ml / 570 rubles). Be ready for the taste of rowan instead of campari, as well as juniper samogon (local moonshine) instead of gin. It's served with homemade strawberry pastille.
1st Krasnogvardejsky proezd, 21, bld 2, 85th floor; EYE skyscraper, Moskva City
Treasures of Russia
At the Twins Garden there are two chefs and brothers, Ivan and Sergey Berezutsky, who call their cocktail menu, "Treasures of Russia." With their drinks list, you can study Russian geography, but know where to stop.
Start with the cocktail, "Tzar of the Taiga," (750 rubles), which is 'found' in Siberia. The cedar milk with gingerbread syrup is whipped with vodka, ginger and lemon. There's a serving of "moss" that looks picturesque, especially if you haven't been to the northern forests.
"Shiveluch" isn't the easiest word to pronounce, so simply say "Kamchatka"! Shiveluch is an active volcano on the Kamchatka Peninsula, but it's also the name of a cocktail (750 rubles). Drink quickly because you'll have the feeling of a volcanic eruption in your mouth. And try not to think about the fact that it contains peat, as well as corn distillate.
Strastnoy Boulevard, 8A
Almost a dessert
At "Gorynych" (a hero in Russian fairy tales) you can try cocktails that resemble desserts. Traditional Russian recipes are mixed with international ones. For example, northern berries and citrus (100 ml / 480 rubles); or a vodka cocktail with carrots and strawberries (100 ml / 550 rubles). Order a healthy cocktail made from yogurt, sorrel and gin (100 ml / 480 roubles). It is served in a bottle of kefir, which was popular during the Soviet era.
Russian fishing
Real Russian men like fishing and zalivnoe - fish in jelly, which was invented at the end of the 19th century by French chefs who worked in Moscow. In the restaurant "Ryba Moya" (My Fish), you can try the cocktail "Only you ..." (610 rubles), which was inspired by this traditional dish. Ingredients include cognac, dry vermouth, Benedictine, Cointreau and caraway liquor.
1st Tverskaya-Yamskaya, 21
Share a cocktail with friends
Invite your Russian friends to "Cafe Druzhba, The Manufactory of Food," where you can order a 'Superlong'. Classic cocktails are served in large portions - five liters in one glass. For the visual pleasure of visitors each glass is creatively decorated: Mojito with rose petals (2,990 rubles), and Lavender Collins with branches of lavender.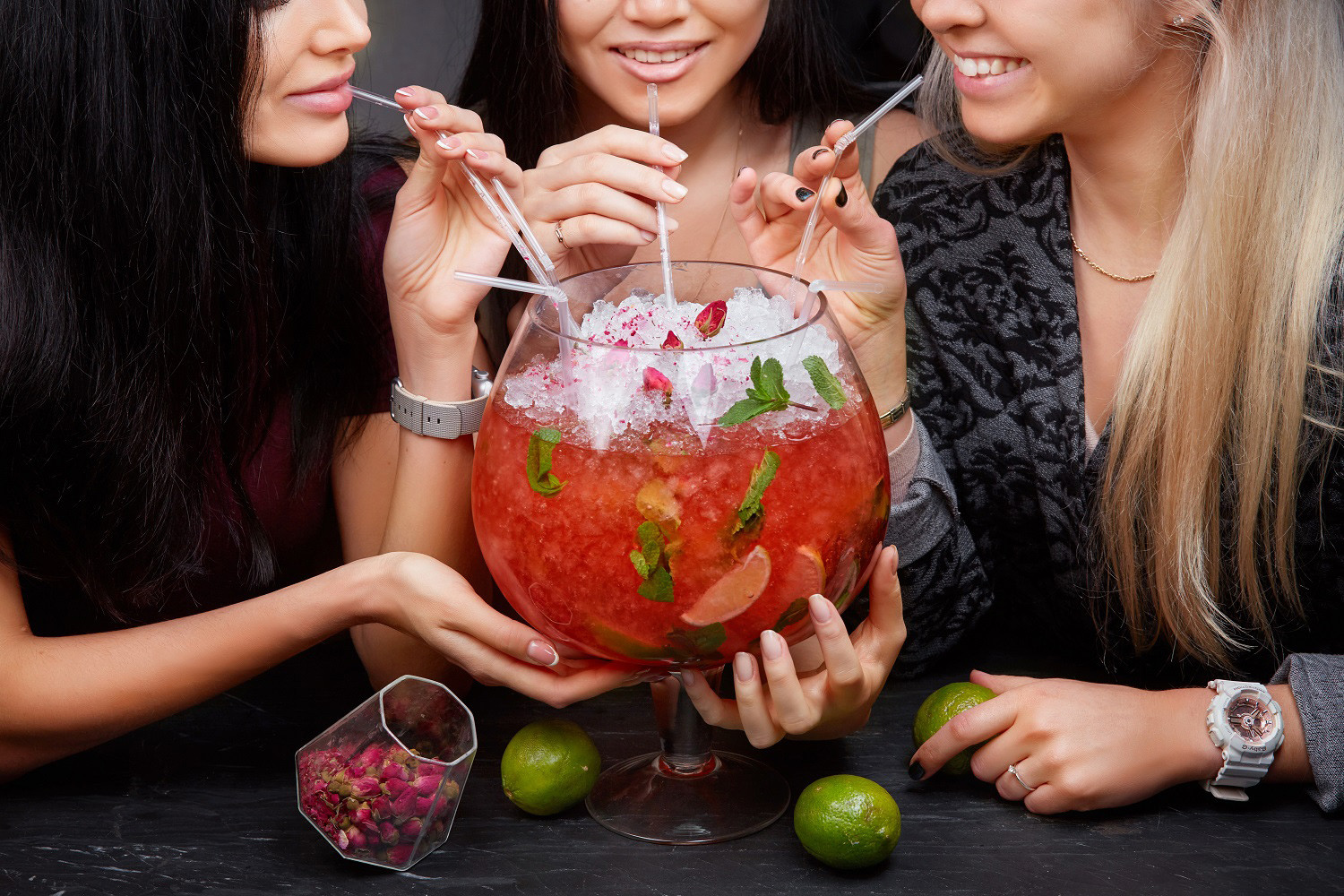 "Cafe Druzhba, The Manufactory of Food"
Rochdelskaya, 15 bld.30
Of course in all these places besides drinking you can also eat exceptionally well.
If all of the above sounds too fancy, then try our simple recipes for a Bloody Mary.
If using any of Russia Beyond's content, partly or in full, always provide an active hyperlink to the original material.