3 Russian persimmon dishes that will make you happy
With its juicy orange flesh and slightly acerbic taste, persimmon is unmistakeable. The fruit is usually eaten fresh, but if it's new sensations you're after, try out our recipes below.
For Russians, persimmon is one reason to look forward to winter. Sweet and bright, it lifts your mood in any bad weather—all thanks to the magnesium, glucose and fructose content. Just one a day is enough to fight off the winter blues, a rare case when happiness can be bought and eaten.
In Russia, persimmon is mainly grown on the Black Sea coast. But even the south of the country suffers from light frosts, so botanists developed various sorts that are immune to the cold. The fruit from these varieties is even sweeter and softer, and Caucasus-grown "orange gold" is sold nationwide.
Persimmon is particularly popular during the cold season, because it is rich in vitamins A, C and R. Rather than list all the health benefits, it is much quicker to say who should be careful when eating it: those with diabetes or digestive problems. Everyone else can enjoy our persimmon recipes to their heart's content.
1. Baked persimmon with nuts and honey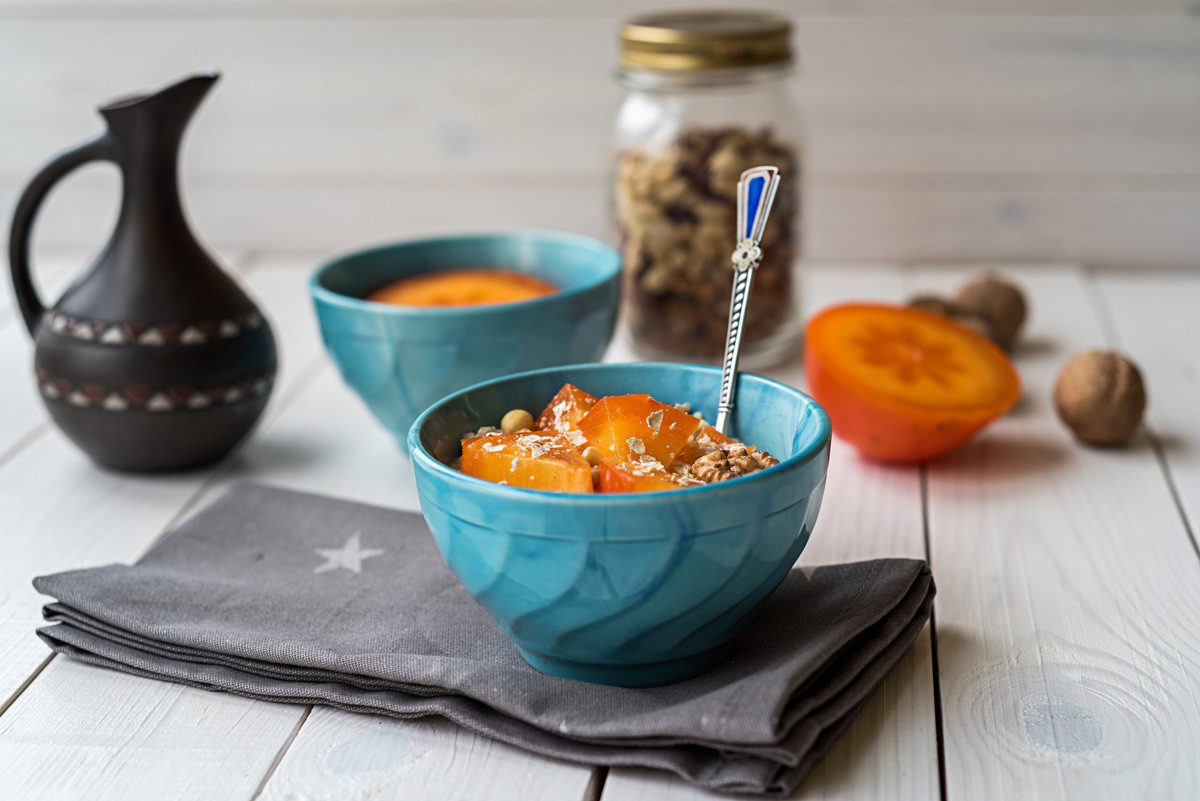 Cut off the top of the persimmon, spoon out the pulp, and chop finely. Mix with two teaspoonfuls of honey, add a pinch of cinnamon and chopped walnuts (or other nuts). Fill the persimmon with the mixture, cover with the chopped-off top, and bake in the oven (preheated to 180 C) for 10-15 minutes. Remove the top before serving.
2. Persimmon zapekanka (pudding)
Wash 2 persimmons (the best sort is Korolek), remove the peel and pips, and cut into cubes. Cover with water and bring to the boil. Add 100 g semolina to the boiling water, and stir continuously for two minutes. Remove the paste and let cool.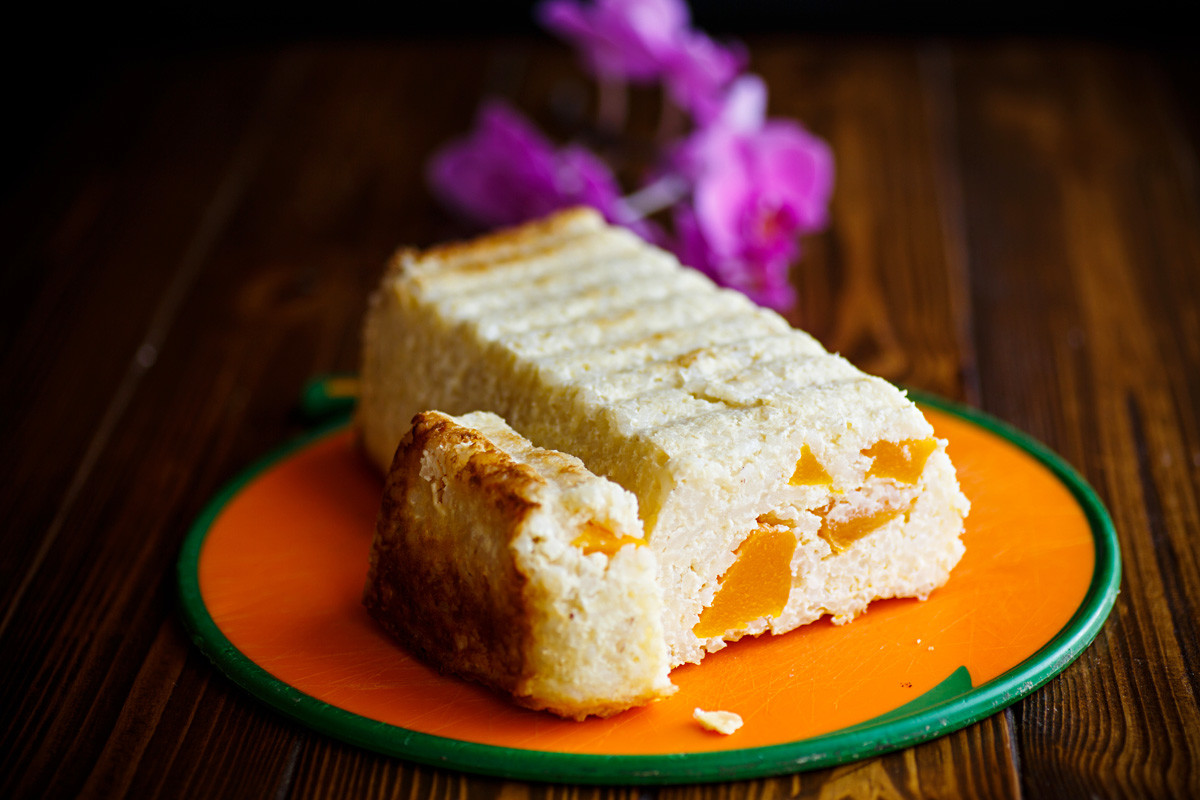 Legion Media
Mix 2 eggs, 100 g sugar and 8 g vanilla sugar. Add everything to the persimmon mixture, stir thoroughly. Add 600 g cottage cheese and mix.
The pudding is best baked in a springform cake tin pre-lubricated with butter and sprinkled with breadcrumbs. Put the curd mass in the ready tin, smooth and top with smetana (sour cream).
Cook the pudding in the oven (preheated to 180 C) for 40 minutes, then cool. Persimmon pudding has a distinct flavor of pineapple, nectarine and mango all at once.
3. Persimmon pancakes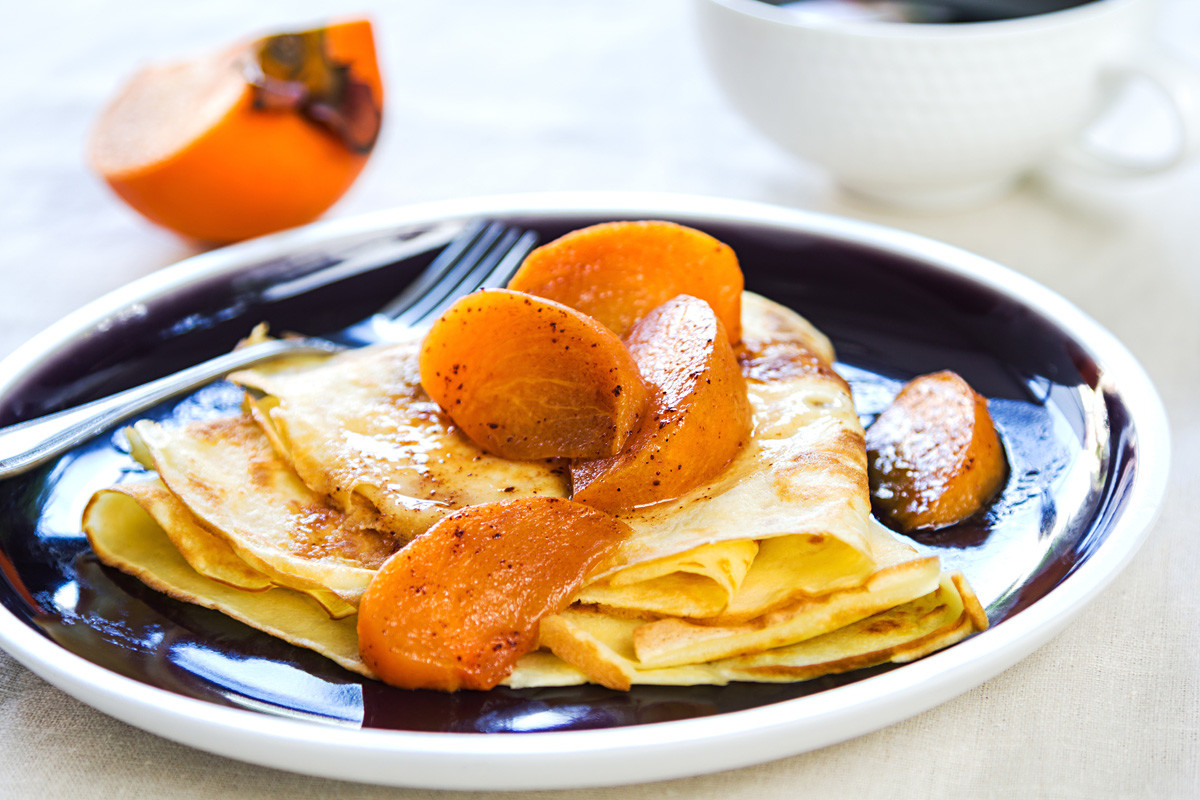 Legion Media
Fry pancakes from a mixture of flour, eggs, milk, sugar and salt (see here for the detailed recipe). Take 100 g soft cottage cheese and mix with one tablespoon of smetana and sugar (2 tablespoons). The pancakes can be served as rolls, in which case a thin layer of curd mass should be spread out on the cooled pancake, topped with finely diced persimmon, and rolled into a pipe shape. Cut each pancake into 3-4 pieces and carefully place on a plate. The pancake can also be folded like an envelope and fried again in the pan. Either way, the suggested serving is with smetana, not-too-sweet jam or slices of apple.
Read more: 7 traditional Russian apple recipes
If using any of Russia Beyond's content, partly or in full, always provide an active hyperlink to the original material.