We chose those combinations of ingredients and dishes that have long been considered classics in Russian cuisine: fried potatoes with mushrooms, bliny with caviar, and as an appetizer – vodka with a pickle.
1. Mashed potatoes with rissoles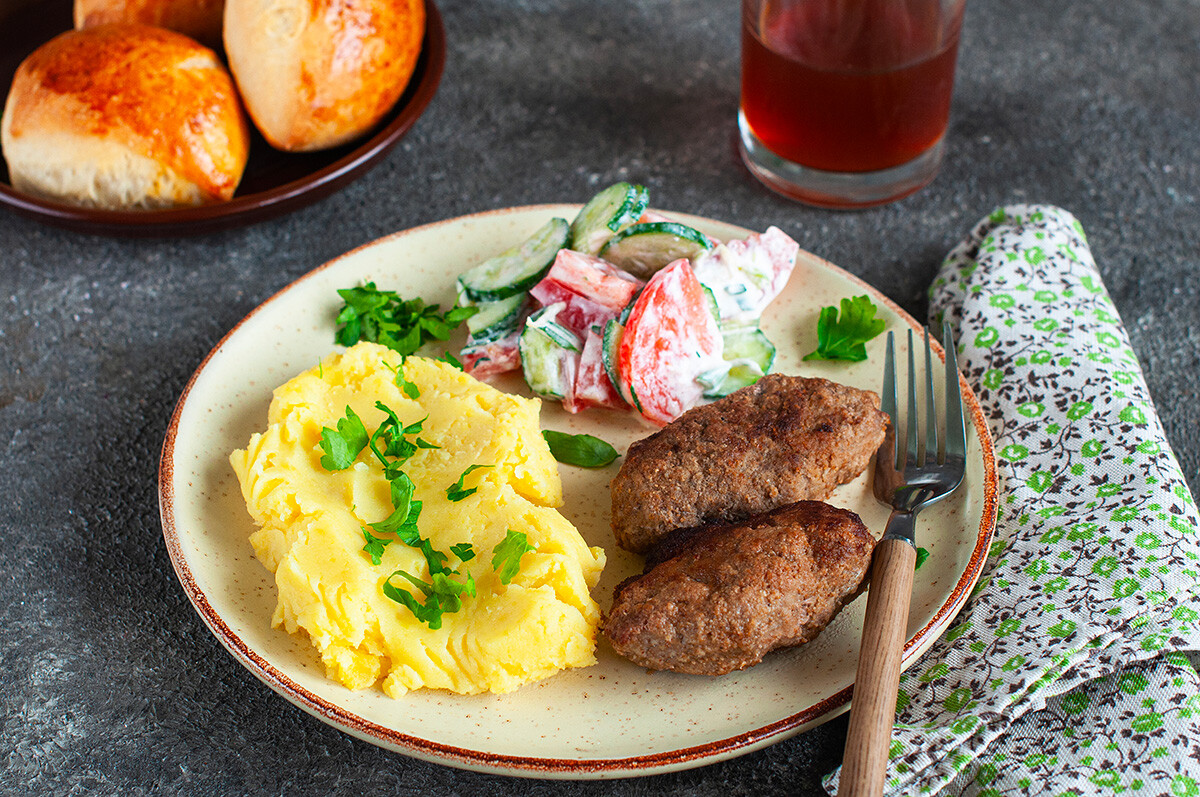 This is a classic main course for lunch or a hearty dinner that you can find in any canteen or local cafe in Russia. This dish is so popular that it is also prepared at home for family or for guests.
To make this dish more nutritious, butter and milk are added to the potatoes. The rissoles are made from ground pork or beef with onions, milk, and sliced bread (if desired). It can be combined with fresh or pickled vegetables.
2. Fried potatoes with mushrooms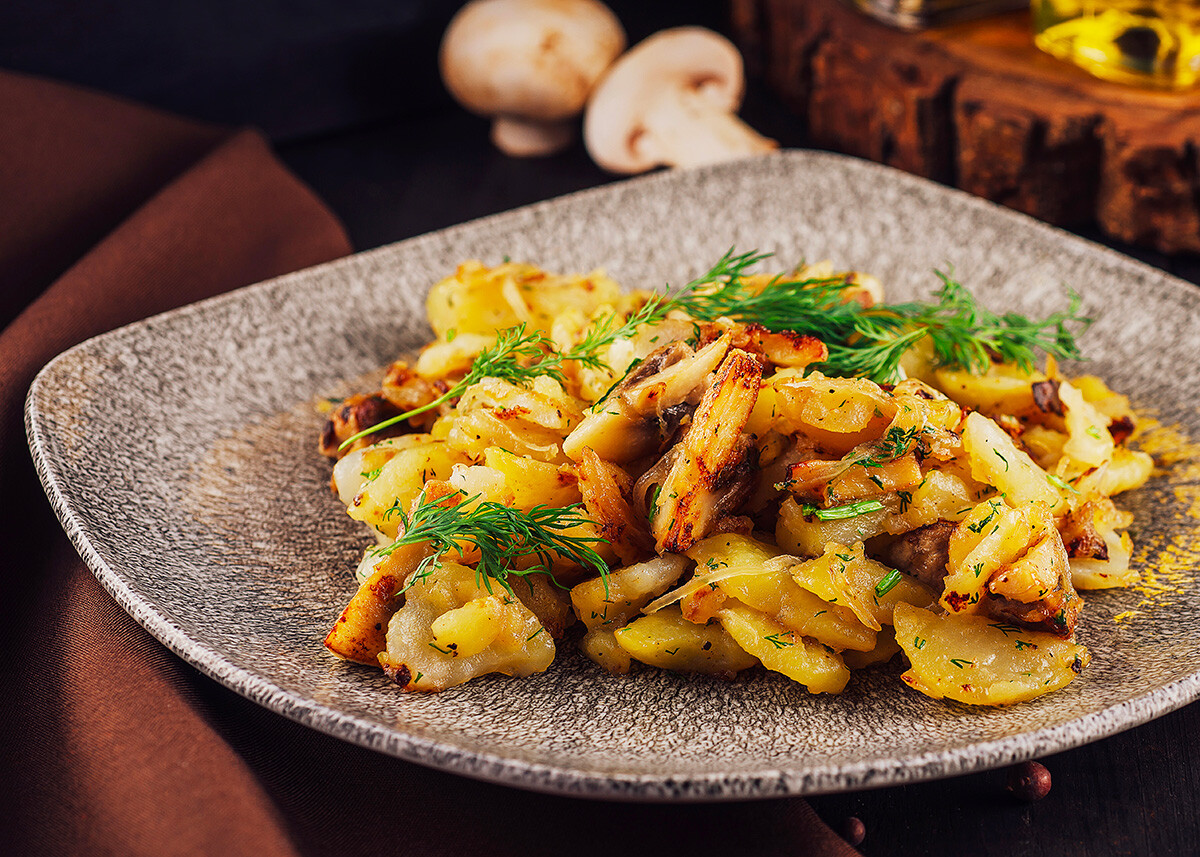 Legion Media
You simply prepare potatoes, mushrooms, onion, vegetable oil, and a pinch of spices in a frying pan, but the result is something divine — an aromatic and appetizing dish that's absolutely irresistible. The unexpected delight is especially enhanced by adding porcini mushrooms or chanterelles.
3. Buckwheat porridge with canned stewed meat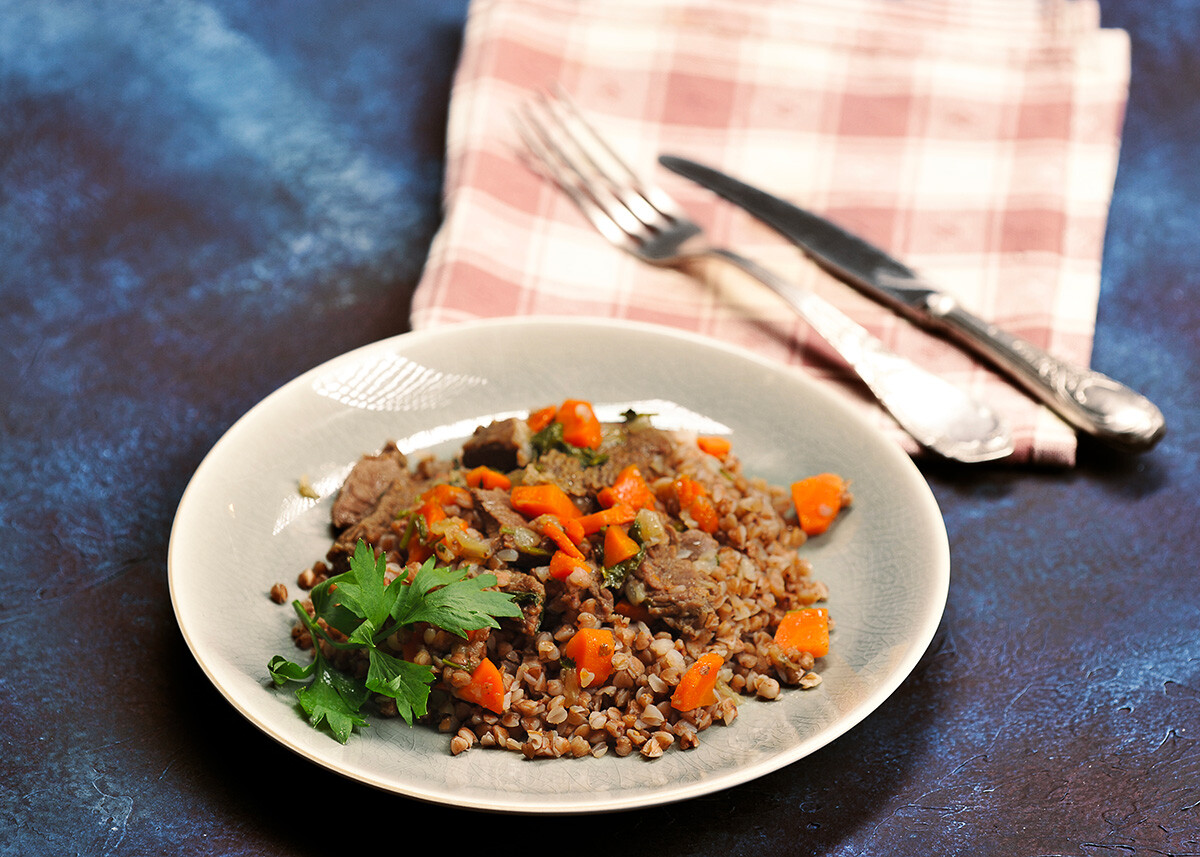 Legion Media
This is a low-cost option for dinner when you either can't afford meat, or it can serve as a convenient meal option when you're on a hike. This dish can be prepared quickly, and it's very nutritious: buckwheat is rich in vitamins and nutrients, while the meat offers protein and iron.
Boil the buckwheat in slightly-salted water, while the canned stewed meat is roasted with onion. Then everything is mixed and dinner is ready.
4. Shashlik with vegetables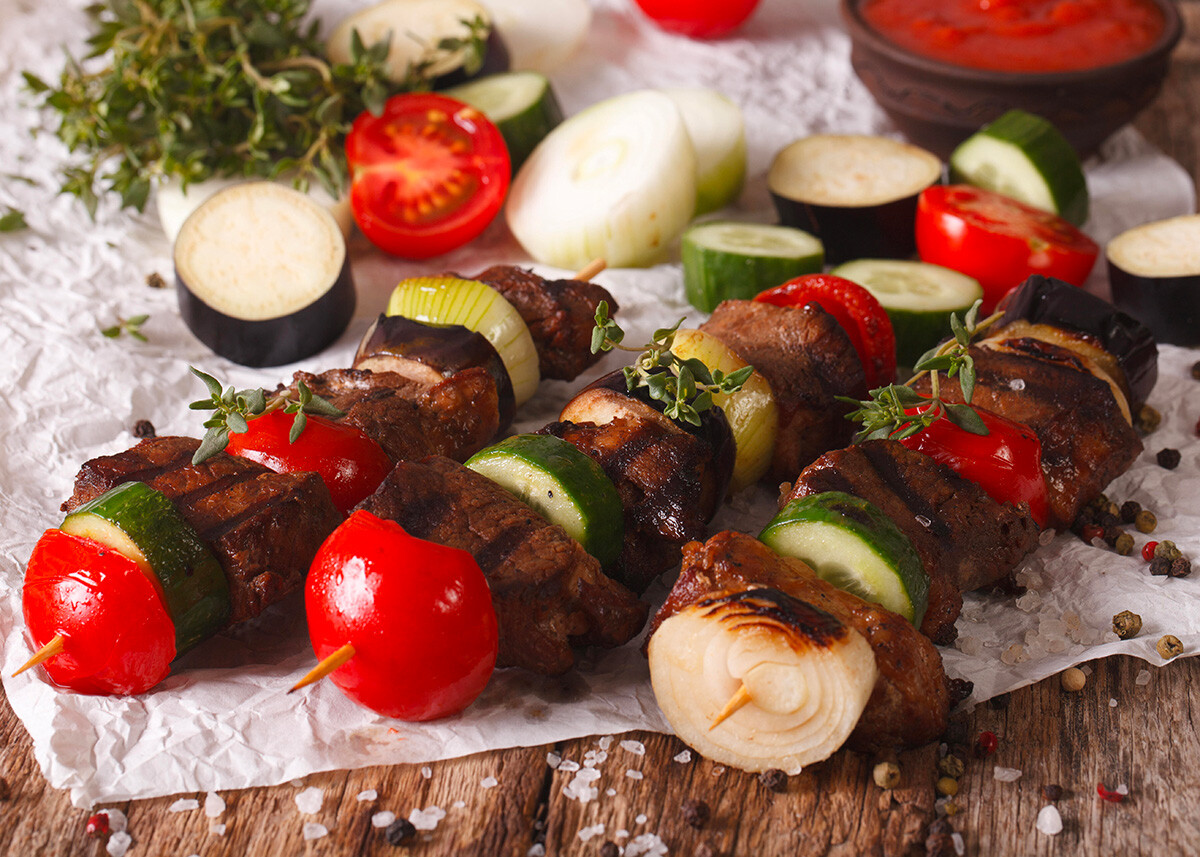 Legion Media
Meat roasted on a spit is the best dish to prepare when spending time at your summer house or while on a forest hike. Cook the meat with fresh vegetables and greens (green onions, dill, parsley, cilantro). In addition to fresh tomatoes and cucumbers, you can also roast some eggplant, zucchini, peppers, or tomatoes on the open fire.
Several hours before you start cooking, prepare your shashlik by marinating the meat (pork, mutton, beef, or chicken) in vinegar, kefir, mayo, or mineral water. This will make it tender and aromatic. When your meat is fully cooked, serve with a side of tomato sauce, bell pepper ajika, or mustard.
5. Bliny with caviar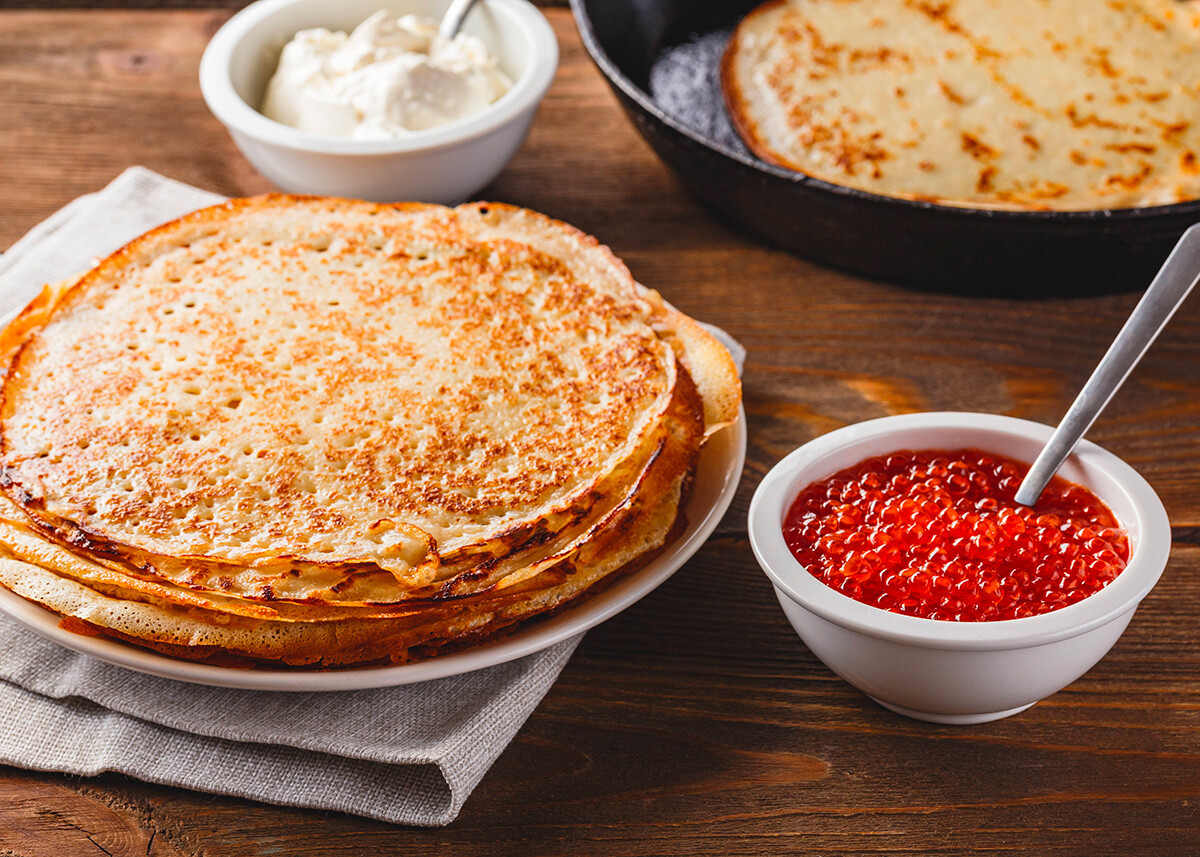 Legion Media
Traditional Russian bliny made from flour, milk, and eggs go very well with caviar and sour cream. The salty caviar adds a vivid taste (and color as well!) to plain bliny; while sour cream makes the dish more sumptuous.
READ MORE: 8 traditional Russian pancake fillings (RECIPES)
6. Rye bread with herring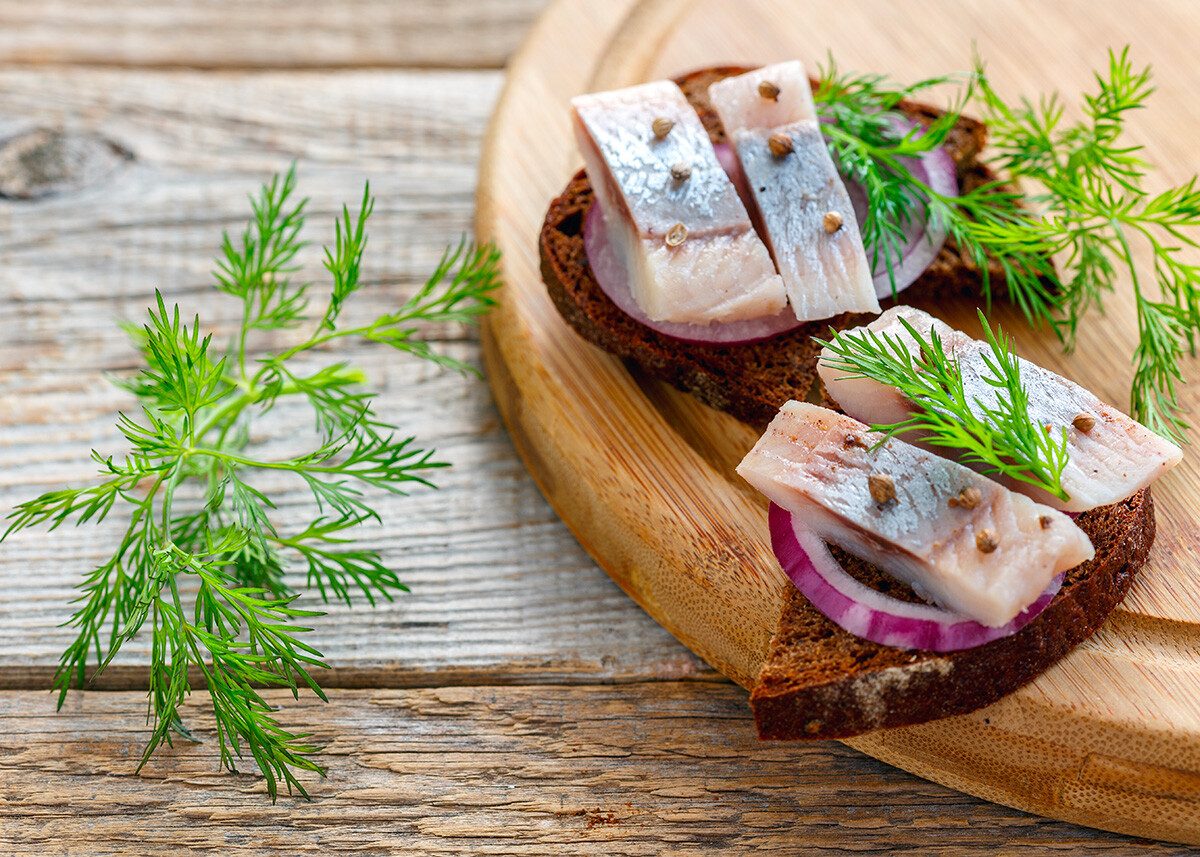 Legion Media
This is a real man's sandwich – take a piece of Borodinsky rye bread, a couple of pieces of lightly salted herring, and an onion ring (you can use red onion). On top, put some fresh greens: parsley or dill will do. Voila! Your snack is ready.
7. Rassolnik with pirozhki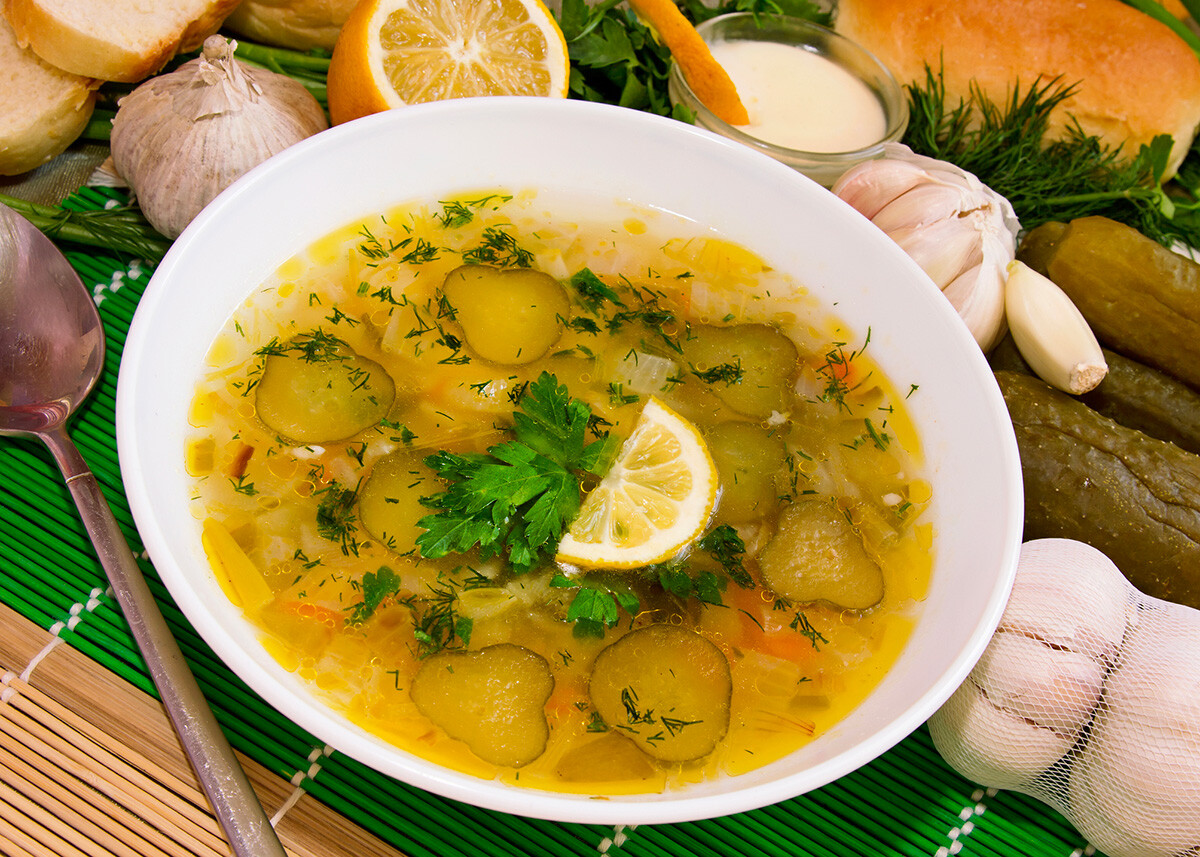 Legion Media
As evident from its name (rassol means "brine" in Russian), rassolnik is prepared with brine and pickles, which gives a sour taste to the soup and grains and vegetables used to make it. To balance that taste, pirozhki with potato or meat filling are also prepared.
8. A bun with milk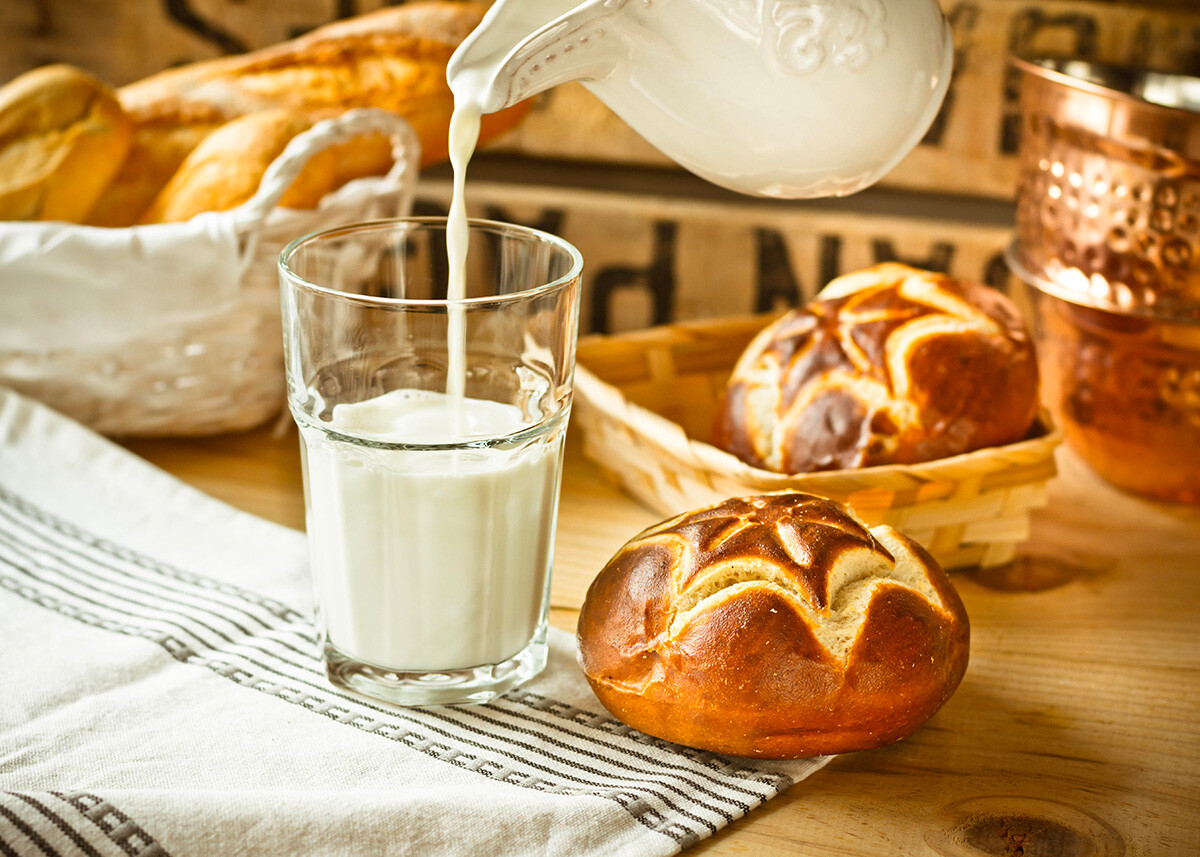 Legion Media
One glass of milk with a freshly-baked warm bun is enough to bring you back to your childhood. It's best if the bun is covered with jam or cinnamon, or go with a Moscow pluyshka (a heart-shaped bun) or a Sverdlovsk bun.
9. Pelmeni with sour cream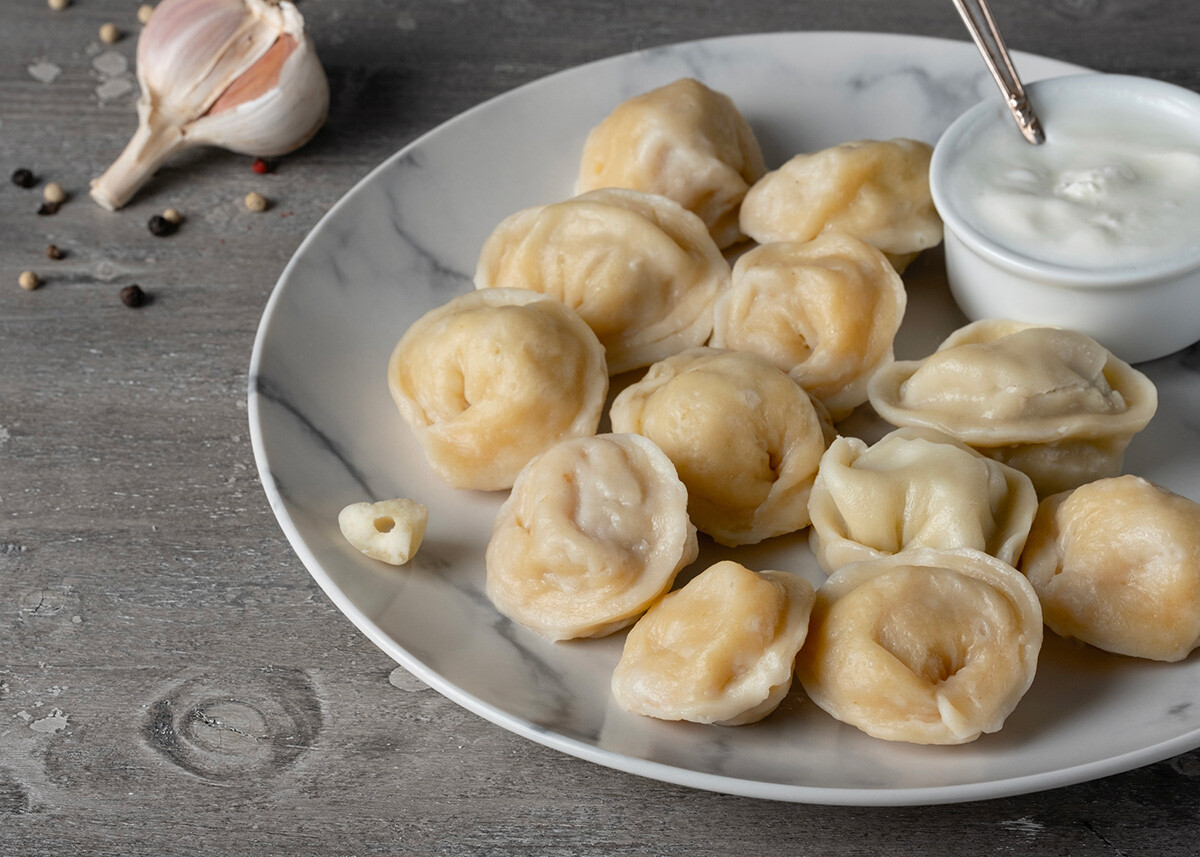 Legion Media
Pelmeni (dumplings) are a type of ravioli that have a filling made from chopped meat, salt, spices, and sometimes onion. Some people prefer pelmeni served in broth. In Tatarstan, they make a soup with tiny pelmeni, while other regions add sour cream to pelmeni, which makes the dish rich and satisfying.
10. Vodka with a pickle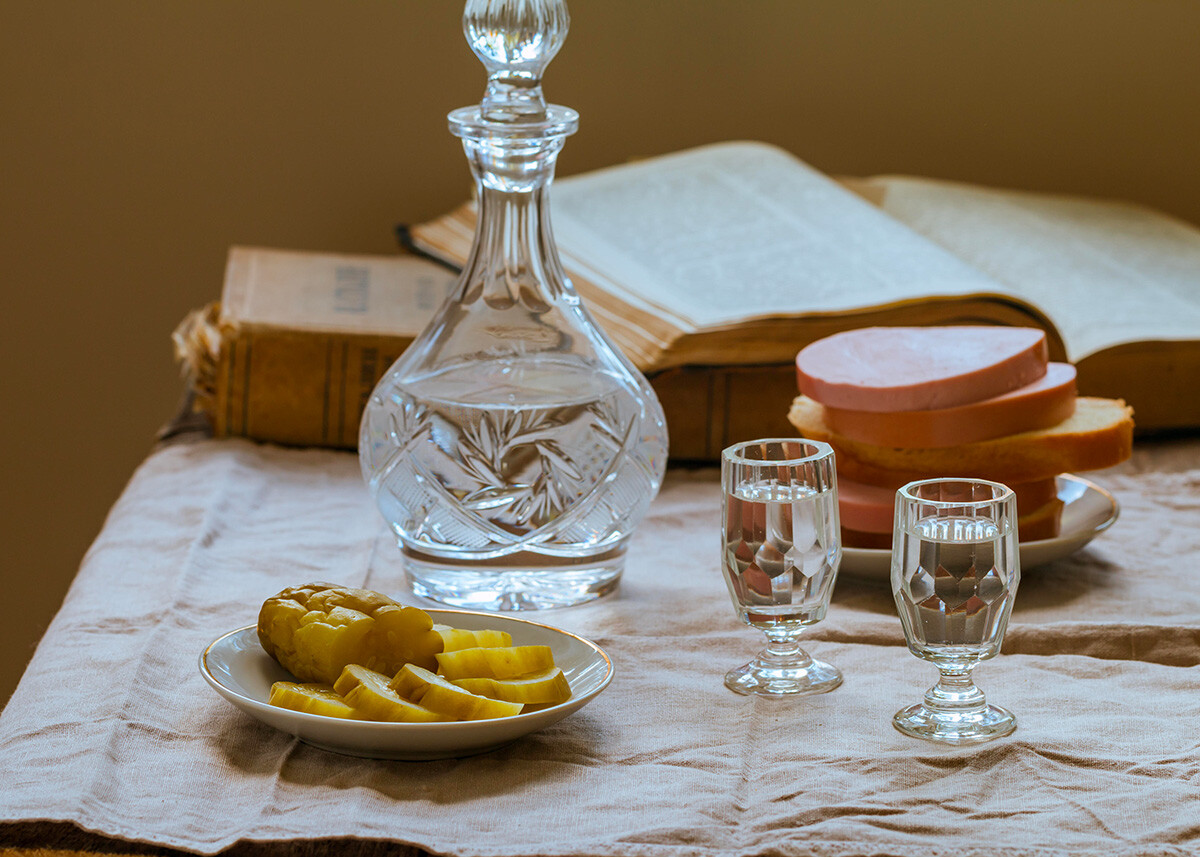 Legion Media
A pickled cucumber — better if consumed in one go! — is a traditional pairing snack for vodka. And that's not just a stereotype; this match is truly made with your health in mind. The cucumbers improve your digestion, allowing your body to more readily dispose of toxins.
It's recommended not to pour out the pickle brine, but rather, hold onto it until the next morning. The salty pickle brine is similar to saline, and it can help your body recover faster if you happen to drink too much. We hope it won't come to that, and we advise you to consume alcohol in moderation.
Dear readers,
Our website and social media accounts are under threat of being restricted or banned, due to the current circumstances. So, to keep up with our latest content, simply do the following:
Subscribe to our Telegram channels: Russia Beyond and The Russian Kitchen
Subscribe to our weekly email newsletter
Enable push notifications on our website
Install a VPN service on your computer and/or phone to have access to our website, even if it is blocked in your country
If using any of Russia Beyond's content, partly or in full, always provide an active hyperlink to the original material.