Russia's 'Iron Dome' sky defenses will soon be upgraded with the new Buk-M3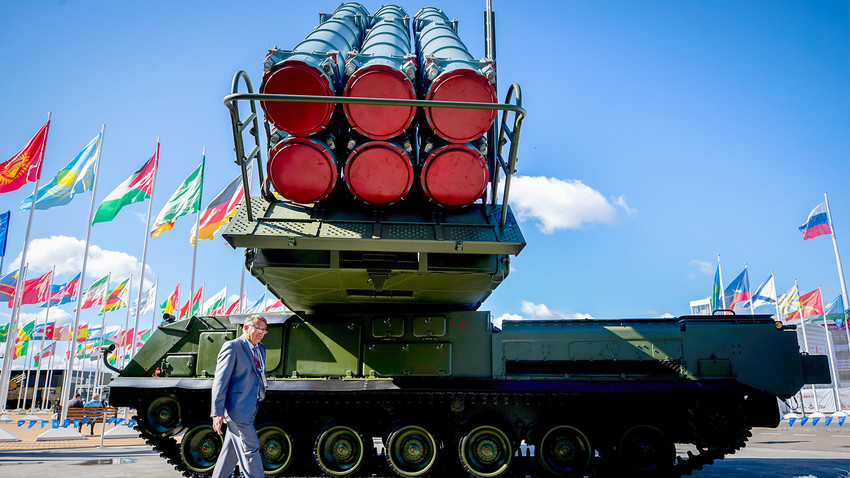 The new defense system will be able to take out hypersonic missiles traveling at 3 km/s and state-of-the-art enemy stealth aircraft.
Russia's air defense forces are to be fully rearmed by the beginning of the 2020s and will be switched to the latest Buk-M3 air defense systems.
The latest system is designed to intercept all lethal airborne enemy projectiles. The Buk can take out guided ballistic or cruise missiles, aerial bombs, high-precision homing projectiles, aircraft (fighters, attack planes, helicopters), or unmanned reconnaissance and attack drones.
A single Buk system can create an "air shield" spanning a distance of up to 70 km and can hit targets cruising at an altitude of up to 40 km. Moreover, it can eliminate missiles or airplanes hurtling earthwards at speeds of up to 3 km/s.
The hardware can withstand temperature from -50 to +50 °C and can deal with all enemy radio jamming measures. The Buk-M3 can locate up to 48 targets and direct simultaneous fire against four targets in a 360-degree radius.
The weapon can be supplied on a tracked or wheeled chassis or installed on flatbed rail cars or on ships. It is universal and can hit any target with an accuracy of 97 out of 100!' former military analyst for Izvestia newspaper Dmitry Safonov told Russia Beyond. The expert says that no system in the world has a similar capability - neither the U.S.'s "Chaparral," Britain's "Rapier," nor the Franco-German "Roland-5" and even France's "Crotale NG."
Buk missiles
The Buk system operates on a fire-and-forget basis. Thus the 9M317M missile acquires and tracks targets throughout the duration of their flight using the radar guidance system fitted in its warhead.
According to the Russian media, the Buk missile is exceptionally maneuverable, can endure massive G-forces, and can pursue airborne targets along the most complex and unpredictable trajectories in the face of intensive enemy fire and electronic countermeasures.
"One of the main features of the Buk-M3 is that, like the S-300s and S-400s, they are vertical launch missiles which set their attack course only once they are in the air. This significantly boosts the firing rate of the Buks - the launcher angle does not require adjustment, and successive launches of the missile can take place a matter of seconds after the previous one," writes to RIA Novosti.
If using any of Russia Beyond's content, partly or in full, always provide an active hyperlink to the original material.