Top 3 new assault rifles made by Kalashnikov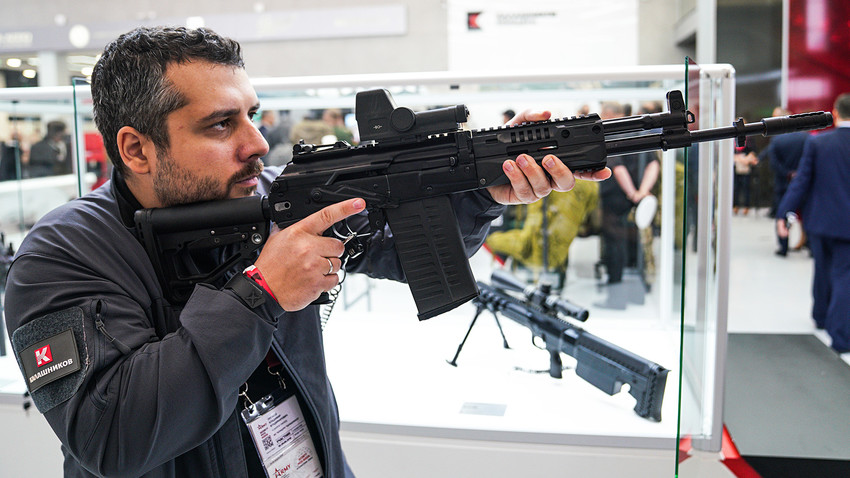 A visitor with an AK-308 Kalashnikov assault rifle at the Russian Army Tomorrow exhibition as part of the 4th international military technical forum Army 2018, Kubinka.
Vladimir Astapkovich/Sputnik
These include an assault rifle for close urban combat and a gun to shoot bad guys from nearly a kilometer away.
Three brand new assault rifles might appear in hands of Russian and foreign armies as Kalashnikov Concern reveals its latest developments in late August during the Army-2018 military exhibition.
AM-17 and AMB-17 Assault Rifles
This pair of advanced assault rifles have been designed for combat in the city. While the AM-17 and AMB-17 rifles are very similar, they have one important difference, their calibre.
The AM-17 uses traditional 5.45х39 mm Kalashnikov (AK-47) cartridges. Meanwhile AMB-17 is equipped with 9x39mm subsonic cartridges and a silent firing system, so it's perfect for secret operations at night.
The new assault rifles are created for troops operating in densely populated areas. As a result, the weapons are ultra-light and compact. The AM-17 rifle, with the gunstock attached, is only 50 cm long and weighs just 2.5 kg without the magazine (compared with the AK-74M rifle, which weighs almost 4 kg). These features allow soldiers to easily alight armored vehicles and operate guns in confined spaces.
Kalashnikov Concern, which developed the two assault rifles, has deviated away from traditional methods of manufacturing Russian firearms.
First and foremost, this has affected the design of the receiver. The new rifles will operate through two large receivers instead of one receiver with a detachable cover, a notable feature of earlier Soviet and Russian firearms.
The two receivers, fastened on a hinge, are fixed into position. The weapon can be "broken" into two parts to clean and maintain the components of the receiver. This new design feature, which has been used in foreign arms for many years, reduces the weight and cost of the rifle, and greatly simplifies the manufacturing process.
The "upper" part of the receiver, which withstands most of the pressure exerted when the weapon is fired, is made of high-strength steel. In contrast, the "lower" part of the receiver, which holds the magazine, pistol grip, gunstock, etc, is made of high impact polymer that looks like plastic.
You can apply all kinds of modern tactical add-ons thanks to the Picatinny rail mounted on top, which can hold collimators from any worldwide manufacturer. The weapon is also fitted with a silencer.
AK-308
This assault rifle was the most anticipated premiere of the year and announced days before the Army-2018 military exhibition in late August.
This is a prototype of a future assault rifle chambered with .308 Win - a very powerful NATO calibre round used in sniper rifles. Yes, you've read it right - Kalashnikov Concern is working on an assault rifle for export that will be able to shoot down bad guys 800m away.
Interestingly, this is not an assault rifle designed for the Russian military (they don't use .308 Win rounds) but for foreign armies that are familiar with this type of weapons and ammo. The gun is primarily intended for African and Asian weapon markets to create competition for NATO made rifles.
Visually the new AK-308 is reminiscent of the AK-12 and AK-15 assault rifles adopted by the Russian military - they're part of the next generation "Ratnik-2" battle gear. It also has a Picatinny rail on top and bottom of the rifle so you can install anything you want like scopes, grips, red dots, flashlights, etc.
It also has new magazines - so the shooter can see exactly how many rounds are left in the gun. What's more it boasts a reworked pistol grip as well as an adjustable side-folding stock.
If you want to find more about Russian rifles, click here.
If using any of Russia Beyond's content, partly or in full, always provide an active hyperlink to the original material.