Neighborhoods
1. Near Chernyshevskaya metro station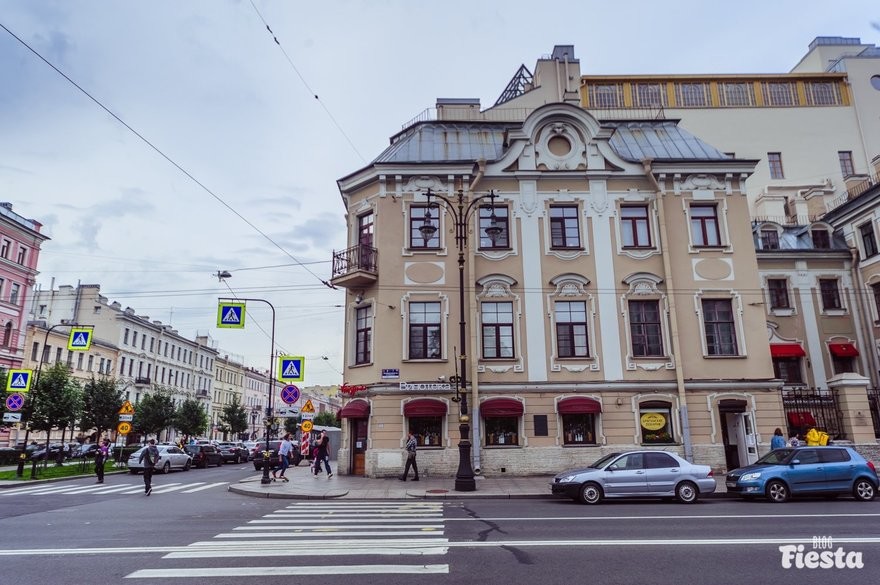 This district is famous for late 19th century luxurious mansions and houses. Nowadays, many are occupied by foreign consulates, and there's a 'wedding palace' with historical interiors (house #52 on Furshtatskaya Street). Also, it's home to Russia's only "Baby palace," which is used for birth registration ceremonies (house #58).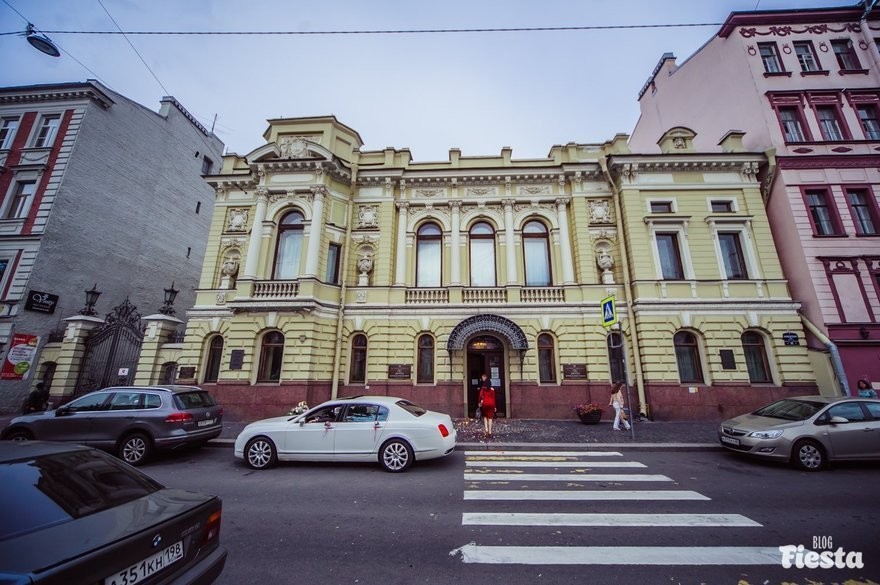 "All the buildings are beautiful, but don't have that sweet atmosphere of freshly painted buildings in the center. They are dirty and old, but wonderful," notes Dutch expat Leonie Lavrova Woldring, who has been living in this neighborhood for two years. "I recommend visiting the alternative bars on Nekrasova Street and Camorra Pizza, hidden in the courtyard of Kovensky Lane."
2. Petrograd Side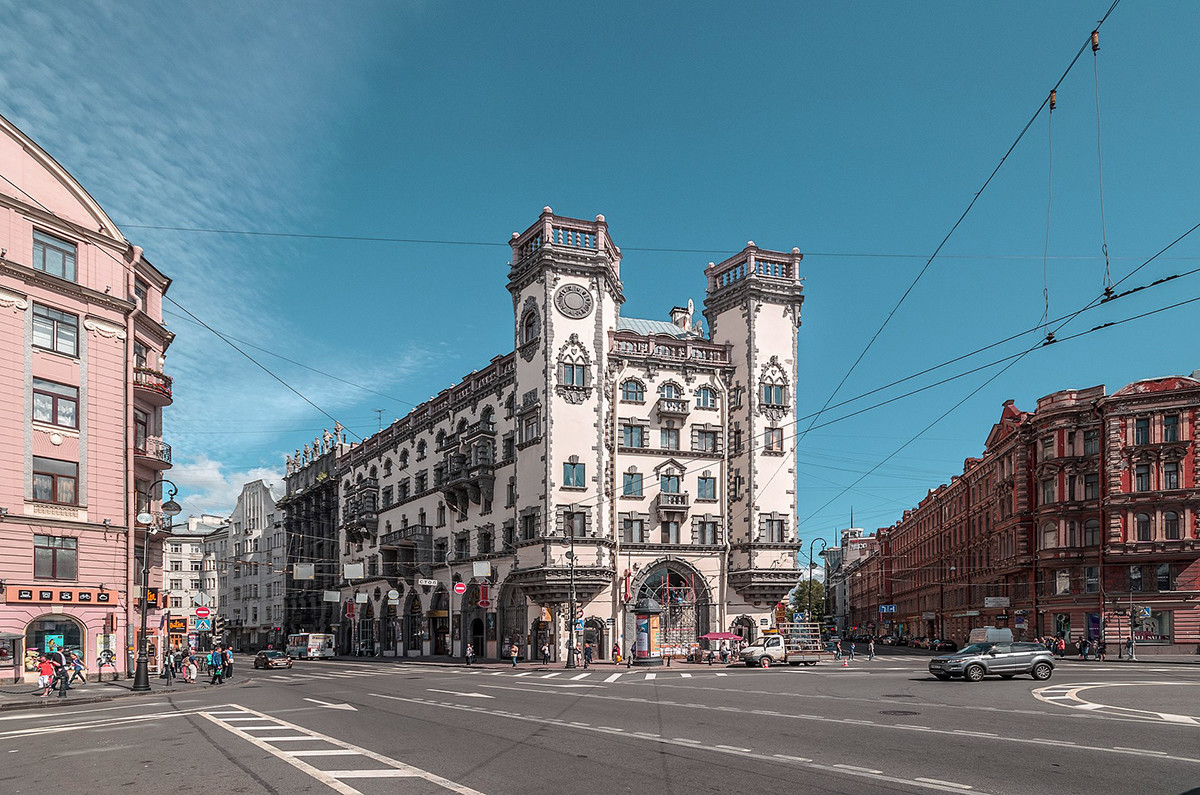 Petrograd Side, Kamennoostrovsky Avenue, House with Towers
Alex 'Florstein' Fedorov / Wikipedia
After construction of Troitsky Bridge in 1903, the Petrograd Side, which is located north of the historical center, became one of the most posh districts, a veritable open-air museum of Art Nouveau architecture.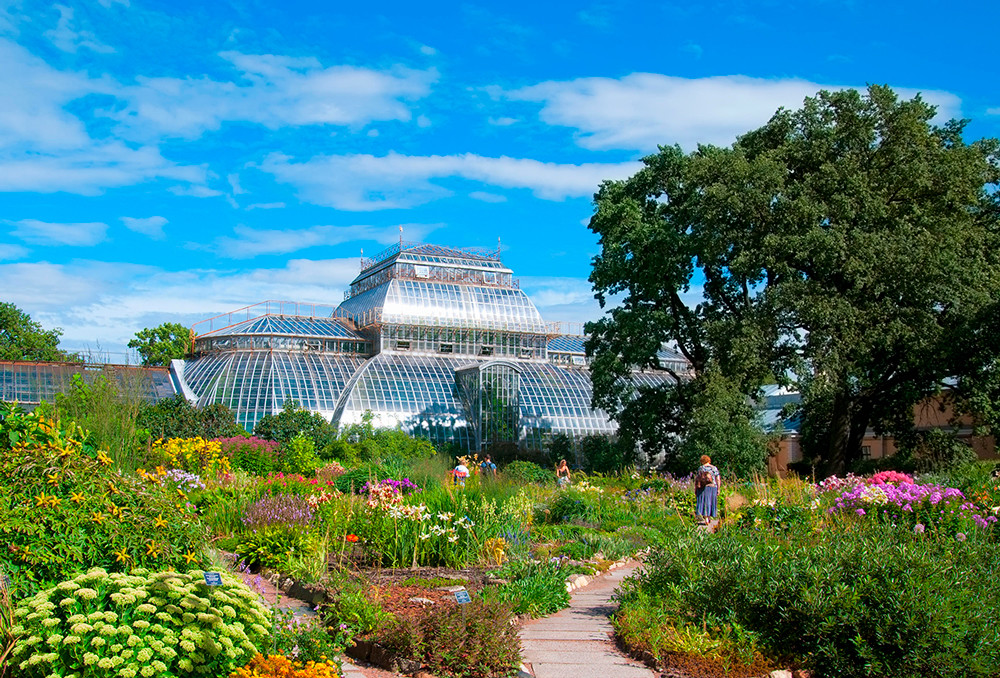 The St. Petersburg Botanical Garden
Legion Media
"There are tons of places to eat, and little boutique shops, as well as the beautiful Karpovka River nearby," says U.S. expat Stacey Watson, who runs a blog about St. Petersburg. "If you venture that way, be sure to check out the Botanical Garden founded by Peter the Great himself."
3. Kolomna
In 1835 writer Nikolay Gogol characterized this area as "not the capital, neither the province… where everything is a silence and retirement."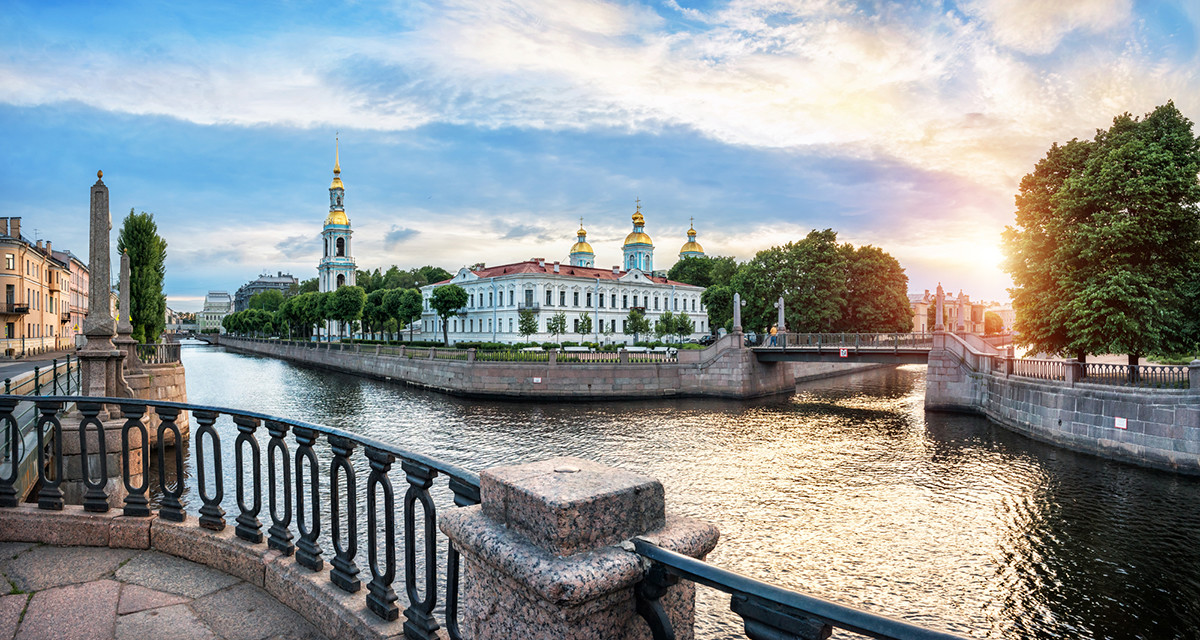 St. Nicholas Naval Cathedral
Legion Media
"Nestled between the Mariinsky Theatre and the bay, it's a quaint, quiet part of town where the center's many canals all converge," says Canadian freelance writer Josh Nadeau. Take a walk from Sadovaya metro station along Griboedov Canal up to Fontanka River, and make a stop near St. Nicholas Naval Cathedral.
Parks
4. New Holland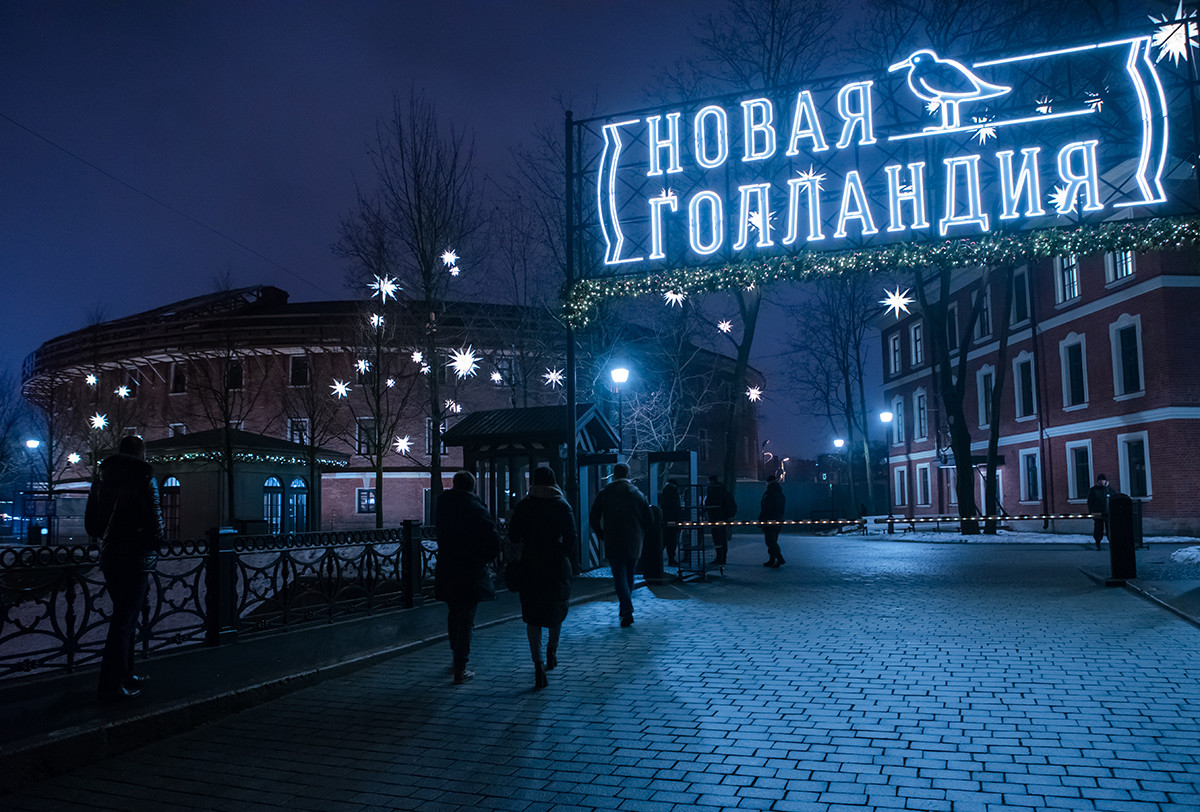 New Holland
Alexei Danichev/Sputnik
Several years ago this former timber storage and secret military site was turned into a fashionable urban space. The name refers to the Dutch shipbuilders who used to work here in the early 18th century. Nowadays, the kid's playground, "Frigate," reminds one of its naval past.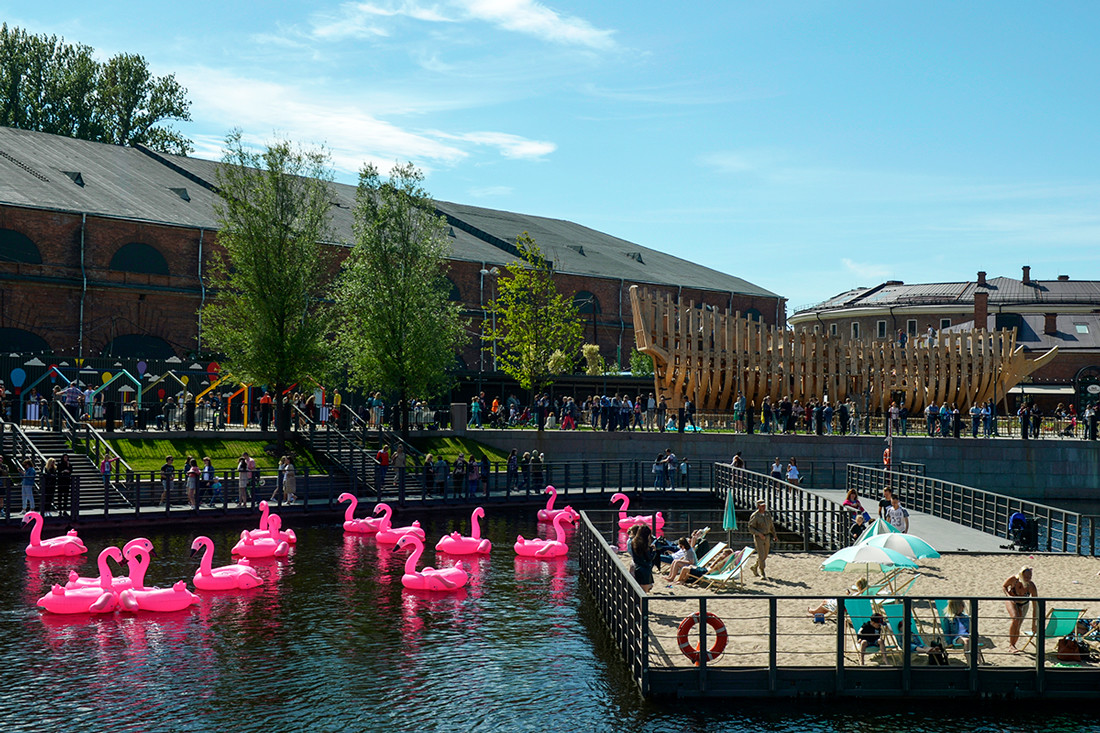 A beach with inflatable pink flamingos on New Holland Island
Alexander Galperin/Sputnik
Jina Park from South Korea likes to come here with her children: "The former prison is now a collection of cafes and restaurants. Enjoy the sun in the open spaces with green fields and free chairs in the summer, and ice skating in the winter!"
5. Yelagin Island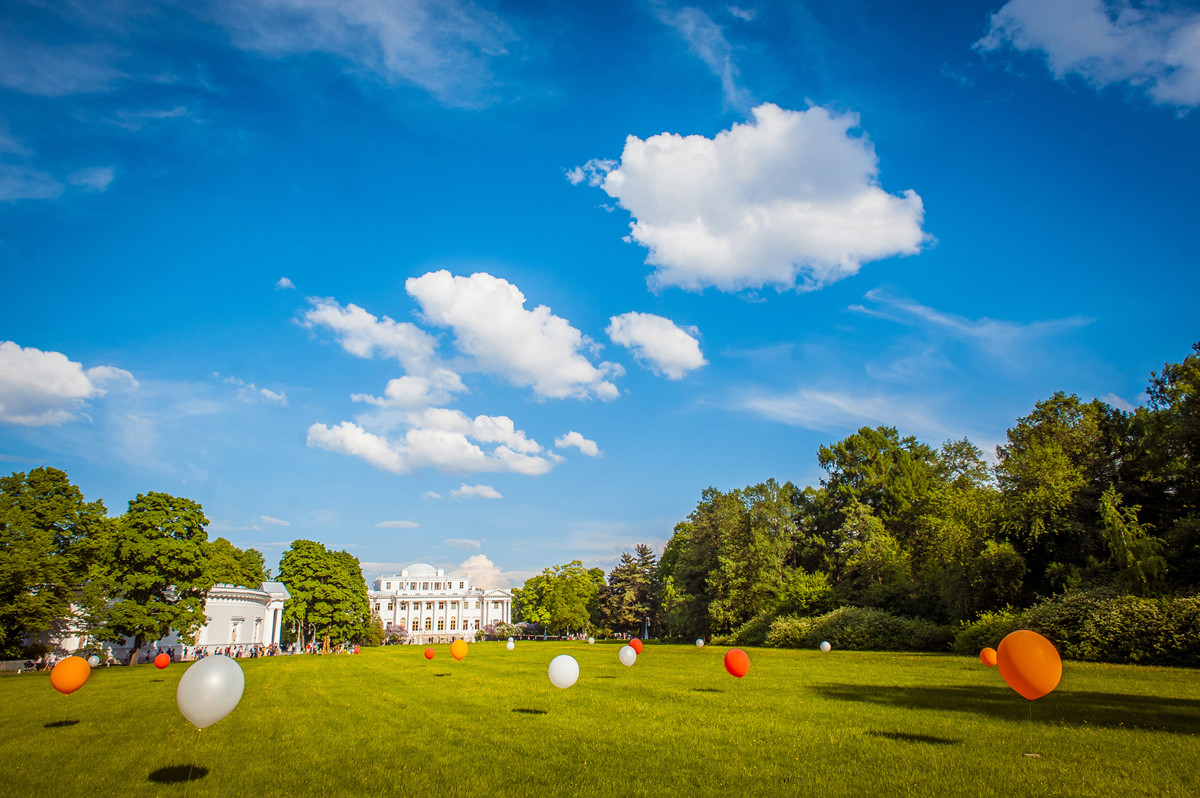 In the 18th century, the founding father of Russian Freemasonry, Ivan Yelagin, owned the park and estate here. Later, Tsar Alexander I bought it and turned it into a royal summer residence.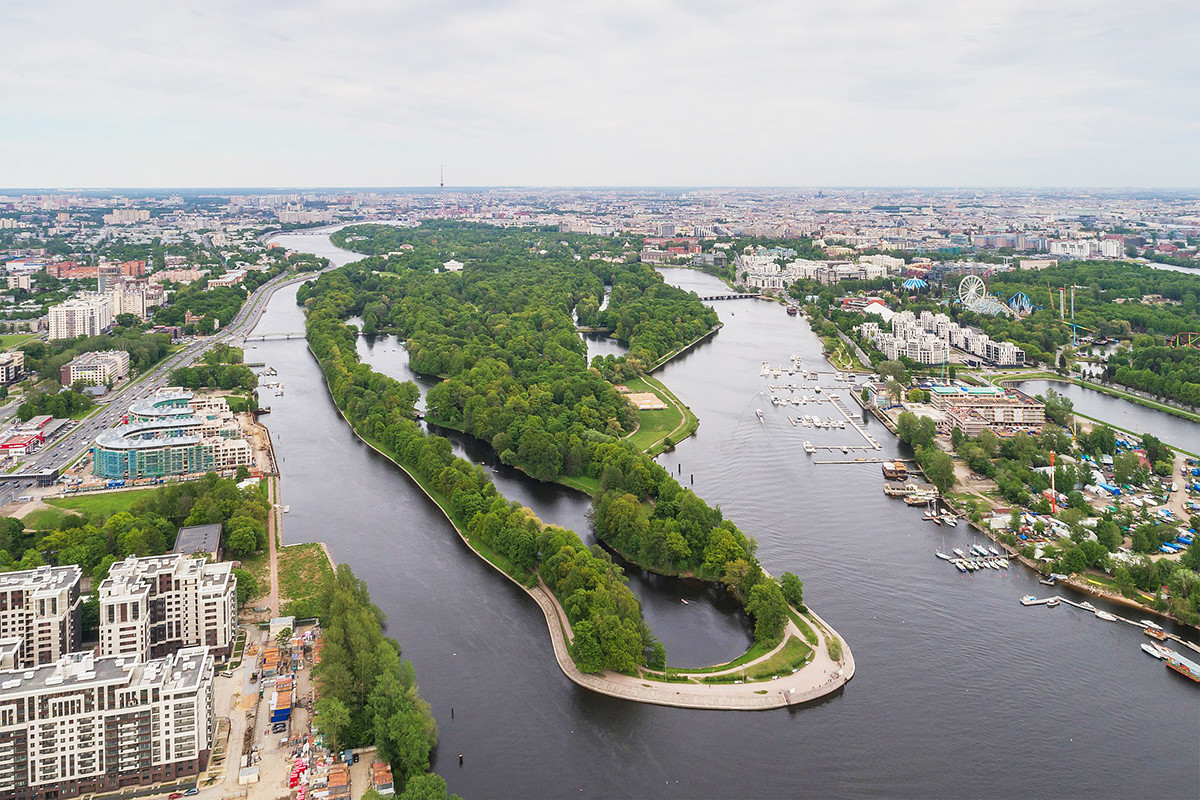 Yelagin Island
A.Savin/Wikipedia
According to Leonie Lavrova Woldring, one feels the past here. "If you pass the palace or walk down the alleys you can imagine how former aristocrats took a stroll." The island is popular among locals for a wide range of outdoor activities and open-air festivals.
6. Moskovsky Victory Park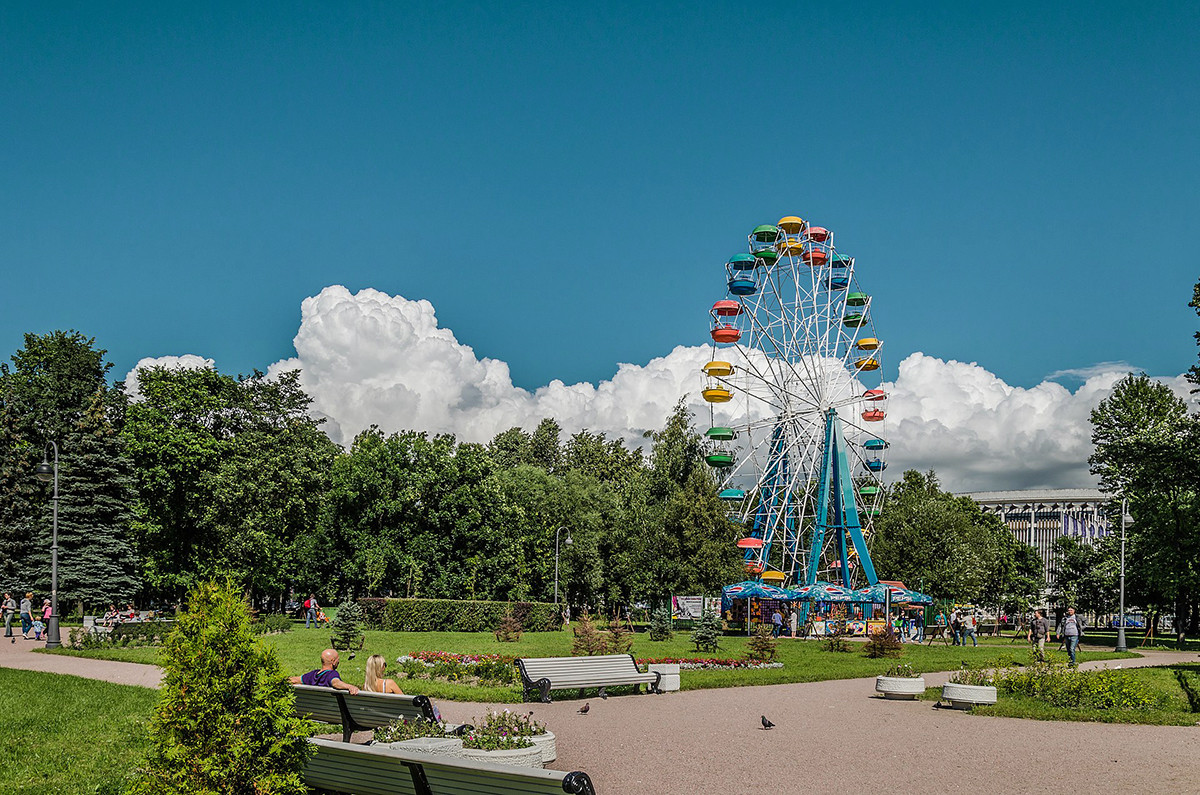 Ferris wheel in Moskovsky Victory Park
Alex 'Florstein' Fedorov/Wikipedia
"While Yelagin Island is a happening retreat from the city for both locals and tourists, Park Pobedy is more of a local favorite, and fewer people frequent this area on sunny days", says Stacey Watson. "Not only is it ideal for a picnic and a stroll with friends but one of my favorite malls, "Raduga," is nearby. I can easily spend a whole day there."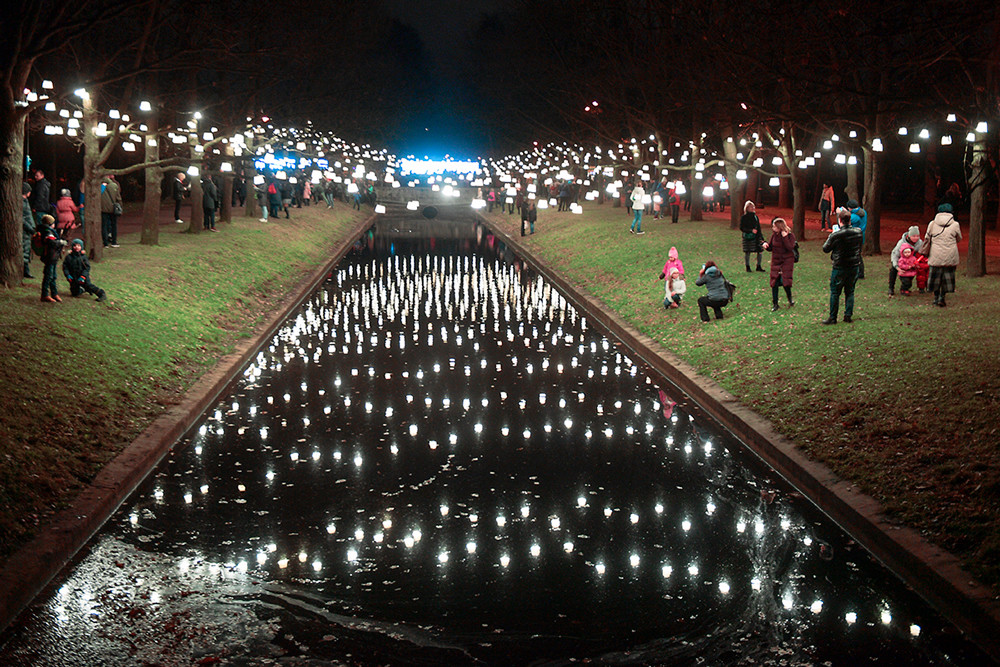 Alexander Galperin/Sputnik
Located on the south part of the city, it opened in 1946 to commemorate victory over the Nazis. Enter the park and walk along the "Alley of Heroes," which features busts of Soviet heroes. It also has a small amusement park, playgrounds, tennis courts and outdoor ice skating rink.
Markets
7. Sennoy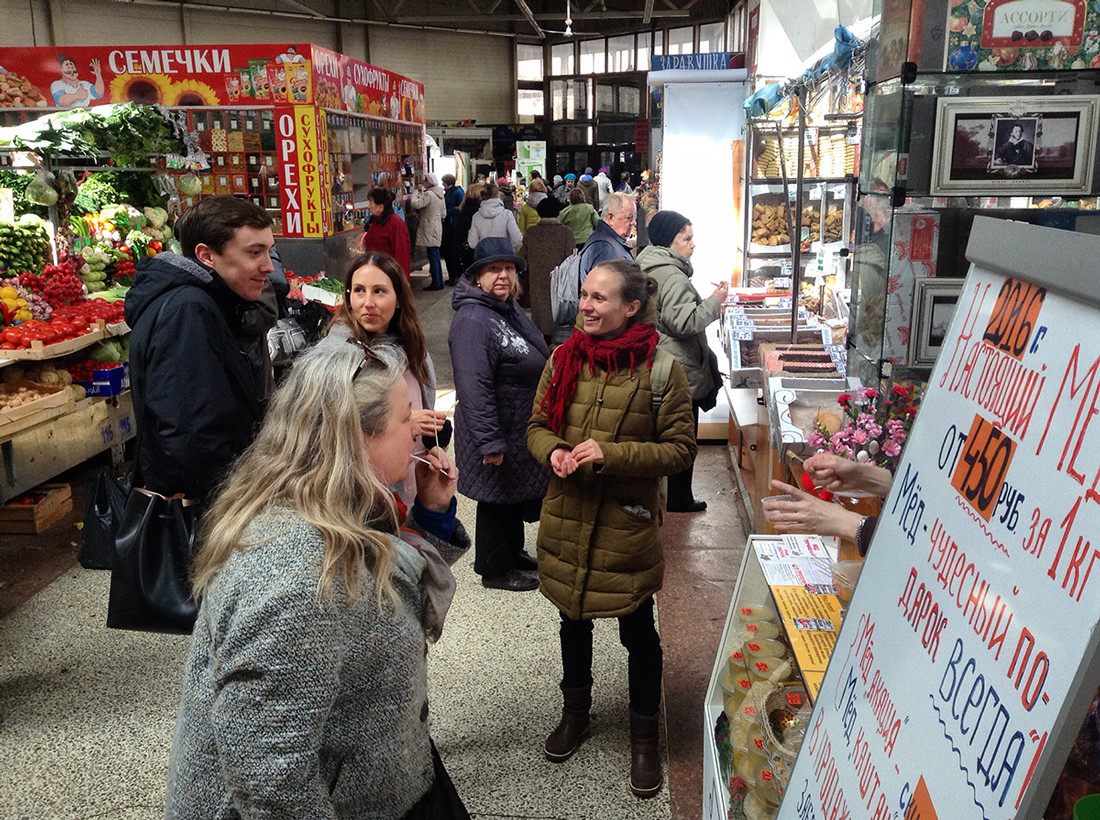 Sennoy market
Elena Bobrova
The area of Sennaya Square was always the city's filthy underbelly. Described in Dostoevsky's Crime and punishment, it was the biggest and cheapest food market. The entrance to Sennoy is located between house #4 and 6 on Moskovsky Prospect. Pass the open-air area with fake Armani and Adidas, and enter the building where you can find fruits, vegetables, meat, fresh fish, honey and nuts.
It's essential to have a Russian-speaker or tour guide if you go to Sennoy, so that the vendors don't take advantage of you. Mexican expat Sylvia Sura Dupont often shops here, but warns: "Always keep in mind that you'll get more in kilos than you can carry and actually eat in three days before it spoils."
Art and nightlife places
8. Golytsyn Loft
In 2016, this art center opened in the former mansion of Count Golytsyn. "From its many bars, anti-cafes and artisan shops to a courtyard that's bustling in summer, it's a space that foreigners and locals can mix over a pint or cup of artisan tea," Josh Nadeau says.
Go inside the yard on Fontanka Embankment 20, and explore all five buildings of the complex, which has everything from a small brewery to a tattoo salon.
9. Speakeasies and secret bars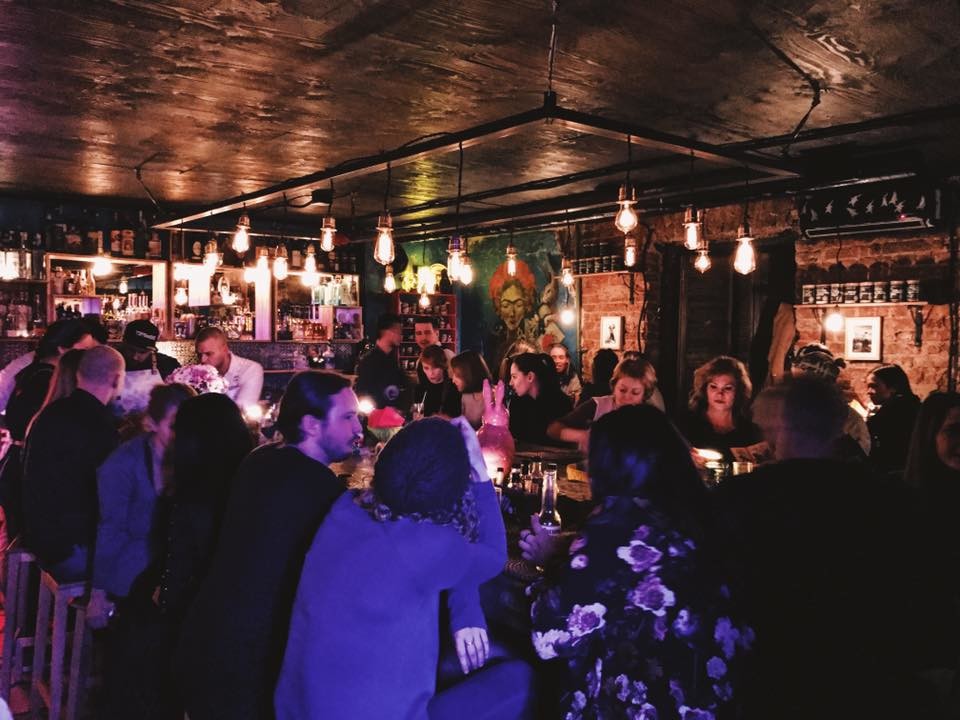 St. Petersburg is famous for its drinking culture and large number of casual bars. In recent years, speakeasies have gained more and more popularity; they are secret places that don't look like bars from the outside. "Every speakeasy that I've been to, such as El Copitas and Kabinet, has waiters that speak perfect English, and people are super fun and friendly," said Jina Park.
You can find more info about these hidden gems here.
10. Contemporary art galleries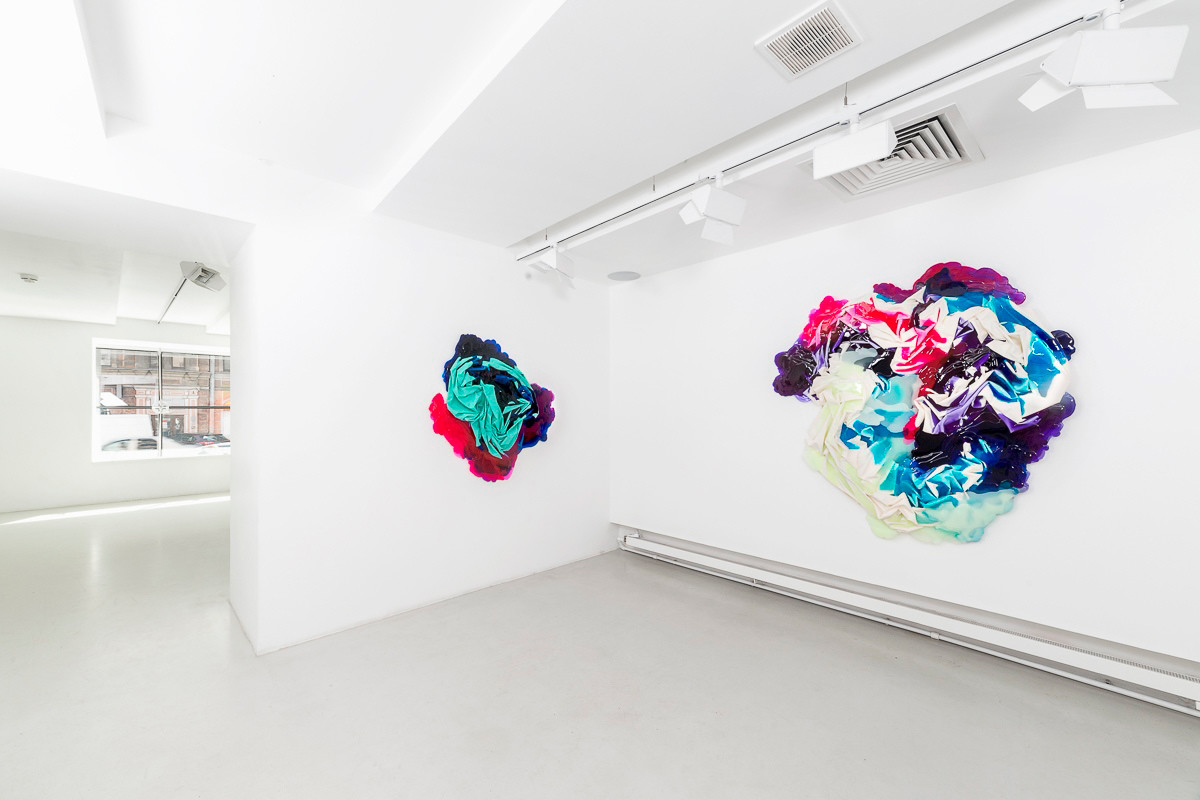 Don't miss the Hermitage Museum and Faberge Museum, with their world famous masterpieces, but the local art scene is also worth checking out. Hidden inside courtyards and often located in private apartments, these galleries show the art of the 'Leningrad underground,' as well as contemporary works. Check out the opening hours and exhibits online; visit Pig Snout Gallery, K-Gallery, Anna Nova, Marina Gisich Gallery, Molbert and Mitki Art Center.
Read more: 12 places in Moscow you gotta visit (according to expats)
If using any of Russia Beyond's content, partly or in full, always provide an active hyperlink to the original material.