Dmitry Medvedev: Everything is generally ok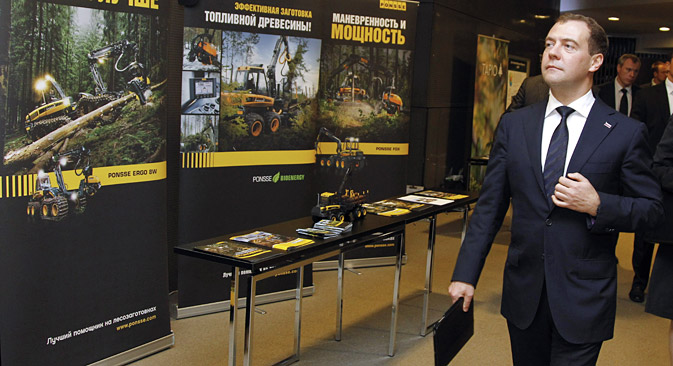 Dmitry Medvedev during his visit in Finland on Nov. 14. Source: Dmitry Astakhov / RIA Novosti
Ahead of a visit to Finland, Russian Prime Minister Dmitry Medvedev spoke to the Finnish press about President Vladimir Putin's health and recent changes in the Russian government.
In a recent interview with the Finnish media, Russian Prime Minister Dmitry Medvedev told the Finnish media that "nothing changed" in his relations with President Vladimir Putin after the two swapped power last May.
"When I congratulated him on his birthday recently, I told him that we had known each other for perhaps more than 22 years, which is a long time for anyone. In my case, it is my entire adult life," Medvedev said.
The prime minister added that he wasn't surprised by the recent dismissals of Regional Development Minister Oleg Govorun and Defense Minister Anatoly Serdyukov. He said that relations between the government and the President are "normal, working, decent relations," as they should be.
"There is nothing unusual in the fact that some people join the government and others leave it. This happens everywhere, and it happens in our government too," Medvedev said.
He explained Serdyukov's firing following the exposure of a corruption scandal by the "need to ensure transparency, to conduct investigations and make the necessary decisions."
Medvedev initially tried to avoid questions about Vladimir Putin's health, saying, "I'm not a doctor," but then added that there is "nothing serious" with the President's sporting injuries, and that his job is a stressful one.
"You have to do a lot of exercise to stay in shape. And for President Putin to stay in shape, he also has to do a lot of sports […] Otherwise, he is alive and well, and everything is fine with him, thank God," Medvedev replied.
Reuters reported in late October that the Russian president was suffering from back problems that could require surgery, causing him to cancel several overseas trips. Putin's press secretary Dmitry Peskov has denied this report.
When asked about the opposition in Russia, the prime minister called some of their grievances justified and said that the authorities must respond to them. He added, however, that those grievances should be presented in a lawful manner. In particular, rallies and demonstrations "should be held in designated places on the basis of relevant decisions, like in any other country, and without violations of the law."
"There is an old and succinct word to describe it when everything happens this way, and that word is democracy," Medvedev said.
He also praised the success of the United Russia party, of which he is the leader, in the Oct. 14 regional elections. Medvedev said that the party retained the majority despite "rather tough political competition." The prime minister also expressed doubts about whether the Russian political system "will always stay this way."
"Some very mature, experienced and tough opponents will emerge – opponents who will be capable of winning. So be it! This is also a good thing," Medvedev said, adding "generally everything is OK."
First published in Russian in Kommersant.
All rights reserved by Rossiyskaya Gazeta.