Putin discussed Russia's recent laws with Human Rights Council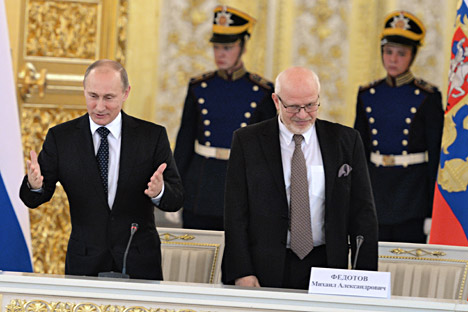 Russian President Vladimir Putin (left) and Chairman of Human Rights Council Mikhail Fedotov (right) greeting human rights activists. Source: Kommersant
During the meeting with human rights activists Russian President Vladimir Putin promised to reconsider the laws on state secrets and libel, asked the State Duma not to rush into passing a law protecting the religious beliefs, and did not rule out the possibility of returning to the law on registering foreign-funded NGOs as "foreign agents."
Russian President Vladimir Putin held his first meeting last Monday with his expanded Human Rights Council (HRC). He proposed reorganizing the work of this new presidential council for the development of civil society and human rights.
He signed a degree on expanding the council's total number of members ahead of the first meeting. Putin believes that the work of the HRC should be optimized and, in order to do this, a presidium with a rotating membership could be created. Working groups focusing on different aspects of the council's activities could be organized, as well.
Putin noted that the council's membership had significantly expanded. It now consists of 62 members, as opposed to the previous 40. Moreover, Putin has invited a 63rd member to join the council: notorious human rights activist Alexander Brod, who went on a hunger strike in September to protest his exclusion from a shortlist of candidates to join the council.
Questions now arise as to how to make the HRC "have real influence," not only on the work of the head of the government, but also on "the work of executive and legal organs." Putin noted that the most important factor of all is direct contact that will help the council realize the tasks before it. "This must be direct, open and honest joint work," said Putin.
Vladimir Putin also told the members of the new council that he considered it possible to review the amendments to legislation concerning liability for treason. He agreed that there should not be "a broad interpretation" of state treason.
Reminding his listeners that the bill in question had passed a preliminary review by a panel of experts, the president said that he was ready to review it with more care. Putin did not rule out the possibility of refining the formulation of the law on libel. However, he stressed that this matter would have to be examined with extreme thoroughness, since libel often does serious harm to the reputations of business people, actors and other public figures.
The president agreed with a proposal by HRC members that he reconsider the law that would apply the status of "foreign agent" to foreign-funded NGOs.
"Everything that is not connected with politics must be excluded from the purview of this law," said Putin. However, he said that it was right to pass amendments to the law on NGOs, "so that other states will not interfere in Russia's internal affairs."
The Russian president further noted that he was not against signing a decree that would oblige government officials to respond promptly to the questions of journalists; he did, however, express that he sees certain technical difficulties in this. He said that some mechanism and legal technology must be operative in this process.
"I simply don't understand very well how we can do this," said Putin. At the same time, he allowed that officials sometimes need protection from journalists also. In the president's opinion, government employees "must not all be tarred with the same brush, and they must be shielded from baseless attacks." Putin stated that he did not see anything wrong with instituting responsibility for victimization through criticism, including from journalists.
The president further agreed to an HRC proposal urging him to ask the State Duma not to hurry a bill through that would make insults to religious beliefs punishable by law. HRC member Irina Khakamada called the amendments a "delayed-action bomb," insofar as religious beliefs are not a legal concept that can be subjected to strict interpretation.
In Putin's opinion, a law protecting the feelings of believers is necessary, "but one needs to think so as to avoid extremes." However, the president agreed that "feelings" are an emotional form. He proposed to Khakamada that she discuss this problem with the council.
Finally, Putin proposed to the HRC that it find a consolidated position on the matter of financing public television in Russia. He asked council members "to think about this, but so that neither the government nor the president does the regulating, and so that a compromise decision can be worked out."
The president's proposal of creating a presidium within the HRC with a periodically rotating membership was not discussed. In the opinion of new HRC member Yelena Topolyova-Soldunova, a presidium is necessary because working all together with such a large group is near to impossible.
"It was all very chaotic, a lot of people, everyone wanted to say what was on their mind, so we kept jumping from topic to topic," said Topolyova-Soldunova, when asked to describe the first meeting of the expanded human rights council with the president. "I didn't manage to say what I wanted to."
First published in Russian in Kommersant Daily.
All rights reserved by Rossiyskaya Gazeta.