Why don't Russian women fall when walking in high heels in winter?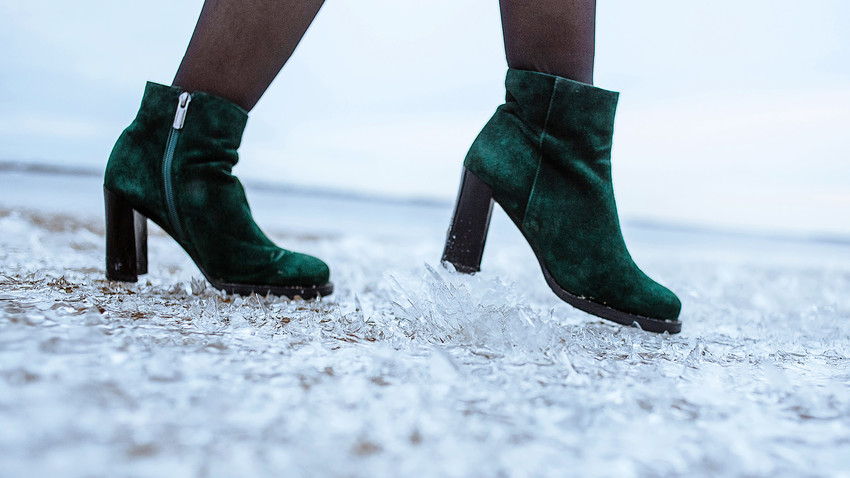 How do you look your best when strutting down a snowy, icy street in winter?
Legion Media
5 tips from Russian beauties about how to be in top form, and never fear the frost.
The Russian winter is not easy to endure and it drags on much longer than temperate zones in Europe and the U.S. In some regions, such as Siberia and the Urals, the winter lasts more than six months, but this doesn't stop Russian fashionistas from looking their best. Mounds of ice and snow don't intimidate them. Russian women want to look elegant even in the frostiest weather, and that especially means wearing high heels. So, how do they do it without falling and injuring themselves?
1. Keep your balance
Of course, the Russian winter means lots of snow, and when a path is well-trodden the snow turns to ice, making it very dangerous to walk on. Experts suggest maintaining your posture, and step from heel to toe.
Proper winter walking: step from heel to toe, gently move your weight forward as if walking on tiptoes, and bravely take the next step.
The most important thing is to maintain your balance on ice.
2. Practice, Practice, Practice
Some Russian women think that wearing heels in winter is safer than a flat shoe sole. "Even small heels should be on winter shoes," one woman wrote on an Internet forum. "Heels dig into the snow and add stability; but if you walk on a flat sole then it's like skating."
"I don't understand how to walk on ice without heels," agreed another. "Heels are great ice picks!"
To feel confident wearing heels you need to practice. If you're not sure that you can handle it, then take lessons for walking on heels. At first, practice with heels that are 5-7cm thick. After a week or two, your leg muscle will be stronger, and then you can wear higher heels.
Women who are more advanced can wear stilettoes in winter!
3. Fashion comes first
Bad roads? No sidewalks? This is no reason to forget about style. "I've been wearing stilettoes for 20 years already and can't accept anything else (not for winter, nor summer)," said another Russian woman. "And I've never failed."
4. Pretend that everything goes according to plan
Whatever happens, make it seem it was your plan all along. "Once, I saw a young lady walking on ice wearing stilettoes. She was holding her boyfriend tightly, and only this kept her from falling," shared a woman on the forum.
"I only wear heels," agreed another woman. "If I fall, then I pretend it was my plan."
5. Get up and keep moving
"Girls, for the record, if you decide to go in heels, then a half-empty bottle of wine is a must. It's better to let people think you're drunk than let them think you're unable to walk in heels," advised one man on an Internet forum.
Bonus:
Meet a woman from Tolyatti nicknamed Snow Maiden. She wears a summer dress and heels even when it's minus 20 Celsius outside! She's not afraid of the ice and frost, and says that she doesn't get sick at all. Could you imagine her in any other country?
Do you know why Russian women still wear furs and stiletto heels? If not, this article explains everything.
If using any of Russia Beyond's content, partly or in full, always provide an active hyperlink to the original material.