With the World Cup upon us, fans are setting sail for Russia's lustrous new stadiums, often not knowing what to expect. Journalist and writer Andy Potts has spent nine years travelling far and wide to Russian football matches of every rank. He speaks to us about the enigma that is Russian footballing culture.
About the first game you went to in Moscow, you wrote that the Dynamo stadium was "like a prison barracks." How on earth did that make you want to get into Russian football?
That first game I went to – the football itself was dreadful, but they made you feel at home. They have their own hopes and dreams, the same set of grievances about the referee, the same set of players they like and dislike, for the same sort of reasons. It wasn't something that was completely alien.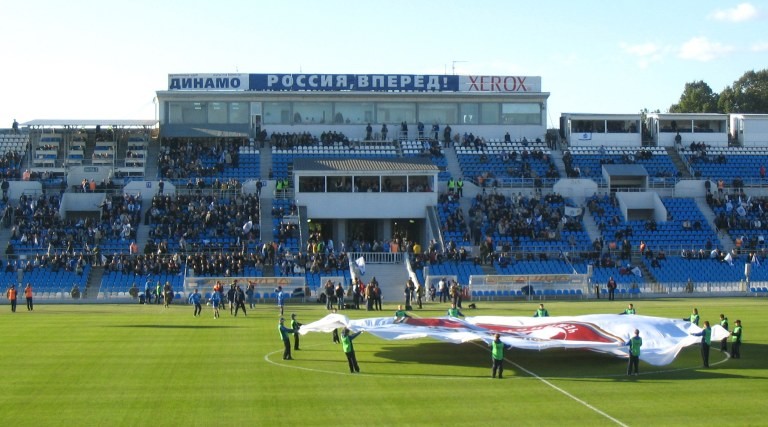 It became a fascination of mine. It was 2015 when I finally returned to Britain, which says a lot about how much I enjoyed my time in Russia.
For a beginner, how would you explain the main standout features of Russian football to someone who's arrived here for the first time?
Everything was far more regimented and drilled than a British crowd, where the noise tends to reflect what's happening on the field. Even if nothing much actually is, about 20 minutes into the game everyone bursts into applause. I was thinking "What's going on?", and it was just that at this particular point that they do their particular set of chants and songs.
You got those guys in the corner and they're kind of conducting everything; I found it a bit odd frankly, it seems strange that you'd go to a football match, turn your back on the field, and wave your arms at a thousand other people.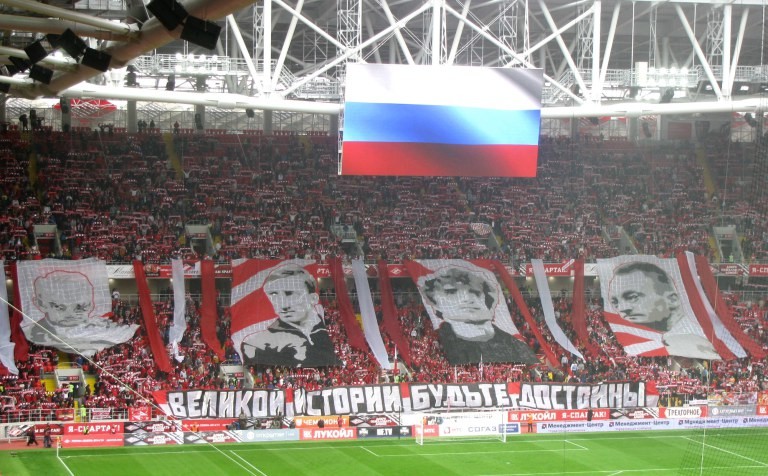 Spartak fans urge their current team to live up to the club's lustrous history prior to the opening league game at the Otkrytiye Arena.
Andy Potts
How will this be reflected at the World Cup? Do you think the atmosphere of Russian football will greet the fans coming into the country?
One of the things I talk about in the book is the way the football audience has changed in the buildup to the World Cup. There's been a kind of gentrification. It's become a bit more family-oriented. You can kind of draw parallels from the way in which English football moved towards being a more inclusive and commercial proposition.
In terms of whether we will see any hooliganism or violence, I certainly don't think that's going to be an issue in and around the stadiums, in the fan zones, that sort of thing.
We talk a lot about Russian football changing for the World Cup. Do you think the World Cup will change Russian football?
I think it'll be a great party, I think a lot of people will go away from Russia with a different view from when they came. My experience of working in Sochi at the 2014 Olympics suggests that those who come enjoy it, and leave with a positive view of Russia and the cities they visited.
We'll have to see if spending billions on stadiums in places like Saransk can generate long-term benefits for the Russian game, though. Whether this is going to trickle down and make 40,000 people watch FK Mordovia in the second division next season, I'm not sure. We need to a sensible way of progressing and developing the talent that's certainly out there.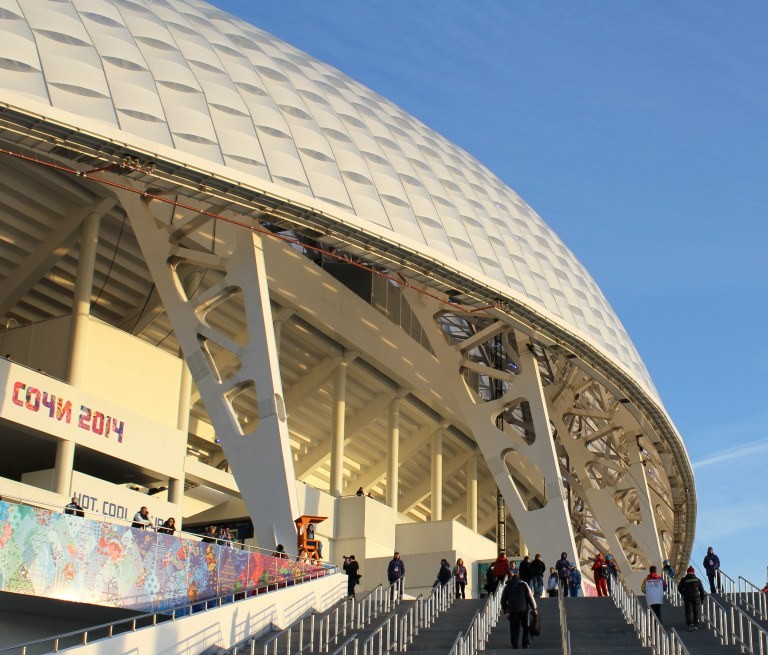 Outside Sochi's Fisht stadium before the 2014 Winter Olympic Opening Ceremony.
Andy Potts
This evokes memories of 2008, the last time Russia had a competitive national side, often looked back on with nostalgia here. They looked like a superpower in the making, but that kind of fizzled out. Could it happen again? Could the spirit of 2008 be rekindled?
It's difficult looking at the squad to pick out a player and say, "You've not heard of him, but this time next month the world's going to be talking about him." With Arshavin in particular in the buildup to 2008, you could tell that there was something a bit special there.
I think the real problem is that player development in Russia seems to stop when they get to about 22 or 23. Their position is pretty much secure, the Russian league pays good salaries in comparison with the rest of Europe, so unless you're in line for a move to a Real Madrid or a Bayern Munich, there's not much incentive to go overseas.
One of the striking things that happened after 2008 was the number of players going overseas – a handful of them, Arshavin went to Arsenal, Pavlyuchenko, Pogrebnyak – but it wasn't a huge number, and most of them didn't stay very long. Either they found it difficult to settle in another country, or they found playing a different style of football too trying. I'm sure Akinfeev was a good enough goalie to find himself another club in a big league, but probably just didn't want to.
Do you think that will change with the World Cup? Will it open Russia up more?
It might. Certainly if the Russian team performs well it will put a lot of the players on the radar of the bigger European teams. And I'm sure a lot of the Russian players will be going to the World Cup aware that this is a window to showcase themselves and land a career-changing move.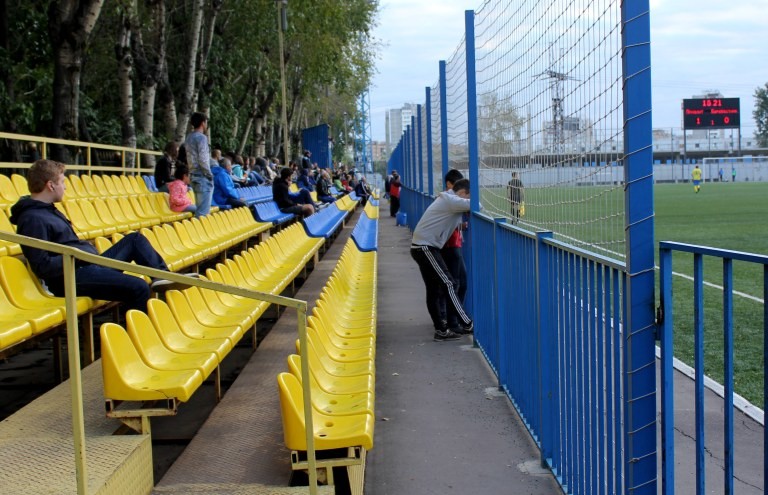 A small crowd gathers at the new seating area at Reutov's Start Stadium.
Andy Potts
Who are you keeping an eye out for?
I'm quite interested in Aleksandr Samedov. He's another one who's struck me as someone who was developing quite nicely and then hit a wall. I'll be intrigued to see how Fyodor Smolov performs. I watched him at Dynamo, and I just couldn't see an international footballer in him at all. This season he's been the best player in Russia, I'm sure he'll be the first name on the team sheet. I'll be interested to see what he's added to his game from a few seasons ago, and whether he can do it at this level.
What scores are you thinking?
I would expect Russia to get out of the group. It's not the most challenging group they could've been handed, and as we've seen in previous World Cups, the host nation tends to get a bit of a lift.
If they go on and get knocked out against a respectable opponent, that's how it goes. There's a sense that the pressure's off, so they might benefit from that.
Andy's new e-book Snow on the Seats: A fan's journey through Russian football in the run-up to 2018 is available now on Amazon.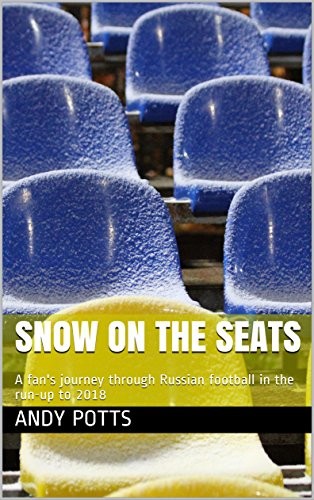 Andy Potts
If using any of Russia Beyond's content, partly or in full, always provide an active hyperlink to the original material.