Steven Seagal to the rescue: Do Russia and the U.S. need the help of a B-movie star?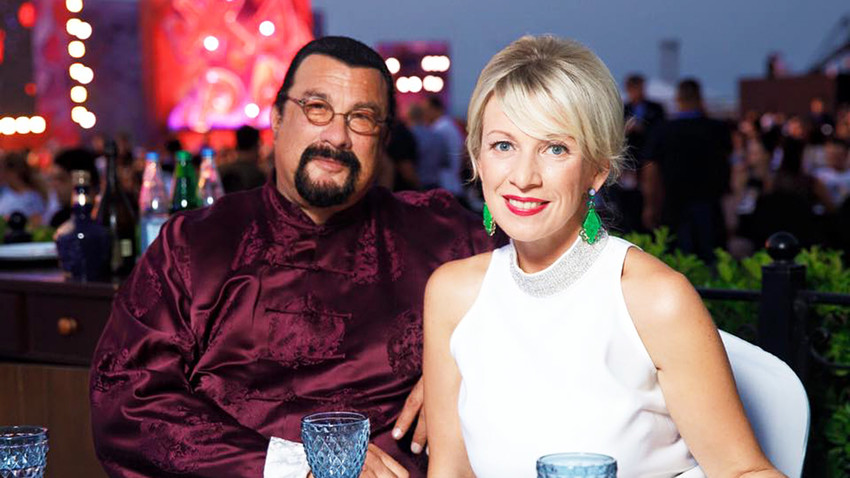 The famous American martial artist, Hollywood star and close friend of the Russian president was tapped to try to improve the tense relations between Russia and the U.S. On this issue, however, public opinion in Russia finds common ground with skepticism in the West.
On August 6, the Russian Foreign Ministry announced an unusual new appointment: the new special representative for U.S.-Russia relations will be Steven Seagal, the Hollywood celebrity, musician, martial artist and friend of Vladimir Putin.
In this new capacity Seagal will contribute to bilateral cooperation in the field of culture, arts, science, education, sports, public and youth exchanges, as well as participate in such events in Russia and abroad, and maintain contacts with American partners.
He is also expected to be involved in the preservation of memorial sites in the U.S. that are connected with Russia, and to promote the Russian-American legacy and chapters of the countries' common history.
Even though the role is unpaid, Seagal is still excited. In fact, he has promoted Russia-U.S. ties over the last few years and is happy to continue to do so officially.
"I hope we can strive for peace, harmony and positive results in the world. I take this honor very seriously," the actor wrote on his Twitter account.
From Hollywood to Russia
The Michigan-born actor, who has Russian roots, received a Russian passport in 2016 from Putin himself, and has publicly praised the Russian president on numerous occasions, calling him one of the greatest world leaders alive. Also, he has defended Russia against accusations of alleged interference in U.S. presidential elections.
"I think most people in the U.S. and most people in Russia want to like each other. We need each other. Russia and America should be great allies. That's the way it should be," he said in 2017.
While he doesn't live in Russia permanently (he kept his U.S. citizenship and acquired a Serbian one as well), Seagal visits regularly. In 2013 he met Chechen leader Ramzan Kadyrov, attended the Victory Parade and Eastern Economic Forum in 2015. Most recently, he came for Putin's latest inauguration ceremony and the Victory Parade in 2018. Also, he has launched a martial arts show in Russia. (link in Russian)
Public reaction
Seagal's new appointment has sparked public debate. Western experts such as former U.S. Ambassador to Russia, Michael McFaul, called the move "desperate," but Konstantin Kosachev, chairman of the Russian Federation Council Committee on Foreign Affairs, thinks the decision is justified.
"Russia shows that it is doing its best to avoid a point of no return in Russia-U.S. relations," he explains (link in Russian). "And it also shows an understanding that in current conditions ( …) it's necessary to appeal to public opinion in America, to those people who are not interested in further degradation in relations and who might suffer from it."
The prevailing public reaction, however, remains skeptical and sarcastic. Online users in the West discussed the possibility to make use of other celebrities.
Meanwhile in Russia, online users have joked that Seagal's martial arts skills will prove useful in diplomatic work, and that Hollywood is now a key source for specialists in the Russian Foreign Ministry.
"Steven Seagal became Russian FMA's representative. MGIMO University is going to be disbanded as useless. Hollywood will become the key supplier of specialists to the MFA."
"(…) If an agreement in negotiations is not reached, he can fight."
"-Mr Seagal is calling you on the tatami. -You might have meant "on the carpet." -No, on the tatami." (Tatami is traditional Japanese flooring)
"Steven Seagal has been appointed special representative of the Federal Penitentiary Service for torture."
"Lavrov to Seagal: Let's work like 'good diplomat/bad diplomat.'"
If using any of Russia Beyond's content, partly or in full, always provide an active hyperlink to the original material.