Cooking with Tolstoy, Gogol and Pushkin: Recipes from classical Russian writers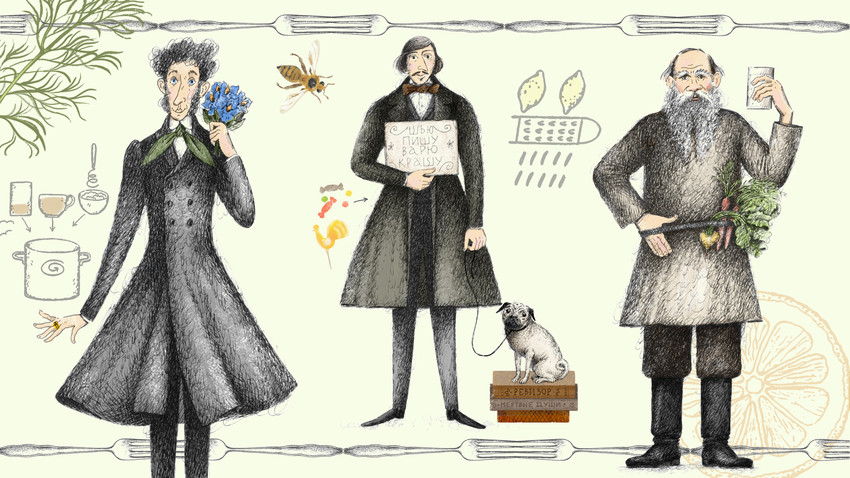 "Herring with veal. The book about food, writers and recipes", Eldar Orujev. Illustrator: Inna Bagaeva
Russian literature can teach you much about 19th century life, fine manners and beautiful women. But did you know that it can also teach you how to cook?
Potatoes

à la

Pushkin
"I eat baked potatoes like a maimist, and soft eggs like Louis XVIII. This is my dinner," wrote poet Alexander Pushkin to his wife Natalia.*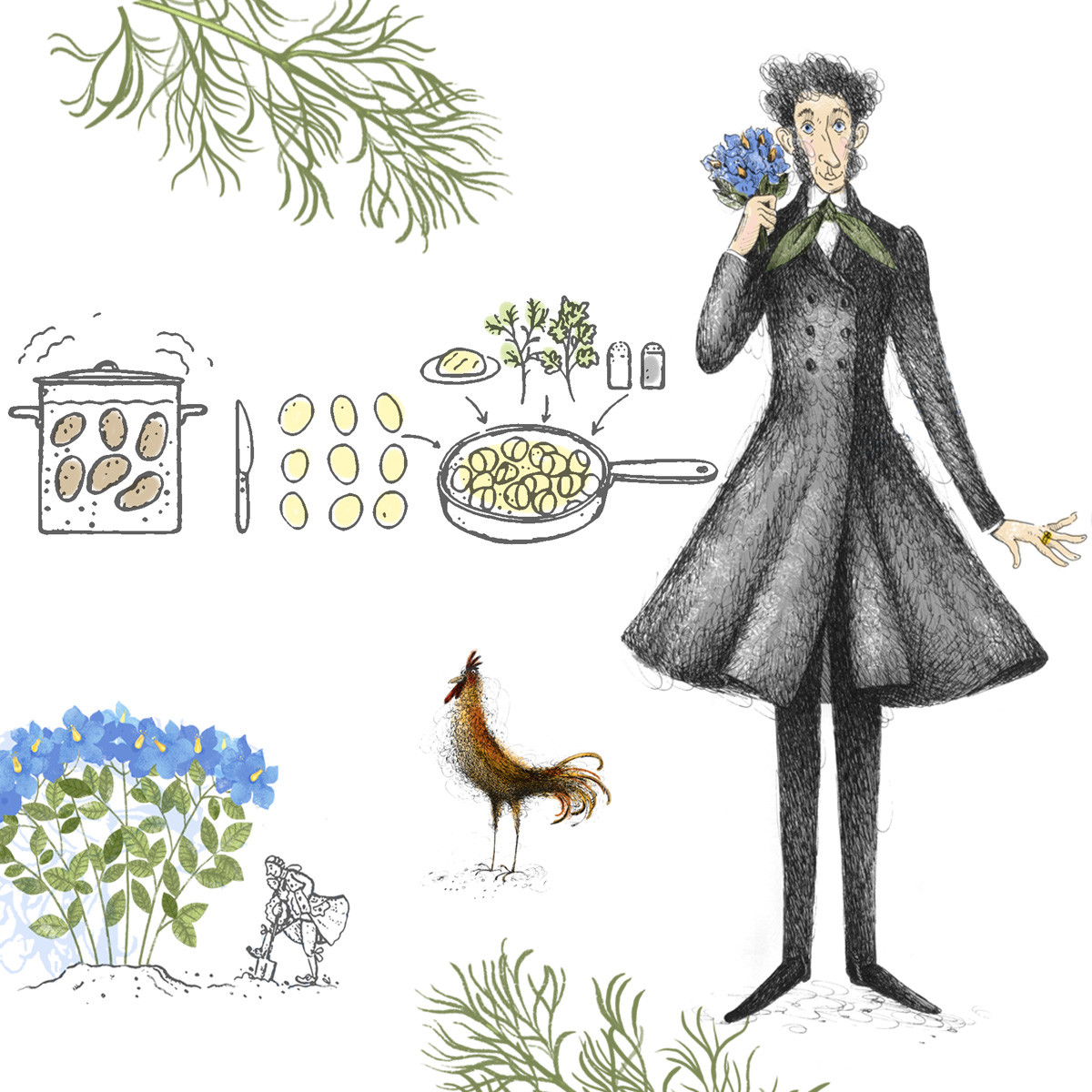 Pushkin's recipe for baked potatoes can now be enjoyed by everyone. Follow these simple instructions: Boil baby potatoes, peel, and then fry with butter, herbs, salt and pepper.
This recipe, as well as the image of Pushkin with long nails (he wrote these famous lines "You can be a sensible person/ And think about the beauty of nails ..."), can be found in Eldar Orujev's book, Herring with veal. The book about food, writers and recipes.
"This book was born by chance: I came across a recipe for krupenik, and was surprised why such a simple recipe of traditional cuisine is not popular, and so I began to study this question," Eldar told Russia Beyond. Later, he decided to make a souvenir book with recipes as a gift to his friends - thus, this edition was published, and soon will be translated into English.
Krupenik from Leo Tolstoy's family
"Krupenik can be eaten both cold and hot," says the author. "It can be done without stuffing, but can also be cooked in a variety of ways – such as sweet (with dried apricots or raisins), and vegetable (with broccoli, mushrooms, etc.). It's easy to cook, and it can be done in molds. Krupenik is made with very healthy buckwheat, but you can use any other grain."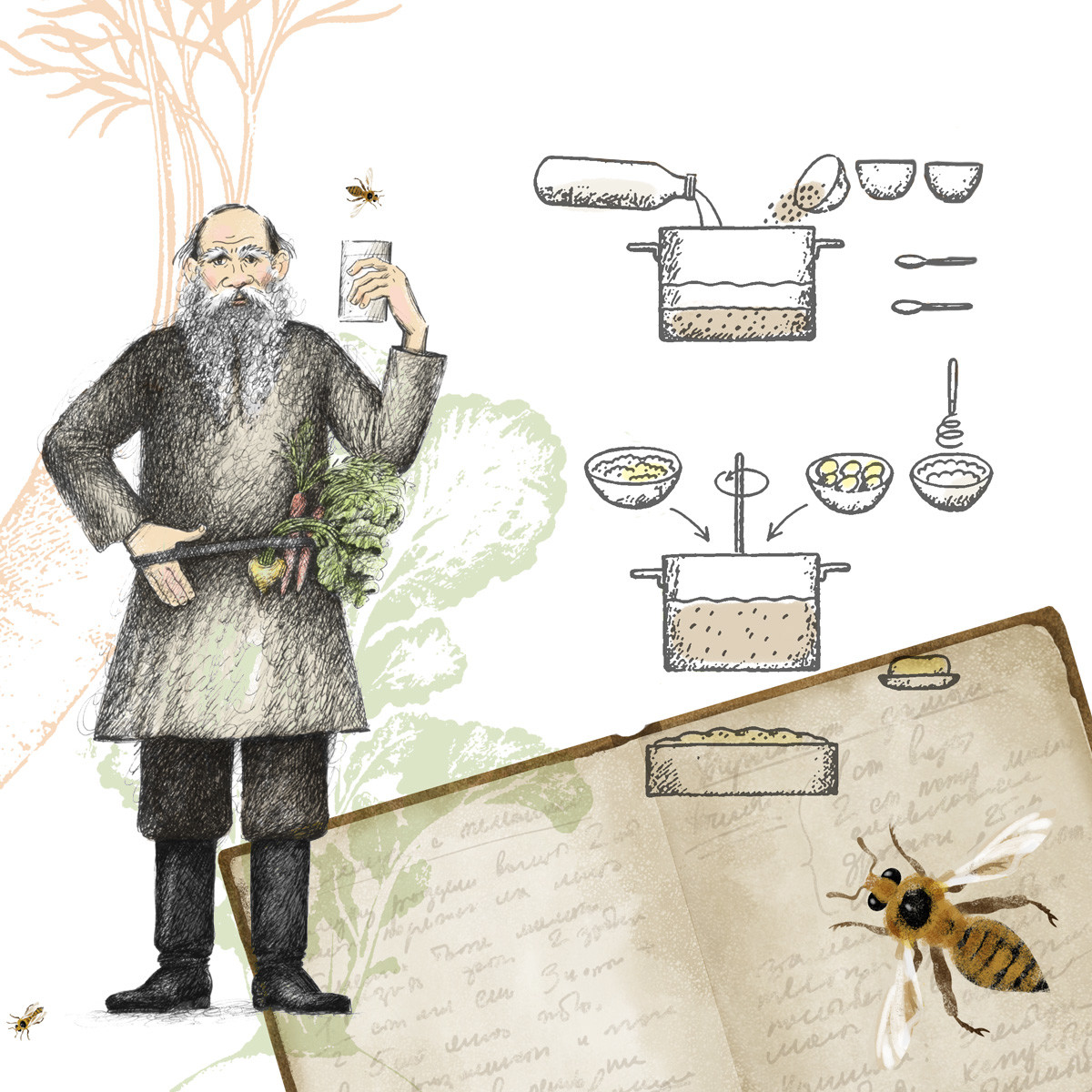 "Herring with veal. The book about food, writers and recipes", Eldar Orujev. Illustrator: Inna Bagaeva
Ingredients:
Buckwheat 600 g
Milk - to cover buckwheat
Eggs - 6 pieces
Cottage cheese - 200 g
Sugar - 1 tsp
Salt
Butter - 100 g
Preparation:
Cook buckwheat in milk, add a little sugar, salt, and let cool. Then add eggs and cottage cheese. Mix, place in mold, top with butter and cook in preheated oven (180 °C/ 350 °F) for 20 minutes.
Boozing like Gogol
Orujev's book has several lines from Gogol's letter to his uncle: "You don't know all my merits, I know some crafts: a good tailor ... I work in the kitchen and I understand cooking well ..." . And then the recipe for the cocktail, Gogol-Mogol. Try to make it yourself.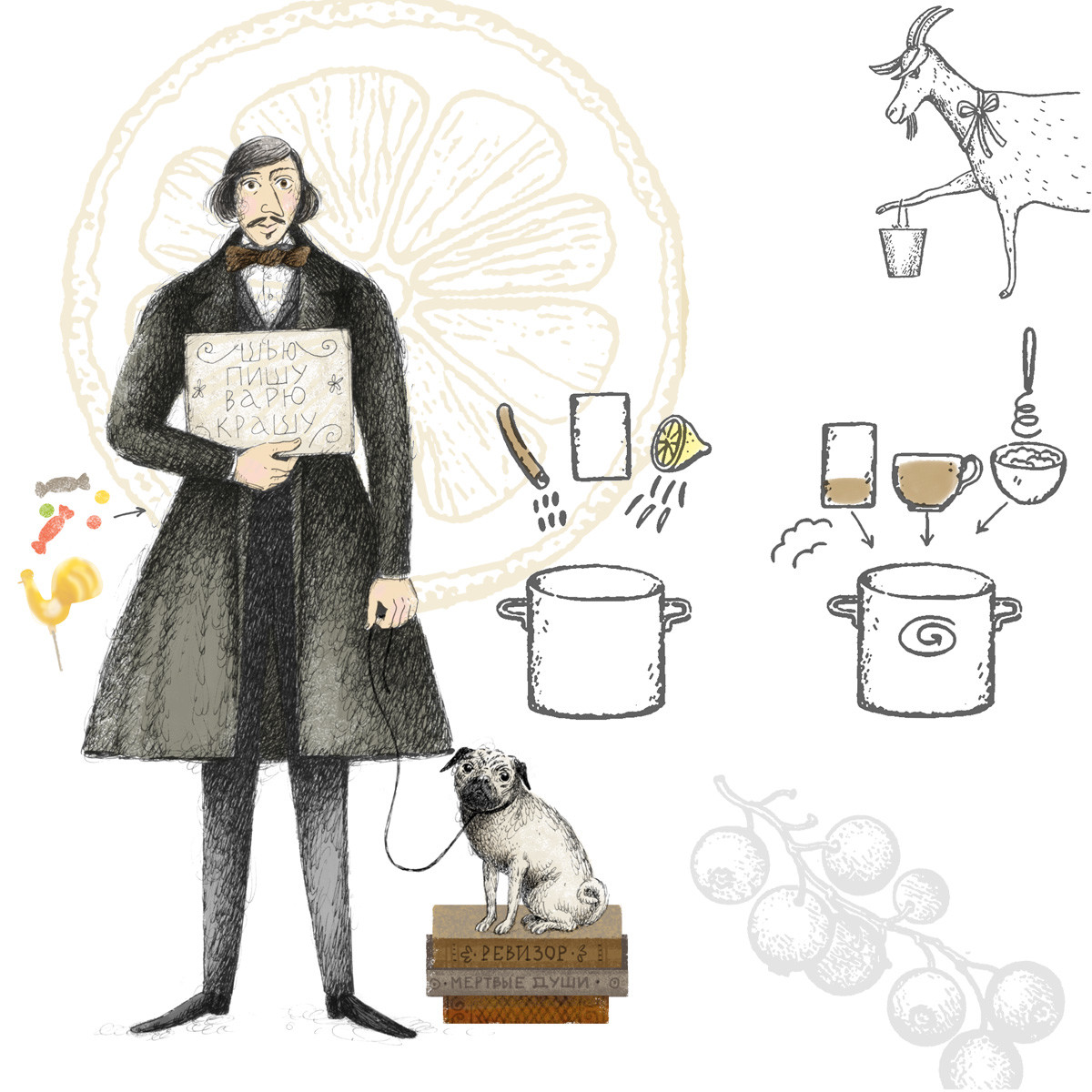 "Herring with veal. The book about food, writers and recipes", Eldar Orujev. Illustrator: Inna Bagaeva
Ingredients:
0.6 liter of goat's milk
half a lemon peel
50 g of sugar
1 egg white
50 ml of dark rum
100 ml brandy
a pinch of cinnamon
Preparation:
Heat the milk in a saucepan with lemon peel, sugar and cinnamon. Boil and quickly remove from stove. While stirring, add whipped egg whites, then rum and brandy. Serve hot.
*Maimist - an obsolete nickname for the Baltic-Finnish peoples living in Imperial Russia who didn't understand the Russian language.
Check out these favorites of Russia's greatest writers to find more inspiration for dinner.
If using any of Russia Beyond's content, partly or in full, always provide an active hyperlink to the original material.