5 best places for nightlife in Vladivostok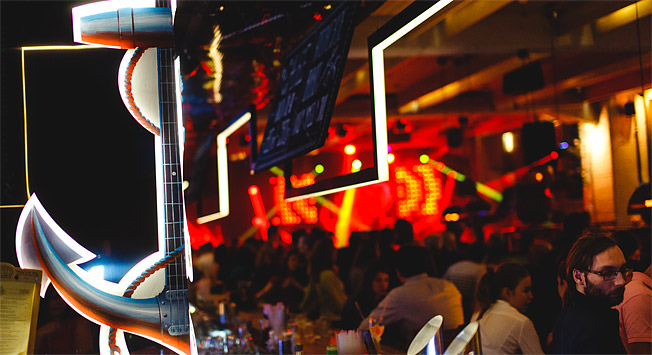 Rock bars with live music, classic cocktail bars, chic night clubs and Soviet retro drinking spots—create your own bar-hopping route and be assured that heading to Russia's Pacific Ocean port, Vladivostok, is a great choice for first-rate nightlife.
1. Craft beer, grilled sausages and rock'n'roll
An Irish pub, a rock cafe, the Pacific Ocean embankment and local musicians: stirred but not shaken, this is the recipe for the music club and restaurant "Kot i klever" (Cat and a Clover). This club's mix has many nuances that are all worth trying, including its famous jazz, blues and rock jam parties on the club's stage on Tuesday evenings.
The first nuance is the club's craft beer menu, which they hand craft in small quantities at a brewery in Nakhodka 180 kilometers from Vladivostok. The second nuance is the club's interior. Each of the four halls is designed in different styles: the dance floor and restaurant area are decorated with rock posters and records brought in from different corners of the globe. There are guitars and drums on the walls and chains hanging from the ceiling, which makes the club feel full and rocking at all times. The third nuance is the club's live music. Everyday (except for Sundays and Mondays) local musicians of all stripes appear on the stage—from blues to hard rock. You can see what's happening on the stage from anywhere in the club as it's broadcast on televisions. The fourth and final nuance is the food. The menu here is filling: grilled kolbasa, steaks, a meaty kharcho soup fried potatoes and other comfort foods.

2. Vladivostok's poshest award-winning nightclub
Cuckoo has long been one of the most stylish clubs of Vladivostok and was recognized as one of the world's top 100 nightclubs with a World's Finest Clubs award in 2010. This glamorous and expensive spot is housed in a historic mansion on Okeansky Prospekt (one of the city's main thoroughfares), just two steps from the city's main square.
Practically every dance night that the club hosts (Wednesdays, Fridays and Saturdays) there is a huge line out front of those hoping to get in. Keep in mind that Cuckoo has quite strict face control, so it's best to dress up for the occasion. Habitual denizens of the club recommend coming here after midnight. The club opens at 23:00 and things don't really begin heating up until around 02:00.

3. Beer, friendship, Mumiy Troll
On Pogranichnaya ul. there are three music bars, each with its own concept – a rock bar, a karaoke bar and a retro back-in-the-USSR bar, all within one minute walk from one another. Due to their proximity these three places – Mumiy Troll music bar, karaoke bar Salon, and Druzhba – represent something like a closed circle: you can eat and have a drink in Druzhba, go to a gig in Mummy Troll and after head to Salon and sing karaoke and complete the circle by returning to Druzhba for a bite.
Although the clientele at these locations differ, face control on the weekends is equally strict at all of them. Locals dress up and you should, too. Here is a tip: if you were turned down at the entrance to Mumiy Troll bar you can try to get in through Salon, as these two bars are connected.

4. BSB Club
Several generations of Vladivostok residents have gotten older and moved on, but two things remain the same: this is still the best place in the city to rock and Sasha still pours the drinks having worked here for more than 20 years now. For many rock music fans in the area, this is like a second home. Live rock concerts are still the main attraction at BSB as it has been for years and its special atmosphere remains. Most nights there are live concerts of local bands and visiting rock stars (including such Russian superstars as Boris Grebenshchikov and Zemfira) and this place is notable for being laid back, yet safe. Nobody here cares about what you look like – wear what you want and let your hair down.

5. Moonshine bar
The bartenders here are talented. Here you can order booze by saying: "I would like something not too strong, but that will make my head spin, with a slight bitterness and the smell of summer, something like a moon, you know!" and the bartender will make a cocktail that ideally suits your mood.

Moonshine pays tribute to the time of prohibition in the U.S. (1920-1933), and denotes a homemade unaged bourbon whiskey that was popular at that time. If you are going to visit this watering hole, don't ignore their cocktail menu. The preparation of cocktails here is a kind of art. The bartenders resemble magicians with their moves and after tasting one of their drinks you'll realize that they also possess psychic powers. The best penicillin cocktail (honey, lemon juice, ginger and scotch) in the city is to be found here, as well as an exclusive range of cocktails including their flagship drink - Brighton (no doubt named for the Russian enclave in New York) - a classic Manhattan with a twist of sea buckthorn and polugar, a strong traditional Russian bread wine.

Find out more about things to see and do in Vladivostok and its vicinity at vladivostok.travel

All rights reserved by Rossiyskaya Gazeta.