This week, old news is amplified by new developments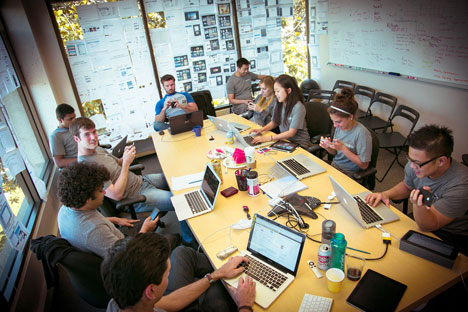 E-commerce makes up a sizeable chunk of the economy. Source: PressPhoto
Investment gaining pace as Russian Internet audience ages and Russians opt for cloud services.
The new old trend
Experts at the Higher School of Economics had predicted an annual 30 percent growth rate in Internet use in Russia, and data reported this week showed that indeed, this level of growth was reached. However, the numbers showed one less-predictable trend – according to market research firm TNS, the share of Russian Internet users aged 12-18 years halved during the past five years, from 20 percent in February 2008 to 9.1 percent in February 2013.
According to TNS, this change can be explained by demographic changes – more and more older Russians are getting online, which makes the number of young people using the web less significant.
Dominant Russian search engine Yandex has recently made changes to its algorithm to create search results better suited to an older age group, including advertising results on the general search page. This is good news for commercial companies since older users have a higher buying capacity than teenagers.
So far, no one is attributing the decline in younger users to the recent legislative acts aimed at keeping younger users from viewing certain types of online content.
Taking on the cloud
Mail.Ru, a major communication portal on the Russian Internet, has announced the launch of a proprietary cloud storage solution, Oblako@Mail.Ru. Users have been invited to apply to use the service prior to the launch.
The service promises 100 gigabytes of free storage. In marketing terms, the impressive round figure gives Mail.Ru a definite edge over the competition. For instance, local competitor Yandex only offers 10 gigabytes free; users can pay $1 a month for an additional 10 gigabytes or $15 for 100 gigabytes. Dropbox only offers 2 gigabytes free to start, and Google Drive – 15 gigabytes.
So far it is yet unclear if the 100 gigabytes can lure customers away from other competitors, but the idea seems promising.
Keeping up with new trends
On Aug. 20, Y Combinator's Summer 2013 Demo Day announced its top eight startups. None of the winners were from Russia, but the projects echo trends in the local market.
The two winners, AMULYTE and TRUE LINK, provide services for older people. The services provided by AMULYTE are analogous to those of the Russian start-up Knopka Zhizni (Life Button). Both products are designed to help out seniors in emergencies. TRUE LINK helps retirees make their online credit card payments more secure.
The other winners were: PANORAMA EDUCATION, an educational service facilitating polling and data collection in schools; the social project 7 CUPS OF TEA for those beset by loneliness; a simplified mail delivery project EASYPOST; financial apps STANDARD TREASURY and BUTTERCOIN, which simplify bank transactions or money transfers in digital currencies; and, finally, something for hipsters – SPOONROCKET, a project for delivering organic foods at reasonable prices.
Moscow pays angels
Meanwhile, if the interests of Western Internet users are largely in keeping with Russia's, the growth of the Russian startup market promises to be at least as dynamic for investors, if not more so.
On Aug. 19, API Moscow – a technology acceleration program – was launched under the auspices of Digital October. The new business accelerator's budget has already reached 1.5 billion rubles ($45 million).
All in all, state budget allocations to innovation programs and projects total 2.18 trillion rubles ($65 billion) in 2013 – the biggest sum ever earmarked for innovative development, up 40 percent from the previous year's figure.
While RBTH, just like the expert community, has certain doubts that innovative development problems can really be addressed simply by injecting large amounts of money, the figure is still fascinating. Hopefully, it will pave the way for something really big on a global scale, as the new accelerator is positioning itself as an international platform by accepting applications from non-residents.
Briefly, this is an overview of last week's events. RBTH is keeping tabs on each week's key events to share with you. Stay with us to learn more! Thank you!
All rights reserved by Rossiyskaya Gazeta.