How long will the Kremlin support Syria?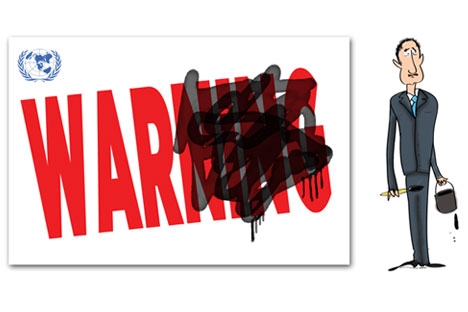 The reaction to the Houla massacre led some to believe that Russia was changing its position, but other evidence shows this is not necessarily the case.
Following reports of the deaths of more than a hundred civilians, including children, in the Syrian village of Houla, Syrian diplomats are being expelled from Western capitals. Meanwhile, in Damascus, former UN Secretary General Kofi Annan is making a last-ditch attempt to persuade Syrian leader Bashar al-Assad to accept his peace plan.
The massacre in Houla was enough to persuade Russia and China to join a UN Security Council statement of condemnation. While some viewed the statement as an indication that Moscow is giving up unreserved support of the al-Assad regime, others have noted that Russian Foreign Minister Sergei Lavrov's remark that the fate of Bashar al-Assad is not as important as putting an end to the violence means that Russia has not changed its overall position.
Without providing any evidence to support their view, Russian officials continue harping on the fact that only a few inhabitants of Houla were killed by government troops while the rest died at the hands of the insurgents. In putting forth this view, Moscow is repeating Damascus's propaganda like a mantra while brushing aside eyewitness testimony. Theories about foreign terrorists who have come into Syria to challenge the regular army pour from the mouths of Russian government officials and TV presenters.
But it should not be surprising that the opposition Free Syrian Army includes people of different persuasions, including Islamic fundamentalists. It is equally clear that these insurgent forces are pitted against the regular army, which has tanks, guns and the support of the Air Force. It is common sense that the forces are unequal and that the government bears a larger share of responsibility. That Assad has been given many chances to stop the slaughter and embark on political settlement is not open to question; that he is unlikely to yield is becoming increasingly clear.
The moment of truth is coming. The Kremlin will have to make up its mind whether it is ready to stand by its last Middle East client state to the end, not so much for the sake of arms contracts or the naval bases at Tartus as to impose on the world its idea of sovereignty as an indefinite license to engage in thuggery.
The crucial moment will come when the West finally faces up to the crucial question: In what way does Gaddafi's thuggery differ so substantially from that of Bashar Assad that Libya required international intervention while Syria does not.
First published in Kommersant FM.
All rights reserved by Rossiyskaya Gazeta.