Lavrov calls for stronger ties with the U.S. and China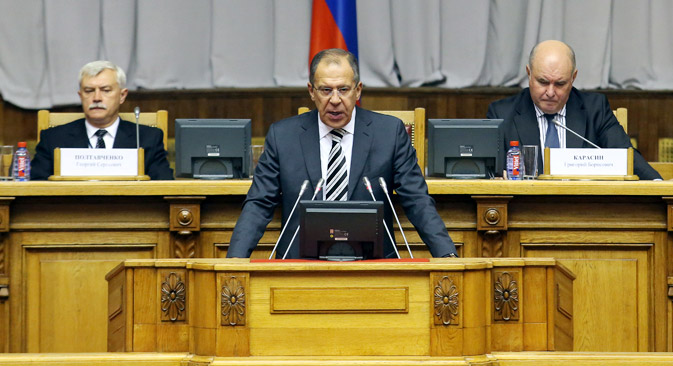 Russian Foreign Minister Sergei Lavrov hopes Moscow will strengthen its partnership with U.S. and China. Source: ITAR-TASS
Russian Foreign Minister Sergei Lavrov promised that, as far as cooperating with the new U.S. administration and China's new leader, Moscow is ready to step up its collaboration with Washington and Beijing.
U.S. President Barack Obama was re-elected for a second term in early November, and the Communist Party of China has chosen its new leader Xi Jinping. Russian Foreign Minister Sergei Lavrov tells Moskovskiye Novosti how the country proposes to build a dialogue with the leaders of the world's two biggest economies.
Moskovskiye Novosti: What are we to make of Obama's victory?
Sergei Lavrov : It's the choice of the American people and the will of the voters.
Naturally, we will continue to work with the administration, which will likely get some new faces. We are ready to work with the U.S. on the basis of equality, mutual benefit and respect. Our countries have many common interests.
At the same time, we differ on some issues, it can never be otherwise. We will be prepared to go as far in deepening cooperation as the U.S. administration is prepared to go.
MN: Are we ready to propose a new agenda and are the Americans ready to discuss it?
S.L.: Actually, we are already discussing it. There has been considerable progress in Russo-American relations on this front, something that has been practically absent for a long time. I am referring specifically to contacts between people here.
We have signed an agreement to ease visa requirements for businessmen and tourists, which will substantially facilitate travel for these categories of people. I would also like to mention the agreement on international adoption that came into force a week ago.
Our countries have a shared interest in the development of a comparatively new mechanism of cooperation ‒ the East Asia Summits (EAS) initiated by the ASEAN countries and their key partners. Russia and the U.S. became EAS participants two years ago. The agenda offers a fairly wide range of topics on which we can cooperate fruitfully.
The accumulation of formats in which our paths cross – areas in which we are closely involved with the Americans – creates a sound political foundation from which positive joint actions can be built, even as differences on some aspects of the region's development remain.
MN: Can we expect some nuances from the new Chinese leadership, or are our relations with China so linear that everything is clear for a long period ahead?
S.L.: The adjective "linear" is commonly used to denote some kind of simplified approach. This is not the case. We have highly ramified and rich relations with China, which have the character of strategic partnership and interaction, as recorded in statutory Russian documents. These relations will deepen. We are interested in this, and our Chinese partners are too.
As for the new Chinese leaders, I understand from the results of the latest Congress of the Chinese Communist Party that our dialogue with Beijing traditionally proceeds practically at all levels. In addition to the top echelon, contacts are developing with almost all the members of the CPC Central Committee Politburo, from amongst whom candidates are chosen to be presented to the Congress.
We do not expect any surprises. We are convinced that the Chinese side will continue to deepen its partnership with Russia and ensure continuity. We are ready for and interested in this.
The interview is abridged and first published in Russian in Moskovskiye Novosti.
All rights reserved by Rossiyskaya Gazeta.