Goats, cows, log houses and forests… now replaced by colorful high-rises, fancy parks and modern highways. These Moscow outskirts used to be ordinary villages and towns.
Moscow was not built at once - the ancient city is still expanding, annexing new villages and towns. In total, over 220 rural settlements became Moscow districts, but the exact number of them is hard to estimate. Active development of the outskirts started in 1960, when it became necessary to solve housing (many people lived in communal apartments) and traffic (with the construction of the Moscow Ring Road) problems. Then, Moscow, with its six million inhabitants, increased almost twice in size and its new districts filled up with panel houses, which defined the appearance of ANY residential area in Russia until recently. By the 1980s, when the number of official residents exceeded eight million, Moscow went beyond the Moscow Ring Road, joining the districts of Butovo, Zhulebino and others. And, in 2012, the 12 million-people strong Moscow increased by almost 2.5 times again, annexing several towns up to the border with Kaluga Region, thereby becoming Europe's largest city. Today's residential areas include lots of high-rises, shopping malls, parks and public sites. We've chosen seven villages to compare how they look - then and now.
1. Konkovo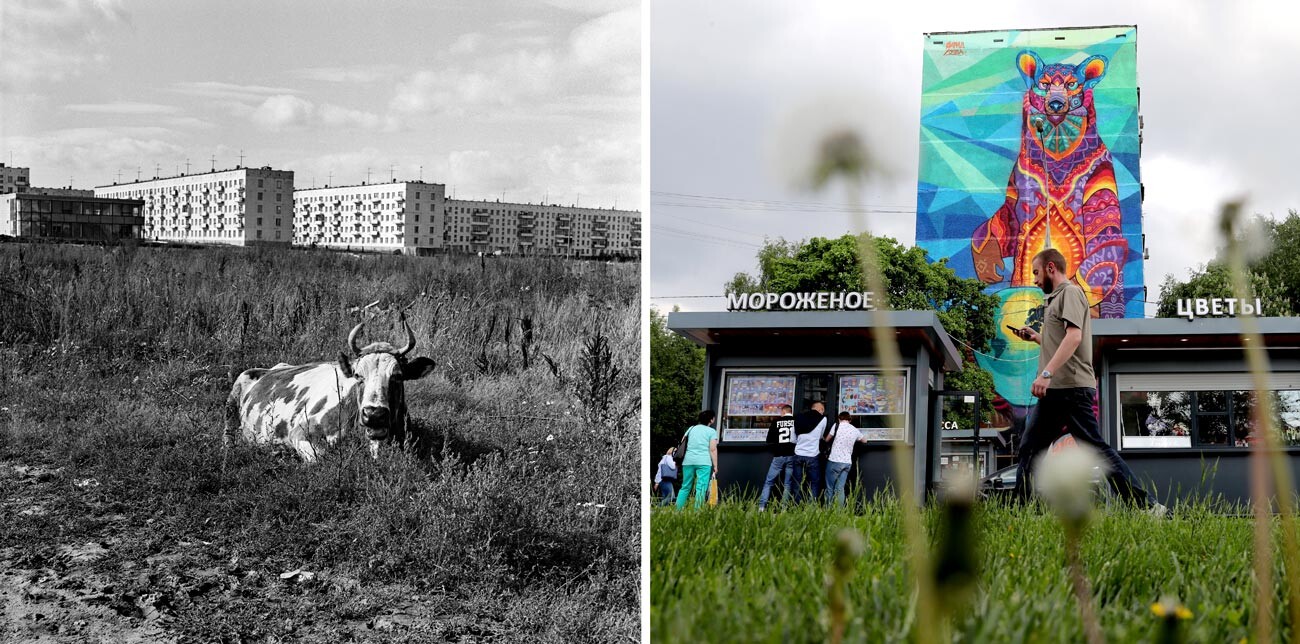 Between 1960-1986, several neighboring villages became the new Konkovo district in the south-west of Moscow (where you will find subway stations Kaluzhskaya, Belyaevo and Konkovo) with its main highway, Profsoyuznaya Street. This is a very beautiful area, where you won't find industrial territories; instead, there are lots of parks, hills and old churches. It's a pleasure to walk around Konkovo! In old photos, you can see that while they were building panel houses, cows were still grazing around them.
2. Kozhukhovo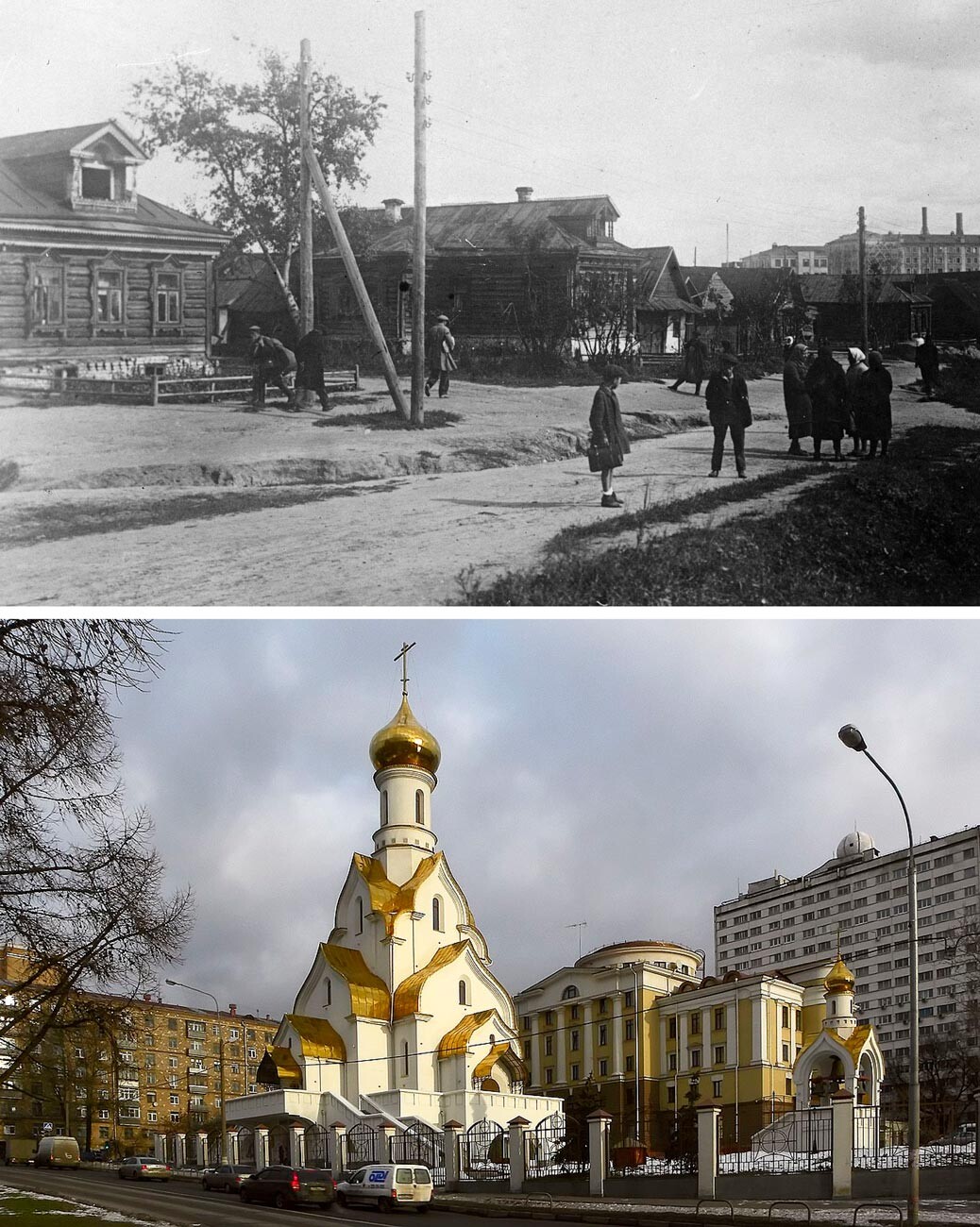 Above: The village of Kozhukhovo in 1951. Below: Alexander Nevsky church in Kozhukhovo.
Sputnik; Yevgeny Izmailov (CC BY-SA 3.0)
This is one of the oldest villages in Moscow, which has been known since the 15th century and, since 1923, was included in Moscow. Kozhukhovo in the south-east of the city had its own railway station even in tsarist times, but the log houses remained here until the 1970s, when the area was finally surrounded by concrete buildings.
3. Troparyovo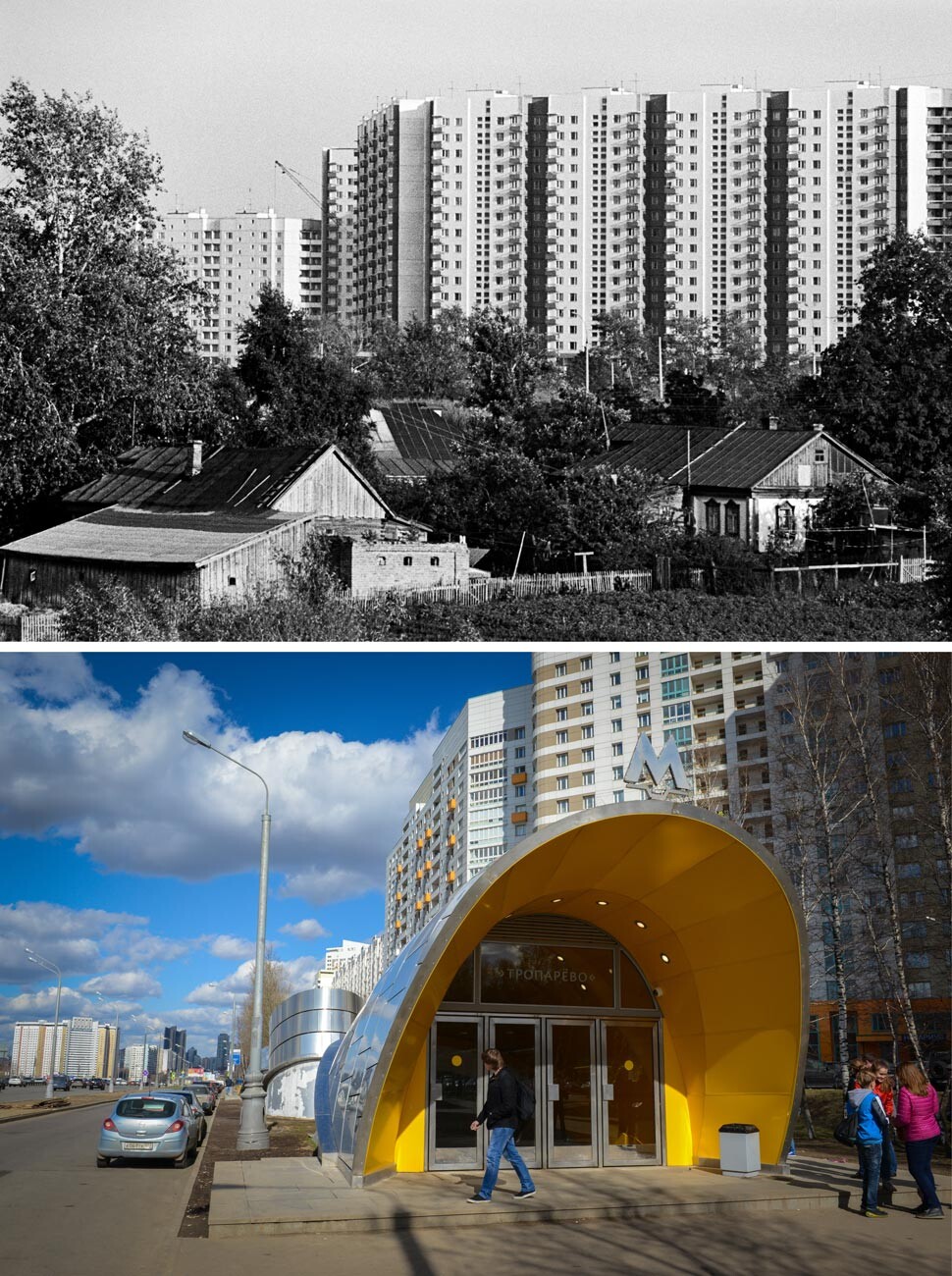 Above: Wooden houses of the Troparevo village, 1978. Below: Troparevo metro station, 2019.
I. Zotin / Sputnik; Nikolai Galkin / TASS
Troparyovo district in the southwest of the city was built on the site of the village, which became Moscow in 1960. The name came from its first ruler, boyar (a noble) Ivan Tropar (the word 'tropar' means a religious song in a church), who was buried here in 1393. During the Soviet years, there was a big kolkhoz (collective farm) with good transport connection, a school and a store. The last wooden houses were demolished in 1981. And, in 2014, a metro station was opened.
4. Chertanovo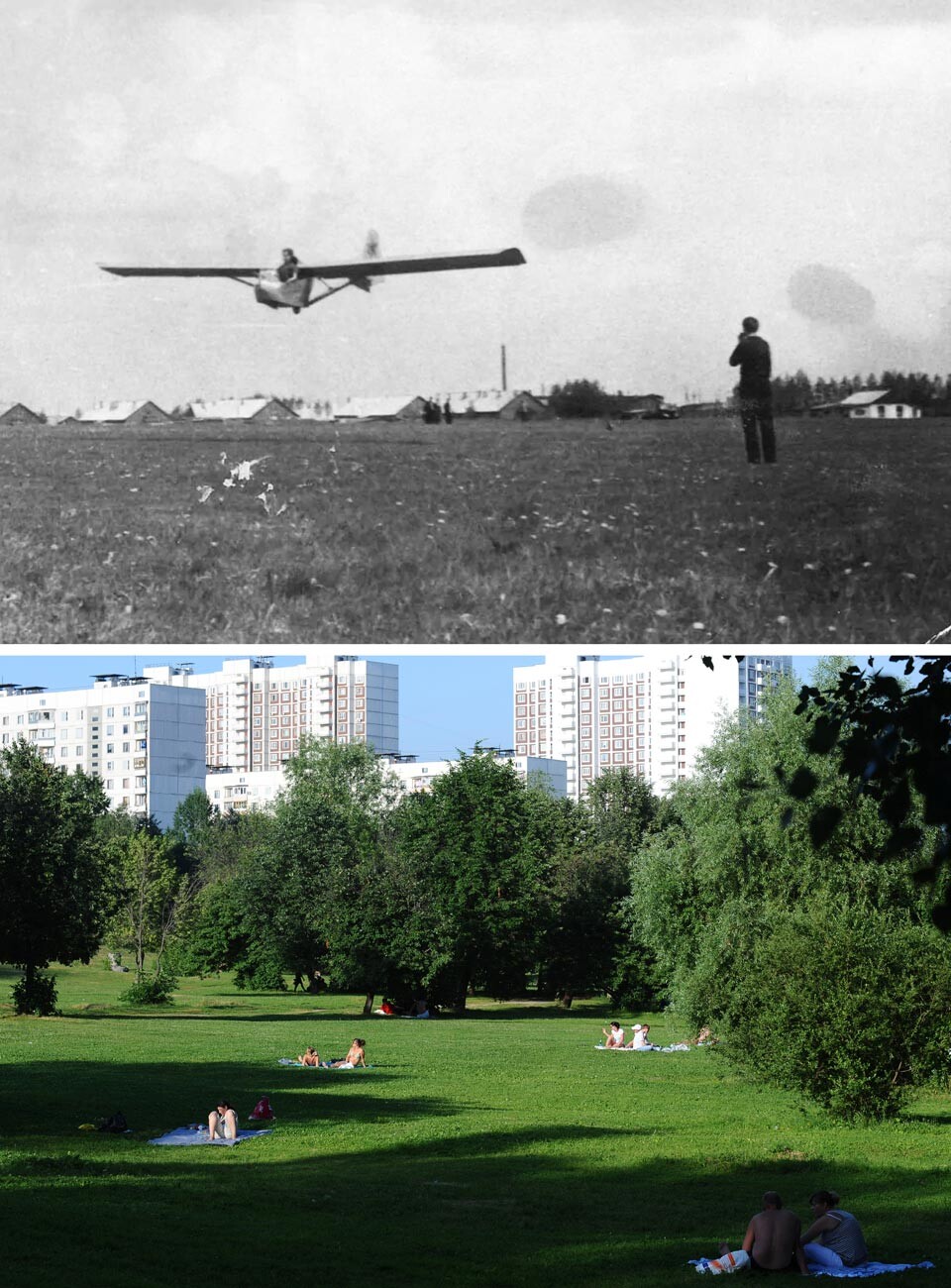 Above: Chertanovo airfield, mid-1960. Below: A park in Chertanovo, 2010.
Moscow's 2nd aviation club's archive /pastvu.com; Valery Sharifulin / TASS
The former village of Chertanovo in the south of Moscow became its part in 1960. Besides a kolkhoz and other agricultural areas, in the 1940s-1960s, there was an airfield where you could learn to fly a glider. Then the village began to be built up with panel houses and the northern part of Chertanovo was even designed as a model neighborhood and considered a "Soviet paradise", which could be shown to guests of the 1980 Olympic Games. (Read more about that here)
5. Cherkizovo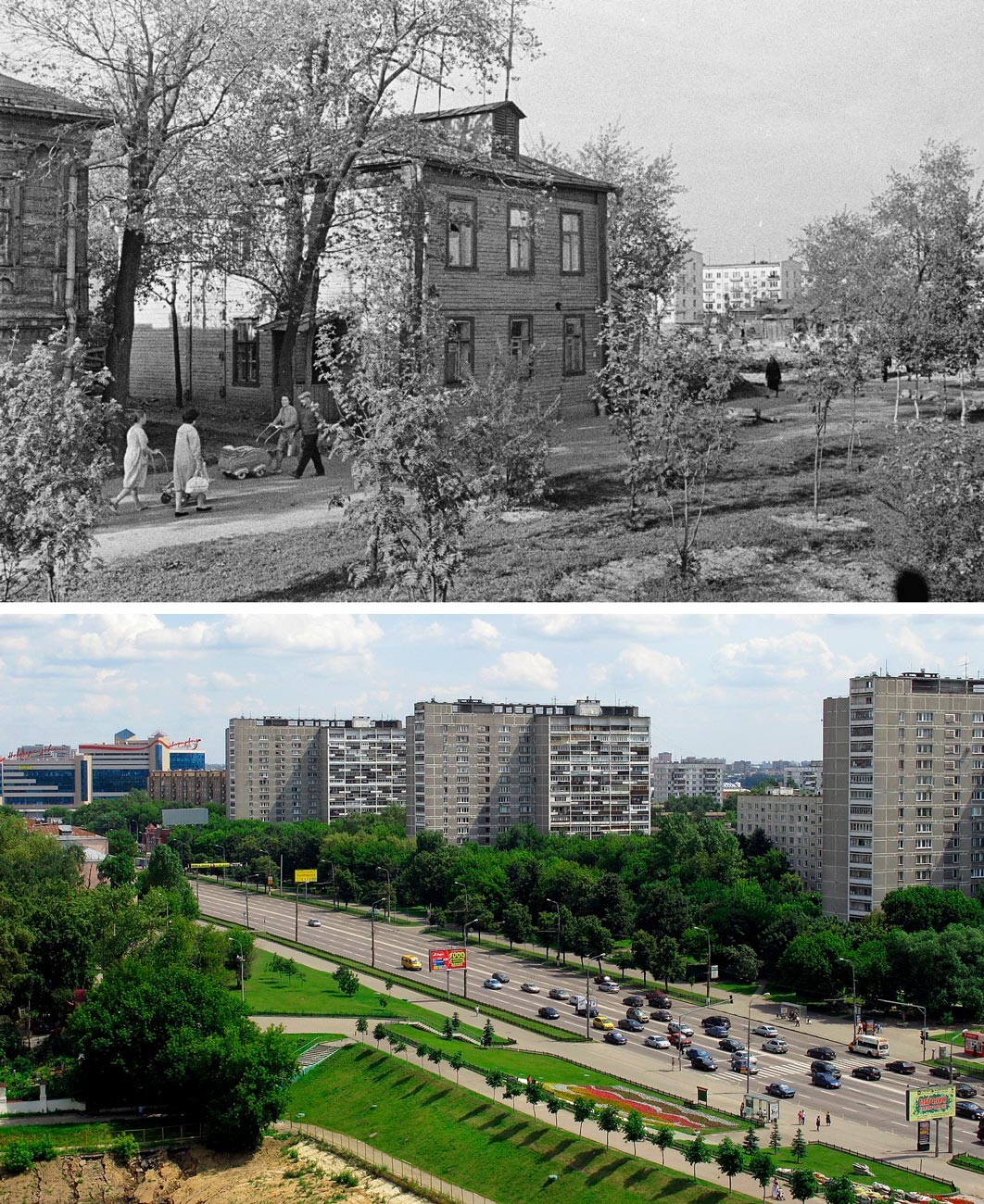 Above: Old houses in Cherkizovo, 1964. Below: Bolshaya Cherkizovskaya street, 2009.
Anatoly Garanin / Sputnik; Lodo27 (CC BY-SA 3.0)
The old village of Cherkizovo-Podmoskovnye in the east of Moscow became part of the city in the early 20th century, but, until the 1970s, it still resembled a village with its wooden houses and gardens. Now, Cherkizovo is included in the Preobrazhenskoe District and the village's name remains in the names of several streets and subway stations. You will also find the preserved Church of Elijah the Prophet, built in 1690.
6. Cheryomushki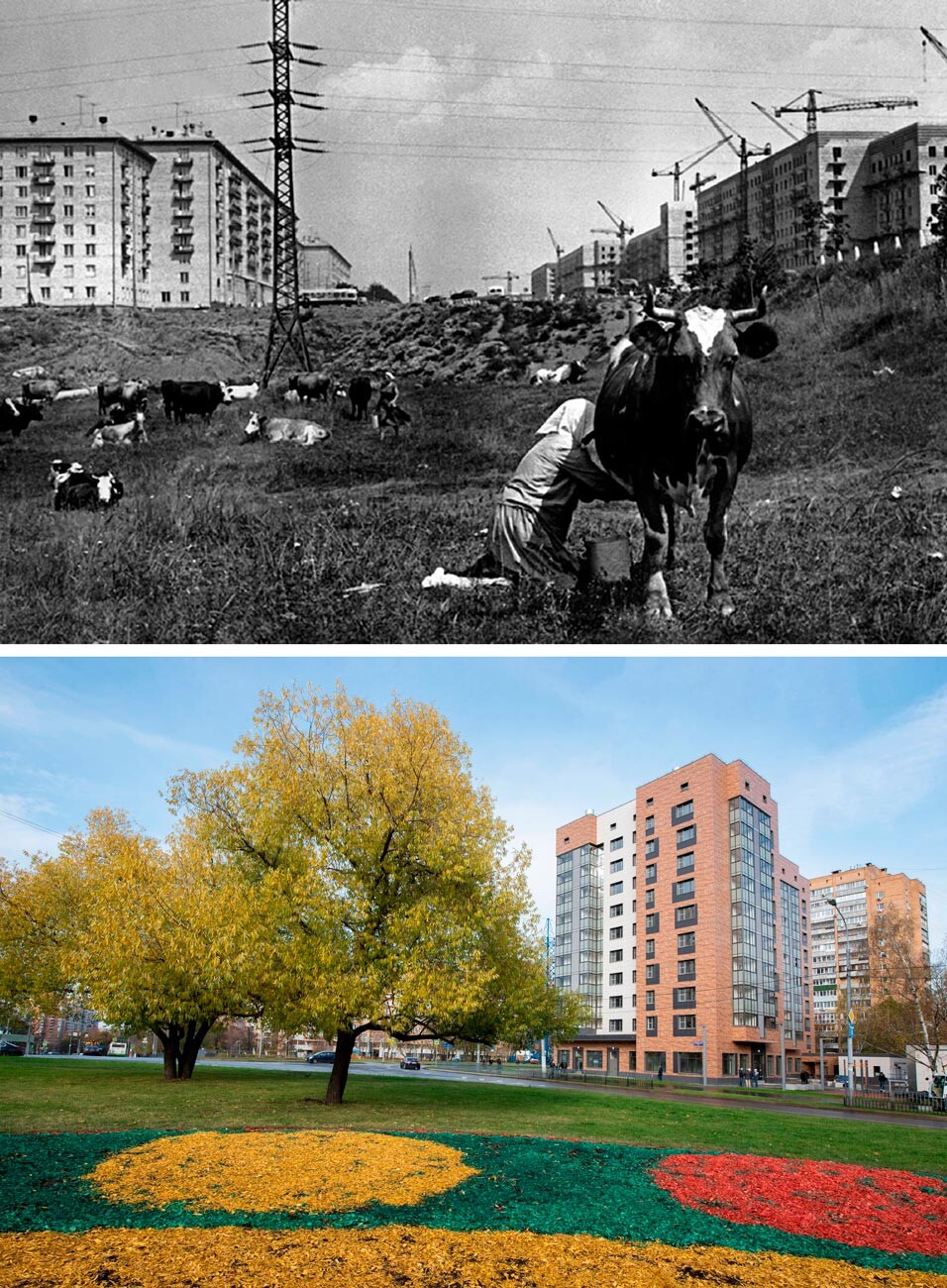 In 1956-1959, the village of Cheryomushki in the south-west of Moscow was the area of the first housing development made up of 'Khrushchyovkas' buildings. It became a part of Moscow in 1958. The experimental site consisted of 13 four-storey and seven eight-storey buildings. The pilot apartments were tiny, but facades were decorated with brick, the courtyards had real fountains and pergolas for plants and the development had its own stores, canteens and even a cinema. (read more about it here)
Today many old 'Khrushchyovkas' in this district are replaced with new multi-storey buildings with big apartments and modern infrastructure.
7. Kuryanovo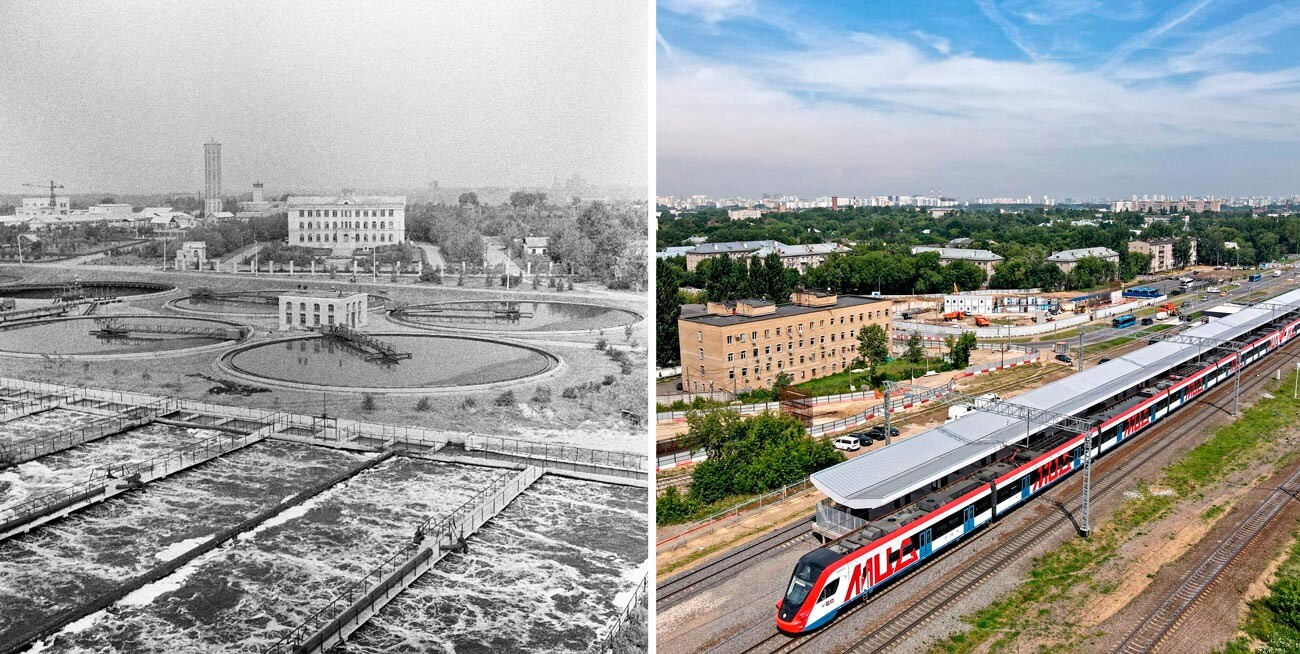 Left: Kuryanovo in 1967. Right: Kuryanovo railway station.
Yury Artamonov/ Sputnik; mos.ru
If you wondered where the time stopped in Moscow, it's in the village of Kuryanovo (in the southeast) that has been part of the city since 1960. Kuryanovo is bordered from the city by the railways and going there is like taking a little trip to the Soviet past. In this area, most residential buildings are still two-storeyed with many gardens in the backyards. And here's a big Lenin's monument in the center of the district. Locals like their neighborhood for its authenticity.
8. Vykhino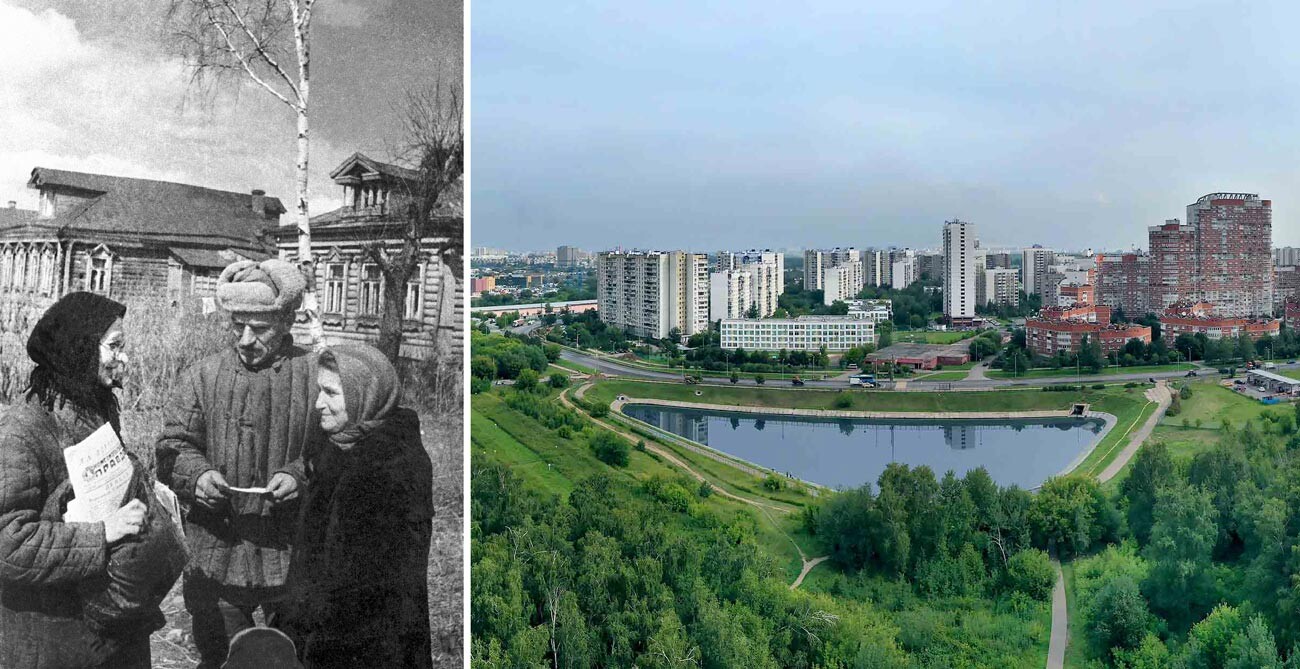 Left: A postman talks with locals in the village of Vykhino, 1944. Right: A pond in the Vykhino-Zhulebino district.
Nikolai Sitnikov / TASS; (CC BY 4.0)
In 1960, the village of Vykhino in southeastern Moscow joined the city. The old settlement, together with the Lenin collective farm, was demolished and residents were moved from their log huts to modern panel houses. Today, Vykhino is one of the largest districts of Moscow, where more than 220,000 people live.
9. Kommunarka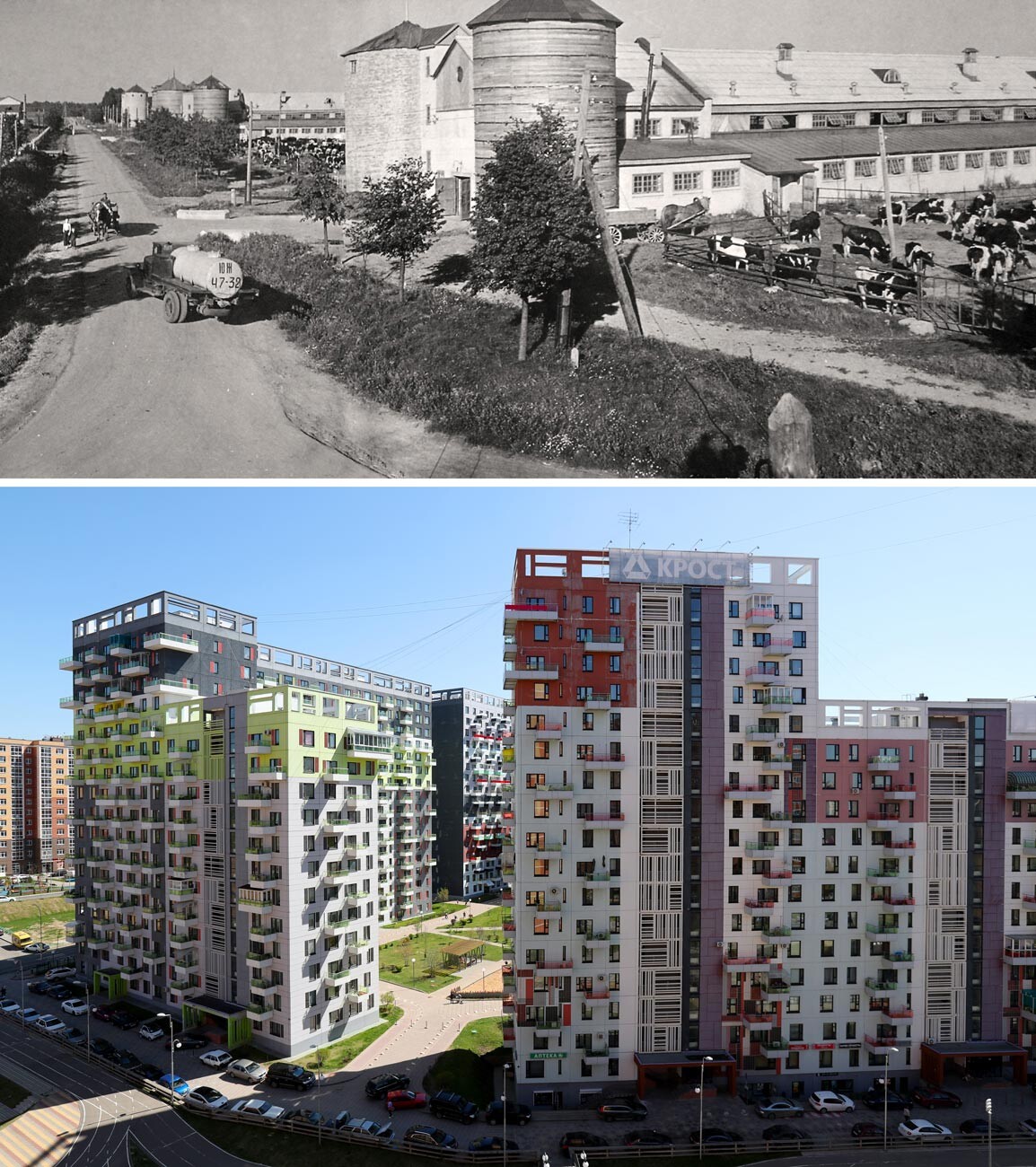 Above: Dairy farm of the Kommunarka sovkhoz, 1968. Below: New residential area.
pastvu.com; Vyacheslav Prokofyev / TASS
One of the main districts of so-called 'New Moscow' became the settelment of Kommunarka in 2012. In Soviet times, there was a large sovkhoz, which fell into disrepair with the collapse of the USSR. Today, the main street of the area is named after the last sovkhoz head, Alexandra Monakhova. The district it is very actively built up - in a few years, here appeared about hundred new houses. A subway station opened there in 2019.
10. Vatutinki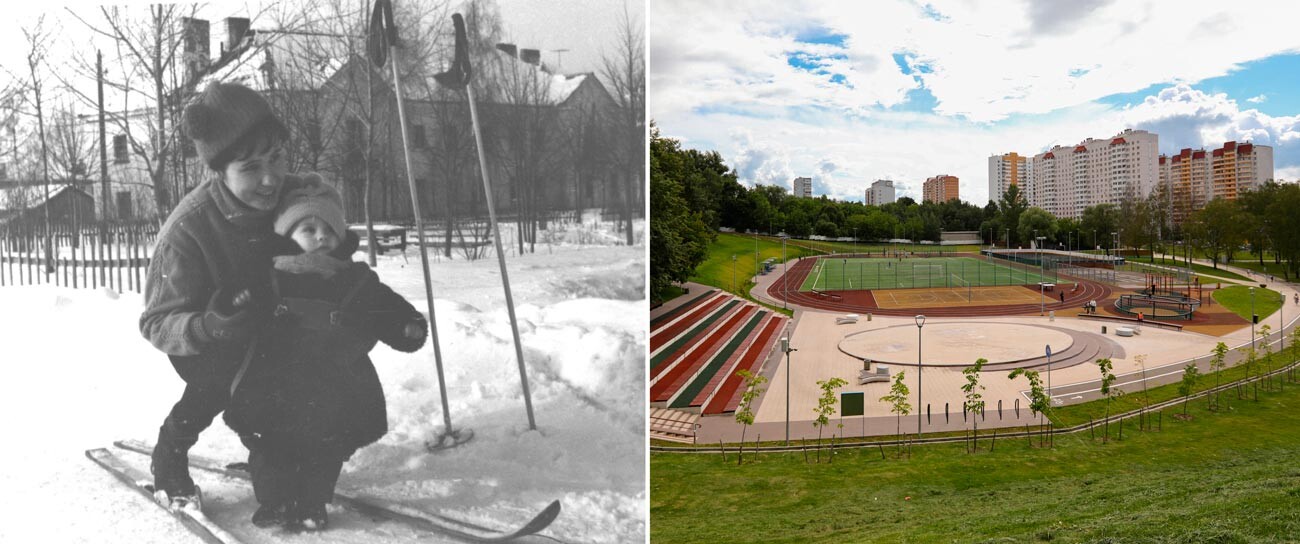 Left: A house with the stove heating in Vatutinki, 1965. Right: A sports park and the new houses, 2020.
pastvu.com; Kirill Zykov / Moskva Agency
Vatutinki is another 'New Moscow' settlement, which joined Moscow in 2012. It's as much as 17 kilometers to the MKAD (Moscow Ring Road). Before 2012, Vatutinki was the home to about 10,000 people and today, there are about 35,000 inhabitants. The population is constantly growing, moving into new houses.
Bonus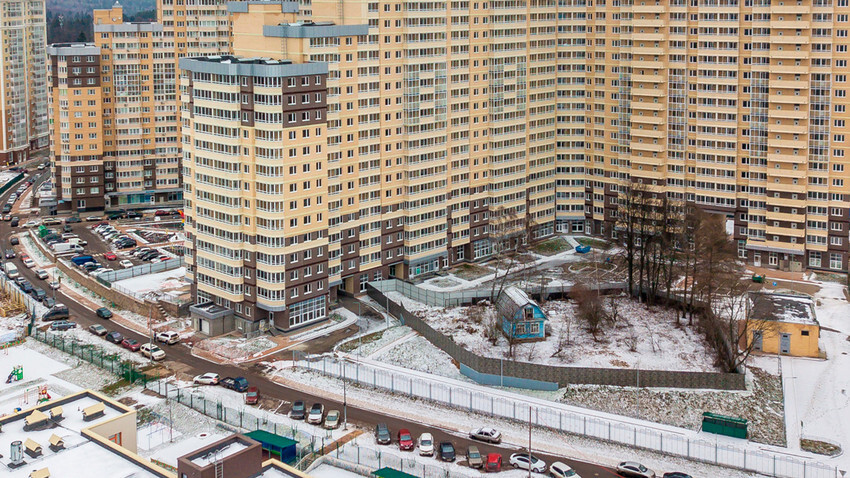 A little blue house found itself on the grounds of a new housing development in the Moscow Region.
Mikhail Japaridze/TASS
The owners of these old wooden houses refused to sell when real estate developers moved in. Take a look at the last villages surrounded by concrete giants.
Dear readers,
Our website and social media accounts are under threat of being restricted or banned, due to the current circumstances. So, to keep up with our latest content, simply do the following:
Subscribe to our Telegram channel
Subscribe to our weekly email newsletter
Enable push notifications on our website
Install a VPN service on your computer and/or phone to have access to our website, even if it is blocked in your country
If using any of Russia Beyond's content, partly or in full, always provide an active hyperlink to the original material.