Summing it up: RBTH's top 20 stories of 2012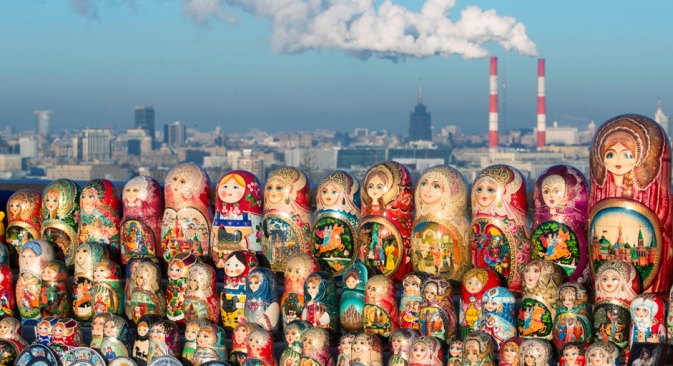 Matryoshkas, traditional Russian wooden dolls, are displayed for sale on a cold winter day in the Sparrow Hills, the site of tourist attraction in Moscow, Wednesday, Dec. 12, 2012. Temperature is about -10 C (14 F). Source: AP
Russia Beyond the Headlines presents a collection of its 20 most popular items among the articles and multimedia content published in 2012. Enjoy!
Mysterious Russia
1. RBTH guides you to some unique places not many people know about and only a few eyes have seen - the 12 most remote and hidden locations in Russia.
2. Have you heard about the Tunguska mystery? Italian scientists claim they have found the remnants of a meteorite that they say created a Siberian lake more than 100 years ago. Russian scientists want them to prove it.
3. Foreign books, hidden behind old walls: While preparing for a massive renovation of its 100-year-old facility, librarians at the Russian State Polytechnical Museum found more than 30,000 pre-revolutionary books and magazines.
4. Diana Markosian reveals the mysterious side of the Republic of Chechnya with her photography. Enjoy the photo gallery - Chechnya: From the inside
Inside Russia
5. Russians seem to have a hereditary sweet tooth, and over the centuries they have come up with a wide selection of irresistible treats. We have selected 12 that you should definitely try.
6. With the arrival of the spring there was a great flashmob on Sparrow Hills in Moscow. A consistent number of young people gathered on location and danced to the song 'Puttin on the Ritz'. The question on everyone's mouth was if Vladimir Putin was behind the organisation of the flashmob.
7. Electrically-powered railway wagons, videotape recorders, helicopters, televisions and yoghurt: What do they all have in common? They were all the result of the work of Russian inventors.
8. With Vladimir Putin's inauguration scheduled for May 7, 2012, a number of investment analysts in Moscow have reached a rather odd conclusion about the future Russian president's economic policies. So will Putin 2.0 mean a return to the prosperity of the 2000s?
9. In 2009, brothers Andrei and Alexei Klimenko and their friend Dmitry Shuvaev created a file-sharing traffic management solution for an internet service provider (I.S.P.) network. Now this Perm-based start-up called Pirate Pay and its creators say they can stop files from being illegally downloaded from torrent networks.
Art and living

10. The year began with a summary of the best films to come out in 2011, a year which saw a lot of controversial movies that attracted attention in Russia.
11. We also picked 11 Russian bands that surprised critics in 2011. From horror surf to space disco, the Russian music scene had an eventful year.
12. Then we surprised many of our readers with an article on Russian criminal tattoos, which have become a kind of art in Russia. Danzig Baldaev's drawings were a gateway into a secret world in which he acted as an ethnographer, revealing the rituals of a closed criminal community. You can watch the gallery here.
13. Let us remind you about our audio podcasts. There you can learn some well-known Russian idiomatic expressions.
14. We moved in London and explored the most Russian locations in the British capital. The extravagant lives of Russian oligarchs are a constant source of fascination to the British public. We take a peek at their lives in London – their homes, what they buy, their social excesses as well as their battles and business interests.
Aviation, cybersecurity and defense
15. Did you know that Pentagon is going to recruit Russian hackers? An adviser to U.S. President Barack Obama said that the U.S. has a new plan to combat cyberwarfare that will put the skills of the best hackers in the world to work fighting terrorism and designing security system for government agencies.
16. As the U.S. fought an epic summer fire in Colorado, Russia offered an aircraft with fire-fighting technologies that could a real chance in the U.S. market.
17. Russia tries yet another pistol as a replacement for the legendary Makarov. Read about the new gun adopted by the Russian army.
18. The wreckage of a Sukhoi SuperJet 100 in May in Indonesia left experts wondering what provoked the accident.
19. Later experts decided that production of the the Sukhoi Superjet could move ahead – not least because there is no real alternative.
20. Retired soldier builds life-size models of World War II tanks. View the gallery here.
All rights reserved by Rossiyskaya Gazeta.