Since Russia's second capital, St. Petersburg, was founded more than 300 years ago, many of the country's most prominent people, from Imperial rulers to poets, often traveled between the two centers of power. Not surprisingly, Russia's first paved roads were between Moscow and St. Petersburg, and the country's first major railway line linked the two cities.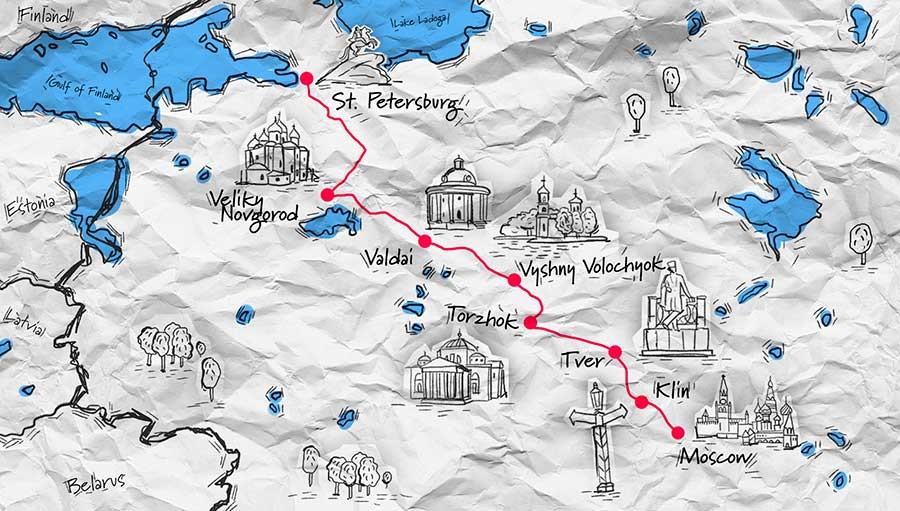 Writer Alexandr Radishchev was imprisoned for his report, Journey from St. Petersburg to Moscow (1790), and was almost executed by Catherine the Great for penning this travel diary. In the end, the monarch spared his life and he was exiled to Siberia.
Today, there are several ways to travel from Moscow to St. Petersburg (high-speed train, overnight train or plane), but you can also enjoy an amazing road trip between the two host cities of The 2018 FIFA World Cup Russia™.
1. Klin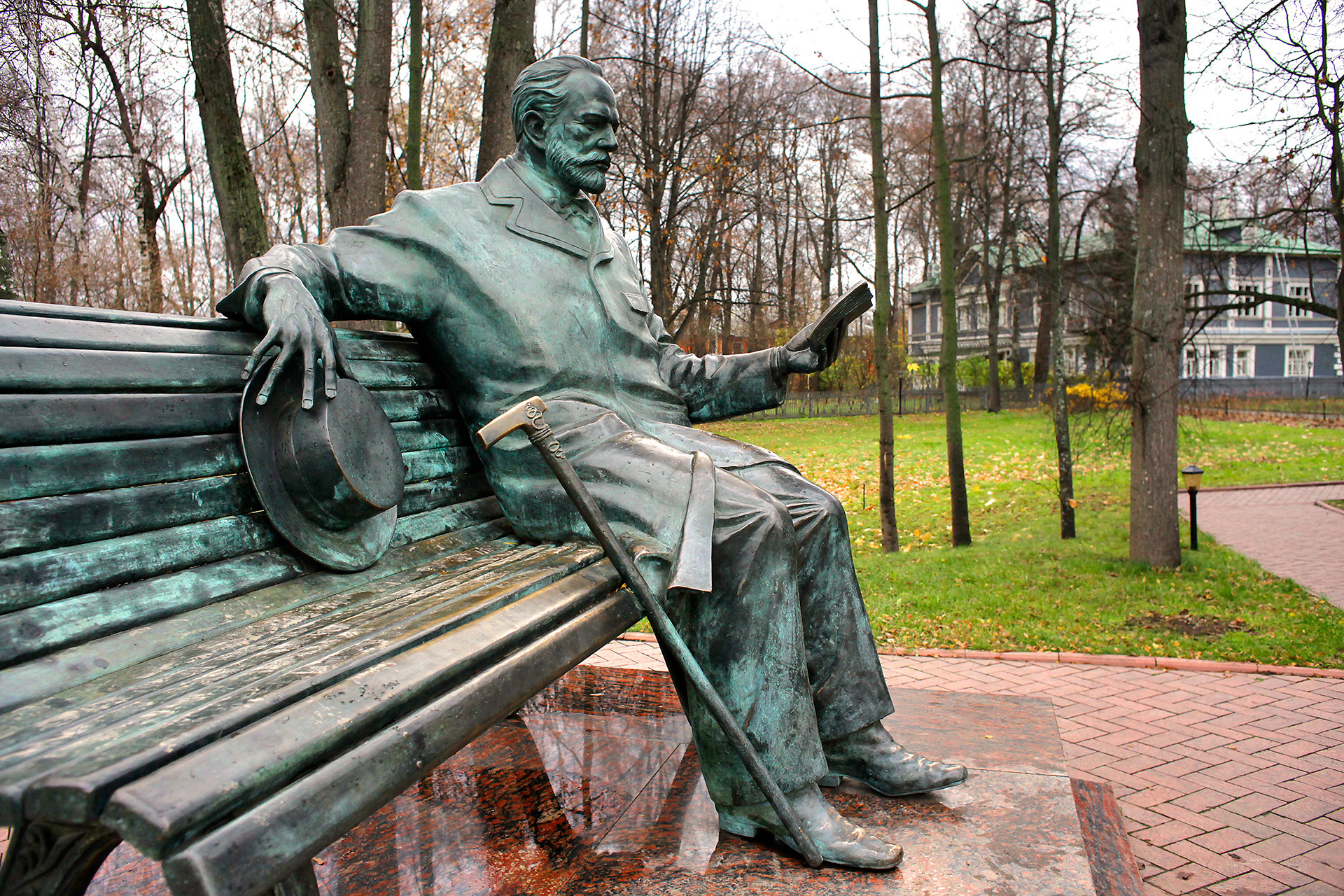 Monument to Pyotr Tchaikovsky in Klin
Ruslan Krivobok/Sputnik
After about an hour driving on the M-11 highway you'll arrive in the small tsarist-era merchant town of Klin, which is in the Moscow Region. Right at the city entrance you will see the Demyanovo Estate. In 1785, Catherine the Great and her grandson, future Tsar Alexander I, stayed here. Nearly 16 years later, poet Alexander Pushkin was also a guest.
Composer Pyotr Tchaikovsky spent the last years of his life in Klin, so you'll also see monuments and signs of his memory everywhere. There is a house museum devoted to his life and art, and it's said that Tchaikovsky wrote his famous "Nutcracker" in the city.
In 1569, Ivan the Terrible called for a campaign to punish the rebellious city of Veliky Novgorod, and since Klin was on this route it was almost burnt down by the vicious shock troops known as the oprichniki. Klin's first stone church, the Church of the Confession of the Holy Mother of God, was built soon after this tragedy and still stands today. Read more about Klin and its surroundings here.
2. Tver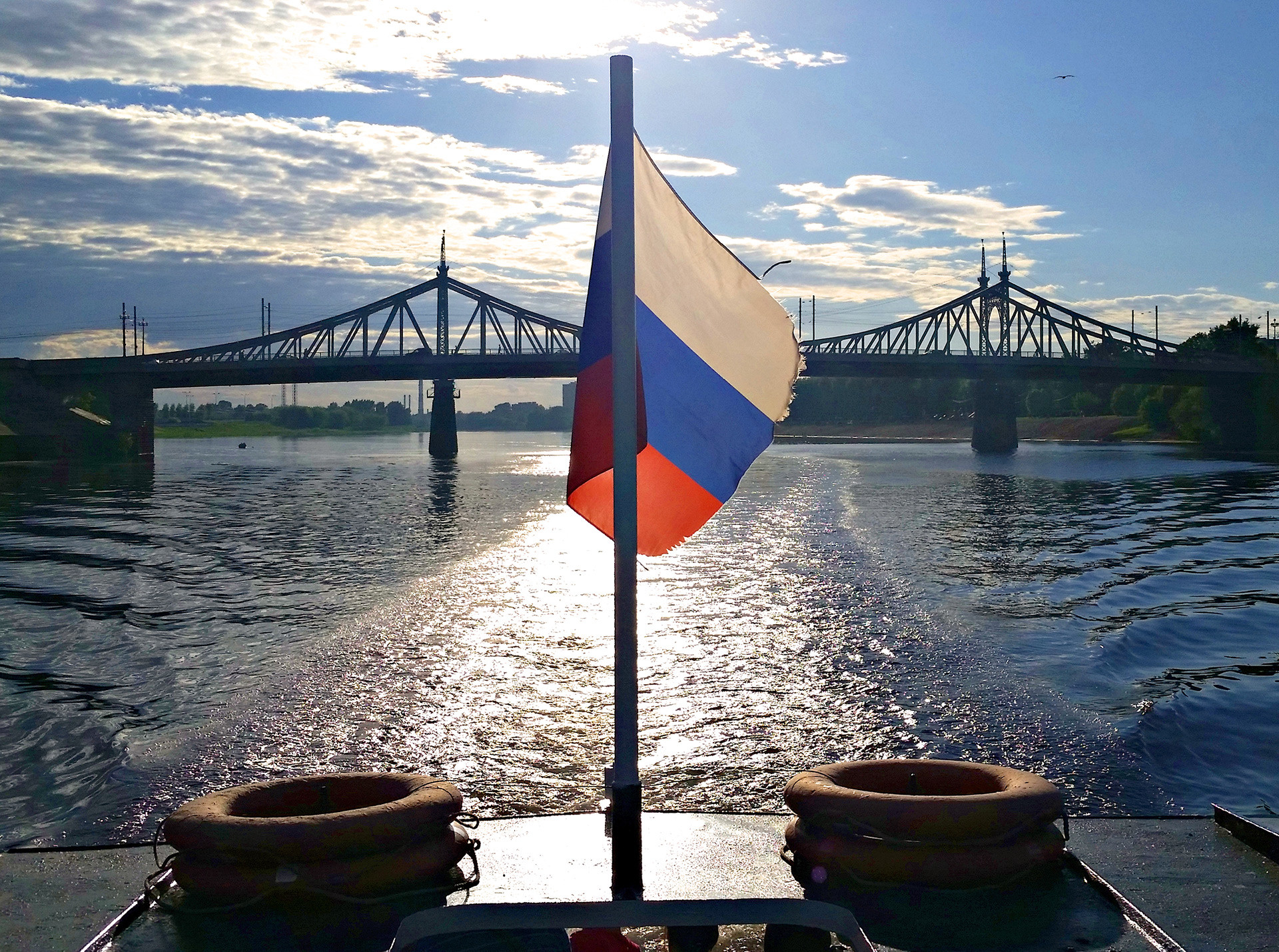 Take a boat tour on the Volga River
Peggy Lohse
After about another 1.5 hours you'll reach Tver. The city was once a rich and powerful competitor to Moscow. Located at where the Volga and Tvertsa rivers meet, Tver was once a prosperous merchant city. Today, it's more of an average provincial town.
In summer, take a boat tour on the Volga River. The one-hour ride allows you to see the whole city, including Catherine the Great's recently restored Imperial Travel Palace that now hosts a fine art gallery. Other sites to keep an eye out for include the huge train wagon factory, and the picturesque embankments on both sides of the Volga.
Take a stroll along the Trekhsvyatskaya pedestrian street, and greet Pushkin, Afanasy Nikitinand Vladimir Lenin, as well as grab a snack there. Read more about Tver and its surroundings here.
3. Torzhok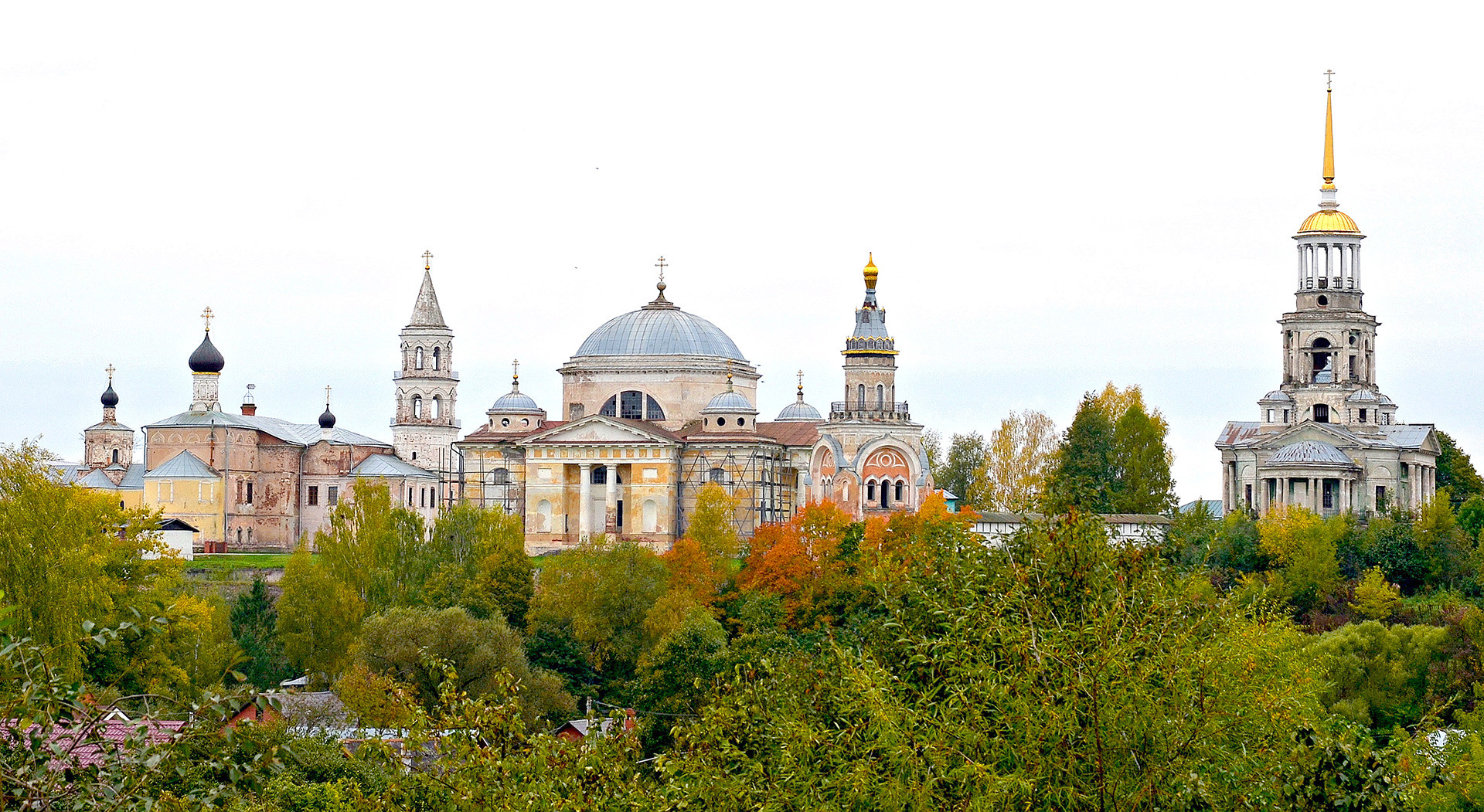 St. Boris and Gleb Monastery
Peggy Lohse
Not far from Tver is the small cozy town of Torzhok where you can find a wide range of activities.
In the gastronomical sphere the old merchant city is well known for its unique Croquettes Pozharsky, which Pushkin praised: "Dine in the Pozharsky Inn in Torzhok with fried meat cutlets and you'll certainly leave happy!"
Today, you can sample them in almost every restaurant, especially next to the poet's museum. By the way, the museum's garden offers the best view of the city from above.
Apart from more mundane matters, Torzhok was once a powerful religious center with the monumental St. Boris and Gleb Monastery, located at the steep shore of the Tvertsa River.
Many centuries ago a local monk showed Kievan Princess Olga a precious local traditional skill: goldwork. In the Goldwork Museum, you can learn how Torzhok masters embellish clothes and accessories with golden embroidery. Read more about Torzhok here.
4. Vyshny Volochyok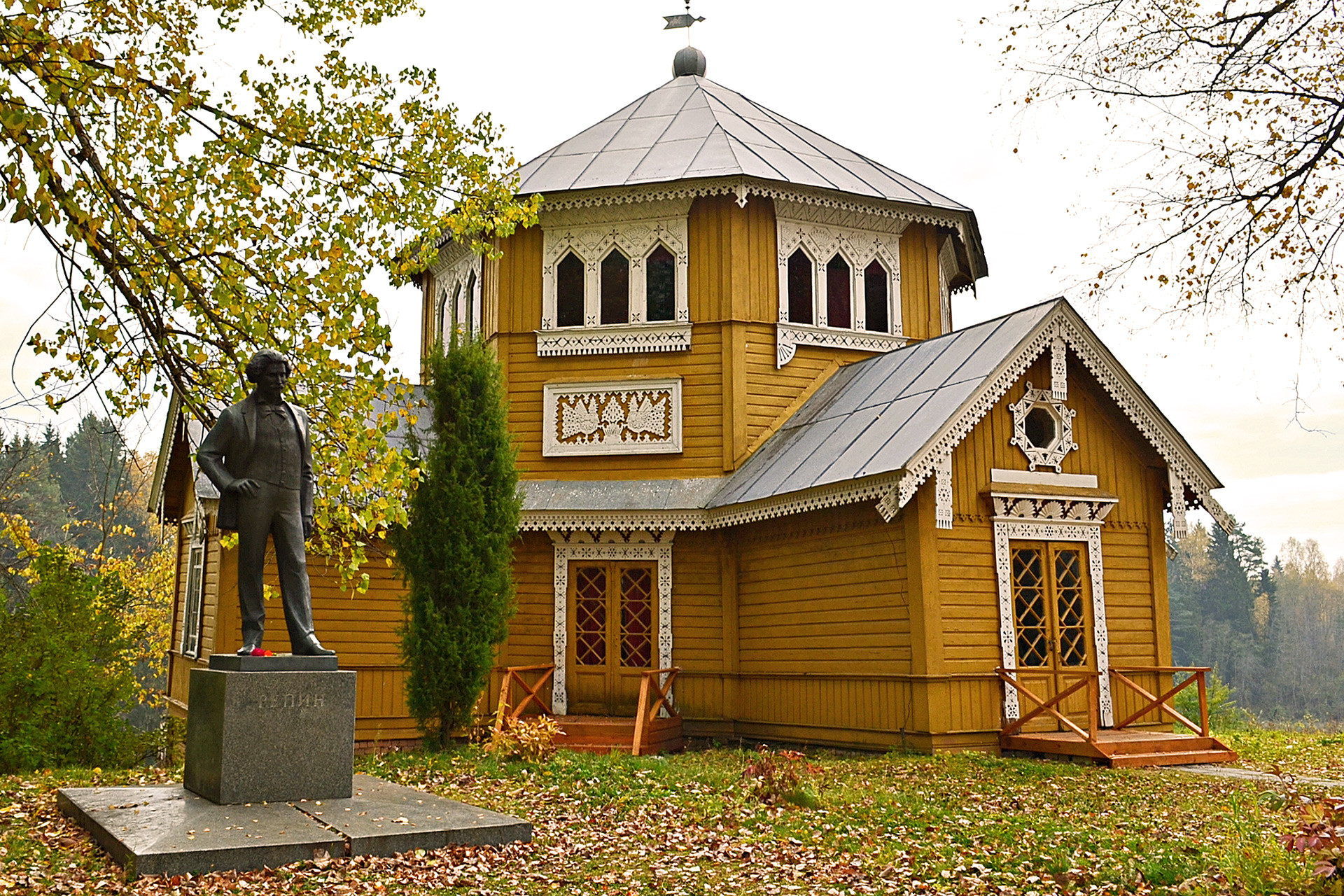 Monument to Ilya Repin next the Academic Dacha of the Russian Artists Union
Peggy Lohse
In another hour you'll be in the "Russian Venice!" You might wonder why this ambitious moniker? Vyshny Volochyok is an old merchant town, located on a large canal system. Prior to the 19th century, the Vyshny Volochyok Waterway connected St. Petersburg with central Russia, and the canals made possible cargo routes for all sorts of supplies, from food to construction materials.
To the benefit of Russian culture, Vyshny Volochyok was a "place of inspiration" for famous artists including Ilya Repin, Isaac Levitan and Arkhip Kuindzhi. Today's artists still come here to invigorate their creative powers at the Academic Dacha of the Russian Artists Union. The great Repin once wrote about the place: "Isn't it the promised land for a landscape painter! It is the essence of Russia, its soul and its beauty... It's like a song!"
At night it's cold? No problem. The original Valenki manufacturer, and its nice museum and shop, are open almost 24 hours. Here you can find reliable and real Russian felt boots. Read more about Vyshny Volochok and its surroundings here.
5. Valdai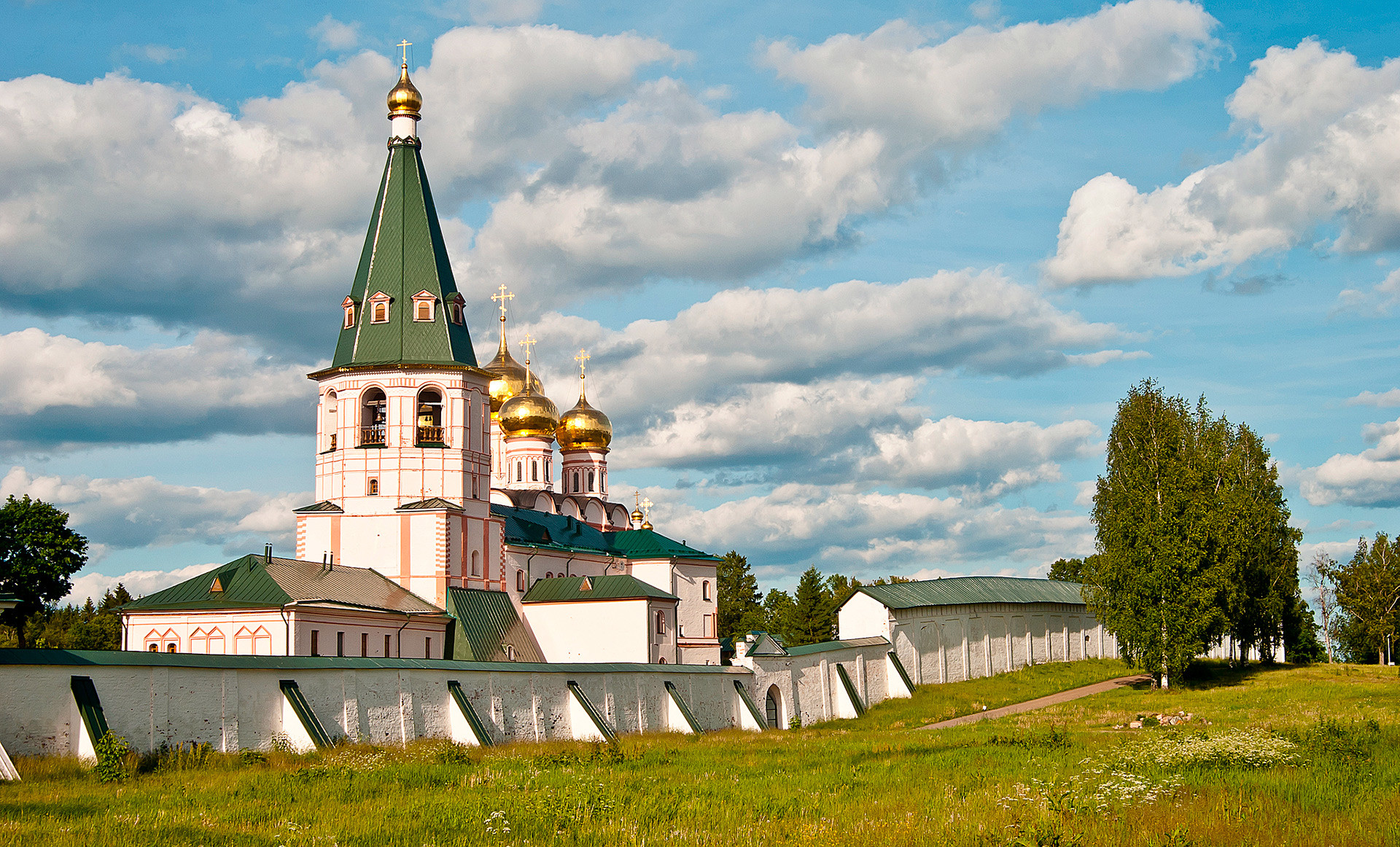 Valday Iversky Monastery
Legion Media
Ding, dang, dong... this is how Valdai greets visitors! In 1910, Georgy Andreev founded a bell factory here, where they produced church bells as well as secular ones. Why here? Because in this region for centuries fast-going winter sledges and carriages used to ring a small bell to alert the others and avoid crashes. Later the military started to use these signals as well, and they were prohibited for civilian transport.
Walk around the small Palace Park and guess which Russian tsarina made Valdai a city and built a beautiful estate here? Catherine the Great, of course! In fact, she built 'small' travel houses in almost every major city in order to rest on her long journeys.
In the tiny white rotunda in the park you'll find the Bell Museum where you can learn about the bells, their history, and also be taught how to play the large bell ensembles found at the top of church towers.
When you leave the city on the way to Veliky Novgorod stop at the picturesque Iversky Monastery, which is located in the middle of a dark forest next to a large lake. Founded in the 17th century by Patriarch Nikon, who was on his way to the Solovetsky Islands in the north, the monastery grounds offers a chance to enjoy nature, peace and solitude. The monastery kitchen feeds visitors well with typical Ivan Chai tea, Sbiten and different cookies, cakes and more. Read more about Valdai and it's surroundings here.
6. Veliky Novgorod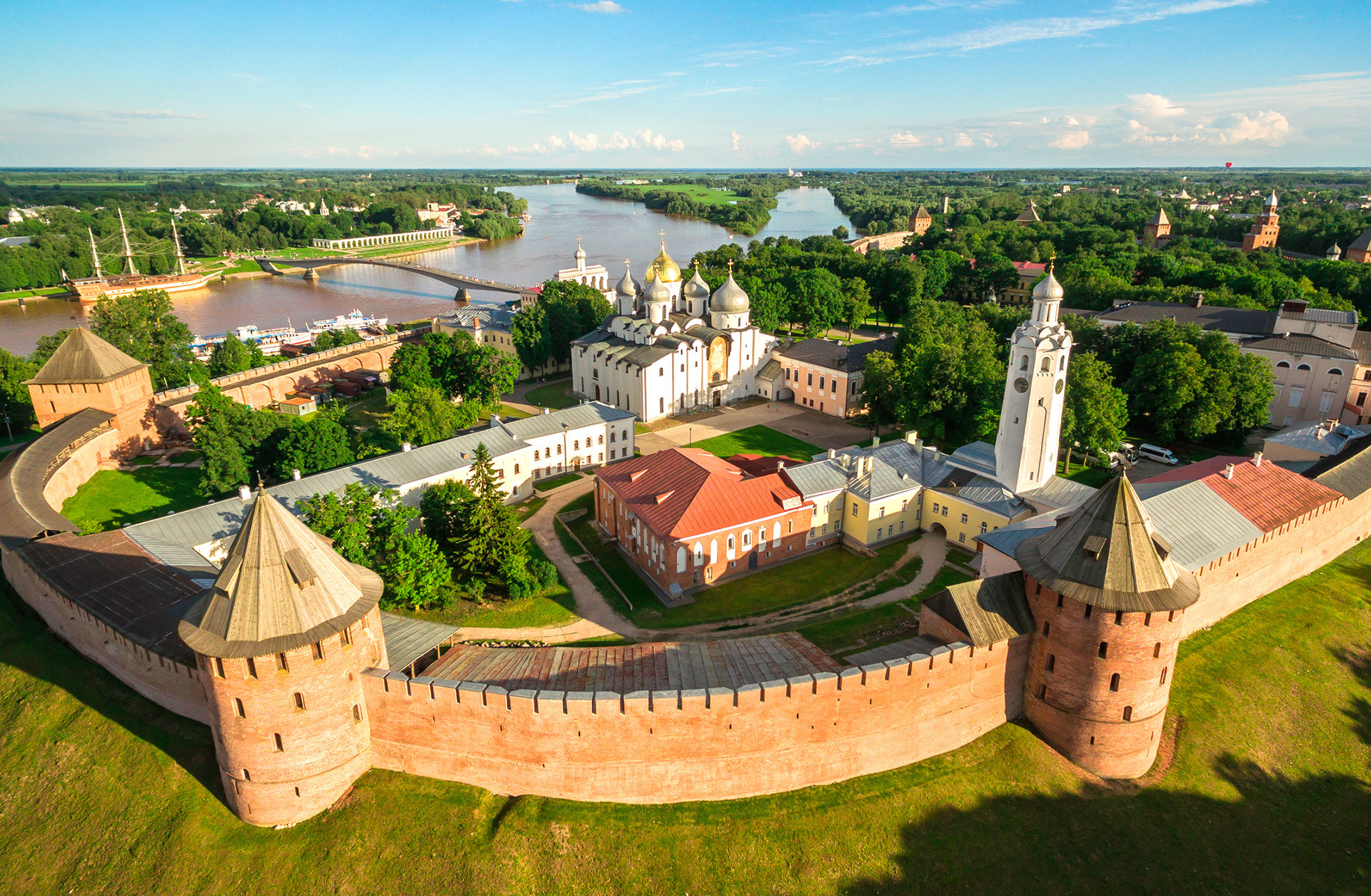 Russia's oldest kremlin
Legion Media
Now you've arrived at the last stop before reaching St. Petersburg, and you can again get used to bigger cities. In Veliky Novgorod, which means Novgorod the Great, you can walk along the imposing kremlin walls or take a bath in the wide Volkhov River. The city's kremlin, or Detinets, is Russia's most ancient that has survived to our day.
Visit the extraordinary State Gallery and Regional Museum inside the kremlin, and then try the fine local restaurants with traditional Russian cuisine. Next, take a small trip to the wooden village of Vitoslavitsy, which often has festivals of Russian culture.
Next to this tiny village and it's Open Air Museum of Russian Wooden Architecture you can also take a glance on the famous St. Yuryev Monastery. Founded in 1030 by Yaroslav the Wise, it's one of Russia's oldest monasteries. Read more about Veliky Novgorod and its surrounding here.
What next? In about 200 km there will be a few smaller tsarist summer palaces, and in about two or three hours you're back in civilization – in exquisite St. Petersburg.
For your trip we also recommend to read about the driving culture in Russia.
If using any of Russia Beyond's content, partly or in full, always provide an active hyperlink to the original material.