4:00 pm: Four hours. Finish.
3:59 pm: And the last question - "Will there be another Direct Line with Putin, or is this the last one?​"
Putin: "If there will be a line, it will only be direct."
Putin sidesteps the question, fueling intrigue about whether he plans to run for another term.
3:58 pm: Who do you plan to pass on the presidency to?
Putin: "I'm still working, but when the time comes, only Russian people will decide who take the office. At the same time, I do not see anything wrong with voicing my preferences for a certain candidate."
3:55 pm: What was the biggest fish you ever caught? - 20 kilos, though some still doubt the exact weight.
3:54 pm: What do you think about anecdotes about yourself? "It depends."
3:53 pm: Question: Which leader has the strongest handshake?
Putin: "This is not how you measure leaders' strength."
3:52 pm: Question: Do you truly believe that the nation actually believes these staged questions?
Putin: These questions are not staged.
3:47 pm: Blitz questioning: Do you know how ordinary people live in Russia?
"Of course I do." "I still can't leave lights on if I leave the room - old habit."
3:41 pm: Putin is asked about incriminating reports concerning high-profile officials but says he always separates lies from facts.
Putin says he never forgets those who try to lie to him. "If I know a person is lying to me, I do not act impulsively and always check the motives behind his actions."
3:33 pm: A 12-year-old asks the president: "If you had a time machine, where would you go?"
Putin says he would not want the opportunity to change anything in the past, although he would be very interested to observe how St. Petersburg was built and how the Great Patriotic War was won.
3:22 pm: Are you in contact with opposition protesters? - a Direct Line moderator asks Putin.
"One should not speculate, but propose solutions. And I always talk to those who are ready to propose solutions."
3:20 pm: Question from Kaliningrad: The football stadium in the city will host the FIFA 2018 World Cup, but what will happen to the stadium after the tournament ends?
A man asks Putin to put pressure on the Russian football team so that it plays better.
The president says the team will be improved only if young players are given enough time to develop.
3:10 pm: And we are entering the fourth hour of the Q&A Direct Line with Russia's president!
3:05 pm: People continue to complain about bad living conditions and ask Putin for help.
The president assures that the government will allocate money to resettlement programs.
Putin speaks about the Moscow mayor's plans to reshape the city, and says they will prevent future problems.
2:51 pm: Crimea resident asks Putin if the Kerch Strait Bridge will be constructed in time.
The president says he expects it to be completed earlier than planned.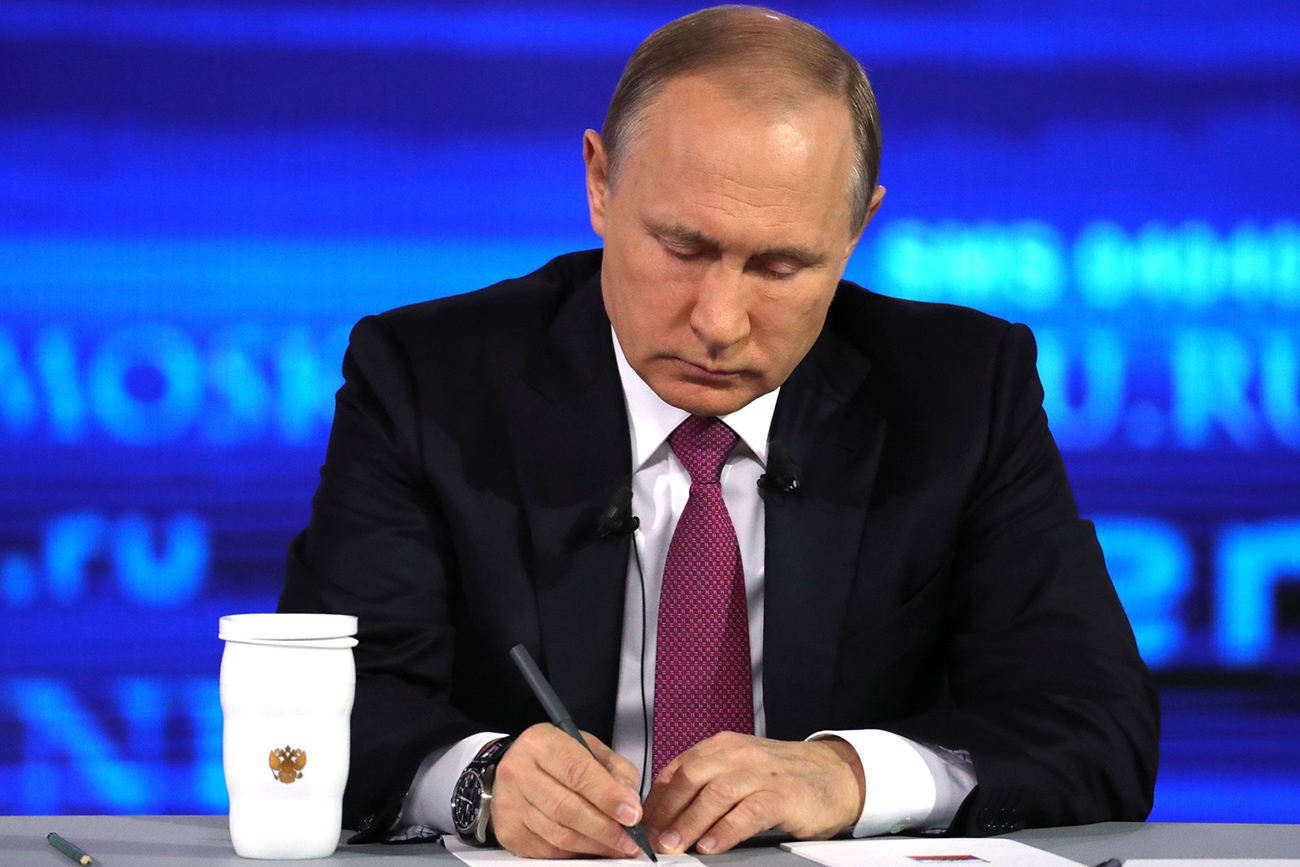 Russian President Vladimir Putin at the Gostiny Dvor studio. / Global Look Press
2:48 pm: Question from Volgograd, Southern Russia, about the country's plans regarding Syria - and what the Russian army learnt from the operation in Syria.
Putin: "It was a huge benefit to our defense industry, we saw how our weapons work in real combat conditions."
About plans - Russia wants to strengthen the Syrian army, and enable it to fight terrorism.
2:39 pm: Direct Line moderator: Lots of people ask the president to help them join the army.
2:25 pm: Putin: "Comey said he thinks Russia intruded in on the election process by trying to influence our way of thinking. But what about American efforts to shape opinion in different parts of the world? We have our opinion and we speak out."
"Comey looks more like a human rights activist than an FBI director and Russia is ready to provide political asylum to James Comey, he must know that."
2:20 pm: Putin says Russia could cooperate with the U.S. on nonproliferation, poverty reduction, climate change.
"Donald Trump is not refusing to continue dialogue on climate change, despite his desicion to suspend the Paris Climate Accord. Together with the U.S. we solved the Iranian nuclear problem. It's obvious to all that without joint effort nothing will work out in Syria either."
2:17 pm: A call from the U.S. Question from Arizona: "I am a big fan of yours, Mr. Putin, I am very pro-Russia. As an American who witnesses massive Russophobia in the U.S., what advice can you give me to convince people Russia is not the enemy?"
Putin: "I understand the mood of the Russian people - they do not think the U.S. is Russia's enemy."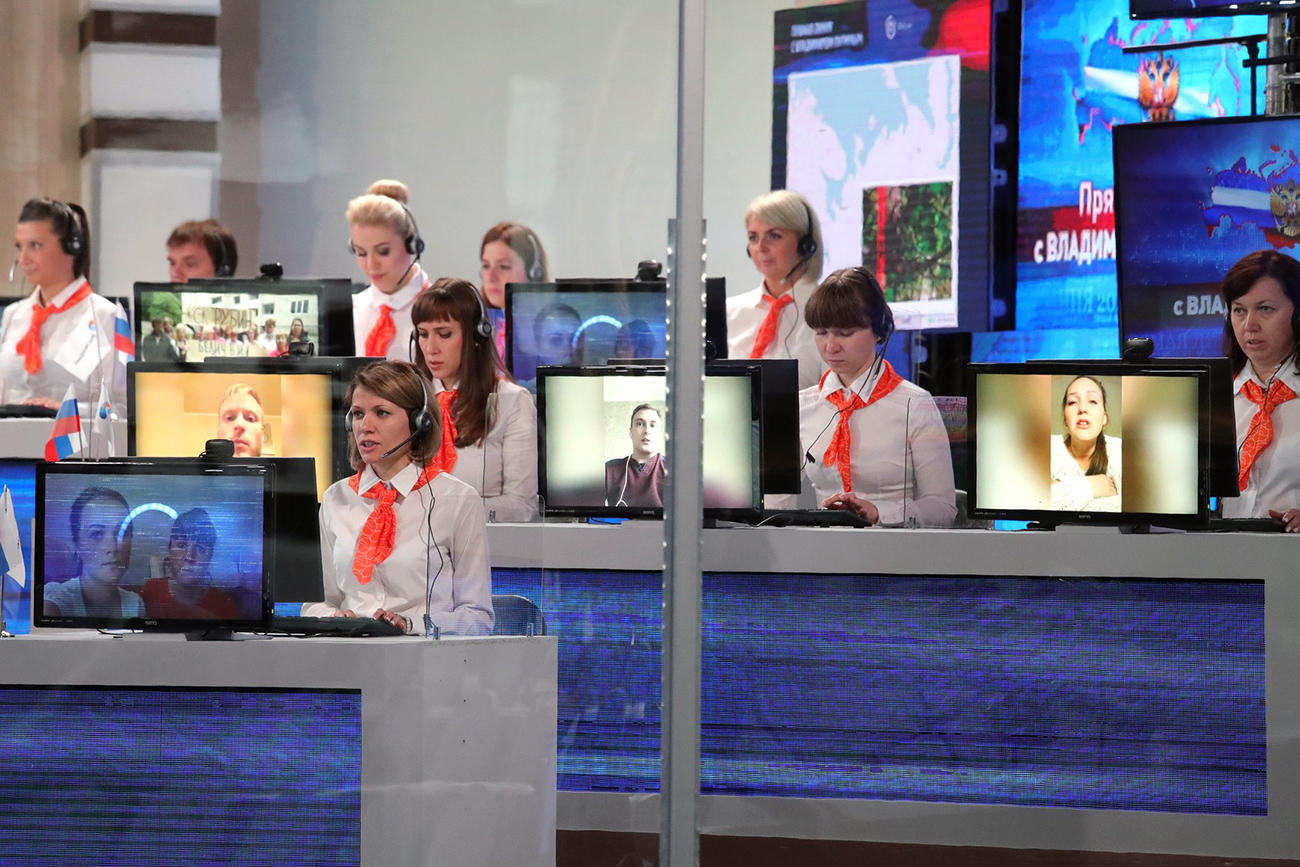 Operators at the Gostiny Dvor studio. / Global Look Press
2:09 pm: Putin is asked about his opinion on St. Isaac Catherdral's controversial decision to transfer to the Russian Orthodox Church.
The president says Russia is a secular state but urges people to remember the history of hardships that the Orthodox Church endured during the Soviet times.
Putin says St. Isaac's Cathedral was initially built as a church, but was turned into a quasi-museum of atheism during the Soviet times.
The president says there is no problem with transferring the Cathedral to the Church if it preserves its function as a museum.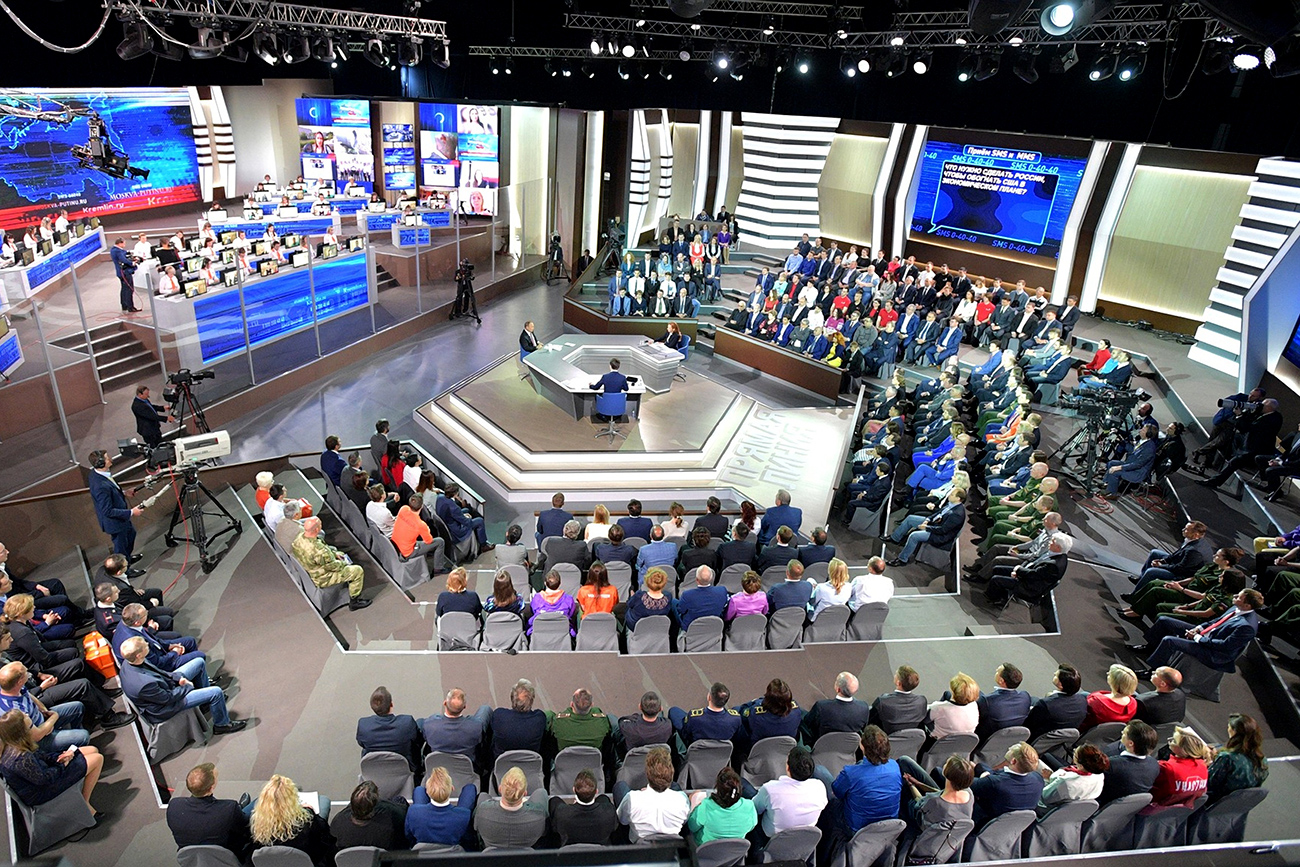 Russian President Vladimir Putin during his annual call-in show. / Global Look Press
2:07 pm: Meanwhile, the Q&A has entered its third hour!
2:03 pm: Putin is asked why Russia is so fixated on the Arctic Region these days, even though no one has bothered to think about it for the last 25 years.
The president says the Arctic Region opens enourmous opportunities for Russia, including new navigation routes, hydrocarbons, etc.
Putin says the region is also extremely important for the country's defense: "U.S. submarines are based near the Norwegian coast, carring missiles that will take 20 minutes to reach Moscow."
2:00 pm: Question from the oldest worker in the shipyard: "What does the future hold in store for the factory, and what are the plans for the exploration of the Arctic?"
Putin says that Russia plans to build four more icebreakers in the future. Shipyards and the Navy will be developed, and the new icebreakers will not be limited in their capabilities as new technologies are being adopted.
1:56 pm: Connection from the Baltic Shipyard in St. Petersburg. Workers demonstrate the biggest and most powerful atomic icebreaker in the world - 'Arktika.'
1:47 pm: Sergei Bezrukov, a famous Russian actor, asks Putin about raids in Gogol center and pressure on cultural figures.
Putin: Dialogue about cinema and culture needs to be conducted in a civilized way.
1:43 pm: Rostov-on-Don: People complain about flight routes, most of which are anchored to the Moscow Region, making regional flights longer.
Putin says he knows about the problem and that the government is working on it.
1:39 pm: Putin asks the governor of the Stavropol Region: "Where is the money?" - before asking the prosecutor to probe the case when answering a question by a mother of three living in a house that fell apart.
1:36 pm: Putin trolls Ukrainian President Petro Poroshenko about Ukraine's European choice, making reference to homosexuals, and warns the Poroshenko to be careful. "If someone wants to be European, they should first close their offshore bank accounts."
1:25 pm: Putin calls politician Viktor Medvedchuk, chairman of the pro-Russian political organization Ukrainian Choice and an opponent of Ukraine joining the European Union, a Ukranian nationalist.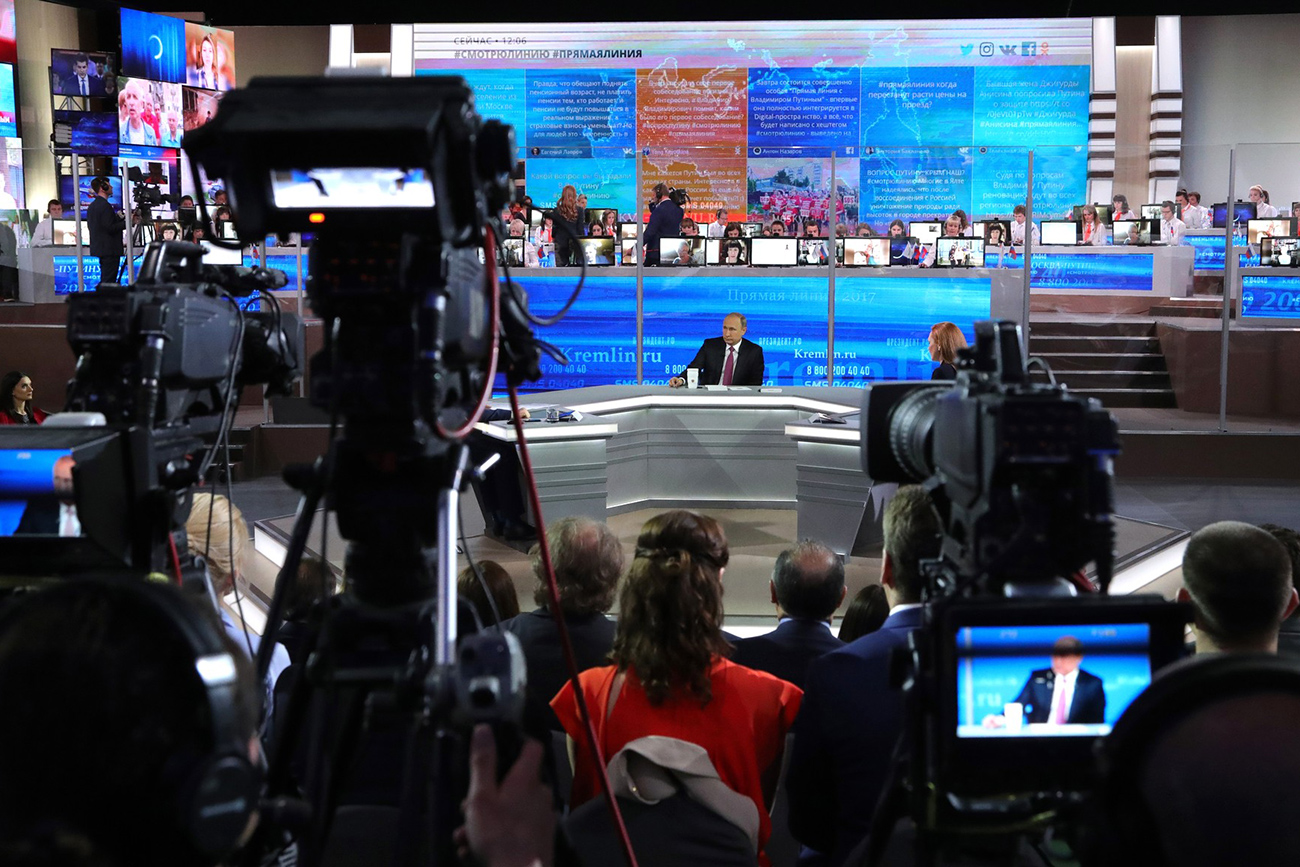 Russian President Vladimir Putin at the Gostiny Dvor studio during the annual Direct Line. / Global Look Press
1:22 pm: Question from Kiev, Ukraine - Why did you leave us? Dmitrii asks Putin why he abandoned Russians in the country.
Putin: We appreciate your position, but we try to refrain from intervening in the domestic affairs of Ukraine.
1:19 pm: The Q&A marathon is now into its second hour!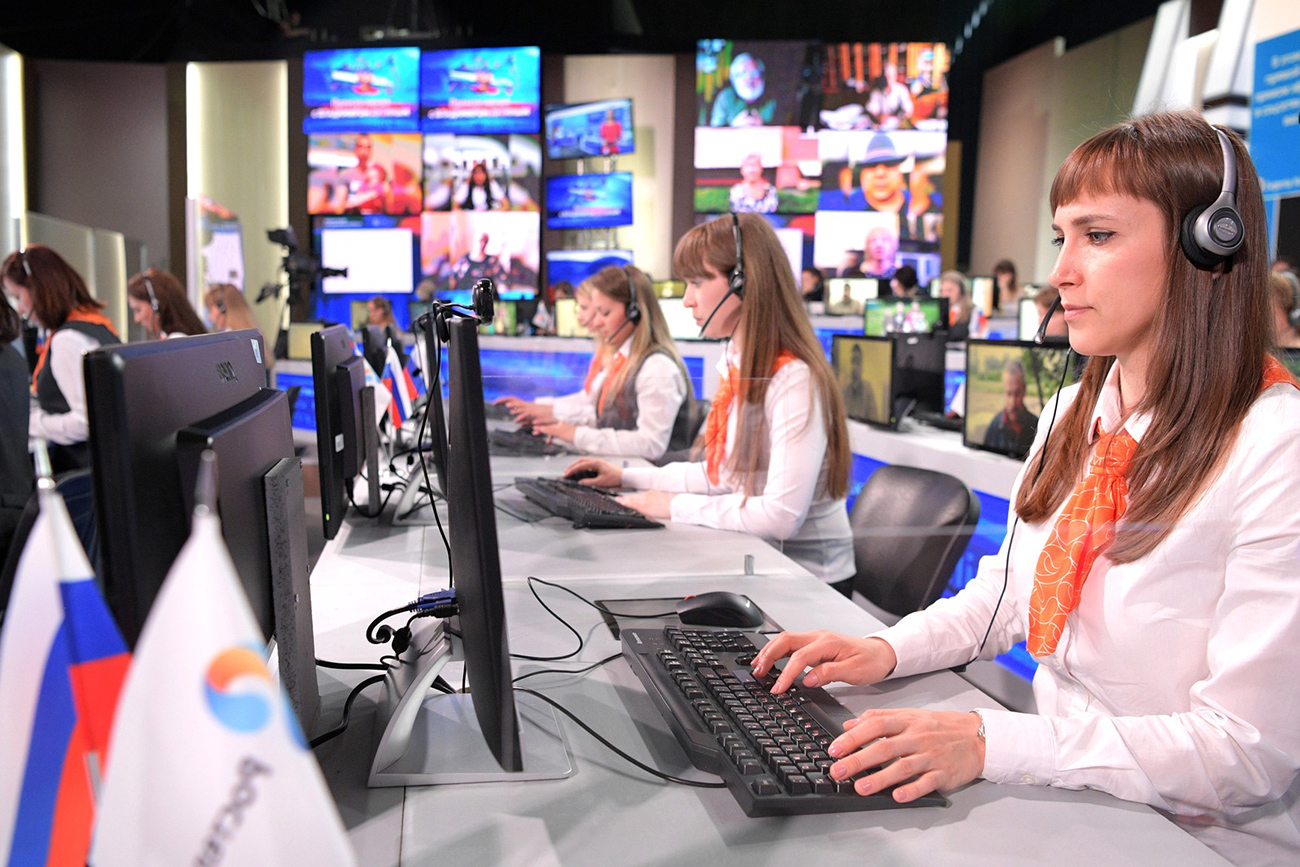 Operators at the Gostiny Dvor studio before the annual Direct Line with Vladimir Putin broadcast live by Russian TV channels and radio stations. / Global Look Press
1:10 pm: Putin is asked about his grandchildren. He says his children live in Russia, despite rumors, and stay away from politics.
"I do not want my grandchildren to be raised as princes, I want them to grow up as ordinary citizens. If I reveal their names and ages, they won't be left alone. I ask for your understanding here. My second grandchild was born recently."
1:02 pm: Now we are moving on to the city of Ufa, a question from the perinatal center: Will children's allowances be increased and will maternity allowance be reintroduced?
Every 25 years, Russia is hit by a population crisis, Putin says. "We need to do something to increase the birth rate. We need new measures - we will do it."
12:55 pm: The Irkutsk Region again. Baikal Lake, Olkhon Island. Strict environmental legislation prevents residents from Olkhon Island from doing anything - roads can't even be built. Residents are prevented from taking their livestock to pasture.
Putin highlights the need for a balanced approach and says environmental organizations also need to be engaged.
12:50 pm: Question from Balashikha from the Moscow Region: A woman asks Putin for help regarding the major dumping sites, which are poisoning the environment and locals.
Putin says the decision was made to build four waste processing factories based on Japanese technologies, three of which will be located in the Moscow region.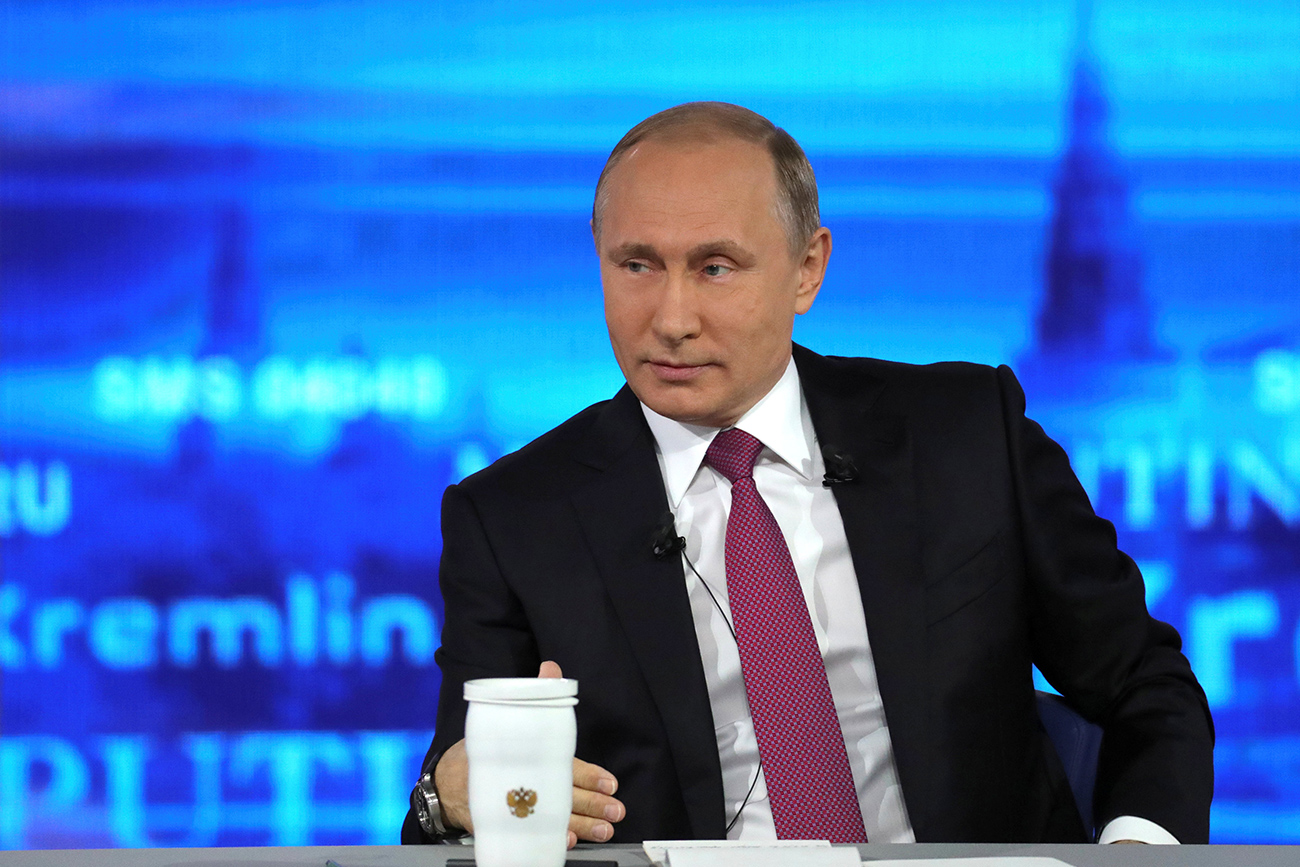 Russian President Vladimir Putin, June 15, 2017. / Reuters
12:45 pm: Ivan from Vladivostok complaints about the program offering free land in the Far East. He says it's impossible due to all the red tape involved.
Putin says the major reason is the absence of ordnance survey maps in the Far East, and promises to help.
12:37 pm: Tatiana, a homeless single mother from the Zabaikalsky Territory, asks Putin if he truly believes people think Direct Line is not staged.
Putin says the government allocated 300 million rubles to provide housing after the fire. He will ask about how the money was spent and promises to resolve the issue.
12:32 pm: A representative of the agricultural sector asks Putin to extend counter-sanctions
because it boosts his production.
Putin says Russia will be forced to ease counter-sanctions if its partners ease sanctions themselves, otherwise Russia will face problems with the WTO.
12:30 pm: Local authorities started urgently solving problems before Direct Line, if they saw TV channels showing residents' concerns.
He doesn't answer. Back to the issue of sanctions now.
12:24 pm: Q: Is Russia ready to live under sanctions for years to come?
Putin says history is marked by pressure from "partners." The president is mystified about the U.S. Senate's new bill introducing extra sanctions. He says it's all about detaining Russia.
Figures on how much Russia has actually lost due to sanctions vary, but those who introduced them have lost more. UN estimates: Russia lost $52 billion but the countries enforcing the sanctions lost $100 billion, Putin says.
Sanctions have helped Russia rebuild its radioelectronics, agriculture, and aircraft building industries, the Russia leader says.
12:18 pm: And again, the question about salaries. Alena, a school teacher from the Irkutsk Region, says she's never received more than 16,000 rubles ($280) - this amount of money makes survival difficult.
Putin says schools decide how much to pay teachers and it's not clear why the difference between incomes of teachers is so huge.
12:15 pm: From the economy to life expectancy. "The infant mortality rate has decreased by three times, and the maternal mortality rate has dropped by four times, compared to last year. This has been a major social achievement in Russia, " the Russian leader said.
12:08 pm: Q: Is the economic crisis over now?
Putin: "I'd like to say a definitive yes, but at the same time you always have second thoughts, stay objective. The recession period in Russia's economy is over, and the economy has started growing. Despite the economy growing, the incomes of some Russians has dropped compared to last year."
12:00 pm: It's question time! Up to this moment, about two million questions have been sent to Vladimir Putin. The most popular questions concern the existing problems in the industry, construction, and transport sectors. Communications, wages, housing and communal services, healthcare and education, and environment are also hot topics. According to Dmitry Peskov, Putin's press secretary, social issues are still on top of the list.
Ask your question to Mr. Putin, too
The Rossiya 24 TV channel, which will broadcast the Direct Line program on June 15, says the organizers have received 835,571 phone calls, 363,141 SMS and MMS messages, and 15,171 video messages, while 254,925 questions have been sent through social networks and 129,505 questions have been received through the program's website. About 2 million questions have been submitted.
What people want to know:
The most frequently asked questions concern road conditions, housing construction, municipal services, mortgages, education issues, the situation in Ukraine, and sanctions.
Many questions are personal. People often ask Putin what was his favorite school subject was, if he ever went to a children's summer camp, what he did when he was on leave for 28 days in a row, where he would like to travel, and which of his friends or colleagues he would take with him.
A number of questions concern Putin's plans for 2018 when the presidential election will take place in Russia.
Direct Line with Putin
Putin's first televised Q&A session took place back in December 24, 2001. These sessions became annual, though there was no live program in 2004 and 2012. Putin has already participated in 14 programs - ten times as president and four times as prime minister.
During the first Direct Line in 2001, a total of 400,000 questions were asked and the number of questions has been growing ever since. In 2016, three million questions were submitted.
If using any of Russia Beyond's content, partly or in full, always provide an active hyperlink to the original material.